Politics has way of finding Supreme Court eager to avoid it – 570 News
WASHINGTON — The Supreme Court might prefer to avoid politics, but politics has a way of finding the court.
President Donald Trump wants the court to keep his taxes from being turned over to New York's top prosecutor and allow his administration to exclude non-citizens from the census count. He wants the justices to counteract an order making it easier for women to get abortion pill and rein in voting by mail.
And Trump is hoping to have his third high court nominee, Judge Amy Coney Barrett, installed before Election Day. That would forge a 6-3 conservative majority on a court that for decades has had a 5-4 conservative edge, which liberals could occasionally upend by attracting a vote from across the ideological divide.
"It is difficult for the court to avoid politics. Every issue of course has a very political angle and right now the politicization of the courts puts their decisions front and centre," Princeton University historian Julian Zelizer said in an email. "We are at a turning point moment, on the cusp of the entrenchment of a conservative 6-3 majority that will have huge implications on public policy. So at the most basic level, hard to ignore their connections to the events of the day."
The court got back to work this week, hearing arguments by telephone over three days. Chief Justice John Roberts began Monday's session by paying tribute to Justice Ruth Bader Ginsburg, who died just over two weeks before the new term began.
But apart from that, it was hard to tell that anything had changed. The tone was upbeat as the eight justices took turns questioning lawyers in cases that did not appear destined to split the court's conservatives and liberals.
The business-as-usual approach is how the justices like it, part of their mantra that the court is above politics and that the public should not view it as just like the other two elected branches of government. That's especially true for Chief Justice John Roberts, the titular leader of the court who rebuked Trump in 2018 for the president's criticism of an "Obama judge."
But despite their best efforts, the justices are facing a brewing political storm that could peak after Election Day if they are called upon to decide the election's outcome.
Issues related to the general election already have come to the court from four states, and more are expected.
The court's Republican-appointed conservative majority has typically rejected court-ordered changes close to an election. But the justices have been more accepting of changes when agreed to by a state's elected officials.
In the midst of the pandemic, Democrats have pushed for extending the deadline to receive and count mailed-in ballots, dropping witness requirements and easing rules for determining if the signature on a ballot matches the one on file. For their part, Republicans have fought efforts to mail ballots to all voters.
Pennsylvania Republicans want the court to rule out mailed ballots that are received after Election Day, or at least ballots that are not clearly postmarked as having been mailed on or before Nov. 3. A federal court ordered ballots to be counted if received by Nov. 6, unless there is evidence they were mailed after Election Day.
The justices on Monday agreed with Republicans and blocked a court order that allowed South Carolina voters to mail ballots without having a witness sign them. The next day, Justice Stephen Breyer rejected a Republican bid to stop the use of ranked-choice voting in Maine. On Thursday, Justice Elena Kagan turned away a Republican effort to limit the mailing of ballots to voters in Montana.
These pre-election issues would pale in comparison to a reprise of the court's 2000 Bush v. Gore case if the campaigns are fighting in court over the outcome in one or more states.
There might be a 6-3 conservative majority by that point, if Barrett is confirmed. And she would join two other Trump-appointed justices, Neil Gorsuch and Brett Kavanaugh, in potentially deciding whether the president who appointed her would get another four years in office. In Bush v. Gore, in which the court's five conservatives prevailed over its four liberals, no justices were voting on the political future of the president who appointed them.
Not all the cases have electoral implications. But even those that don't are highly charged politically.
In the fight over Trump's taxes, the justices could decide before Election Day whether to allow the immediate enforcement of a subpoena issued by Manhattan District Attorney Cyrus Vance Jr. or block it temporarily. The court in July rejected Trump's argument that he is effectively immune from the subpoena while serving as president, a decision Gorsuch and Kavanaugh joined.
The 2020 census also has been to the court previously. In 2019, Roberts joined Ginsburg and the other liberals in a 5-4 decision that rejected the administration's effort to include a citizenship question on the census for the first time since 1950.
Trump has since ordered the Census Bureau to provide him with a population count that excludes people who are in the country illegally so that their numbers would not be used for dividing the House of Representatives' 435 seats among the states, and the states' Electoral College vote, for the next 10 years.
A lower court has blocked the Trump policy as illegal. The administration is appealing and asking for speedy resolution in time for the population report the president must submit to Congress in January.
On an abortion-related issue, the court found a way Thursday to put off any definitive action for the time being.
The court had failed to act for nearly a month on the administration's appeal to reinstate a requirement, temporarily suspended by lower court order because of the pandemic, that women make an in-person visit to obtain the abortion pull.
The matter is the first abortion-related action before the court since Ginsburg died.
On Thursday, the court said it would not act on the appeal for now, allowing women to continue to get the pill by mail and ordering the lower court to review its initial order.
Justices Samuel Alito and Clarence Thomas dissented, objecting that "there is no legally sound reason" for the court's refusal to rule.
It is unclear whether the long period of inaction owed to Ginsburg's death, Barrett's nomination or some other factor.
Mark Sherman, The Associated Press
Column: PART III — Politics: a meditation – Rossland Telegraph
Dropping Out
It is a dismal truth that democracy can die from lack of use, and the technologies of electronic communication and mental distraction now in use are potent foes of a self-governing, self-disciplining citizen. We might be amusing ourselves to the death of our own government.
Dropping out of political engagement is easy. I know I was pretty disengaged for entire years of my youth, and only in middle and elder age have I been consistently responsible to my duties as a citizen. Seniors, as any politically-informed person can tell you, are dependable participants in Canadian democratic institutions, at a high and respectable rate. Not so the young. Youth can be forgiven for finding other parts of life more worthy of their passions and energies than politics and nightly news, but not for failure to come to the ballot box at elections.
But by far the worst phenomenon in democracy is apathy and outright cynicism. To deliberately decide to drop out of political participation is to invite the worst results. To imagine one knows that all politics is useless or corrupt or valueless or fake, is hubristic arrogance of the lowest sort. The internet is increasing this kind of error.
People of completely self-interested motives actively desire that the masses be made ignorant, incapable of critical thinking or independent understanding, and enslaved to appetite and sensation, and the wonderful tool of these lords of manipulation is the algorithm behind the screen. Each of us has the freedom to be the master of our own use of screens and what we ingest there. This is ultimately down to us.
Divided by irrational hatreds, polarized into electronic tribes of shallow identities, we are horribly vulnerable to the would-be masters of what goes into our minds unless we stop them. The power to direct our future is still with us, but perhaps not for long. The pandemic is a master lesson in how a real emergency might be exploited for over-reach by governments, and one must be constantly on guard not to be coerced into surrendering personal sovereignty to electronic devices that ought to serve us, not turn us into servants of others.
We can resist. The forces pushing us toward electronic slavery – I do not think that word is hyperbolic — are inarguably formidable. This is a spiritual crisis, I make no mistake, and I seek out the opinion and analysis of people who know this truth.
Small is beautiful
Let nations grow smaller and smaller.
and the number of people grow fewer.
Let weapons become rare and superfluous.
Let people feel the gravity of Death once more
and never wander far from home.
Then boat and vehicle will sit unused
and sword and shield lie unnoticed.
Let people knot cords for notation again
and never need anything more.
Let them find content in their food
pleasure in their clothing
peace in their homes
and joy in their ancestral customs.
Then people in neighbouring nations will look across borders to each other
their dogs and roosters calling back and forth
and yet they will grow old and die
without bothering to visit one another.
From the Tao Teh Ching, chapter 80.
When I cannot say it better myself, I let this 2500-year-old text say it for me. My perfect world is described. Small, with few technologies, no travelling for its own sake, and contentment with simplicity. As homo sapiens lived 10,000 years ago, and as a few tribes like the !Kung San of the Kalahari and Yanomami of Amazonia in the year I was born — who can live that way no more since "progress" broke into their worlds.
Dominant species do not have to be as we are. Dinosaurian dominant species lived atop the pyramid of life for over 135 million years without ruining their own habitat. Humanity — the master of material, the lord of science — has been here on earth for only a tiny fraction of the time those species dominated the globe.
Well. That was then. Now we are here, and we know what we face.
Big is unavoidable
Can humanity go back to the small worlds from which we evolved as a species? The probability is miniscule, and if the possibility were realized, it would only by a catastrophic die-off of humanity that no one can make congruent with their compassion and empathy. Big interconnected world, huge population, global organization, is here to stay. Let us think how to live with that reality.
We can, I am sure, create a harmony and equilibrium between the planetary scale and the intimate scale of individual humans in their chosen circle of family and friends, community and "tribe." I feel an instinctive aversion to the idea of a mono-culture for a planetary species. I love the imponderable, improbable ways humans became so variegated into so many cultural shapes and flavours. There is no way that a single cultural global community would be preferable to variety, in my opinion. Let hundreds of ways of life, belief, custom and tradition flourish on Earth.
And yet, I have been implying that our political culture upholding the democratic norms and rights of Western historical provenance, is good for all. I reject the dictators, tyrants and totalitarians who say humans over whom they rule are living in contentment, without protest while lacking rights and freedoms Westerners think are normal. That is not credible. When people say simply that they want to live in Canada or Europe or Australia because "it's a better life there" — I believe them.
The individual and the collective
I am personally not a very sociable person, happy to go weeks without seeing more than a small handful of family and friends, not drawn to large congregations of others, not wanting to attend events with crowds. I'm charmed by the words of Kierkegaard that "the crowd is madness." This is me, today.
But I live in society, and politics is about my relating with others. I have gone on at great length in my exploration of politics and politicians, particularly in democracy; I have to be willing to put aside my disinclination for group activity where politics is concerned, because I have aspirations only a group, a community, or a nation, can make possible. I am like everyone in that, having to find that "sweet spot" between my individual autonomy and the necessity of belonging to a political community.
Once again, I encounter the truth of my privilege and good fortune, that I live where I take as much of politics as I feel inclined to, and disengage when not inclined to be political. Not a lot of people on this earth are in my position, and political struggles for rights, for material support, for health and education, are facts of life for far more people than there are Canadian middle-class citizens like me. Only solidarity with a large collective can advance the agenda of people in struggles like that.
I am certain that the political systems that can give effect to their agendas, the politicians who can be entrusted with power to lead, are found more in democracies than in any other form of large government operating today.
There are probably some very small, isolated communities of humans where politics might still operate on an intimate scale, untouched by the overworld of states and corporations and law enforcement. I just do not know where they are. If I did, I would not publish the knowledge, for that would likely ruin what they enjoy.
Conclusion: Keeping Faith
My faith is not strong. Modern humans in the present material world might not be capable of the highest ideals of liberty, self-sovereignty, autonomy, independence, and freedom, that I wish for us. The counter-forces opposed to the realization of hypothetical utopian order are immense. Democracies enjoy the best odds for my version of the good life and optimum politics, and they confront enormous obstacles.
But I do not despair. I keep to a chosen path, speaking truth as I understand it, not because I know for a certainty it will help, but because not to do so betrays my spiritual being. Being true to self is an exercise of freedom too. Being someone who can tell his child and grandchildren that I was bowed but not beaten, matters to me.
From cargo bikes to online politics: U of T students plug into German innovation via virtual internships – News@UofT
Students in the University of Toronto's Faculty of Arts & Science gave their language skills and career options a big boost last summer via internships with innovative German businesses – all without setting foot in the European country.
Run by the department of Germanic languages and literatures, the students took part in futurGenerator, an extension of the department's iPRAKTIKUM initiative. The internship program, which was conducted virtually this year because of the pandemic, connected students with companies in Berlin and Freiburg so they could receive international work experience.
Hania Eid worked remotely for three months with MotionLab.Berlin, a growing innovation hub focused on developing hardware to enhance urban mobility.
"When I heard of MotionLab as 'Europe's first prototyping space for hardware in mobility,' I was immediately interested," says Eid, a member of Innis College who recently completed her bachelor's degree in political science with a double minor in equity studies and Spanish. "I thought this would be a great way to learn more about a sector that I had never considered working in before, and to contribute to a great company that's developing original projects."
She worked with one of the company's co-founders and produced research for an upcoming project called NOCA, or "no car," that is devoted to cycling infrastructure, market research in the area of cargo bikes and the impact of COVID-19 on cycling infrastructure internationally.
"Now, more than ever, it's important to include cycling infrastructure in the bustling cities of major countries, especially in Europe," says Eid. "Because of COVID, many cities have introduced temporary bike lanes to make way for more sustainable and healthier modes of transportation. With these new lanes, the cargo bike industry is booming."
Her work consisted of examining international markets, products and consumer preferences to analyze the feasibility of introducing NOCA to the streets of Germany in the near future.
"By the end of my internship my language skills had improved immensely," says Eid, adding that she was keen to work in a German-speaking enrvironment following graduation. "It was also great to conduct research on a topic completely unrelated to my work in undergrad. Since I'm a recent graduate, it's important to consider different fields of work so as not to limit myself. I'll definitely be looking into working in Germany in the future."
MotionLab.Berlin is an innovation hub focused on enhancing urban mobility (photo courtesy of MotionLab.Berlin)
Stuart Jones a fourth-year student at St. Michael's College also completed an internship with MotionLab.Berlin. He is majoring in international relations and European studies and minoring in German studies. He, too, wanted to strengthen his German language skills.
"I truly believe immersion is the pathway to language mastery, and futurGenerator has offered some really great opportunities for students to engage in an authentically German-speaking work environment," he says.
Jones worked on a new digital engagement platform that functions as a virtual symposium for social and political issues.
"As a student of global – particularly European – politics, the chance to do political and business research for an initiative based in Germany was too good to pass up," says Jones.
"I did research and compiled reports on this new political engagement platform – very much still in its genesis – which hopes to connect users so that all citizens can feel their voices are heard and they can appreciate all the channels of democracy beyond just voting."
The reports Jones wrote and the content he was exposed to during the internships was all in German. "This really helped me focus on the language and learn a great deal of new vocabulary and terminology I wouldn't have otherwise in class," he says. "And I gained exposure to current societal discourses in Germany surrounding democracy, political participation and other contemporary issues."
Jones says he also felt like he was exploring possible career paths. "It was so relevant to my interests and area of academic study, it was almost hard to believe sometimes," he says. "I could really see myself working at a company or on projects like this in the future."
Stefan Soldovieri, chair of the department of Germanic languages and literatures, and Helena Juenger, the iPRAKTIKUM student placement co-ordinator, say they are pleased with futurGenerator's first online internships.
"In the beginning, we felt like the students were not going to have as great an experience as the students who went to Germany last summer," says Juenger. "But the students and MotionLab were incredibly enthusiastic. It was a success on both sides and that was really, really gratifying."
Instead Of Losing Family And Friends Over Politics, Experts Say Communicate – NPR
If you find yourself fighting with a friend over politics, or frustrated and furious with your nearest and dearest over who they're supporting for president, you're hardly alone. A recent survey shows just how much the nation's bitter political divide is causing social splintering and taking a toll on friendships. Even decades-long relationships have been caving under the pressure, giving new meaning to "social distancing."
"I did straight up say 'Dude, I'm done. Lose my number,'" said Shama Davis, from Los Angeles, recalling when he "unfriended" a guy he'd been friends with since high school, 25 years ago.
"I just hung up on my end, and proceeded to just block him in every possible way," said Joni Jenson from New York, still fuming over the guy she felt compelled to dump.
And betraying just a tinge of regret about cutting off his own cousins, Ricardo Deforest, of Tampa, Fla., conceded, "I hate to say it because family is everything," before unabashedly proclaiming "I disowned them. In my mind they're not family anymore."
They are among the many Americans for whom political rifts have deepened. It's one thing to disagree about something such as tax policy, they say. But they see their differences now as ones of basic morality, core values and character, and that cannot be overlooked.
Davis, a 42-year-old consultant who is Black, says he simply could not abide his friend downplaying police brutality, and harping instead on the looting and violence happening amid the mostly peaceful protests.
"I told him 'If this is your attitude, we can't be cool anymore,'" Davis said. "'I don't respect you now. I don't. Because people are really dying.'"
Jensen, a retired professor, also sees it as a moral absolute. As a sexual assault survivor, she says, she couldn't stand it when the guy she'd been close to for 40 years was being cavalier about the allegations against President Trump's then-Supreme Court nominee Brett Kavanaugh.
"He was going off like 'Oh, you drank the Kool-Aid' and 'Kavanaugh didn't do anything,'" she recalled. "It made me sick. If this is his core ethics, I don't want that kind of person in my life."
Conservatives can be just as quick to spurn the liberals in their lives who clash with their core values, such as life and liberty — which is the biggie for Deforest.
"They sold our country out," Deforest, a 61-year-old steel worker, said of those on the left of the political spectrum. "This election is about the soul of what America is. You can't be a free country and be a socialist state at the same time."
He said the acrimony he's feeling from what he calls "hardcore Trump haters" was as much a factor in his decision to cut them off, as their differences that gave rise to it.
"All they can do is say 'Trump is a racist. Orange-man bad! Orange-man racist! They're blowing spittle, and [their] veins popping out of their heads," he said. "Yo soy Latino. But [they assume] I'm some sort of horrible racist because I like Trump. It's ridiculous!"
Jocelyn Kiley, associate director of research at the Pew Research Center says political polarization is more intense now, than at any point in modern history. Nearly 80% of Americans now have "just a few" or no friends at all across the aisle. And the animosity goes both ways.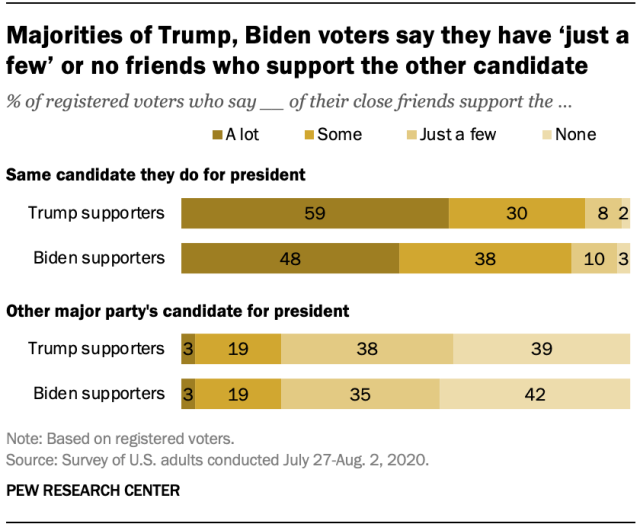 "Democrats are a little bit more likely to say they'd end a friendship" Kiley said. "But Republicans may be less likely to say they have friends on the other side. So it may not be all that differential."
Another recent poll by PRRI shows that 8-in-10 Republicans believe the Democratic Party has been taken over by socialists, while 8-in-10 Democrats believe the Republican Party has been taken over by racists. The report is aptly named titled "Dueling Realities."
Tania Israel, a professor in the Counseling, Clinical, and School Psychology Department at the University of California Santa Barbara, said she's seeing more and more of those kinds of distorted views in the workshops she runs on cross-the-aisle conversations. The rancor is rising, she said, as both sides "tend to view the other as being more extreme than they actually are."
Another thing conservatives and liberals have in common, she said, is that they all suffer from big blind spots when it comes to the morality of their own side. They tend to view themselves as eminently fair and right, and the other side as wholly irrational.
Case in point: explaining his politics, Ricardo Deforest noted, "When I say all these things, I think I sound fairly reasonable," while declaiming the other side, with, "There's something wrong with these people."
Jensen, meantime, is just as certain, upbraiding the guy she was arguing with as "brainwashed."
Israel says a little more listening to understand, a little less trying to convince, and a lot more intellectual humility would do everyone a world of good.
"We're flattening people out in terms of our view of them," she said, "and we're not really seeing the full complexity of people on the other side."
It's exactly what Jon Langford, a 28 year-old Georgia truck driver, says he experienced, when his brother, who is gay, wrongly assumed the worst about him.
"He went off on me saying essentially I'm a racist and a homophobe just because I'm a Trump supporter. No ifs, ands or buts. And he completely cut me out of his life," Langford said. They haven't spoken in years.
Now, Langford says he's determined not to do the same thing to his friends across the aisle, including his best friend, who supports former Vice President Joe Biden. As Langford sees it, no one has a monopoly on morality.
"I could assume that anybody that supports Biden is a firm believer that it's OK to murder a baby," he said. "But I don't."
Another conservative, Judith Margolis Friedman, may be one of the few who can claim that she's managed to not lose any friends over politics. But she says that's because she kept her political views totally secret, for fear of "social suicide."
"I would politely nod and go along to avoid conflict […] with people whose relationships I valued," she said.
Instead, Friedman vented in a secret Facebook group that she says was a "safe space" where she could "commiserate with other people who also feel shut out from their regular life because of their views."
But this month, Friedman couldn't take it anymore, and "came out of the closet," deciding that if people dumped her over her politics, "they weren't real friends after all."
She's hoping friends will give more weight to the person they've known for years, than who she chooses to vote for.
"If someone expresses a more conservative worldview, they're immediately called a Nazi and a racist and a misogynist and a homophobe and everything under the sun," Friedman said. "I'm none of those things. I'm just a normal friggin' person who has a different point of view."
At the other end of the political spectrum, Jeff Marinstein, a business and technology consultant from Connecticut, has also been trying to get past the ever-intensifying invective and insults from "friends."
One, in particular, kept attacking him as a "libtard," among other things. Marinstein no longer talks to that guy. But with another, he's trying a new strategy to save the friendship, suggesting they keep talking, just not about politics. So far, it's proving harder to enforce than he thought.
"I'm still getting this nightly stream of New York Post articles and memes [mocking] Democrats, and I simply respond with a funny line that says 'This post violates our agreement not to talk about politics,' trying to creatively send the message that I just don't want to engage," he said.
Whether the strategy ultimately works or not, Marinstein says, he wonders whether it may ultimately be doing as much harm as good.
"It just feels like the healthiest thing for me to do at the moment to lower the temperature, and to not continue these toxic conversations," he said. "But I suppose the risk is that I'm just retreating into my own information bubble with people who think just like me."
Indeed, experts say it's more conversation — not less — that's needed, if the nation is to heal its blistering divide. But it has to be healthy, productive conversation. And Israel, who runs the workshops on civil discourse, says the first step must be to take it off social media, and talk in person instead.
"The only useful comment that you can make on somebody's social media post is 'Can we find a time to talk about this? I'm interested in hearing more,'" she said.