Region reports 60 new COVID cases, three more deaths Wednesday – KitchenerToday.com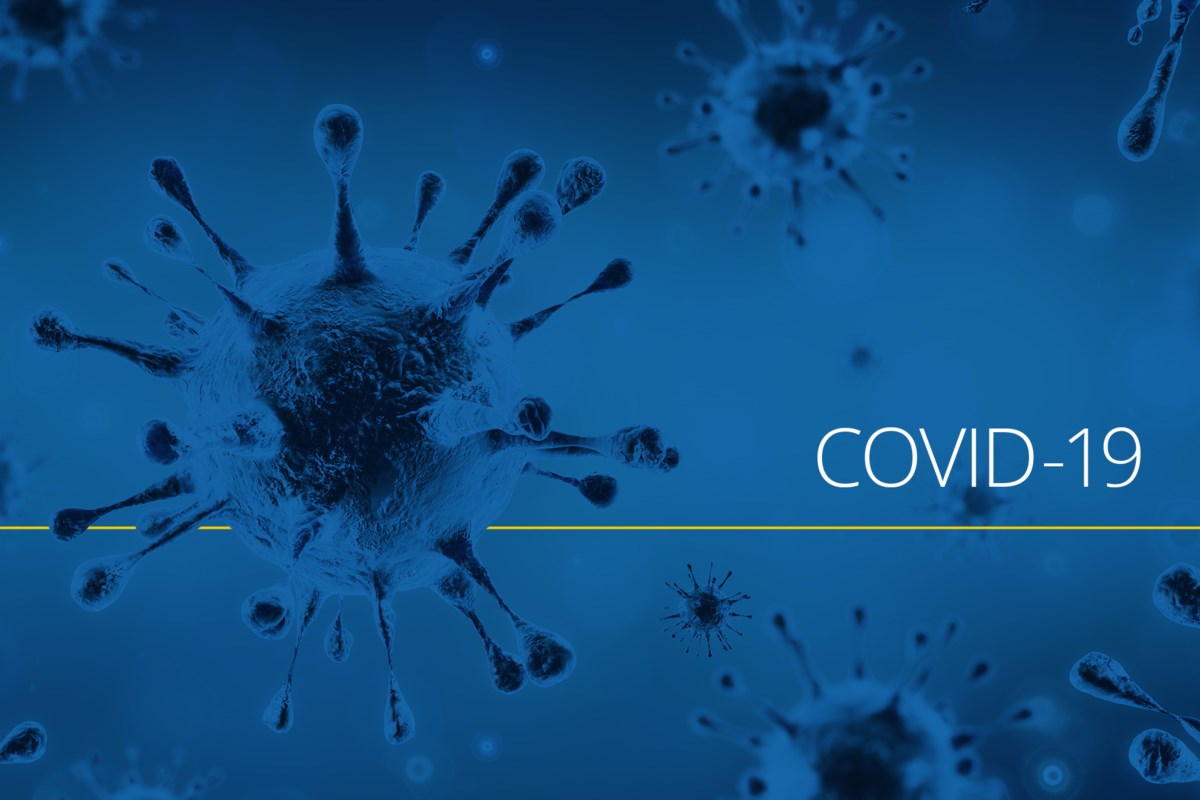 Region of Waterloo Public Health confirmed 60 new COVID-19 cases on Wednesday. 56 are from Tuesday, the other four were added to previous daily totals.
It puts the overall total at 17,584.
There have also been three more COVID-related deaths, a man in his 70s, a woman in her 80s, and a woman in her 90s. It raises the death toll to 265.
55 people are receiving treatment for the virus in a local hospital — 22 are intensive care.
The active caseload is down to 416.
Over 78 per cent of adults in the region have received at least one dose of the vaccine, which works out to over 551,000 doses. Over 34 per cent of residents 18 and over (160,000 plus) have been fully vaccinated.
Here are some other updates from the region's dashboard:
3,891 cases have screened positive for variants of concern – 3,083 are the Alpha variant (first found in U.K.) – 11 are linked to the Beta variant (first detected in South Africa) – 422 are linked to the Delta strain (first located in India) – 61 are linked to the Gamma variant (first found in Brazil) – 314 cases where a mutation has been detected
16,885 resolved cases (96 per cent)
Over 517,000 tests have been done
There are currently 22 active outbreaks in the region. 11 are in workplaces:
NEW Highland Place Retirement Home (1 case in staff, 1 case in a resident)
NEW Zora Srpski Dom Retirement Home (2 cases in residents)
NEW Retail 13 (3 cases)
NEW Farm 3 (2 cases)
Marian Residence Retirement Home (1 case in staff, 1 case in a resident)
Manufacturing / Industrial 37 (3 cases)
Congregate Setting 45 (1 case)
St. Mary's General Hospital
Grand River Hospital – adult inpatient mental health unit
Kaljas Home (6 cases)
Congregate Setting 43 (1 case)
Congregate Setting 44 (2 cases)
Construction 16 (3 cases)
Trades & Related Service 16 (2 cases)
Food Processing 10 (10 cases)
Retail 12 (6 cases)
Retail 11 (2 cases)
Automobile sales & services 8 (2 cases)
General office setting 14 (8 cases)
Trades and related services 14 (6 cases)
The Village of Winston Park long-term care (12 cases in residents, 6 in staff, one death)
Congregate setting 42 – multiple locations (108 cases)
Meantime, the province reported 184 cases on Wednesday.
The rest of the provincial COVID-19 totals are posted below:
4.8 million residents fully vaccinated — 14.74 million doses have been administered
544,897 total cases
533,472 resolved cases
251 people are in hospital – 271 are in intensive care (***This number includes patients who are in an Intensive Care Unit (ICU) levels 2 and 3 flex, neonatal, pediatric and adult. It includes people who are on ventilators and people who are not***) – 181 are on a ventilator
9,168 deaths (14 new)
27,258 tests completed Tuesday — 15.94 million since January 15, 2020
Robinhood makes its debut on Wall Street – Yahoo Canada Finance
NEW YORK (AP) — Robinhood made its own leap into the stock market Thursday, the one it helped reshape by bringing millions of new investors to Wall Street, and its shares swung sharply in their first day of trading.
Robinhood Markets' stock was at $37.57 in early afternoon trading, down 1.1% from its initial price of $38 set late Wednesday. Perhaps fitting for a company that has upended the investing business, it careened from a gain of 5.9% and a loss of 12.2% in the first hour of trading.
It's a relatively disappointing opening for the highly anticipated offering, which had already priced at the low end of its expected range. The stock could see continued sharp swings through the day given Robinhood's unusual move to reserve a big chunk of shares for its own smaller-pocketed customers rather than big professional firms.
At its current price, the company is valued at roughly $31 billion, which puts it on par with companies like Kroger and Old Dominion Freight Line, but its heft on the pop-culture landscape may be even weightier. Robinhood has created plenty of passion, both by users and critics alike.
The company has grown explosively since its 2013 founding, with an estimated 22.5 million funded accounts, after it did away with trading fees and made investing easier and even fun to do with its mobile app. More than half its customers are first-time investors, giving them more ability to keep up with the stock-holding, wealthier households that had been pulling away for years.
But Robinhood has also drawn heaps of criticism from users and regulators alike, with a lengthening list of regulatory settlements. Critics say Robinhood encourages unsophisticated investors to make trades too often that may be too risky.
Some users, meanwhile, are still angry at Robinhood after it and other brokers temporarily locked them out of trading GameStop shares earlier this year, when hordes of smaller-pocketed investors were pushing the stock up in part to spite the monied elite on Wall Street.
Now that Robinhood's stock is trading on the Nasdaq, its performance gives a real-time look at the market's judgment of Robinhood's prospects. The company is already delivering the strong growth that Wall Street is always hungry for: Revenue soared 245% last year to $959 million. It then hit $522 million in the first three months of 2021 alone, more than quadrupling from the year-ago level.
But questions remain about whether regulators may tighten oversight of its main money maker. That's routing its customers' orders to big Wall Street trading firms, which pay Robinhood to take the other side of the trade.
Beyond that, Robinhood stands to lose if the boom in trading it's helped create among smaller-pocketed and novice investors fades. That could come if its oftentimes younger customers go back to doing other things than trading on their phones as the pandemic hopefully eases or if users leave for competitors.
Such worries may have dragged Robinhood's stock down in its early trading, a notable move when stocks traditionally get a pop in their first day.
The relatively low initial pricing for the stock and its early fall were discouraging signs for Sandra Marvel, a 49-year-old investor from Raymore, Missouri, who had been planning on buying shares.
"I completely abandoned my plan," she said Marvel. "It doesn't look good. I think there are a lot better trades out there."
Marvel, who left her job in insurance sales last year to trade stocks full time, has been using Robinhood since 2018.
The company has plans for big growth in the future, continuing its evolution since launching as a stock trading app only for iPhones.
"Over time, we want to be the single money app, the most trusted and most culturally relevant money app worldwide," CEO Vlad Tenev said in an interview. "So, everything that you use your money for, you should be able to do through Robinhood."
Among them, he said, were direct deposits of paychecks and paying bills online.
He also pushed back on criticism that Robinhood is making the stock market a casino by encouraging its customers to trade more often.
"I think it's a big, big mischaracterization because if you look at it, the stock market has been one of the greatest wealth creation tools," he said. "We should be encouraging access to it and not denigrating people that are able to use it. So in a sense, you're hearing when wealthier customers are engaging in the stock market, it's investing. But when the rest of us are accessing the stock market, it's gambling."
Robinhood's stock debut is coming at a very welcoming time. With bonds paying very little in interest, investors are willing to pay much higher prices for stocks than they usually have been through history, and the S&P 500 is close to its record high.
Between 2001 and 2020 the average U.S. IPO returned 14.5% from the offer price on day one, according to Renaissance Capital. So far this year, the jump is even greater, at 34%. For IPOs that have raised at least $100 million, the average first-day return this year is 25%.
Robinhood itself raised nearly $1.9 billion in the deal, which it plans to use to expand and to help pay for expected tax obligations.
Stan Choe And Alex Veiga, The Associated Press
How Jay Powell explains the bond market: Morning Brief – Yahoo Canada Finance
This article first appeared in the Morning Brief. Get the Morning Brief sent directly to your inbox every Monday to Friday by 6:30 a.m. ET. Subscribe
Thursday, July 29, 2021
Things happen in markets, according to the Fed chair
The Federal Reserve wrapped up its latest two-day policy meeting on Wednesday, and offered investors a few surprises.
As Yahoo Finance's Brian Cheung notes, the Fed's statement and subsequent press conference from Fed chair Jerome Powell "hinted that the U.S. economic recovery is getting closer to a place where it may not need as much monetary support."
But that day is not today.
So dedicated Fed-watchers now turn their attention to the Jackson Hole Economic Symposium later next month, and await Powell's comments on when (and if) the central bank might begin altering its pace of asset purchases.
And while most of the questions Powell faced Wednesday revolved around inflation and how long transitory pricing pressures might last, woven into this conversation was a discussion of what's been gnawing at the Treasury market over the last several weeks.
When the Fed released its June policy statement on June 16 and released a projection for future interest rates that was more aggressive than investors had anticipated, the 10-year Treasury yield was sitting near 1.6%. As of Wednesday, the 10-year yield was just below 1.3%.
And this move lower in Treasury yields has coincided with a resurgence in the big cap tech trade, a fade in the re-opening trade, and plenty of investor discomfort in both the equity and fixed income markets over the last several weeks.
"In terms of what's been happening in bond markets, I don't think there's a real consensus on what explains the moves between the last [Fed] meeting and this meeting," Powell said Wednesday.
"We've seen long-term yields go down significantly," Powell added. "Some of it is a fall in real yields, which may have been connected to, some speculate…sentiment around the spread of the Delta variant and concerns about growth."
The 10-year real yield, which reflects what investors expect the inflation-adjusted return on a 10-year note purchased today will be over the next 10 years, is currently near a record low of around -1.1%. But as Powell noted, there is also plenty about the recent move in Treasury yields that cannot — and perhaps need not — be explained.
"And there are also so-called technical factors," Powell said, "which is where you put things that you can't quite explain. I don't see in any of that that there is anything that really challenges the credibility of our framework."
And in this response, we think Powell outlines how deciphering financial market moves involves a balance of prescription and description. It is descriptive to note that Treasury yields have declined in the last two months with some real yields falling to record lows.
Offering a prescription — or a unified, definitive account of why such-and-such happened — will always prove more elusive. And may end up being flat out incorrect.
Investors focused on timing swings in markets and profiting from these changes through time will, of course, have stories to tell about what is moving where and why. These stories are what keep the lights on at Yahoo Finance, and elsewhere across the financial world.
But Powell's vantage point on markets is one that allows the Fed chair to note changes in prices and monitor situations carefully. And as Powell said Wednesday, "we're prepared to use our tools as appropriate."
By Myles Udland, reporter and anchor for Yahoo Finance Live. Follow him at @MylesUdland
What to watch today
Economy
8:30 a.m. ET: Initial jobless claims, week ended July 24 (385,000 expected, 419,000 during prior week)

8:30 a.m. ET: Continuing claims, week ended July 17 (3.192 million expected, 3.236 million during prior week

8:30 a.m. ET: GDP annualized, quarter-on-quarter, second quarter (8.5% expected, 6.4% in first quarter)

8:30 a.m. ET: Personal consumption, second quarter (10.5% expected, 11.4% in first quarter)

8:30 a.m. ET: Core personal consumption expenditures, quarter-over-quarter, second quarter (6.0% expected, 2.5% in first quarter)

8:30 a.m. ET: Pending home sales, month-on-month, June (0.5% expected, 8.0% in May)
Earnings
Pre-market
Post-market
Top News
Fed says US economy making progress as central bank ponders pullback [Yahoo Finance]
Robinhood IPO: Shares priced and set to trade Thursday [Yahoo Finance]
McDonald's Q2 earnings, sales jump on chicken sandwiches, promotions [Yahoo Finance]
Facebook's online ad spending, recovery drive Q2 earnings beat [Yahoo Finance]
U.S. Senate advances roughly $1 trillion bipartisan infrastructure bill [Reuters]
Yahoo Finance Highlights
Pfizer: 'No issues' in testing for COVID-19 kid vaccine as Delta variant rises
China's Big Tech crackdown is about protecting the Communist Party
These were America's biggest consumer complaints of 2020
—
Follow Yahoo Finance on Twitter, Facebook, Instagram, Flipboard, LinkedIn, YouTube, and reddit
N.B. COVID-19 roundup: 4 new cases, 66.1% of eligible population fully vaccinated – CBC.ca
Public Health reported four new cases of COVID-19 Thursday, and a total of 66.1 per cent of eligible New Brunswickers are now fully vaccinated, while 81.9 per cent have received at least one dose.
Another 5,913 people rolled up their sleeves Wednesday, the COVID-19 dashboard shows. Of those, 4,892 received their second dose and 1,021 got their first shot.
"We're now up to just about 85 [per cent] of people eligible for their second dose being fully vaccinated," observed Oliver Dueck, a software developer based in Fredericton, who has been tracking the province's vaccine data for the past few months.
People become eligible for their second dose 28 days after their first dose.
"That leaves about 83,000 people who had their first dose at least 28 days ago who have not yet had their second dose," he said.
In a statement, Dr. Jennifer Russell, the province's chief medical officer of health, said it's important for all eligible New Brunswickers to get fully vaccinated, "especially as we near going fully green.
The province is set to lift all pandemic restrictions, including mandatory masks, gathering limits and provincial border checks for travellers within Canada, Friday at 11:59 p.m., regardless of whether it meets its vaccination target to have 75 per cent of New Brunswickers aged 12 and older fully vaccinated.
"If you have not yet done so, please act now. This will not only reduce your risk of contracting COVID-19 and of being seriously ill, it will also help to protect your family and friends," Russell said.
Mobile walk-in Moderna clinics are being held across the province to help make getting vaccinated more convenient and accessible. Two clinics are slated for Thursday:
New Denmark — Recreation Centre, 160 Klokkedahl Hill Rd., between noon and 5 p.m.
Saint-Paul — Saint-Paul Golden Age Club, 6532 Route 515, between noon and 6 p.m.
Another clinic accepting walk-ins Thursday is:
Saint John — Exhibition Park, 9 a.m. to 7:30 p.m. (12 years and older – Pfizer-BioNTech)
On New Brunswick Day, Aug. 2, a mobile walk-in clinic offering Pfizer will be held in Fredericton at the Crowne Plaza, 659 Queen St., from noon to 5 p.m., for anyone those who not yet received their first or second dose.
A list of upcoming mobile and walk-in clinics is available online.
People can also book an appointment online through a Horizon or Vitalité health network clinic or a participating pharmacy.
Anyone 12 or older can be vaccinated.
People are asked to bring their Medicare card, a signed consent form, and their record of vaccination if they're receiving their second dose.
12 active cases
The four new cases of COVID-19 confirmed on Thursday include:
Saint John region, Zone 2, one case:
This case is a contact of a previous case.
Bathurst region, Zone 6, three cases:
Two people under 19
A person 40 to 49
All three cases are travel-related.
The province's active case count now stands at 12.
No one is hospitalized with the respiratory disease.
There have been 2,358 confirmed cases of COVID-19 in the province since the pandemic began, with 2,299 recoveries so far and 46 COVID-related deaths.
A total of 379,699 COVID tests have been conducted.
Possible COVID exposure
Public Health has identified a possible exposure to COVID-19. Someone who tested positive may have been infectious while travelling on the following WestJet flights on July 19:
Flight 3461 – from Ottawa to Toronto, departed at 10 a.m.
Flight 3404 – from Toronto to Fredericton, departed at 3:40 p.m.
People who travelled on these flights should self-monitor for symptoms, and if any develop, should self-isolate and take the self-assessment online or call Tele-Care 811 to get tested.
A detailed list of potential exposures, including the locations and dates, is available on the government's COVID-19 website. It is updated regularly.
Public Health offers COVID-19 testing to anyone who has been in a public exposure area, even if they are not experiencing any symptoms.
What to do if you have a symptom
People concerned they might have COVID-19 can take a self-assessment test online.
Public Health says symptoms of the illness have included a fever above 38 C, a new or worsening cough, sore throat, runny nose, headache, a new onset of fatigue, and difficulty breathing.
In children, symptoms have also included purple markings on the fingers and toes.
People with one of those symptoms should stay at home, call 811 or their doctor and follow instructions.