Review: PS5 is big and pricey, but boasts impressive speed and visual upgrades – Prince George Citizen
Seven years after the release of the highly successful PlayStation 4, Sony has fired its latest salvo in the war to capture the hearts and minds of big-spending video game enthusiasts.
The PlayStation 5 launched Nov. 12, two days after archrival Microsoft debuted its new Xbox Series X and Series S units. The latest round of the console wars started with a bang, as both systems quickly sold out.
Sony, however, is coming off a decisive victory in the last round of the battle. According to sales figures from Sony Interactive Entertainment, all versions of the PS4 combined have sold more than 113.5 millionunits as of Sept. 30, making it the second-highest selling home console behind the PlayStation 2.
In an effort to keep its edge in the video game arms race, Sony has released an expensive but powerful platform with a bold esthetic that breaks from past conservative design choices. While upgrading to Sony's latest console will come at a cost — a unit that includes an Ultra-HD Blu-Ray drive has a recommended retail price of $629.99 while a digital-only version costs $499.99 — the improved experience will be difficult for dedicated gamers to pass up.
The increased processing power of the PS5 is seen through the quality of the graphics. Titles that have built from the ground up for the console, like the punishing action role-playing game "Demon's Souls," look stunning. The difference in visual quality will be more striking from gamers upgrading from a base PS4, which did not support 4K resolution, rather than the more recent PS4 Pro.
A notable part of the visual upgrade comes from the PS5's use of ray tracing, an advanced rendering technique to realistically depict light and shadow. Until recently, ray tracing was considered too resource-intensive to use effectively in video-game development.
Games available at launch that support ray tracing include "Marvel's Spider-Man: Miles Morales" and "Demon's Souls." Spider-Man's bio-electrical powers provide a nice example of what the technology can do — and seem to come without a performance cost.
As impressive as the eye candy is, the speed of the PS5 is arguably a more noteworthy improvement over its predecessor. Load times are markedly faster for PS5 games; even games with massive maps and environments to handle like "Assassin's Creed: Valhalla" have little downtime.
As a result of this extra processing power, the PS5 is a bit more unwieldy than its sleek precursor. The version of the PS5 with the Blu-Ray drive is 39 centimetres wide, 26 cm deep and 10.4 centimetres high, making it Sony's largest console. The digital-only version is about a cenitmetre shorter. The units can be set horizontally or vertically to give some options, but it will take up a good chunk of your entertainment centre.
Sony is pivoting from the traditional all-black colour scheme to a two-toned black-and-white look. The PS5 also has a contoured design that sets it apart from the clean lines of the PS4. Whether the new look works or not is, of course, an exercise in subjectivity, but the PS5 is certainly bolder in appearance than its clinical counterpart.
The design choice is mirrored in the accessories available at launch, which include the DualSense wireless controller, a wireless headset, an HD camera, a controller charging station and a media remote control, for those who wish to use the PS5 as a launch point for their favourite streaming services.
The DualSense controller is a significant change from Sony's long-running DualShock design. The controller has more heft to it and features cleaner lines in its construction. It features haptic feedback, which is intended to make instances in a game that cause the controller to vibrate feel more realistic. A nice feature is that the controller's touchpad is now covered and resistant to the possibility of getting smudged with greasy fingerprints.
Most PS4 games are playable on the PS5, and are easily ported over with a USB drive. Saved games will have to be expressly moved over, either by removable drive or through the cloud service provided by the PS Plus service, which comes at an added cost.
PlayStation 4 controllers can be used, but only to play PS4 games. Those wanting to enjoy local multiplayer on a PS5 game will have to shell out for another DualSense controller, which costs about $90.
Staying on the leading edge of console gaming will always tax an entertainment budget, and upgrading to a PS5 is no different.
A PlayStation 5 console was provided for review purposes.
This report by The Canadian Press was first published Nov. 30, 2020.
Colonial Pipeline hackers stole data on Thursday
The hackers who caused Colonial Pipeline to shut down on Friday began their cyberattack against the top U.S. fuel pipeline operator a day earlier and stole a large amount of data, Bloomberg News reported citing people familiar with the matter.
The attackers are part of a cybercrime group called DarkSide and took nearly 100 gigabytes of data out of Colonial's network in just two hours on Thursday, Bloomberg reported late Saturday, citing two people involved in the company's investigation.
Colonial did not immediately reply to an email from Reuters seeking comment outside usual U.S. business hours.
Colonial Pipeline shut its entire network, the source of nearly half of the U.S. East Coast's fuel supply, after a cyber attack that involved ransomware.
(Reporting by Aakriti Bhalla in Bengaluru; Editing by Himani Sarkar)
Betsson Secures a 50% Stake in JDP Tech – Looking to Boost Growth in Latin America
Swedish iGaming giant Betsson has recently invested heavily into expanding into new markets as it seeks to continue to grow its business. The online sports betting and casino operator acquired a 50% stake in JDP Tech, a company offering payment processing focused on the South American market.
Through Betsson Perch Investments, a subsidiary of Betsson, the iGaming operator paid a total of €8.8 million in shares to JDP tech in order to obtain a 50% stake. JD Tech is a software development company focusing on payment processing solutions, a vital part of any iGaming company.
According to Pontus Lindwall, CEO of Betsson, the deal is an integral part of Betsson's long term strategy. He said: "This is a strategically important region for Betsson, and we see great potential for the company in the long term. With this major investment, Betsson is well-positioned to further expand our business in the Latin American online gaming market."
Why Payment processing is Important for the Latin American Market
Payment processing is important in any market, with consumers preferring to use sites that offer fast and secure payments without complicated requirements or rules. In Latin America, the iGaming market is expanding rapidly, and there's a need for sites offering convenient payments.
Latin American users expect to be able to deposit funds to their account quickly using their preferred method, and withdrawals should be fast and simple too. It's important that iGaming sites listen to the needs of the consumers and ensure that a wide range of popular payment methods are supported. For this, good payment processing software is an integral part of a site.
Latin American consumers have a growing number of options to choose from when it comes to iGaming, so they're likely to join a competitor if the site they're using doesn't offer the kind of service they expect.
How Betsson Aims to Expand in Latin America
Betsson has been targeted the Latin American market for some time now, and this recent acquisition represents part of the company's long-term strategy in this area of the world. In 2019, Betsson purchased a 75% stake in Suaposta, a Brazillian sports betting operator. This move came shortly after Brazil passed new sports betting regulations and aimed to put Betsson in the best position for the deregulation of the sports betting market.
Last year, Betsson also entered the Colombian market, buying a 70% stake in Colbet as it looked to expand its South American operations. In addition to this, Betsson is aiming to obtain an operating licence in Buenos Ares, Argentina.
In Mexico, the Swedish betting giant entered into a partnership with Big Bola Casinos, aiming to launch a sports betting service in later 2021. Big Bola Casinos is one of the few gambling operators licenced by the government of Mexico, giving Betsson an excellent opportunity to establish itself in a relatively undeveloped market.
These moves show that Betsson is serious about entering the Latin American market and is looking to become one of the biggest sports betting operators in the area. Through continued investments and partnerships, Betsson has taken steps to grow its business and bringing safe and convenient sports betting to a wider market.
After an initial slow start, Victorian over 50s are turning out to get their COVID jabs – ABC News
Brenda Holt would have been at the front of the line to get her COVID vaccination this morning, except there was no line.
Key points:
All Australians over 50 are eligible for the AstraZeneca shot today
Victoria's mass vaccination hubs were all reporting wait times of under 15 minutes this morning
People are being told to wait 14 days between the flu vaccination and the COVID vaccination
Brenda walked right on in to Melbourne's Royal Exhibition Building vaccination hub, got her jab and left with a tear in her eye as she moved a tiny step closer to being able to visit her family in Texas.
Anyone over the age of 50 can now get the AstraZeneca vaccine at a mass vaccination clinic but, in Melbourne at least, it was a seemingly slow start.
Wait times of under 15 minutes were being reported for people who arrived without an appointment at all of the high-volume vaccination centres in Melbourne, Geelong and Ballarat this morning.
By midday, wait times had stretched to more than an hour at the Exhibition Building, the Melbourne Convention and Exhibition Centre, and the Heidelberg Repatriation Hospital.
The state health department said the Royal Exhibition Building was booked out for appointments, and it was experiencing very high call volumes through its vaccine phone booking service.
Loading
Brenda expected more people to be waiting in line early to get the jab when the centres opened.
"I just am shocked and really disappointed," Brenda said.
"I think that we're in a bit of a bubble here in Australia, we don't understand how devastating it's been, and it's not real to us.
"We've been so lucky and we've handled this so well until the vaccination rollout, I have no idea why it's taken so long."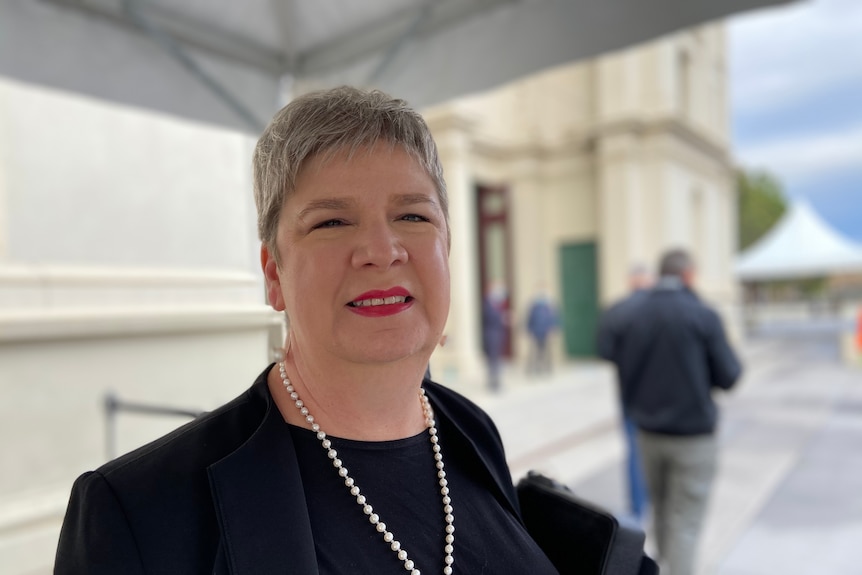 Everyone who booked will be vaccinated
Jeroen Weimar, Victoria's COVID-19 Response Commander, said by lunchtime, 8,500 people had called the COVID-19 hotline to make a booking.
"At the moment, what we're seeing is a really healthy demand for people coming out who want to get vaccinated," he said.
"Everybody who's got an appointment today will be vaccinated today. Everyone in line will get a vaccination today."
If the queues were too long at the end of the day, Mr Weimar said people would be asked to come back the next day.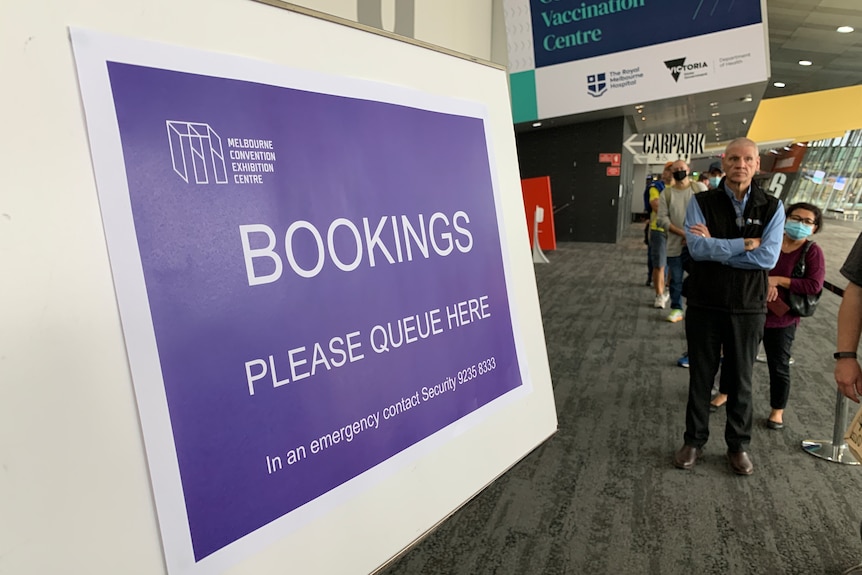 The Box Hill Hospital vaccination centre, in Melbourne's east, was very busy in the morning and some people were asked to go to a nearby clinic at Ringwood East, Mr Weimar said.
He said there were wait times of up to 90 minutes for some people who had not booked appointments at the large vaccination centres.
With a staff of 700 people handling the calls, he said the operation would be scaled up as appropriate.
"We will quite happily put hundreds more people into the phone lines if the demand is there to book vaccinations," Mr Weimar said.
"My request for Victorians would be, if you're eligible, come forward now so we can get you vaccinated.
"Let's have a really busy few weeks and months and then we can get on and get the rest of the community done."
So far, 520,000 Victorians have received their first dose of a vaccine.
There are now six high-volume vaccination hubs operating in Victoria, at the Royal Exhibition Building, Melbourne Convention and Exhibition Centre, the former Ford Factory in Geelong, the Heidelberg Repatriation Hospital, Sunshine Hospital and Mercure Ballarat.
Another 15 vaccination centres have opened today at these locations:
Bendigo Hospital
Latrobe Regional Hospital – Traralgon Racecourse
Albury Wodonga Health – Wodonga Community vaccination clinic
GV Health – Shepparton Showgrounds, McIntosh Centre
Eastern Health – Box Hill
Eastern Health – Ringwood East Community Clinic*
Northern Health – Epping
Monash Health – Monash Medical Centre*
Monash Health – Dandenong*
Monash Health – Kingston*
Monash Health – Moorabbin*
St John of God Hospital – Berwick*
Peninsula Health – Rosebud Hospital*
Peninsula Health – Frankston*
Austin Health – Olivia Newton-John Centre*
(* Phone bookings only initially, no walk-ins)
Another mass vaccination hub will open tomorrow at the Cranbourne Turf Club.
There are about two million Victorians now eligible to get the COVID vaccination.
The majority being vaccinated now are receiving the AstraZeneca vaccine, with a limited number of people under 50 in the 1a and 1b priority groups getting the Pfizer vaccine.
Epidemiologist Catherine Bennett said there may be some hesitancy to get the AstraZeneca vaccine, given reports of blood clots in a small number of people.
"As more people take up the vaccine, I think other people will then think yeah, there's a lot of benefits of this, and my friends are fine, and I'm OK with this," she said.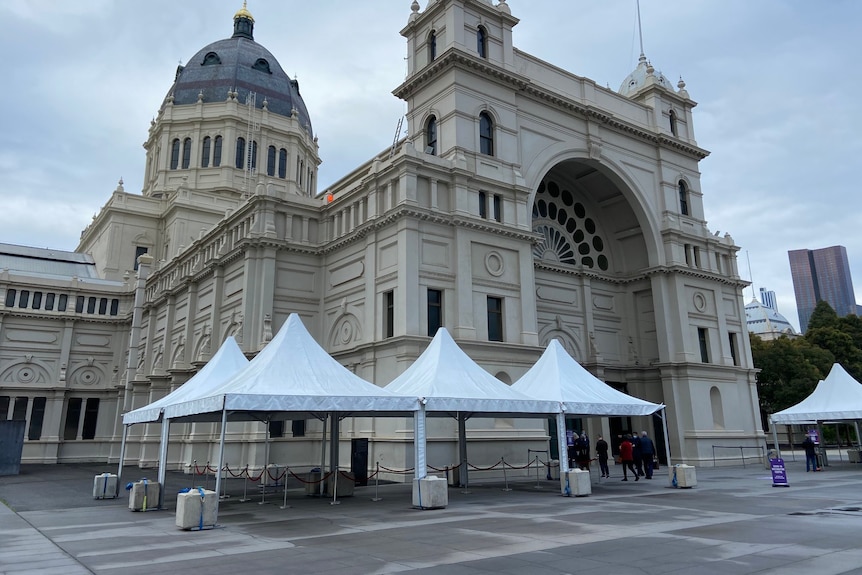 Professor Bennett said the vaccination scheme was starting to gather speed after a slow start.
"We've actually had four times as many jabs go out in the last four weeks, as did in the previous first six weeks of the rollout," she said.
"And in another two weeks, it steps up again, because that's when they can also access the vaccine through their GP."
Brenda said she understood the hesitancy some people might feel about the COVID vaccine, but the risk was small.
"Any of us who've taken any drugs at any time, I mean you take a risk and I think the risk of what this vaccine can do compared to what COVID could do to you are pretty stark," she said.
Dianne McKenzie was also among those getting vaccinated at the Royal Exhibition Building, and said she felt a sense of relief.
"Gotta say I'm really grateful, because I've been trying to keep safe, trying to keep my elderly mum safe by staying away from people, and this feels like a little bit of extra protection so I can stop worrying about myself and worrying about her and relax a little bit after a hard year," she said.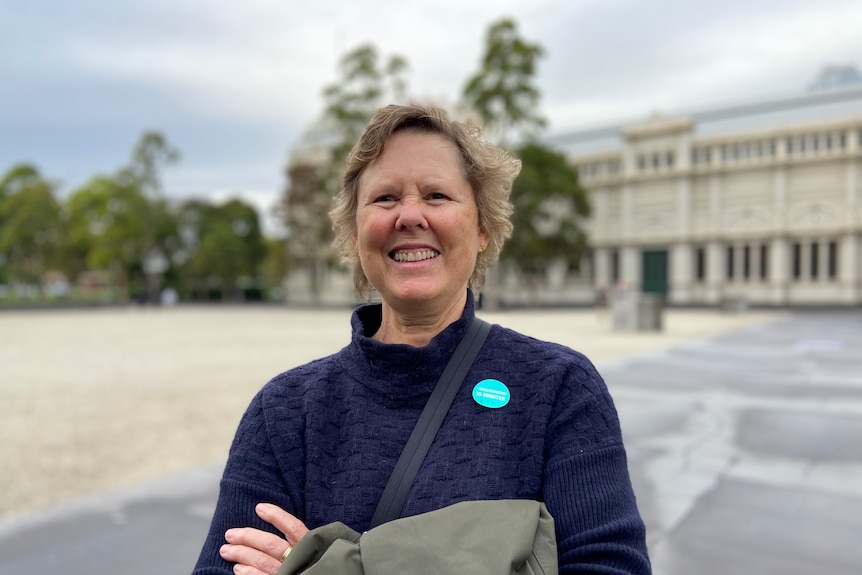 Melbourne Lord Mayor Sally Capp urged people to follow the advice of doctors after receiving her vaccine dose at the Convention and Exhibition Centre.
"The scariest part is actually admitting publicly that you are 50," she said.
"If that's the scariest bit then we're going to be OK. We know that all of the health experts have said that AstraZeneca is effective and I think it's really important that we keep listening to that health advice."
The Victorian health department is also recommending people who have had the flu vaccine wait for two weeks before receiving the COVID vaccine.
The department said there was no evidence the two vaccinations interact with each other, but if a person does have a reaction, the 14-day time frame would make it clear which vaccine they have reacted to.