Smash Bros.' Minecraft fighters can mine levels and level up weapons – Video Games Chronicle
Super Smash Bros. Ultimate" href="https://www.videogameschronicle.com/games/super-smash-bros-ultimate/">Super Smash Bros. Ultimate's Minecraft" href="https://www.videogameschronicle.com/games/minecraft/">Minecraft fighters, Steve and Alex, will release on Tuesday, October 13.
The Minecraft fighters will be available as part of the game's Fighters Pass 2 or individually for $5.99 USD / £5.39, Nintendo" href="https://www.videogameschronicle.com/platforms/nintendo/">Nintendo confirmed on Saturday.
A new Mii Fighter Costume pack will release on the same day featuring Creeper (Brawler), Pig (Brawler), Diamond Armour (Sword Fighter), Gil (Swordfighter), Bomberman (Brawler) and Travis (Sword Fighter).
In a live stream presentation on Saturday (viewable in full via the embed on this page), Smash Bros. director Masahiro Sakurai" href="https://www.videogameschronicle.com/people/masahiro-sakurai/">Masahiro Sakurai detailed the unique features of the fighters and confirmed the addition of seven new music tracks based on mini-games and spin-offs from the Minecraft series.
Steve and Alex's default ability allows them to mine material from around arenas. Pressing B will automatically mine the floor ahead of the character, with materials mined dynamically changing based on the location.
Players can then use collected material at a crafting table to automatically craft the highest level tool they have enough material for. Players can summon the crafting table using the block move.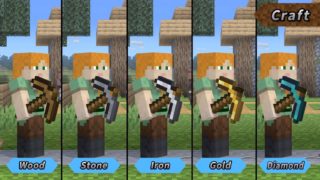 The fighters' neutral attacks have them swinging a sword, axe or pickaxe, which players can level up to five times.
Material is also used to fuel various moves, including an ability to summon and ride a minecart. If players run out of iron material, the move will end. For balance, materials will appear at a predetermined rate on competitive stages, to avoid random elements.
Steve and Alex's other abilities allow them to summon a magma block, drop an anvil or pull opponents toward them and automatically place them inside a pen.
The characters can also spawn temporary block platforms when in the air, or spawn wings and glide. Steve and Alex's Final Smash move summons a piston used to knock opponents into the House of Boom.
The DLC's new arena, Minecraft World, consists of multiple areas with their own biome, which randomly change with each match and feature plenty of blocks for players to destroy.
.cls-1fill:url(#linear-gradient).cls-2fill:#fff
Does an Apple Search Engine Make Sense? – Motley Fool
"I think their search engine is the best," Apple (NASDAQ:AAPL) CEO Tim Cook said nearly two years ago when asked about Alphabet (NASDAQ:GOOG) (NASDAQ:GOOGL) subsidiary Google's controversial role as the default search provider in Apple products. The long-standing arrangement, which dates to 2005, wasn't always so controversial, but recent antitrust scrutiny of major tech companies has shined a light on the far-reaching implications of the partnership — and how critical it is to Google's traffic.
With risks around the deal intensifying, it comes as little surprise that Apple is exploring the alternative option of creating its own search engine.
Applebot has been more active lately
Financial Times reports that Apple is ramping up its development of a proprietary search engine that could theoretically displace Google as the default provider at some point in the future. Apple has historically outsourced embedded search functions to both Google and Microsoft Bing but has faced recent criticisms for partnering with Google while simultaneously bashing advertising businesses as part of its ongoing privacy crusade.
Years ago, Apple created Applebot, a web crawler that indexes web pages for Siri and Spotlight. It is similar to the technology that Google uses. Search pundits have observed a recent spike in Applebot activity, according to the report, which suggests that the Mac maker is scaling its efforts to index more websites as it builds a database.
Apple is also starting to increasingly display its own search results in certain parts of iOS 14, Financial Times notes.
The search partnership allegedly undermines competition
The Department of Justice filed a formal antitrust complaint against Google last week, alleging that Google engages in anticompetitive conduct, including its pact with Apple. The search leader uses the agreement to effectively block out competition, while Apple is paid handsomely (estimated at $8 billion to $12 billion per year) for its role, according to the suit.
"Google's documents recognize that 'Safari default is a significant revenue channel' and that losing the deal would fundamentally harm Google's bottom line," the prosecutors wrote. "Thus, Google views the prospect of losing default status on Apple devices as a 'Code Red' scenario."
The DOJ estimates that the deal covers approximately 36% of all search queries in the U.S. across mobile devices and desktop computers. The complaint also points out that Google estimates that nearly 50% of all search traffic came from Apple devices last year.
The payments from Google are one of the biggest growth drivers for Apple's services segment, and there are now fears that regulators could push to dismantle the alliance. Google calls the DOJ's arguments "dubious."
Should Apple acquire a search engine?
Over the summer, Bernstein analyst Toni Sacconaghi suggested that Apple should acquire privacy-oriented search engine DuckDuckGo in order to compete directly with Google in search. Apple could likely scoop up the smaller search company for less than $1 billion, according to the analyst's estimates.
However, that theoretical acquisition would end up costing Apple a lot more — in the form of lost revenue from Google. Sacconaghi's estimate for how much Google pays Apple is on the lower end ($7 billion to $8 billion). Somewhat undercutting the idea is the fact that DuckDuckGo licenses Bing's web crawler technology, so purchasing the company may have limited strategic value, particularly if Apple is pushing forward with Applebot.
Apple has been aggressively insourcing "core" technologies in recent years in order to better differentiate itself from rivals. Should search be included on that growing list?
Xbox Series X stock shortages could last 'for a few months' after launch, admits Microsoft – TechRadar
Head of Xbox Phil Spencer has warned that Xbox Series X stock shortages could last "for a few months" after launch.
Xbox Series X pre-orders quickly sold out when they opened on September 22, but if you've been waiting to pick up Microsoft's flagship console on launch day, you might be disappointed.
Speaking in appearance on the Dropped Frames podcast, Spencer conceded that demand will continue to outstrip supply for its new consoles this year, and into 2021.
"We know what our supply will look like basically for the rest of the year. We're going to have more demand than we do supply," Spencer said.
"And I will apologize in advance to people for that. We saw it with pre-orders, how much energy there was, and we were basically out [of stock] in a couple of hours, which is unfortunate. I think we are going to live in that world for a few months. We're going to have a lot more demand than we do supply."
Demand is high for next-gen
The situation echoes what Sony Interactive Entertainment's CEO Jim Ryan said in a recent interview regarding PS5 stock.
Ryan said that "the demand as expressed by the level of pre-order [sic] has been very, very considerable" and that "not everybody who wants to buy a PS5 on launch day will be able to find one."
The Xbox Series X and Xbox Series S release on November 10 and are priced at $499 / £429 / AU$749 and $299 / £249 / AU$499 respectively.
You can read our Xbox Series X hands-on preview now, and also watch us unbox Microsoft's new premium console, as well as the smaller Xbox Series S.
Via GameSpot
New PS5 app revealed — here's how it works
With the official debut of the PS5 just around the corner, Sony is pulling out all the stops to offer buyers the best launch experience possible. That includes rolling out an updated version of the PlayStation App, which has been "reimagined" for use with both the PS4 and PS5.
The app's global rollout will begin by way of iOS updates on devices running iOS 12.2 or later and Android 6.0 or later.
The revamped app introduces a selection of new features, like voice chat, native PS Store integration, and improvements to the user interface meant to offer a more expedient and quality browsing experience. PS5 users will interact with their new consoles through the PlayStation App, even when they're away, so the app updates focus on making more of the social experience and remote aspect of controlling each console.
The updated user interface offers quicker access to the PlayStation home screen to see what others are playing along with updates on your own Trophies. This should make it easier to decide what to play based on your current game progress or what others are doing.
If you're feeling social, you can create party groups straight from within the PlayStation App, as well as voice chat with up to 15 friends from your phone. If text chat is more your thing, that's covered, too. The PS Messages app feature has also been folded into the main PlayStation App instead of existing outside as a standalone program. Thus, existing messages or contact information will simply be stored in the main PlayStation App from now on.
Controlling and managing your PlayStation downloads is an important app function as well. The new PS Store will let you browse and shop much more quickly than you could with the previous console iteration. You can remotely download games and DLC to your PS4 or PS5 so when you're ready to come back for a play session, everything is good to go. When the PS5 is available, the app will also let you remotely launch games, sign into your PS5 from the app, and allow you to manage storage remotely as well.
The PlayStation app will also feature official PlayStation-centric news found in the Explore tab. You can check out any announcements via the PS Blog and information straight from the developers themselves here to learn a bit more about what's going on in the industry.
The PS App is available right now via the App Store and Google Play, though the latest updates won't be out for some time. If you want to get the most out of the app, you'll first need to sign up for a PlayStation Network account. With only a few weeks left until the Nov. 12 launch, it might be a good day to go ahead and download the app now and see what features are available before the PS5 arrives.
Source: – Tom's Guide