Submissions accepted for Anonymous Art Show – Abbotsford News
The Abbotsford Arts Council is now accepting applications for its sixth annual Anonymous Art Show fundraiser.
The show runs as a digital exhibition from Nov. 1 to 30 at abbotsfordartscouncil.com, and artists can apply until Oct. 10.
The show enables the community to support emerging artists and gives the buyer an opportunity to take home an artist's original work at an affordable price.
The Anonymous Art Show features art that is submitted anonymously by members of the community of all ages and skill levels to be featured and sold in a lightly juried exhibition.
Each piece displayed in the show is on a 12" x 12" x 1.5" canvas and is sold for $100. Half the proceeds go to the artist, and the other half stays with the Abbotsford Arts Council.
When a piece is purchased, the work will be marked as sold and the artist's name revealed. The Abbotsford Arts Council will announce each participating artist on Instagram @abbotsfordartscouncil as their work is sold.
The proceeds help fund programs such as free community events, exhibition space, arts initiatives and more.
Artists may submit their application online at abbotsfordartscouncil.com until Oct. 10, and the completed works must be delivered to the Kariton Art Gallery (2387 Ware St.) on Oct. 10 from noon to 4 p.m. or by pre-arranged appointment.
The House of Fine Art (2485 West Railway St.) will include a $5 coupon (to be used toward a future purchase) with the purchase of the required pre-stretched canvas.
Visit the arts council's website or email gallerycoordinator@abbotsfordartscouncil.com for more information.
York Region teacher, animal lover lifts spirits by 'abandoning' art around town – NewmarketToday.ca
If your spirits are lifted when you stumble across beautifully etched wooden art pieces around town, you have Erin Sanderson to thank for it.
The York Region special needs teacher is showing her love for her community by leaving special gifts for people to find throughout Innisfill, after moving there more than 14 years ago with her husband, Simon, and their two boys.
Just last year, she discovered a hidden talent in pyrography: the art of free-hand wood burning.
With the COVID-19 pandemic causing feelings of fear, anxiety and sadness for many people, Sanderson started leaving some of her wood pieces in random spots around town as a way to lift spirits.
"I've been placing little pieces of [wood] art all around Innisfil," said Sanderson.
She adds positive messages and inspirational quotes on the backs of the wood art designs before placing them on park benches, in restaurant bathrooms, on top of electrical boxes, or at the dog park.
She said it is part of a movement across the world known as Art Abandonment.
"I just want to put a smile on people's faces," exclaimed Sanderson. "I love the neighbours and the community, the fact that everybody is ready and willing to help each other… I just want to distract people from all that is going on in the world right now."
"When my dad passed away, I inherited all his tools," said Sanderson, adding that her father was a woodworker who made cabinets. "I started using my dad's tools, carving and sketching, and then my mom bought me a wood burner for Christmas."
Sanderson learned how to burn intricate designs and portraits onto wood, and has since joined groups on Facebook to learn different wood burning techniques.
"If it's clean wood, I can burn anything on it," she said.
In just the last year, Sanderson has made charcuterie boards, hand-crafted wooden knives, custom art on paddles and oars, bird houses, keepsake boxes, name signs, business logo signs, pet portraits and more. She creates the designs at home, doing custom orders for clients.
"There's a lot of tracing, but the technique is actually burning it onto the wood," explains Sanderson. "What I really enjoy doing is when someone has an idea, we can work together to create a piece."
Sanderson uses graphite paper to trace images onto wood before burning the image with her tools by hand to get the right picture.
"If you don't think you can do something, just try because you never know," said Sanderson. "It's been great for my mental health, to be able to focus on something so beautiful… I love working with people and making their dreams come true through this art."
So next time you're out around the town, and you happen to find a wood carving with a note attached "You found free art", keep it as a token of Sanderson's attempt to make you smile.
Simon works with the York Region District School Board, inspired by sons Jack, 10, and Calvin, 8, who are both on the autism spectrum.
The Sandersons have three pets; an old English sheep dog, Miss Mugs, or Fluff-a-lug; a foster pug named Forest; and a big, fat cat, Chicken.
Sanderson loves animals and once worked for animal control in the Innisfil, Bradford, and Newmarket area. Now, she works part-time at a dog kennel, Unicorn Hill Siberian Huskies in Baxter, just 10 minutes outside of Innisfil.
Sanderson is also a volunteer with Pawsitive Pet Food Bank in Innisfil with her good friend, Irene Louro. The pet food bank collects pet food donations for animals in the community.
"We collect from the community and donate to those going through a tough time." explains Sanderson.
Sanderson also sells pet food, Harlow's Blend, an all-natural holistic line of Canadian made dog and cat food. Sanderson delivers it for free to Innisfil residents.
To view more of Sanderson's Pyrography, visit her Facebook page: PyrographyNerd
Creative Ideas Flourish As Windsor's Art & Craft Stores Pivot During Pandemic – windsoriteDOTca News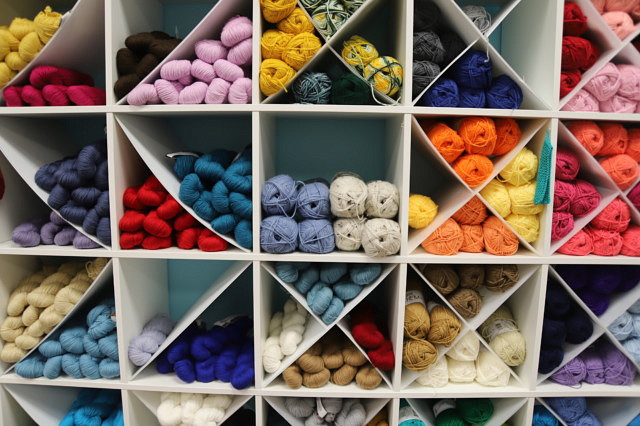 With most people spending a lot of extra time at home these past months, Windsor's art and craft establishments have helped to keep locals interested in fresh, new arts and crafts, all while pivoting their businesses for changing times.
There are many quality shops in town to nurture your crafting and creating needs, or to help start something new whether it is your first or hundredth project.
From drawing to knitting, your crafting cravings can be satisfied in just a short drive around town while supporting local.
Article Continues Below Local Sponsor Message
Looking to have your imagination brought to life? Come see what's going on at Beatnik Art Supplies…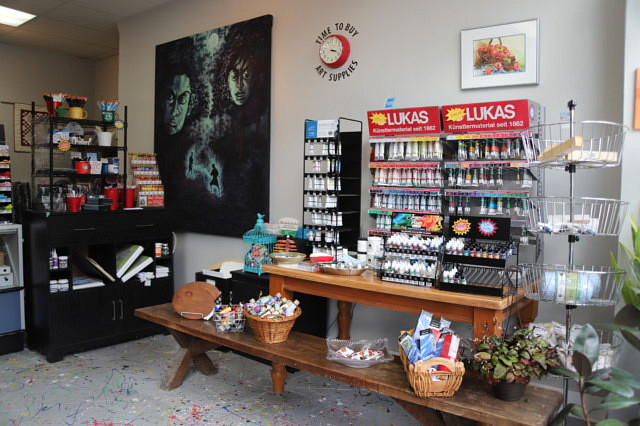 Beatnik Art Supplies is an art store "by artists for artists," as described by owner Katrina Rutter. The shop is run by her and her son, Julian Pawlaczyk, who are both well versed with many of the items they offer in-store.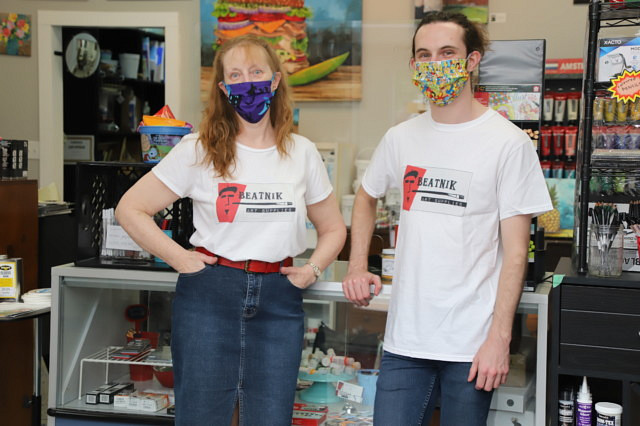 A painter at heart, Rutter reflects on how everything has changed since the pandemic changed the world we are in. She closed Beatnik's physical location in March as a lot of other businesses did, but "we started doing deliveries and curb-side pick up," she explains. "So we never actually closed… just the store front."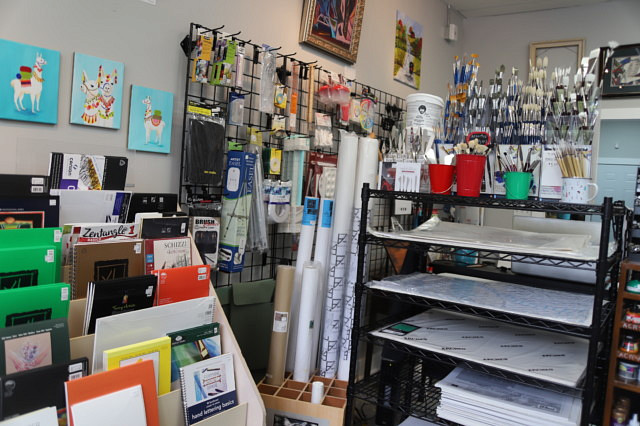 "We delivered as far as Cottam," Rutter says.
Before they reopened the physical store, the set up had to be changed a bit to be able to follow guidelines and keep everyone safe.
"Everything was all open before…but not we have to be behind the [Plexiglas] barrier," Rutter says.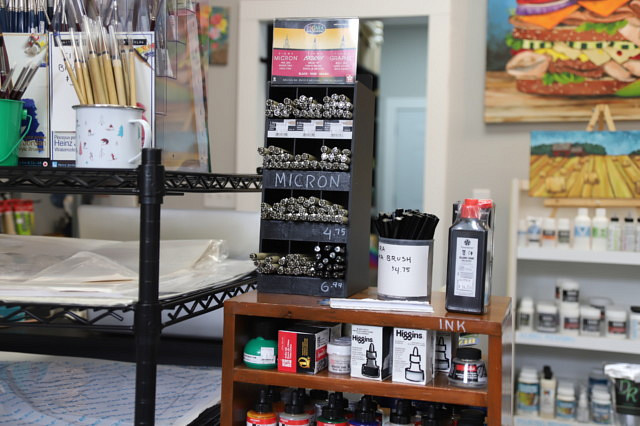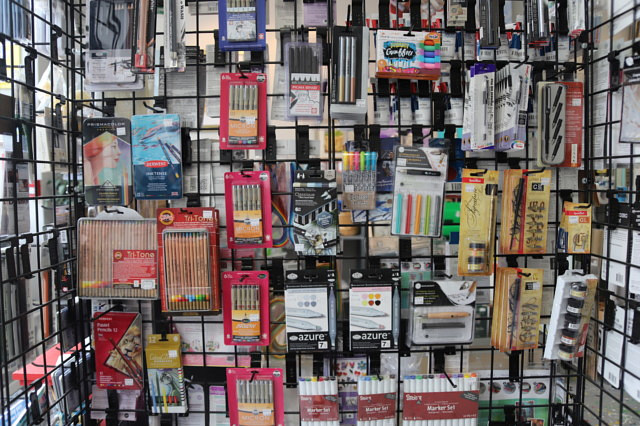 The store sells a variety of paints, including watercolour, gouache, and oil, as well as charcoal, graphite, pen and ink, block printing, and much more.
With a lot more people staying home, Rutter noticed some new clientele popping by.
"We've noticed people who want to try art because they have the extra time to do it right now," she says. "There have been a lot of beginners looking to try something new."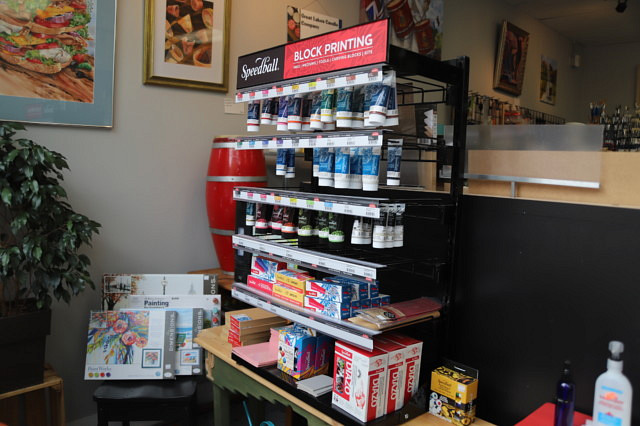 "We both have a good art background and give good suggestions of what would be good for anyone who comes in of any skill-level," Rutter says. "We don't want people to waste their money."
The shop stocks higher-end paints and products as well as items more suited for beginners and those wanting to try a craft out. "We try and supply stuff that is popular in the local area," she explains.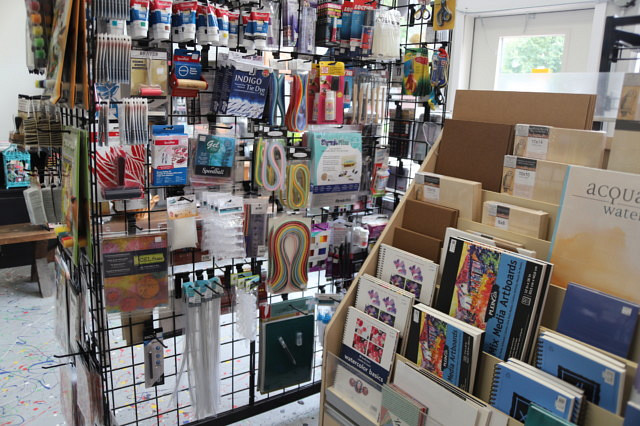 "It was a bit difficult to get supplies at the start of the pandemic," Rutter mentions. "There was a good five months where there was no art paper, due to a pulp shortage. We just started to receive paper again."
The pandemic also halted classes that would have taken place at the store.
"There was also the issue that some supplying factories had just completely shut down," Rutter says, mentioning that she noticed a shortage of paints, mediums, and various other items.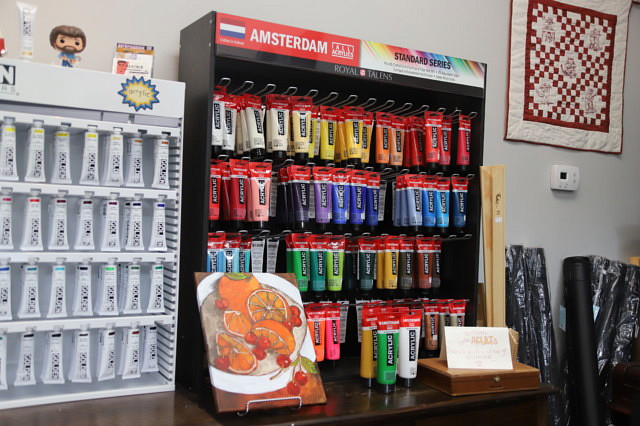 Like many local business, however, the team at Beatnik Art Supplies has persevered and has enjoyed welcoming back artists in to their storefront.
"We used to have the Beatnik Café in California," Rutter says. "It was a really fun time. We had all sorts of musicians come, and fabulous open-mic nights. Beatnik is all about music and art — we did the music, so now we're doing the art."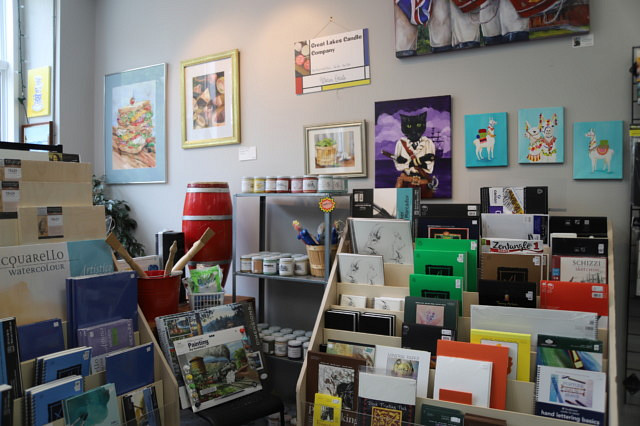 Rutter says since opening two-and-a-half years ago, the neighbourhood has been incredibly welcoming and friendly. She says many locals wave hello when walking by.
"We get a lot of questions from continuing artists that come in," Rutter says. "Which is great because we are helpful as we are artists as well. Some customers even call us on the phone with questions, varying from the paint application to mediums."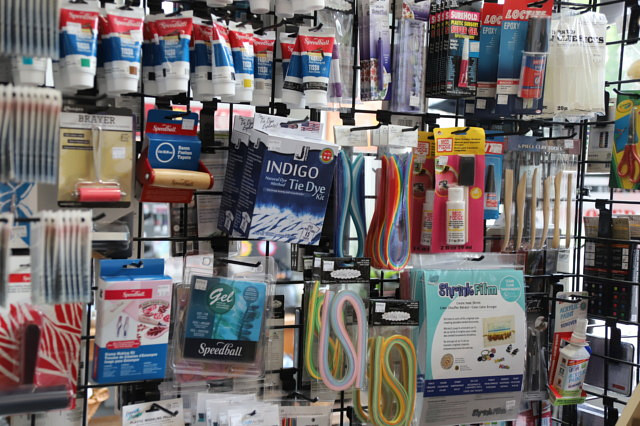 "Everyone comes in here with a common interest; we all have art in common," she says. "We're all friends because of art."
The pair hopes to eventually host demonstrations on their social media accounts, including their Facebook which you can find here.
Bring your imagination to life and visit Beatnik Art Supplies at 224 Erie Street West.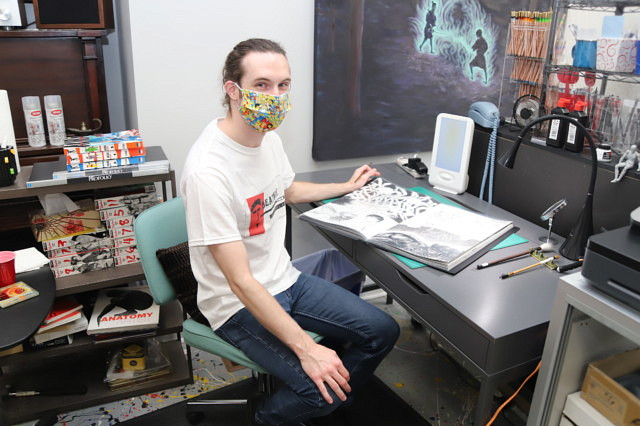 Gearing up for the colder weather and thinking about becoming a maker? Little Sheep Boutique might just be up your alley…
Little Sheep Yarn Boutique aims to create an environment where everyone feels they can be comfortable in creativity.
"Everybody has the capacity for creativity," says co-owner Kate Rosser-Davies. "So we are focused very much so on helping people with whatever type of creativity they have and helping them figure out what they want to do."
The yarn store offers a huge selection of yarns in both natural and synthetic varieties, as well as the tools a maker would be seeking. There is also finished goods on the floor for sale, as well as accents for projects like buttons and pom-poms. Items for both knitting and crocheting can be found at Little Sheep Yarn Boutique, as well as a small amount of sewing notions.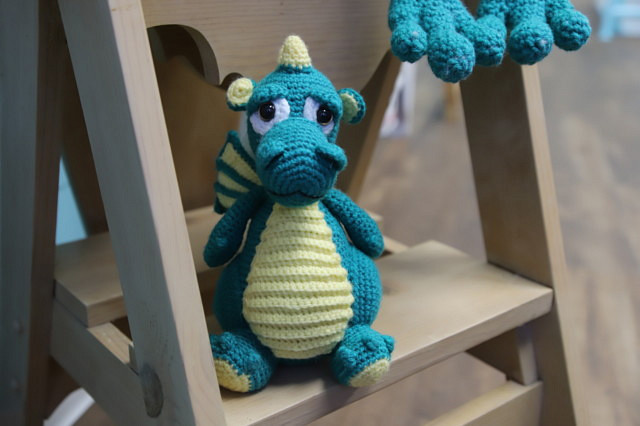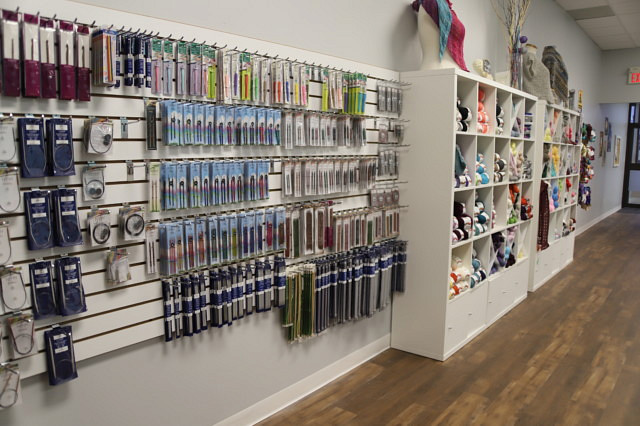 "The store is for all skill-levels and all price-ranges," Rosser-Davies says. "We would typically have classes. We love teaching people."
"We try and feature local artists and makers wherever possible," she says. "We carry several yarns that come from indie dyers in Ontario. We have featured yarns from Windsor to Muskoka to St. Thomas and beyond."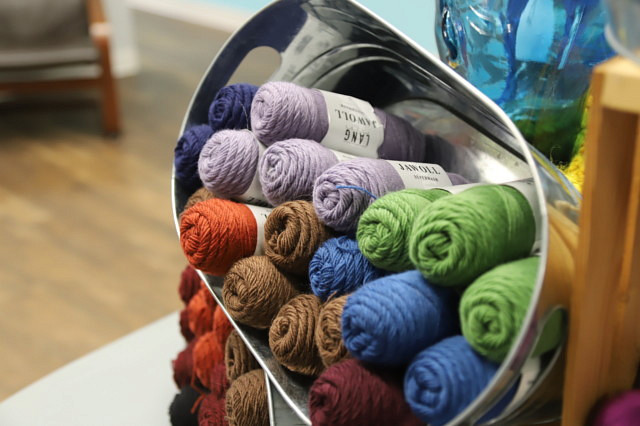 "The first little while of the pandemic, right after the schools closed, we had a rush of people trying to stock up," Rosser-Davies says. "We had to make sure we managed it to not have too many people in the store."
Rosser-Davies says at times people were lining up to get yarn.
"People didn't want to be bored at home with nothing to do," she says. "Then in April, we shut down. We had to completely, from the ground up, change our website to allow for online sales. In late April, once the website was up, we started doing yarn deliveries. I delivered by bike, and we also had car-driven deliveries. We also shipped to a certain extent."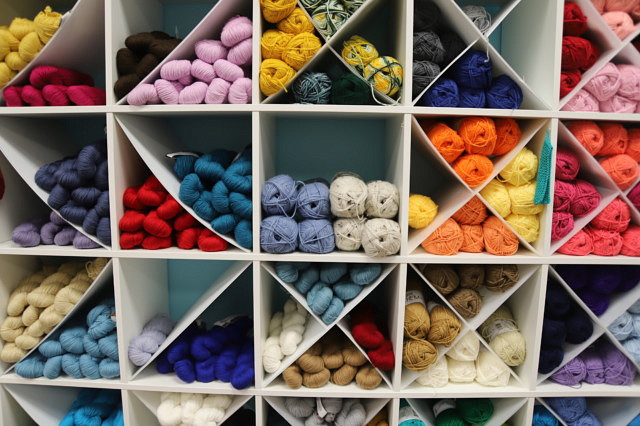 "I probably biked over 500 kilometres doing deliveries," Rosser-Davies recalls cheerily. She mentions her parents were also a great help to her and co-owner Susan Garrett when they were doing deliveries.
"Our customers stuck by us, too," Rosser-Davies says. "That's the part that gave us a lot of comfort. Our customers didn't abandon us to get cheaper yarn — they know we are far and have a superior product.
"The small business community just completely depends on people in the area who care for us," she says. "There's no small business that will make it through this without customers who care, and we are so lucky to have that."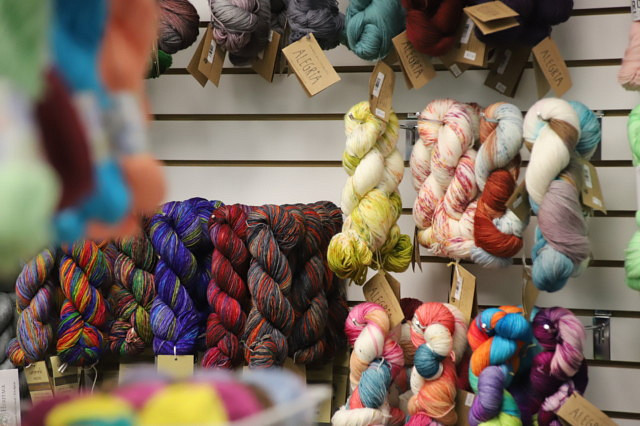 The shop started offering kits early on in the summer to help keep people busy. The kits came with yarn and a pattern
"When customers bought our kits, they would send us well-wishes, saying how they missed us and missed our social knitting nights," Rosser-Davies says.
Once able to, in the early summer, Little Sheep Yarn Boutique opened their doors — but only for a short time at their previous location to host a moving sale. The new location is larger and can hold more customers while safely following the guidelines. "We wanted to grow," Rosser-Davies says. "The old location was small, meaning we couldn't add more yarns and couldn't host larger classes."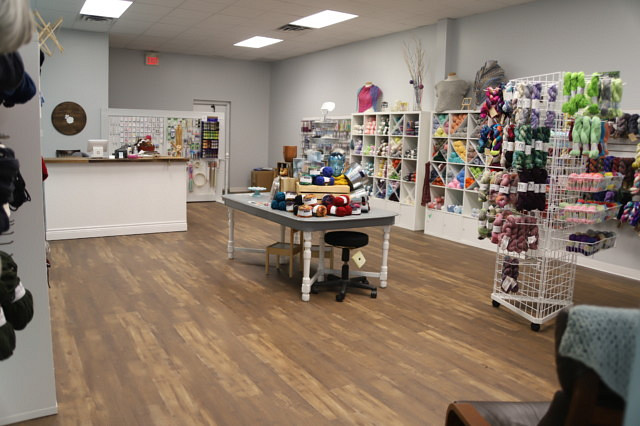 "Our Wednesday night socials were always super popular," she says. "When everything was shut down, we were sad and missed everyone. So we thought to try a Zoom call."
Although it was a slow start, Rosser-Davies says they now have regulars who attend weekly, and new people popping in here and there.
"It's been sort of nice, as we have been able to host people who weren't able to come to the in-person socials previously," she says.
Small, in-person classes are beginning to spring up once again, but in adjusted fashions and with all safety rules being followed; masks are mandatory.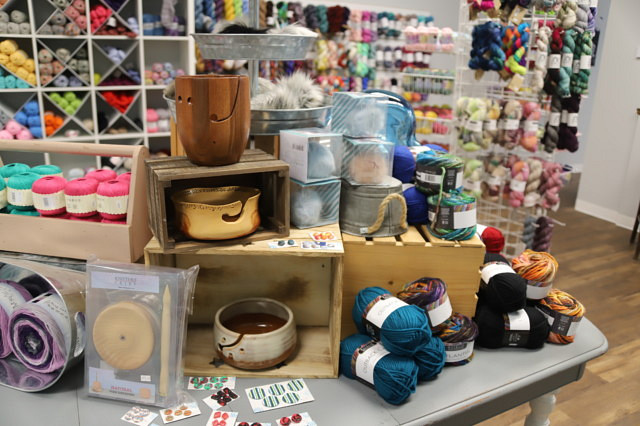 Rosser-Davies welcomed new customers who found the shop during the pandemic and says they build a trust relationship with people at a higher risk of contracting COVID-19.
"A lot of makers were calling us who were in the habit of shopping for their yarn in big box stores," she says, mentioning how customers were more comfortable to come to the much less crowded environment at Little Sheep.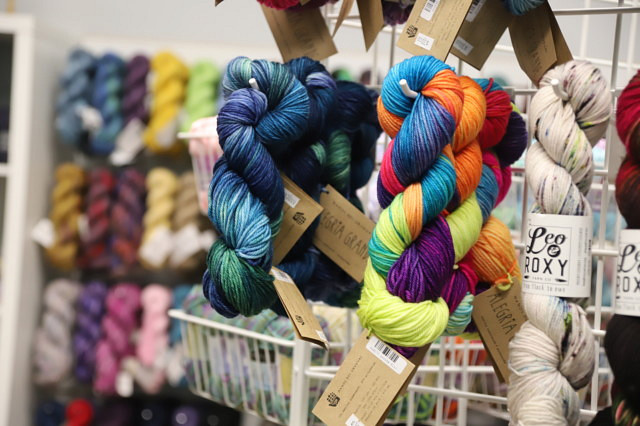 "I like to think being a maker gives you a certain amount of community," Rosser-Davies says. "Doing something with your hands, it feels good."
"When the world outside is chaotic — and it is — the fact that you can sit with something and work on it, and have control over it, and suddenly, an evening has gone by and you've produced something beautiful," she says. "I find it a great way to ease my anxiety; it's an anxious time right now. It's a privilege to be able to step away from that and put your hands to work and silence everything else. That's the only way to keep your energy up for some people. It is very easy to feel the burden from the outside world, and for me anyway, this is how I recharge."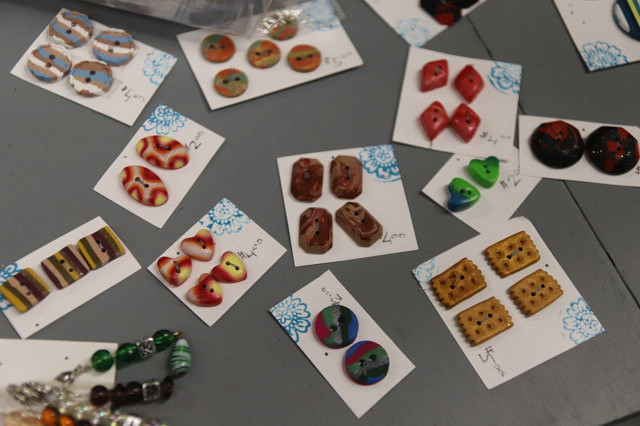 Little Sheep Yarn Boutique welcomes yarn-loving customers of any skill-level, and of any specialty whether it be for knitting or crocheting or both (bi-stitchual, as they call it.) Rosser-Davies and Garrett love to help customers who visit in search of their next project, or who need help troubleshooting a current one.
Visit Little Sheep Yarn Boutique and get your stitch on at 521 Erie Street East, or visit them virtually on their website here, and their Facebook here.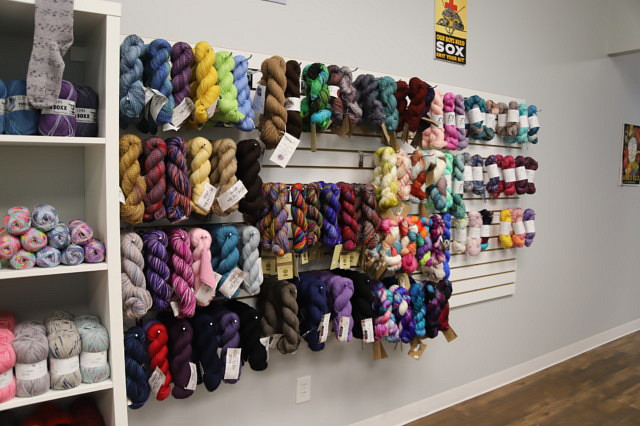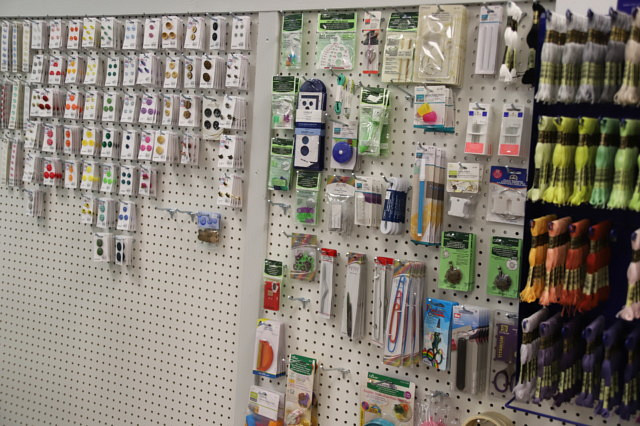 Looking to start a unique new venture, or find the best gift ever? Lets check out Simply Stained Glass….
Simply Stained Glass does not simply give a local the ability to purchase amazing works of art — they also stocks supplies to allow the customer to become the artist if they so please.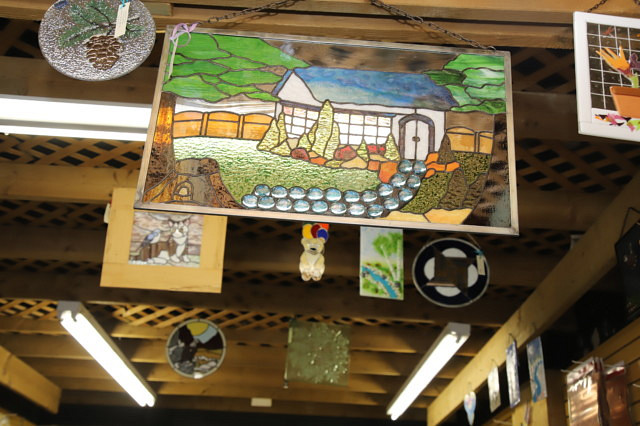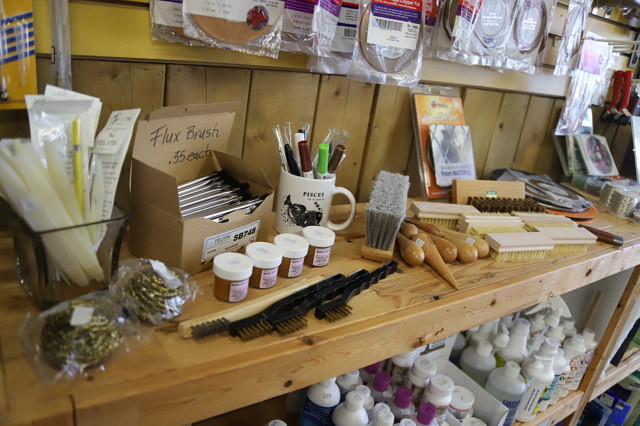 Denise Presland, owner, describes Simply Stained Class as a place for artists and beginners adventuring in to the world of glass. "It's a place for art-seekers," she says.
The store stocks glass, various supplies for stained glass work as well as finished pieces for purchase. Presland had been introduced to the art about 18 years ago by her sister, and started off doing glass art and fusing glass.
She stepped out of the craft for a short time, and got back in to it full-throttle. "I was doing a lot of work out of my house and it made me realize I'm not the only one with an interest in this," she explains.
Presland is able to offer repairs as well as custom orders in addition to her supplies that can be found in-store and online.
The shop also offers classes for the art, however, the pandemic had put that on hold for a bit. The first class since March took place in late September with a much smaller capacity.
"Normally we have classes from September through to April, during the cooler months," Presland explains, as this year had to be cut short.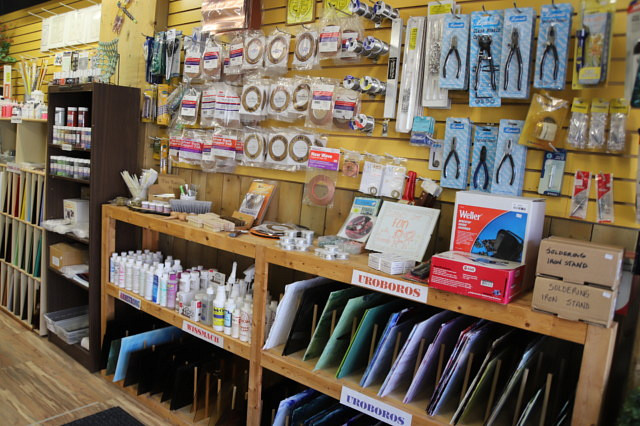 "Our website really picked up since April, while people had the time to get back to their projects," she says. The store was shipping near and far for those seeking supplies.
"We closed in March, and opened back up once we were allowed to in-store," Presland explains. "But our online shop never closed."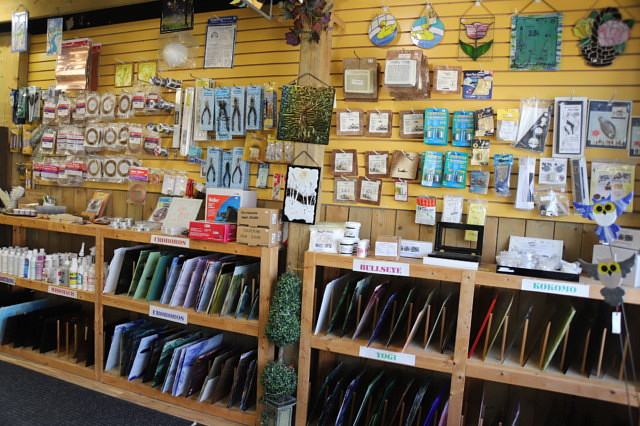 "Shipments of supplies to the shop have been a bit slower since the pandemic, and some glass supplies are a bit more difficult to get, but it's getting better," she says.
The store sells traditional glass — imported from Mexico and Europe — which Presland says is the same as what's used in churches. They receive large sheets of glass, and cut them in to the sizes that customers need. This glass is strictly flat panels.
Fusing glass, specifically "96 COE", is also offered at Simply Stained Glass, which is used as an "art glass." This can be used to make things such as bowls and platters, or also just kept flat, with the use of a kiln.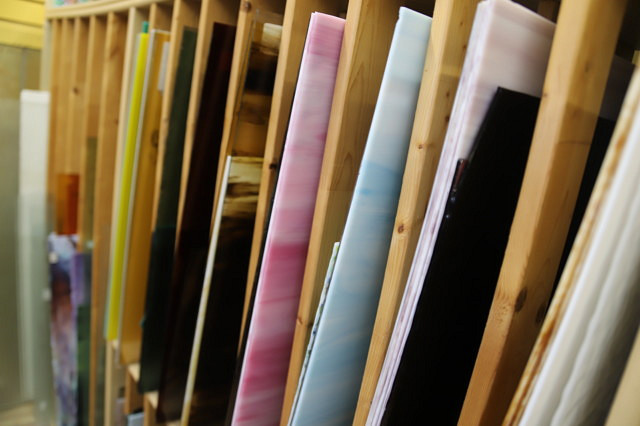 Both types of glass come in "all colours that you can think of," Presland notes.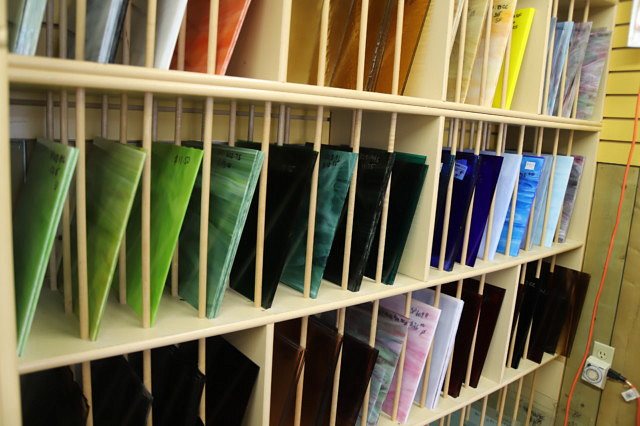 Odds and ends to be added in to glass projects, such as dichroic glass and bevels as well as powdered glass, are available to purchase.
Presland recommends taking a class before jumping into the glass arts, and carries items for those who have already tinkered in the craft to help continue their work.
"In my classes, everything is included…you just have to buy your own glass," Presland says. "We also typically offer workshops which would be one-shots. Afterwards, we just put the piece in the kiln, and the participants can come by to pick it up later on. By the time you finish a beginners class, you'll have enough knowledge to continue on your own."
Although, with fusing projects, a larger kiln would be needed if at-home projects were being sought; only a small kiln is available for sale at the store.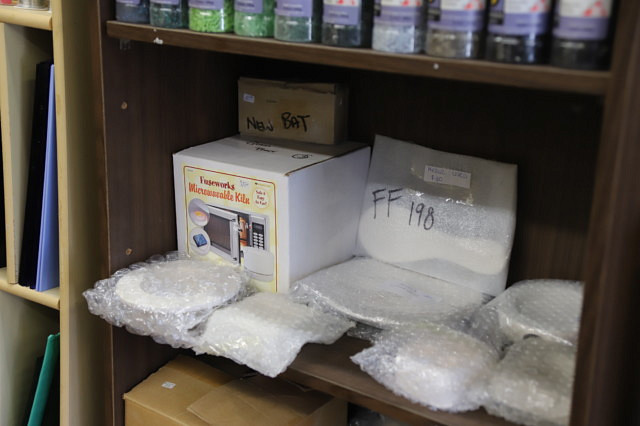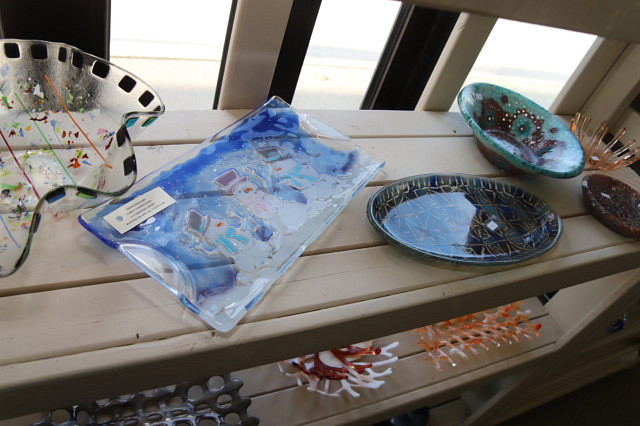 In addition to supplies, the store sells jewelry, magnets, night lights, garden sticks, bowls, jewelry boxes and many already-finished projects. Custom orders are always welcome and Presland can accommodate people's ideas and needs. She says kitchen cabinet doors have become quite popular lately.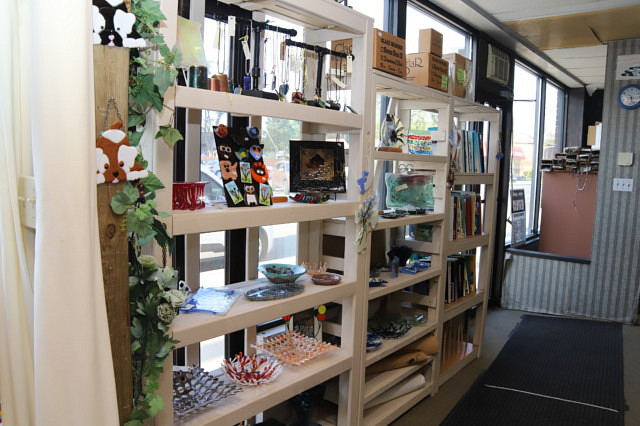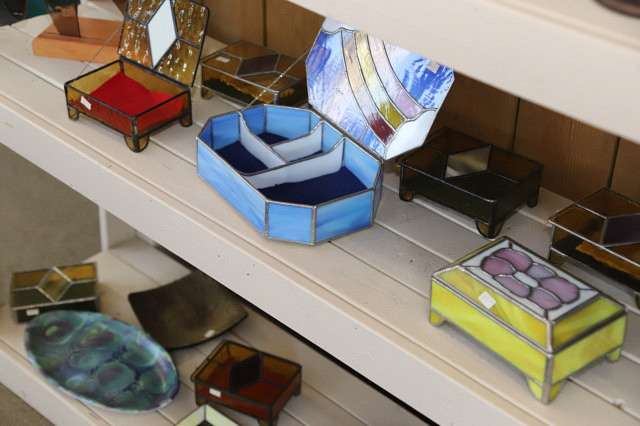 Supplies for sale at Simply Stained Glass also include different coloured foils, brushes, smoke absorbers, specialized grinders, scissors, and scrap glass.
Presland points out how diverse glass work can be, including making stepping stone with glass mosaics, sun catchers, and so much more.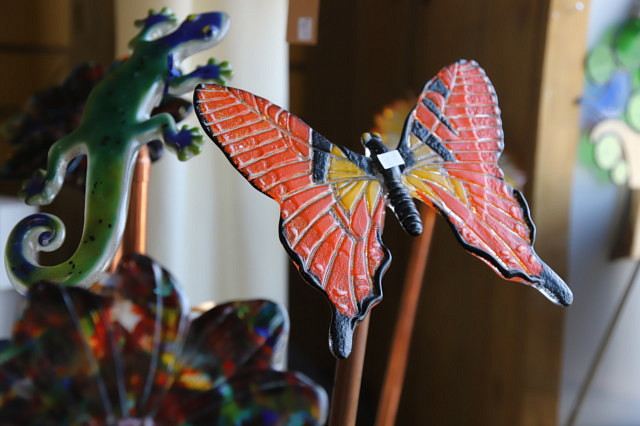 "I always tell people if they have never been in a stained glass store before to come and check it out to see what inspires you," she says. "People don't realize there's such a variety of colours and textures. It's not just a window: it's art."
Check out Simply Stained Glass for yourself at 3919 Seminole Street, or find out more on their website here.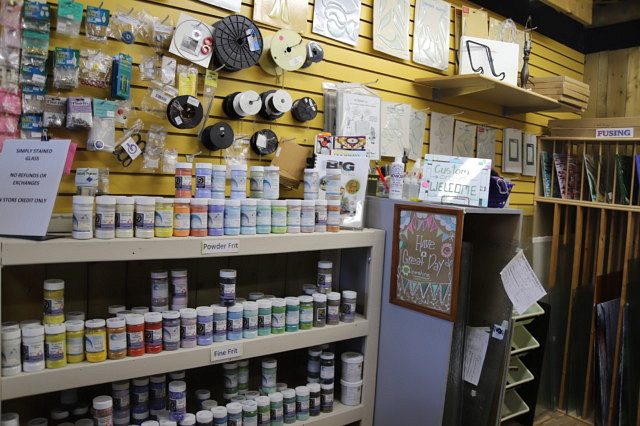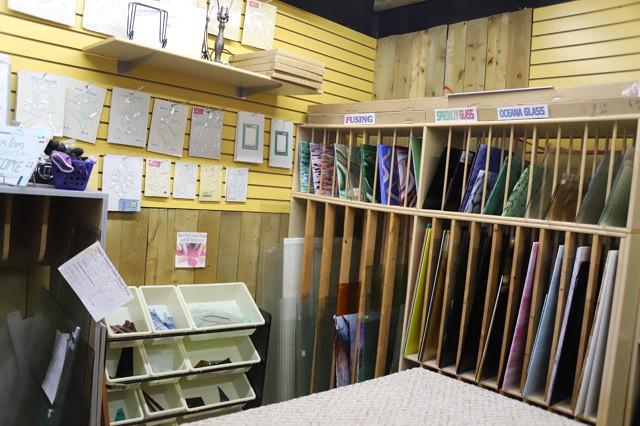 Looking to keep the kid's hands busy, or need some inspiration for some at-home art class? Art Lab has got you covered…
The Art Lab was typically a place for kids to gather and get a little messy while being able to express their creativity.
"Pretty much everything has change for us…in every way," Samantha Walker, co-owner, explains, who has her own two children at home to think about.
Walker, alongside her husband Matt Bolton, had to take a step back when the pandemic shut down everything in March.
The two had just obtained a larger space to be able to accommodate more people.
"We couldn't have people in the studio anymore," Walker says. "So we had to find a way to do what we do and bring it to people's houses — and thankfully, we can do that."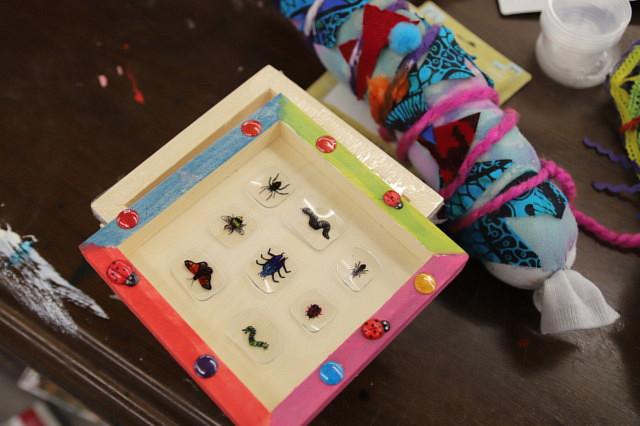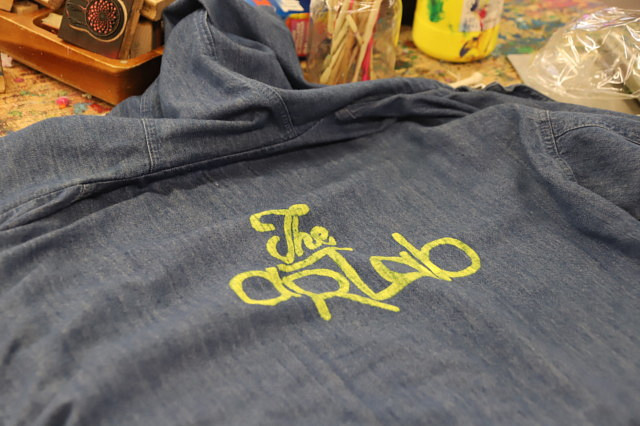 The establishment previously relied heavily on events such as field trips and parties, but the Art Lab team pivoted quickly in a direction that would still allow for local youth to get creative while stuck at home.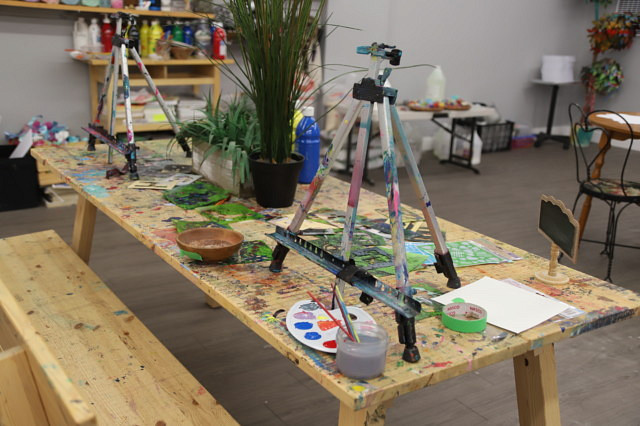 "We totally closed for the first two weeks, and then came out with our art kits," Walker explains.
The first art kits that Walker and the Art Lab team put together were dollhouse creating kits, donut making kits, and slime kits.
"The community was amazing when I first started the art kits; they were all over it," says Walker. "I was selling out fast. Autism Ontario were buying a lot of kits for their families, which we are so thankful for…it really helped."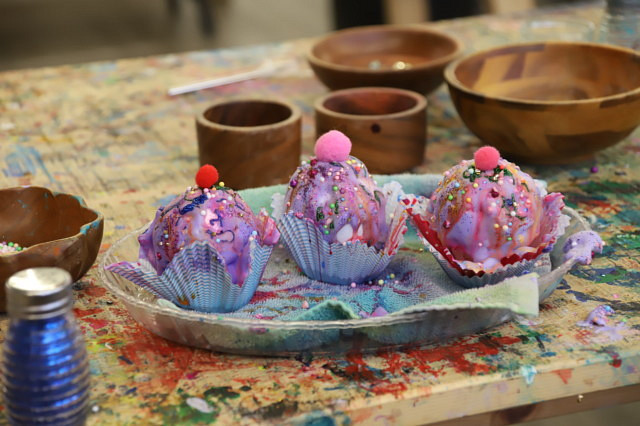 Once they could re-open their storefront, the Art Lab slowly started taking small private bookings for things such as family birthday celebrations, private home school art sessions, slime making sessions, and splatter room bookings.
"We're not rushing anything," Walker says. "We're not trying to put the community or kids at risk when we don't have to."
With kids missing out on art classes at school, the Art Lab is also hoping to fill the gap.
Now, with the future unpredictable, Walker has brought to fruition an Art Lab subscription box to fill that artistic void some children may be feeling, allowing them to lift their creative reach to be near and far.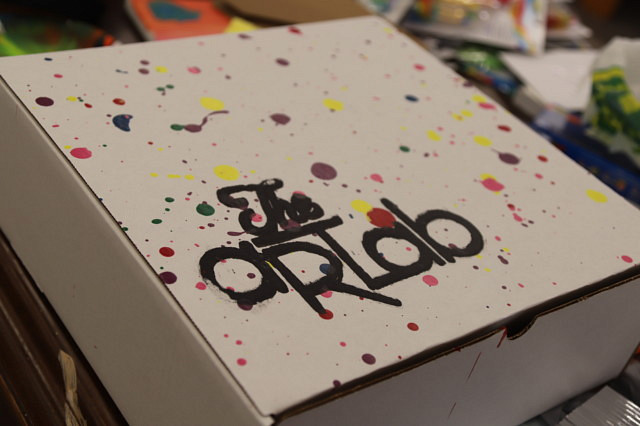 "The subscription box was the perfect solution to keep the Art Lab alive," Walker explains. "It allows us to connect with customers, and also lets me be present as a mom myself."
"Subscription boxes come with four activities, which is designed for one activity per week," she says.
Activities include dying items, measuring, mixing, has kids use fine motor skills, aids creativity and are self-esteem building.
"They're all process-based activities," Walker explains. "It's more about the process than the final product. It's for fun and we focus on how fun it is. The end result is still awesome."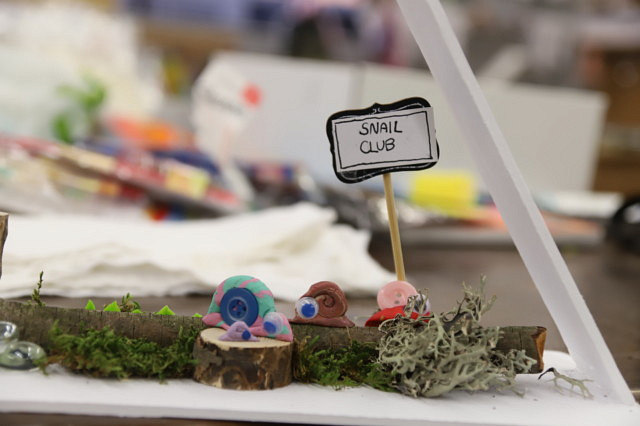 "We are trying to make it a learning through art sort of thing," she says. "So not only is it fun, they get something valuable out of it."
Each activity from the subscription box comes with a video "class" where Walker unboxes the project and teaches people how create the project as she would have during a regular in-person class.
"Art Lab is a place to get creative," Walker says. "We believe art is a feeling and an experience."
Get creative and find something fun for the whole family at the Art Lab located at 894 Ottawa Street, or visit them online on their website here and Facebook page here.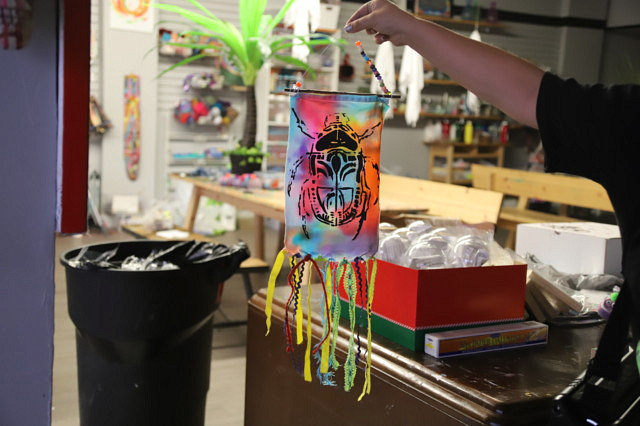 Crafting not your thing? Check out other hobby shops we took you shopping through here.
Art Gallery wants major expansion, asking for cash, professional input – SooToday
Art lovers are familiar with what is described as 'postmodern art.'
Now, the Art Gallery of Algoma (AGA) is envisioning a renovated and expanded post-COVID art gallery.
"There are issues with this current building. We are limited in what we can do and how we can serve the community, whether it's the arts community or the tourism sector. Now, in the time of COVID, everything is different, but this will not last forever, so we have to look beyond this and look at how we want to see the gallery re-emerge," said Jasmina Jovanovic, AGA executive director and chief curator, speaking to SooToday.
The AGA board, staff and a special renovation/expansion committee, on Oct. 16, put out an invitation to experts with experience in developing proposals for art galleries to submit requests for proposals (RFPs) and present their ideas for the Sault waterfront attraction.
"We should feature permanently, one way or another, on a rotating basis, something that reflects The Group of Seven, also another space that reflects our Indigenous culture, also Dr. Roberta Bondar's photographs…if you think of it from the tourism perspective, it would be nice to feature what is telling the story of Sault Ste. Marie and Algoma," Jovanovic said.
That wouldn't be all.
The AGA would also like to have space to showcase work by Sault and area artists.
"We would also like to enable local artists to have more space on a permanent (but rotating) basis, but to have a dedicated space where they can feature their art, and also, of course, bring in travelling exhibitions from outside that a lot of people, especially these days, cannot see (due to COVID-19 transmission fears linked to travel)," Jovanovic said.
The AGA is also looking at adding a space for food and beverages to be enjoyed by visitors.
"The AGA would like to explore the potential of some form of food services within the facility. This facility could include a seasonal exterior patio, with access to the surrounding sculpture garden park allowing the AGA to offer refreshments and confections to not only visitors within the facility but also those using the external spaces," an AGA document outlining the gallery's vision states.
"We decided to put all our dreams out there (in calling for RFPs)," Jovanovic said.
"We have storage issues for art, and office space. Everything is tight. We outgrew this building."
"The gallery did an amazing job over the last 45 years in growing this much but it is time now to look forward to the next 45 years."
The AGA is currently 10,000 square feet in size, but Jovanovic said she does not have a specific new size in mind when it comes to the desired renovation and expansion.
"I'm going to rely on the experts (in answering that question)," she said.
The AGA is anticipating the cost of the project to not exceed $200,000.
"The funding is going to be grants, federal and possibly some provincial (local funding also a possibility)," Jovanovic said.
The gallery is asking for all RFPs to be sent in a sealed envelope to the AGA at 10 East Street in Sault Ste. Marie by 5 p.m. Thursday, Nov. 19, 2020.
The writer(s) of the chosen RFP will be notified Jan 8, 2021 (or sooner), with the project to hopefully begin Jan. 22, 2021 (or sooner).
"It will be a lengthy process but we don't have enough space to function properly and there are building issues, just like any old house that's showing signs of its age and we have to address that. We don't really have a choice," Jovanovic said.
"In a month or so we would know who our chosen candidate is but we will hopefully have some grant applications, then we will have to wait to get the funding. This is our wish list and is this list going to be feasible, that is the question."
The need for work to be done on the gallery was identified five years ago, that need becoming more pronounced over the past two years, Jovanovic said.
Flooding problems at the gallery in recent years have been repaired as best as possible for now, Jovanovic said.
However, she added "the water is coming in, in different spots in the building, through the floor. According to the architect, there is pressure building underneath, the foundation. We've repaired the wall, we've repaired the roof and that enabled us to function, to still present some very good exhibitions and programming and engage with the community, but it isn't a permanent solution."
None of the AGA's collection of 5,000 paintings, drawings, photographs and three-dimensional works of art such as sculptures and pottery have been damaged by flooding, Jovanovic said.
The special AGA renovation/expansion committee, which exists apart from the gallery's board, consists of Dr. Roberta Bondar (honorary chair), Susan Myers (Algoma District School Board trustee), City Councillor Matthew Shoemaker, Sault architect David Ellis, lawyer Mark Lepore and The Algoma Art Society's Nora Ann Harrison.
The gallery was closed due to the provincial COVID-19 shutdown in March, reopened since then with reduced hours of operation, open 10 a.m. to 3 p.m. Wednesday through Saturday.
The AGA was launched as a non-profit public art gallery by a group of art enthusiasts and volunteers, incorporated July 7, 1975. The AGA moved to its present location in 1980 and includes four exhibition spaces, the Ken Danby Education Studio, the Gallery Café and the AGA Gallery Shop. The AGA is the only public art gallery in Algoma and also serves Michigan's Upper Peninsula and five bordering states.
The AGA's operational/programming requirements are primarily funded by the City of Sault Ste. Marie (approximately $280,000 annually) and various other grants and funds support projects and on-going activities.
Details of the AGA's invitation for RFPs may be found on the gallery's website.