Sudan announces managed currency float to revive economy – North Shore News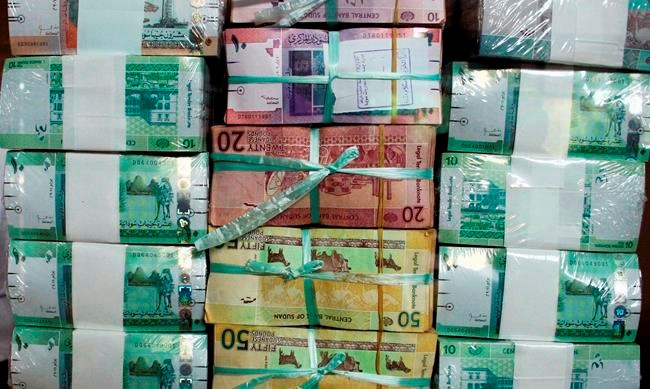 CAIRO — Sudan announced a managed floatation of its currency on Sunday, in an unprecedented but expected step to meet a major demand by international financial institutions to help transitional authorities overhaul the battered economy.
The move is the boldest economic measure taken by the joint military-civilian government that has ruled the African country after a popular uprising. The revolt led to the military's overthrow of autocrat Omar al-Bashir in April 2019. The country has since been on a fragile path to democracy with daunting economic challenges representing a major threat to that transition.
The sharp devaluation could provoke a popular backlash as the price of goods and services rise in response to the fall of the pound's value and possible hike in the price of fuel and other essential goods. There were already sporadic protests over dire living conditions in the past couple of weeks in the capital, Khartoum and other parts of the country.
The U.S. dollar had been trading at over 350 pounds to the dollar on the black market, while its official rate was at 55 pounds to the dollar. Following the devaluation, local media reported banks were selling the dollar at an average of 375 pounds, and buying the U.S. currency for an average of 390, in an attempt to attract those trading in the unofficial currency market.
Sudan's currency will now fluctuate according to supply and demand and the the Central Bank of Sudan said it will announce a daily flexible indicative rate in a "flexible managed float" that banks and other exchange bureaus are required to trade at within 5% above or below.
The managed floating system, that took effect Sunday, gives the central bank the option to set a rate based on the trading average, Al-Fatih Zayed al-Abidin, the central bank governor said in a news conference in Khartoum along with Finance Minister Gibril Ibrahim.
The move was part of measures the transitional government has embarked on in recent months to transform the country's economy and rejoin the international community after over two decades of isolation.
The Central Bank said its decision would help "normalization of ties with international and regional financial institutions and friendly countries to ensure the flow of grants and loans" into Sudan's economy.
"Our economy is in a situation that cannot be addressed without making such a decision," Ibrahim said. "It is in our interest, in the interest of the country, and in the interest of the citizen."
Western governments welcomed the decision to liberate the exchange rate. The U.S. Embassy in Khartoum welcomed the "courageous" move, saying it paves the way for debt relief and significantly increases the impact of international assistance.
"This decision will also help Sudanese companies and attract international investment as both local and foreign companies will no longer encounter difficulties doing business in Sudan because of the dual exchange rate," it said.
Volker Perthes, the U.N. envoy for Sudan, also hailed the floatation, saying, "It demonstrates that the transitional authorities can reach consensus, take difficult decisions and carry them through."
The move was a key demand by the International Monetary Fund. Sudan should conclude a 12-month Staff Monitoring Program with the IMF to win relief on its foreign debt, which is at $70 billion. That program is set to end in September.
Sunday's move came after Prime Minister Abdalla Hamdok announced a Cabinet reshuffle to add rebel ministers. The reshuffle was part of a deal the transitional government struck last year with a rebel alliance.
Sudan has for years struggled with an array of economic woes, including a huge budget deficit and widespread shortages of essential goods and soaring prices of bread and other staples. The country's annual inflation soared past 300% last month, one of the world's highest rates.
The country was plunged into an economic crisis when the oil-rich south seceded in 2011 after decades of war, taking with it more than half of public revenues and 95% of exports.
Sudan was also an international pariah after it was placed on the United States' list of state sponsors of terror early in the 1990s. This largely excluded the country from the global economy and prevented it from receiving loans from international institutions like the IMF.
Former President Donald Trump removed Sudan from the blacklist after the transitional government agreed to pay $335 million in compensation for victims of attacks carried out by Osama bin Laden's al-Qaida network while the terror leader was living in Sudan. The removal also was an incentive for Sudan to normalize ties with Israel.
Samy Magdy, The Associated Press
UK's Johnson expects steady recovery for economy this year – Financial Post
Article content
LONDON — British Prime Minister Boris Johnson said Britain's economy would show a steady recovery this year albeit with "bumps on the road" after the country posted a strong increase in the number of employees on company payrolls in June.
"You're seeing the job numbers increasing and I think the rest of this year there will still be bumps on the road but I think you'll see a story of steady economic recovery," Johnson told LBC radio on Wednesday.
(Reporting by Guy Faulconbridge and Kate Holton, writing by Elizabeth Piper Editing by William Schomberg)
Fed Considers Tapering Bond Purchases as Economy Grows – The New York Times
Federal Reserve officials are gathering in Washington this week with monetary policy still set to emergency mode, even as the economy rebounds and inflation accelerates.
Economists expect the central bank's postmeeting statement at 2 p.m. Wednesday to leave policy unchanged, but investors will keenly watch a subsequent news conference with the Fed chair, Jerome H. Powell, for any hints at when — and how — officials might begin to pull back their economic support.
That's because Fed policymakers are debating their plans for future "tapering," the widely used term for slowing down monthly purchases of government-backed debt. The bond purchases are meant to keep money chugging through the economy by encouraging lending and spending, and slowing them would be the first step in moving policy toward a more normal setting.
Big and often conflicting considerations loom over the taper debate. Inflation has picked up more sharply than many Fed officials expected. Those price pressures are expected to fade, but the risk that they will linger is a source of discomfort, ramping up the urgency to create some sort of exit plan. At the same time, the job market is far from healed, and the surging Delta coronavirus variant means that the pandemic remains a real risk. Policy missteps could prove costly.
The Fed's balance sheet has grown, thanks to bond-buying.
The Federal Reserve has swollen its balance sheet by buying bonds to bolster the economy during the pandemic, making it a bigger player in markets.
Here are a few key things to know about the bond-buying, and key details that Wall Street will be watching:
The Fed is buying $120 billion in government backed bonds each month — $80 billion in Treasury debt and $40 billion in mortgage-backed securities.

Economists mostly expect the central bank to announce plans to slow those purchases this year, perhaps as soon as August, before actually dialing them back late this year or early next. That slowdown is what Wall Street refers to as a "taper."

There's a hot debate among policymakers about how that taper should play out. Some officials think the Fed should slow mortgage debt buying first because the housing market is booming. Others have said mortgage security buying has little special effect on the housing market. They have hinted or said they would favor tapering both types of purchases at the same speed.

The Fed is moving cautiously, and for a reason: Back in 2013, markets convulsed when investors realized that a similar bond-buying program after the financial crisis would slow soon. Mr. Powell and crew do not want to stage a rerun.

Bond-buying is just one of the Fed's policy tools, and is used to lower longer-term interest rates and to get money chugging around the economy. The Fed also sets a policy interest rate, the federal funds rate, to keep borrowing costs low. It has been near zero since March 2020.

Central bankers have been clear that tapering off bond purchases is the first step toward moving policy away from an emergency setting. Increases in the funds rate remain off in the distant future.
IMF warns of growing poverty, unrest and geopolitical tensions – Al Jazeera English
The global economic recovery continues, but with a widening gap between advanced economies and many emerging market and developing economies thanks to vaccine inequity and a lack of fiscal support, the International Monetary Fund (IMF) warned on Tuesday
While the latest update to the IMF's World Economic Outlook sees the global economy still growing 6 percent this year – unchanged from its April estimate – Chief Economist Gita Gopinath noted that the composition of the recovery continues to change.
"The recovery is not assured until the pandemic is beaten back globally," Gopinath told reporters during a virtual press conference as she presented the latest outlook titled Fault Lines Widen in the Global Economy.
The IMF sees global growth decelerating to 4.9 percent next year. Advanced economies are expected to achieve 4.4 percent growth in 2022 – down from 5.6 percent in 2021 – while growth in emerging and developing economies is seen slowing to 5.2 percent in 2022 from an expected rebound 6.3 percent in 2021.
Rich, emerging and developing nations all took an economic beating last year when the coronavirus pandemic forced governments to close borders, shut businesses and idle manufacturing hubs worldwide.
As countries rolled back COVID restrictions this year, growth forecasts jumped as people emerged from lockdowns and unleashed pent-up demand for products and services. That demand surge though is expected to moderate next year.
Developed economies armed and shielded with a healthy supply of COVID-19 vaccines and fiscal firepower have managed to open up businesses and resume operations. But the emergence of new COVID variants and infection spikes laces uncertainty into the recovery path.
Growth in the US, the world's largest economy, is seen slowing to 4.9 percent in 2022 after a bounce back of 7.0 percent expected this year. Europe is also expected to slow to 4.3 percent in 2022 from 4.6 in 2021.
Growth in the Middle East and Central Asia is expected to decelerate to 3.7 percent next year from 4.0 in 2021, while emerging and developing Asian economies are expected to dip more than a point from 7.5 in 2021 to 6.4 in 2022.
Latin America and the Caribbean are forecast to experience the sharpest fall from 5.8 percent in 2021 to 3.2 in 2022 after plummeting 7.0 in 2020.
Sub-Saharan Africa is the only region that is expected to see growth climb – from 3.4 in 2021 to 4.1 percent in 2022.
Vaccines & trillions in fiscal support
Vaccine inequality is seen as a chief driver of the widening gulf between recoveries in developed and less developed economies.
Close to 40 percent of people in advanced economies have been fully vaccinated compared with only 11 percent in emerging market economies and a tiny fraction in low-income developing countries.
Fresh waves of COVID-19 cases this year, notably in India are a major source of the deepening inequality between rich and poor nations.
"The emergence of highly infectious virus variants could derail the recovery and wipe out four and a half trillion dollars cumulatively from global GDP by 2025," Gopinath warned.
To make matters worse, poor countries and even emerging markets lack access to the funds necessary to jolt economies back to health. Advanced economies, on the other hand, passed $4.6 trillion in fiscal support for 2021 and beyond. In developing economies, most measures expired last year.
And some emerging markets like Brazil, Hungary, Mexico, Russia and Turkey have also started raising interest rates to contain soaring inflation triggered by supply chain bottlenecks as economies reopen. Higher interest rates cool economic growth.
"A worsening pandemic and tightening financial conditions would inflict a double blow to emerging markets and developing economies and severely set back their recoveries," Gopinath warned.
Inflation & action
A significant portion of the "abnormally high inflation" readings is transitory, resulting from the pandemic's hit to vital parts of the economy such as travel and hospitality, and from a comparison with last year's abnormally low readings, Gopinath said.
The IMF forecasts inflation to remain elevated next year. In emerging markets and developing economies food price pressures and currency depreciation will continue to create yet another worrying disparity in economic recovery.
Major central banks must clearly communicate their outlook for monetary policy and ensure that inflation fears do not trigger rapid tightening of financial conditions, the IMF stressed.
The Fund's proposal to end the pandemic, endorsed by the World Health Organization, the World Bank, and the World Trade Organization, sets a goal of vaccinating at least 40 percent of all people in every country by the end of 2021 and 60 percent by the middle of 2022.
The IMF urges at least 1 billion vaccine doses to be shared in 2021 by countries with more than enough of them and calls on manufacturers to prioritise deliveries to low and lower-middle-income countries.
The fund said its allocation of some $650bn worth of its reserve currency, known as Special Drawing Rights, should be completed quickly to help countries in need fund their spending needs. Greater action is also needed to ensure the G-20 successfully delivers on debt restructuring for countries where debt has ballooned and become unsustainable, said the IMF.
Gopinath further urged countries to focus more on reducing carbon emissions and slowing the rise in global temperatures to avoid yet another human and financial catastrophe. As it stands now, only 18 percent of recovery spending has been on low carbon activities.
"Concerted policy actions…can make the difference between a future where all economies experience durable recoveries or one where divergences intensify, the poor get poorer and social unrest and geopolitical tensions grow," she said.