Swiss embassy urges Chinese media to remove articles about scientist – BBC News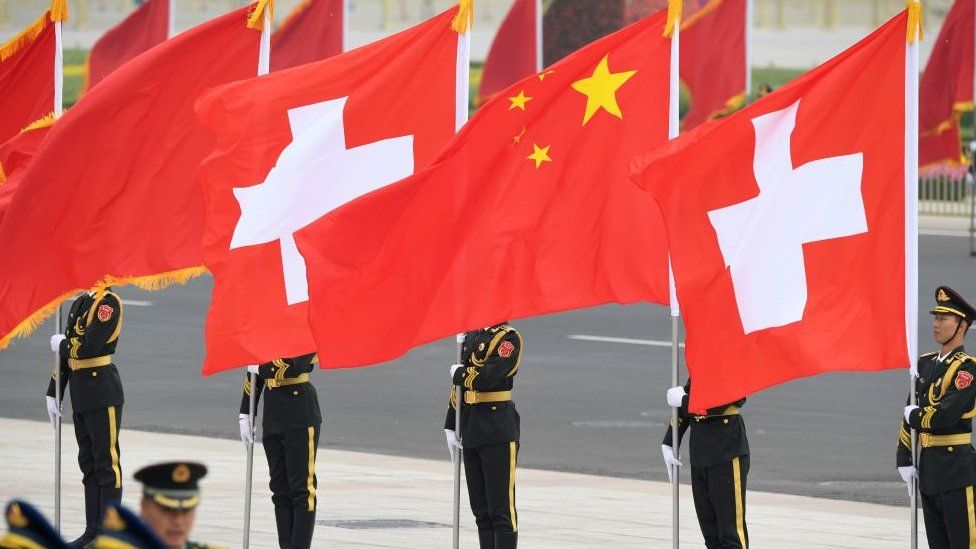 The Swiss embassy in China has urged Chinese media to take down articles and posts it says contain "false" news.
In a Twitter post, the embassy said an alleged Swiss biologist who had been quoted in Chinese media in recent days likely did not exist.
State media outlets were among those that carried articles with comments from "Wilson Edwards" on the origins of Covid-19 and the WHO's independence.
Many outlets have since removed any reference to him.
"While we appreciate the attention on our country, the Embassy of Switzerland must unfortunately inform the Chinese public that this news is false," the Swiss embassy said in a statement posted on Twitter.
Organisations including CGTN, Shanghai Daily and Global Times had cited the so-called biologist based on his Facebook profile.
However, the Swiss embassy said the Facebook account was opened two weeks ago and only had three friends.
"It is likely that this Facebook account was not opened for social networking purposes," the Swiss embassy added.
The mission said that there was no registry of a Swiss citizen with the name "Wilson Edwards" and no academic articles under the name.
Looking for Wilson Edwards, alleged 🇨🇭 biologist, cited in press and social media in China over the last several days. If you exist, we would like to meet you! But it is more likely that this is a fake news, and we call on the Chinese press and netizens to take down the posts. pic.twitter.com/U6ku5EGibm

— Embassy of Switzerland in Beijing (@SwissEmbChina) August 10, 2021
In one article seen by the BBC before it was altered, "Wilson Edwards" is referred to as a biologist in Switzerland.
The line from the China Daily article reads: "[Wilson Edwards] said on his Facebook account: 'As a biologist, I've witnessed in consternation over the past months how the origin-tracing of Covid-19 was politicized.'"
In the altered version, all reference to Wilson Edwards were removed.
Shanghai Daily's digital platform Shine had said in a post: "A European biologist has come to the fore with a startling claim that a World Health Organization (WHO) advisory group on tracing the origins of pathogens including the virus responsible for the Covid-19 pandemic, would become a "political tool".
It added that the biologist was worried about the "WHO's independence" and quotes him as saying "the US is so obsessed with attacking China on the origin-tracing issue that it is reluctant to open its eyes to the data and findings".
The Swiss embassy assured readers that it assumed the spreading of the story was done in good faith but kindly asked for the stories to be taken down or corrected.
Media Day hype, player rankings are clickbait | Pickaxe and Roll – Denver Stiffs
Ryan Blackburn shares his thoughts on the third day of player interviews for media week that included Aaron Gordon, Will Barton, Jeff Green, Austin Rivers, and Michael Porter Jr. in a stacked session. Gordon was chill, Barton was excited, Green was professional, Rivers was insightful, and Porter showed readiness to take the leap. Then, Ryan discusses the ESPN player rankings that are filtering out and what they had to say about the Nuggets and Nikola Jokić.
Hashtag Trending September 24 – European Commission Mandates USB-C; Social Media Platforms Sue Texas; Fedex's Autonomous Delivery – IT World Canada
The European Commission hopes to mandate USB-C on smartphones, Texas is being sued over a new law for social media platforms, and FedEx completes its first fully autonomous vehicle delivery.
It's all the tech news that's trending right now, welcome to Hashtag Trending! It's Friday, September 24, and I'm your host, Jori Negin-Shecter.
EU proposes mandatory USB-C on all devices, including iPhones from technology
The European Commission has announced plans to mandate a USB-C charging port on smartphones and other electronics. The goal is to reduce the number of chargers users need to buy, thus reducing electronic waste. Although it isn't directly targeted at Apple, the mandate will affect the company the most. Apple still uses its own Lighting connector for its flagship smartphones, including their recently announced iPhone 13 series. As more laptops and smartphones switch to USB-C, calls for Apple to drop the Lightning port have grown as well. Notably, the Commission's plan only targets wired charging, meaning the requirement does not apply to a device that exclusively uses wireless charging.
Texas sued over bill stopping social media companies from banning users for political views from technology
Texas is being sued by groups representing Facebook, YouTube, and Twitter over a new bill that would prevent these platforms from banning users based on their political views. The law, called House Bill 20, bars social media platforms with over 50 million monthly users in the U.S. from banning users for their viewpoints. Additionally, the law also requires social media companies to file a public suspension report biannually. The reports must detail content removal and account suspensions. Supporters say the goal of the bill is to increase transparency and ensure that users are treated fairly. Despite this, the lawsuit claims that the government cannot force the social media platforms to host content that goes against their terms of service. A law of similar nature that sought to deplatform politicians for their viewpoints was struck down this past June in Florida.
Finally, FedEx has announced that it completed its first delivery run using an autonomous truck. The route stretched 500 miles round trip between Houston and Dallas. The success of the trip signals that the delivery company in Texas will begin using more autonomous vehicles in the not so distant future. The truck, which was developed by truck maker PACCAR and autonomous driving company Aurora, uses LiDAR, radar and various other sensors to drive safely on highways. [Business Insider]
That's all the tech news that's trending right now. Hashtag Trending is a part of the ITWC Podcast network. Add us to your Alexa Flash Briefing or your Google Home daily briefing. Make sure to sign up for our Daily IT Wire Newsletter to get all the news that matters directly in your inbox every day. Also, catch the next episode of Hashtag Tendances, our weekly Hashtag Trending episode in French, which drops every Friday at 3 pm. If you have a suggestion or tip, please drop us a line in the comments or via email. Thanks for listening, I'm Jori Negin-Shecter.
Wonder Media Network's Jenny Kaplan Mulls Podcaster's Next Move – Forbes
Wonder Media Network Chief Executive Jenny Kaplan is figuring out how to turn her passion for podcasts into a business that can remain viable over the long run.
The New York-based company, which Kaplan co-founded in 2018, aims to appeal to audiences either overlooked or ignored by the mainstream media.
"We really wanted to start an organization that was a media company that was based in politics, business and culture, where women were perhaps our first core audience but where we had this big mission of amplifying underrepresented voices," Kaplan said in an interview.
Wonder Media Network makes money selling advertising and sponsorships on its line-up of 26 original shows, including Encyclopedia Wommanica, The Brown Girls Guide to Politics, and Majority 54. It also produces podcasts for corporate clients such as Microsoft
MSFT
, Pfizer
PFE
, and Spotify for a fee.
Wonder Media Network is facing the same competitive pressures for advertisers and listeners that lead to the sales in recent months of Bill Simmons' Ringer Podcast network, Wondery and Stitcher. The industry consolidation shows no signs of slowing
"As more and more people produce podcasts, discoverability gets harder," Kaplan said in an interview. "So we have been approached (about a sale) and are open to conversations. Our goal from the beginning has been to create a company that can be successful on its own and produces the kinds of shows that we want."
Kaplan declined to be more specific about a potential Wonder Media Network sale.
Unlike other podcasters, Wonder Media Network typically doesn't sell ads using pricing based on CPMs, or cost per thousand (listeners), preferring monthly or seasonal deals.
According to Kaplan, the company's approach to advertising enables it create better-produced ads that fit seamlessly with the content Wonder Media Network is creating.
"They sound better and feel better to the listeners, the hosts and the sponsors," she said.
Kaplan funded Wonder Media Network launch along with Chief Marketing Officer Shira Atkins, who also co-founded the company. New Media Ventures, a venture fund and a network of investors that backs progressive-minded companies, has also invested in Wonder Media. According to Kaplan, Wonder Media Network was cash-flow positive and profitable in less than a year and continues to make money.
Like other podcast producers, Wonder Media Network is willing to tackle complicated stories at a time when online publishers are pressuring writers to produce sensationalist clickbait content like listicles that they hope will drive traffic to their sites.
"Podcasts are getting longer and more intricate," Kaplan said. "People want to examine perspectives and different opinions in podcasting in a much longer form."
Wonder Media Network's first show was Women Belong In The House, which chronicled her mother Kathy Manning's campaign for the U.S. Congress in North Carolina and the challenges facing other female candidates seeking elected office.
Manning lost her first election in 2018 but succeeded two years later after a court-ordered redistricting made the district friendlier for Democrats. Before her victory, the seat had been in Republican hands since 1985.
"I had always been obsessed with politics and storytelling, which is why I got to journalism, to begin with, at least the storytelling side of things," Kaplan said. "And so I had this front-row seat to look at what it's like to run for office. I was obsessed with trying to figure out and diving into why there are so few women in office."