Taiwan set to keep benchmark rate unchanged with economy strong – Reuters
For poll data click:
Rate seen unchanged by all 25 economists
Central bank not seen overly concerned about inflation
Rate decision Thursday, Dec. 16, after 4:00 p.m. (0800 GMT)
TAIPEI, Dec 13 (Reuters) – Taiwan's central bank is likely to keep its policy rate at a record low once again this week, with economic growth buoyed by robust tech demand, while inflation remains largely under control.
The central bank is expected to leave the benchmark discount rate (TWINTR=ECI) unchanged at 1.125% on Thursday at its quarterly meeting, all 25 economists in a Reuters poll said, after holding fire at its past six meetings. It last cut the rate in March of 2020.
Taiwan's export-reliant economy has been supported by global demand for tech products from an increasing number of people working and studying from home during the COVID-19 pandemic, and has been further helped by a global recovery as major economies like the United State emerge from lockdown.
Register now for FREE unlimited access to reuters.com
Register
While growth slowed to 3.7% in the third quarter due to the impact of a short-lived spike in domestic COVID-19 cases, policymakers have been bullish that the economy will expand more than 6% for the full year of 2021.
While the consumer price index last month hit an eight-and-a-half year high of 2.84% year-on-year, it is likely to end the year at a lower point of about 2% and below recent inflation levels seen in the United States, said Kevin Wang, an economist at Taishin Securities Investment Advisory Co. read more
"For Taiwan, this is not very serious inflation," he added. "Although there are inflationary pressures, they are not such that the central bank has to act immediately."
Also, if Taiwan raised the benchmark rate ahead of the United States, it would cause the Taiwan dollar to further strengthen, Wang said, an area of persistent concern for the central bank due to fear of being labelled a currency manipulator by the United States. read more
Taiwan's manufacturers, including Taiwan Semiconductor Manufacturing Co Ltd (TSMC) (2330.TW), the world's largest contract chip maker, are a key part of the global supply chain for technology giants such as Apple Inc (AAPL.O).
The central bank will give its own revised forecast for economic growth this year on Thursday, having predicted a 5.75% expansion at its last quarterly meeting in September.
Register now for FREE unlimited access to reuters.com
Register
Poll compiled by Carol Lee; Reporting by Liang-sa Loh and Ben Blanchard; Editing by Ana Nicolaci da Costa
Our Standards: The Thomson Reuters Trust Principles.
Canadian dollar falls to 2-week low on wave of risk aversion
The Canadian dollar weakened on Monday to its lowest level in more than two weeks against its U.S. counterpart as investors dumped riskier assets on fears of a Russian attack on Ukraine.
The loonie was trading 0.5% lower at 1.2650 to the greenback, or 79.05 U.S. cents, after touching its weakest level since Jan. 7 at 1.2701.
"While risk-off price action has been abundant today due to geopolitical factors, it took the nosedive in U.S. equity markets to trigger a fresh wave of risk aversion in markets," said Simon Harvey, head of FX analysis for Monex Europe and Monex Canada.
Wall Street plunged in a broad-based sell-off as the geopolitical risk added to investor worries about aggressive policy tightening by the Federal Reserve.
Canada is a major producer of commodities, including oil, so the loonie tends to be sensitive to moves in risk appetite.
U.S. crude prices settled 2.2% lower at $83.31 a barrel, while the safe-haven U.S. dollar gained ground against a basket of major currencies.
Speculators had turned bullish on the Canadian dollar for the first time since November, data from the U.S. Commodity Futures Trading Commission showed on Friday.
The shift in positioning comes ahead of a potential interest rate hike by the Bank of Canada at a policy announcement on Wednesday. Money markets see about a 65% chance of a hike but expectations have dipped from 70% on Friday.
Investors are coming to the view that expected multiple interest rate hikes this year by the Bank of Canada will bring price pressures under control, albeit at a cost of slower economic growth.
Canadian government bond yields were lower across the curve. The 10-year eased 3.1 basis points to 1.761%, extending its pullback from the highest level in nearly three years last Wednesday at 1.905%.
(Reporting by Fergal Smith; Editing by Mark Heinrich and Nick Zieminski)
Investors are feeling too giddy about the economy – CNN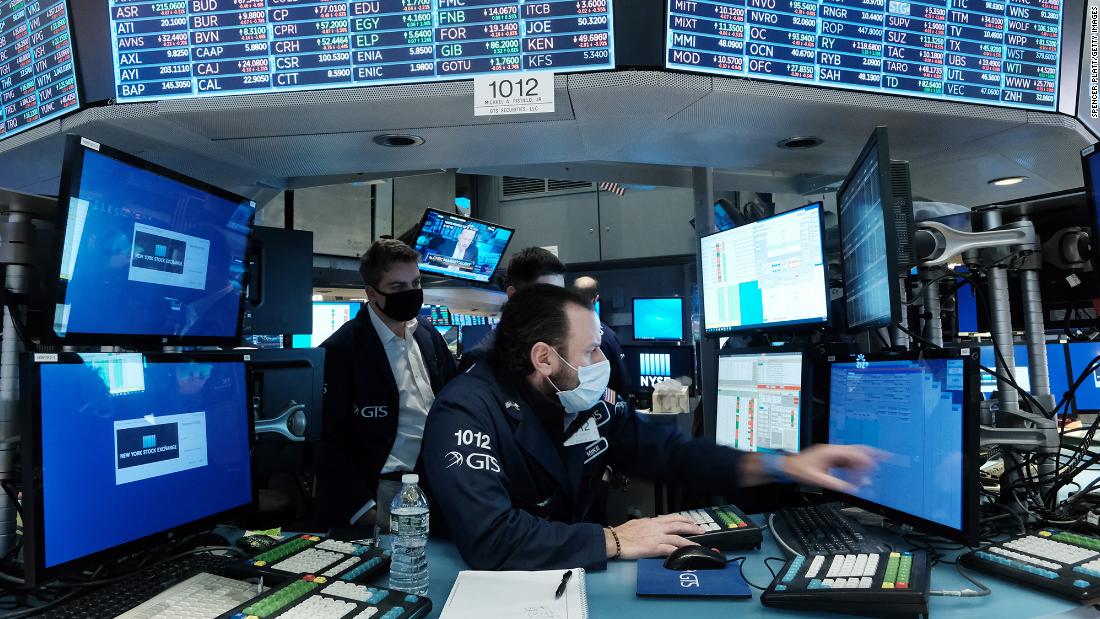 Mark Zandi is chief economist of Moody's Analytics. The opinions expressed in this commentary are his own.
The pandemic continues to call the shots for the economy. Each wave of the virus has done significant damage, with Omicron now hitting the economy hard. December retail sales slumped as households pulled back on spending, including travel, dining out at restaurants and attending Broadway shows. The airlines continue to struggle with flight cancellations as pilots and other personnel get sick. Unemployment insurance claims are on the rise again, as small businesses, unable to stay open, reduce staff.
At Moody's Analytics, we have revised down our forecast for
real GDP growth
in the first quarter from about 5% annualized to less than 2%. And GDP could easily decline further if Omicron infections don't subside substantially in the next few weeks.
Despite the sobering pandemic news, global investors are upbeat, even giddy. Asset prices are surging.
Stock prices
rose nearly 30% last year and
national home values
were up by almost 20%. Reflecting these price gains and the increase in
household savings
, the value of all
assets
(excluding crypto) owned by US households increased by a stunning $22 trillion in 2021. This translates into a 16.8% gain, the strongest on record and more than double the average annual increase.
To be sure, asset prices should be high given record low
interest rates
. Low interest rates increase the present value of future corporate profits, rents and other income.
But prices appear stretched well beyond what can be explained by low rates. According to my own estimate, the ratio of the value of assets owned by households to GDP rose to 7.5 times at the end of last year. Prior to the pandemic, this multiple was close to 6 times. Other tried-and-true measures of asset price valuations, such as
stock price multiples
, corporate bond
credit spreads
and commercial real estate
capitalization rates
are also well outside historical bounds.
Asset prices are thus highly vulnerable to a selloff, and the catalyst may well be the pending shifts in monetary policy. If things hold together as anticipated, the Federal Reserve will wind down its quantitative easing by this spring and begin to lift the federal funds rate off the zero lower bound soon thereafter. Interest rates are headed higher — it is only a question of how high and how fast. It is hard to fathom how asset valuations can remain as lofty as they are, even with only a modest increase in rates.
Having said this, this sanguine perspective will not hold much longer if asset prices continue to climb, and leverage continues to build at the pace of the past year. The economy has become prone to asset bubbles. There was the dot-com stock market bubble in 2000 and the housing bubble of the mid-2000s. When these bubbles ultimately deflated, they did significant damage to the economy. It is premature to think that we are in the next asset bubble, but it is not premature to worry that one is forming.
Europe's Economy Exposed as U.S. Seeks Joint Front Versus Russia – Financial Post
Article content
(Bloomberg) — Sign up for the New Economy Daily newsletter, follow us @economics and subscribe to our podcast.
The European Union has a lot more to lose than the U.S. from conflict with Russia, one reason why the western allies are having difficulty agreeing on a tough stance in the standoff over Ukraine.
Russia ranks as the EU's fifth-biggest trade partner — as well as its top energy supplier — while for the U.S. it barely makes the top 30. There's a similar gap for investment, with Russia drawing in money from Europe's household names including Ikea, Royal Dutch Shell Plc and Volkswagen AG.
Article content
With inflation surging and consumers squeezed by a surge in energy prices, EU officials are moving carefully on the prospect of sanctions. They want Russia to feel more pain than Europe from measures aimed at preventing an invasion of Ukraine. They're worried a war could choke off natural gas supplies in the middle of winter when they're needed most.
All those issues may feature in a call between U.S. President Joe Biden and his European counterparts scheduled for Monday in a bid to strike a unified position.
Adding to Europe's reluctance is a sense that for penalties imposed on Russia in the past, especially after the 2014 invasion of Crimea, it was the EU economies and not the U.S. that paid the price. As U.S. President Joe Biden warns that Russia's military may move shortly, EU leaders such as France's Emmanuel Macron are playing for time. Russia maintains it has no plans to invade Ukraine.
Article content
"Sanctions have the best effect if they are efficient," German Foreign Affairs Minister Annalena Baerbock said last week. "It's about sanction which really have an effect, not against oneself, but rather against Russia."
By contrast, Russia is "well prepared" to weather any sanctions after taking steps to insulate itself from measures the U.S. might impose, said Viktor Szabo, fund manager at Aberdeen Asset Management in London.
"It will be difficult to inflict such a pain that would be felt," Szabo said. "It wouldn't push Russia to the edge."
What Bloomberg Economics Says…
"Europe stands alone when it comes to how much more consumers will have to pay for natural gas. Our in-house model of the eurozone economy points to a hit from higher energy prices of as much as 1% of GDP, with the impact lasting well into this year."
Article content
–Jamie Rush, chief European economist. Click for the INSIGHT.
Energy is the biggest friction point. The U.S. is a net energy exporter, but the EU relies on imports, and Russia is its No. 1 supplier of both oil and natural gas.
JPMorgan Chase & Co. economists on Friday warned a surge in the price of oil to $150 a barrel would hammer growth and spur inflation.
Gas is a particularly sensitive matter now, with Russia holding back supplies for the past few months. Prices have tripled, boosting the cost of electricity across the continent. It's the main reason Europe is suffering a bigger energy shock than the U.S.
Escalation with Russia over Ukraine could make it worse. EU officials are caught in a bind, since domestic gas production is in decline while Russia has built facilities to supply more.
Article content
Russia's gas exporter Gazprom PJSC and partners including Shell have spent 9.5 billion euros ($10.8 billion) completing the Nord Stream 2 pipeline and want to open it. Military action in Ukraine would put that on the chopping board — and any future deals to boost Russian supply to the region. That would exacerbate the energy shortage in the EU.
"Were sanctions to be placed on Russia's energy exports or were Russia to use gas exports as a tool for leverage, European natural gas prices would probably soar," said Capital Economics analyst William Jackson. "We think they would far exceed the peak reached last year."
Sanctions against Russia would also benefit U.S. exporters who are seeking to ship more liquefied natural gas into Europe.
Article content
Possible Sanctions
ING Bank Eurasia's Chief Economist Dmitry Dolgin says the U.S. and its allies could hit Russia with:
Sanctions on non-military technologies, or blocking access to foreign financing for companiesA ban on Western funds buying state-issued debt, costing Russia $10 billion a yearA retroactive ban on foreign participation in local state debts, costing $60 billionHalting access to the Swift payment system, which would make it much more difficult for Russia to collect payments on $535 billion of exports a year
Europe's businesses have more at stake because they've invested more in Russia than their U.S. counterparts — and the gap has widened in recent years. Russia is also one of the biggest exporters of aluminum, nickel, steel and fertilizers.
Article content
Ikea, Volkswagen and the brewer Carlsberg A/S operate in Russia. Italy's UniCredit SpA has been eyeing an acquisition there that would make it the biggest foreign bank in the country — overtaking Societe Generale and Austria's Raiffeisen.
Europe also has been stung hard by past sanctions aimed at Russia. After Russia annexed Crimea in 2014, the U.S. and EU agreed on a sanctions regime.
Three years later, a study by the Kiel Institute for the World Economy found that while Russia suffered the biggest trade losses, Germany wasn't all that far behind. Other EU economies got hit too. The U.S. actually came out ahead. A similar pattern followed sanctions on Iran.
Politicians in the U.S. and Europe boast about the economic pain they're capable of inflicting on Russia. They've kept quiet about the "inconvenient truth" that there'll be consequences at home too, according to Tom Keatinge, head of the Centre for Financial Crime and Security Studies at the Royal United Services Institute in London.
"Sanctions issued by Western countries rarely include the need to accept any meaningful self-harm," Keatinge wrote last month. "The impact on the economies of the issuers — particularly in the EU — may be significant."
Bloomberg Economics research …
How Putin Could Embolden ECB's Hawks What the Energy Crunch Means for IndustryHow Putin Could Embolden ECB's Hawks
©2022 Bloomberg L.P.