TikTok says it's making algo changes to keep For You pages fresh – iMore
Video social network TikTok says that it is going to make changes to the way its algorithm works in an attempt to keep the For You feeds fresh. The move will ensure that people don't find themselves watching the same kinds of content repeatedly, something that TikTok has become known for.
While that TikTok behavior has been seen as a positive in the pat because of the way it displays content you're likely to enjoy, it can also be negative with devastating results. And while Tik Tok said in an announcement post that the algorithm works in a way people enjoy, it does have downsides.
However, certain kinds of videos can sometimes inadvertently reinforce a negative personal experience for some viewers, like if someone who's recently ended a relationship comes across a breakup video. We want to share more about some of the work underway to address this and improve the experience for viewers on TikTok.
TikTok goes on to say that it is making changes to try to avoid sending people down unwanted rabbit holes.
As we continue to develop new strategies to interrupt repetitive patterns, we're looking at how our system can better vary the kinds of content that may be recommended in a sequence. That's why we're testing ways to avoid recommending a series of similar content – such as around extreme dieting or fitness, sadness, or breakups – to protect against viewing too much of a content category that may be fine as a single video but problematic if viewed in clusters.

We're also working to recognize if our system may inadvertently be recommending only very limited types of content that, though not violative of our policies, could have a negative effect if that's the majority of what someone watches, such as content about loneliness or weight loss. Our goal is for each person's For You feed to feature a breadth of content, creators, and topics.
TikTok and other social networks have come under fire of late due to the way they can impact mental health, something that this change is clearly designed to help with. We'll have to see exactly how things change as the new algorithm gets to work.
You can reserve a Galaxy S22 or Tab S8 now and get $50 store credit – GSMArena.com news – GSMArena.com
Today, Samsung confirmed that it will announce its Galaxy S22 series in February, but you can reserve a pre-order spot for a Galaxy S22 series phone or a Galaxy Tab S8 now.
You need to follow this link and give your details to reserve a spot in the pre-ordering queue for one of Samsung's upcoming devices. Samsung is giving those who reserve a unit $50 store credit towards a purchase of other Galaxy products during the pre-order period and you could get your Galaxy S22 or Tab S8 device delivered earlier than other people.
Samsung is also promising other exclusive offers once the Galaxy S22 and Tab S8 devices begin their pre-order phase.
Samsung will unveil three phones – the Galaxy S22, Galaxy S22+, and the Galaxy S22 Ultra, as well as the Galaxy Tab S8 series.
The Galaxy S22 Ultra, in particular, will be an interesting device – it will blend the Galaxy S Ultra series' camera and large battery with the Galaxy Note series' built-in S Pen and body aesthetic.
You can reserve a Galaxy S22 or Galaxy Tab S8 right here.
Vergecast: Microsoft to acquire Activision, Google building a headset, and the 5G battle with airlines – The Verge
Every Friday, The Verge publishes our flagship podcast, The Vergecast, where we discuss the week in tech news with the reporters and editors covering the biggest stories.
The biggest news in tech this week was Microsoft acquiring game publisher Activision Blizzard for $68.7 billion. On today's Vergecast, Verge editor-in-chief Nilay Patel talks with games reporter Ash Parrish and senior reporter Alex Heath about the acquisition, the issues behind the culture at Activision Blizzard, and what this means for the gaming space in the future.
The crew also discusses Alex's scoop this week that Google is building an AR headset, internally codenamed Project Iris, that it hopes to ship in 2024.
Later in the show, Verge policy editor Russell Brandom joins to discuss the ongoing battle between the FAA, AT&T, Verizon, and airlines over activating 5G towers around airports, as well as the tech antitrust bills developing in Congress this week.
You can listen to the show here or in your preferred podcast player for the full discussion.
Further reading:
Photos of Samsung Galaxy A53 5G's components confirm four rear cameras, one selfie – GSMArena.com news – GSMArena.com
The Samsung Galaxy A53 5G will reuse the bump design of the A52 trio for the quad camera on its back. This was seen in speculative renders from last year, but now we have real-world confirmation as well from spy photos of A53 5G's frame and rear panel that were shared by 91Mobilies.
The panel appears black, though this could be prior to painting. Either way, black is one of the rumored color options for this model, alongside white, light blue and orange. This same color palette will be used for other Ax3 phones as well, including the Galaxy A13 and A33 5G.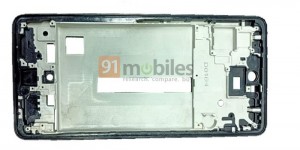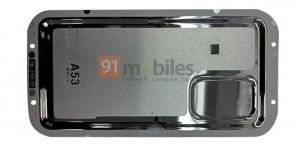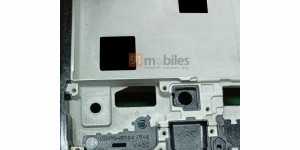 Samsung Galaxy A53 5G rear panel and mid-frame
As for the cameras, it will indeed have four modules, despite TENAA listing only three. The main camera is expected to have the same 64 MP resolution as the A52 models, but the ultra wide may be getting an upgrade to 32 MP (up from 12 MP).
We wouldn't put too much stock in the TENAA specs, though, they also listed two selfie cameras, and we haven't seen any evidence of that, not even in TENAA's own photos of the phone. And if you look at the photo of the phone's mid-frame, there is only one centered punch hole for a selfie camera.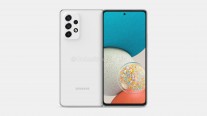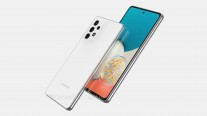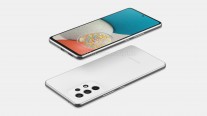 Samsung Galaxy A53 5G speculative renders (image credit)
The Samsung Galaxy A53 5G will use two different chipsets, one of which is expected to be the Exynos 1200. Note that there isn't going to be an A53 4G, the two different chips will both power 5G units. Other than that, they should share the same hardware.
The A53 is expected to be announced in the first quarter of this year, likely alongside other Ax3 models.