Time check! Khabib Nurmagomedov, Justin Gaethje will fight at UFC 254 around 4:15 p.m. ET today – MMA Mania
We are just hours away from one of the biggest lightweight battles in recent UFC history as undefeated champion Khabib Nurmagomedov meets interim titleholder Justin Gaethje for the undisputed belt this afternoon (Sat., Oct. 24, 2020) at UFC 254 live on ESPN+ PPV from inside Flash Forum on "Fight Island" in Abu Dhabi.
Nurmagomedov, who is currently 12-0 in UFC competition, is hoping to push his overall MMA record to 29-0 with a win over "Highlight." It won't be easy, though, even for a dominant champion like Khabib. That's because "Eagle" will be competing for the first time in over 13 months, the first time without his father by his side, and the first time in front of no fans. It will be a shock to say the least, but one that Nurmagomedov should be able to handle.
Gaethje, who destroyed Tony Ferguson this past May to claim the interim strap, is hoping to pull off the biggest upset in recent UFC history. The "Most Violent Man in the Sport" has all the ingredients to take it to Khabib and give him his toughest test to date, but it's all going to come down to whether or not Gaethje can keep his back off the cage and feet on the ground. If he can do that and utilize his elite collegiate wrestling background then maybe Gaethje can actually pull it off.
It will be a lightweight title fight for the ages, but when exactly should fight fans expect Khabib and Gaethje to step inside of the cage on a loaded PPV card smack dab in the middle of the day?
With five other fights taking place on the PPV main card starting at 2:00 p.m. ET, Khabib vs. Gaethje is likely to begin sometime around 4:30 p.m. ET. The co-main event will showcase a middleweight scrap between former UFC champion Robert Whittaker and rising contender Jared Cannonier, which could very well end in spectacular fashion early. Mix in a heavyweight class between Alexander Volkov and Walt Harris, as well as a rematch between light heavyweight finishers Magomed Ankalaev and Ion Cutelaba, and UFC 254 might move along quicker than anticipated.
If things run early/late Mania will be sure to provide an updated start time for today's Khabib vs. Gaethje main event.
MMAmania.com will deliver LIVE round-by-round, blow-by-blow coverage of the entire UFC 254 fight card RIGHT HERE, starting with the ESPN+ "Prelims" matches online, which are scheduled to begin at 11:00 a.m. ET, then the remaining undercard balance on ESPN+/ESPN2 at 12 p.m. ET, before the PPV main card start time at 2 p.m. ET on ESPN+.
NFL postpones Ravens-Steelers to Wednesday afternoon – TSN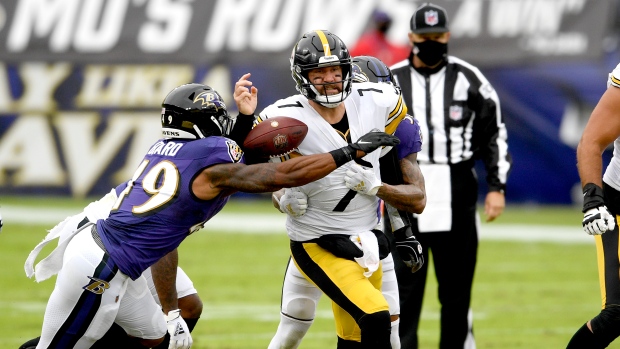 The Baltimore Ravens' struggle to contain an extended outbreak of the coronavirus forced their rescheduled game Tuesday night against the unbeaten Pittsburgh Steelers to be moved back to Wednesday afternoon.
It's the third fix to a matchup originally slated to be played Thanksgiving night. The game will remain on NBC, but at 3:40 p.m. ET.
Also, the Steelers' home game in Week 13 against Washington has been moved from Sunday to Dec. 7 at 5 p.m. The Ravens home game against Dallas will be on Tuesday, Dec. 8 at 8:05 p.m. on Fox and NFL Network. It was originally set for Thursday night, then moved to Dec. 7.
Ravens-Steelers was moved back one more day for medical reasons, but now Baltimore gets some time for workouts. The NFL has permitted the Ravens to return to their facility on Monday night under doctors' supervision, which is similar to what happened when the Tennessee Titans had a coronavirus outbreak earlier this season. The Titans got three days of workouts in that scenario.
The NFL announced the most recent switches Monday after the Ravens placed starters Matthew Judon, Willie Snead and Mark Andrews on the reserve/COVID-19 list.
Although Baltimore also had four players return from that list, the team will still be severely short-handed when this game is finally played. But it will get back running backs Mark Ingram and J.K. Dobbins from the COVID-19 list; they tested positive on Nov. 23
The addition of Judon, a standout linebacker, and Andrews, the leading receiver on the team, brings to seven the number of 2019 Pro Bowl players that Baltimore has placed on the COVID-19 list over the past week. But Ingram will be eligible to play at Pittsburgh, leaving 12 active players and one practice squad member on the list — including 2019 league MVP quarterback Lamar Jackson.
Cornerback Terrell Bonds, who's on injured reserve, was also added to the expansive list Monday.
There was a bit of other good news for Baltimore, which activated linebacker Jayson Ferguson, offensive lineman D.J. Fluker and defensive tackle Broderick Washington from the COVID-19 list. Defensive back Iman Marshall was also activated, although he's been on IR since tearing his right ACL in August.
The contest pitting two longtime rivals was originally scheduled for Thanksgiving night before a rash of coronavirus cases among the Ravens forced the game to be postponed to Sunday. As Baltimore continued to stack up positive tests, the game was moved back to Tuesday night.
Now, perhaps, they'll finally meet on Wednesday in Pittsburgh.
The Ravens (6-4) will face the Steelers without several of their top playmakers, including Jackson, Andrews, and defensive linemen Calais Campbell and Brandon Williams.
The loss of Andrews and Snead will further hinder backup quarterback Robert Griffin III, who will be taking snaps from a third-string centre after Patrick Mekari and Matt Skura were placed on the COVID-19 list on Wednesday.
Andrews is a Type-1 diabetic, which makes COVID-19 potentially more dangerous. His loss should have an impact in that he leads Baltimore in receptions (38), yards receiving (454) and touchdown catches (6).
Andrews, Judon, Jackson, Ingram, Campbell, fullback Patrick Ricard and long snapper Morgan Cox were all selected to the Pro Bowl last season.
Judon owns Baltimore's franchise tag. He is tied for the team lead with four sacks and has 34 tackles.
Snead has 17 catches for 230 yards and two touchdowns over the past four games.
The NFL's last Wednesday game was the 2012 season opener between the Giants and the Cowboys, which was moved from a Thursday night because of a conflict with the Democratic National Convention, which was scheduled to have President Barack Obama speak on Thursday night.
"We understand that every team is going through something like this," Steelers defensive end Cam Heyward said. "Not to this extent, but we have to be ready for any situation. I think (coach Mike Tomlin) has laid out the plan. It's up for us to follow it and it's up for us to bounce back with it."
Added Steelers tackle Zach Banner, who was injured in the season opener: "I'm gonna be healthy by the time we play this game."
__
More AP NFL: https://apnews.com/NFL and https://twitter.com/AP_NFL
Current and former Lions players rejoice over Matt Patricia's firing on social media – Yahoo
The Canadian Press
Toronto FC is looking for a new designated player, opting not to pick up the option on Pablo Piatti.GM Ali Curtis said while TFC will talk to the 31-year-old Argentine midfielder and his representative about returning next season, it is not interested in having him back as a DP. Piatti joined Toronto in February from Spain's Espanyol on a one-year contract plus an option. Piatti, who will be eligible for the MLS re-entry draft, had four goals and four assists in 17 league games. When healthy and at his best, he made a difference — but apparently not big enough."The year did not end how we wanted it to, but I am very proud of what the team accomplished under unique and difficult circumstances," Curtis said in a statement detailing Toronto's end-of-season moves."We'll be able to return a core part of the group, including some young, exciting and hungry homegrown players, but also, we'll look to make some important decisions that add to the quality of the team. In a lot of ways, the (salary) cap next year will be less than it was this year, so we'll have to be creative."Toronto's other designated players are Spanish playmaker Alejandro Pozuelo and striker Jozy Altidore. Only a portion of their salaries count against Toronto's cap.When available, Piatti forged an effective partnership with Pozuelo on the right side of the Toronto attack. The two also became close off the field."I hope he can stay here because he does a lot for the team, … … A big professional," Pozuelo said in his end-of-season meeting with the media last week.Piatti, who suffered right knee ligament damage in February 2019, missed the opening two games of the season before the league shut down due to the pandemic and did not see action until the MLS is Back Tournament in July. Toronto medical staff were careful not to rush Piatti, who had played just seven games since his knee surgery.The five-foot-four 139-pounder missed the last four games of the regular season with a hamstring injury, during which time TFC went 1-3-0 and missed out on the Supporters' Shield. He returned for Toronto's season-ending 1-0 loss to Nashville SC in the first round of the playoffs.Piatti opened his MLS account in mid-August with two goals, including a 25-foot long-range rocket, in a 3-0 win over the Vancouver Whitecaps in his BMO Field debut.Defenders Laurent Ciman, Justin Morrow and Eriq Zavaleta will be out of contract at the end of the year. The loan deal for defender Tony Gallacher also expires at the end of the year.The 35-year-old Ciman saw action in 12 games this season, including five starts. The 28-year-old Zavaleta was restricted to five games (three starts).The 33-year-old Morrow, who has played more than 200 games in Toronto colours, was limited to 15 games (11 starts) and missed much of the regular-season stretch drive through injury. Off the field, he is the executive director of Black Players for Change.Curtis said the club will talk to Morrow and its other free agents about returning.Toronto exercised contract options on goalkeeper Kevin Silva, defender Julian Dunn, midfielders Nick DeLeon, Tsubasa Endoh, Liam Fraser, forwards Ifunanyachi Achara and Ayo Akinola. Twenty-one players are already under contract for the 2021 season: goalkeepers Alex Bono and Quentin Westberg; defenders Auro, Omar Gonzalez, Richie Laryea, Chris Mavinga, Rocco Romeo (currently away on loan); midfielders Michael Bradley, Marky Delgado, Griffin Dorsey, Erickson Gallardo, Jahkeele Marshall-Rutty, Noble Okello (currently away on loan), Jonathan Osorio, Alejandro Pozuelo, Ralph Priso, Jacob Shaffelburg and forwards Altidore, Patrick Mullins, Jayden Nelson and Jordan Perruzza. Toronto FC's 2021 Current RosterGoalkeepers (3): Alex Bono, Kevin Silva, Quentin Westberg.Defenders (6): Auro, Julian Dunn, Omar Gonzalez, Richie Laryea, Chris Mavinga, Rocco Romeo.Midfielders (13): Michael Bradley, Nick DeLeon, Marky Delgado, Griffin Dorsey, Tsubasa Endoh, Liam Fraser, Erickson Gallardo, Jahkeele Marshall-Rutty, Noble Okello, Jonathan Osorio, Alejandro Pozuelo, Ralph Priso, Jacob Shaffelburg.Forwards (6): Ifunanyachi Achara, Ayo Akinola, Jozy Altidore, Jayden Nelson, Patrick Mullins, Jordan Perruzza.—Follow @NeilMDavidson on Twitter This report by The Canadian Press was first published Nov. 30, 2020Neil Davidson, The Canadian Press
Morning Coffee – Mon, Nov 30 – Raptors Republic
[embedded content]
[embedded content]
[embedded content]
[embedded content]
[embedded content]
[embedded content]
[embedded content]
[embedded content]
Raptors camp invites: Watanabe, Johnson and Ellenson reports – The Athletic
Yuta Watanabe
Contract: Exhibit 10 (no guarantee, can make roster or be converted to two-way, $50K bonus if cut and remains with 905 for 60 days)
G League rights: Unowned (was two-way with Grizzlies)
Basics: 26 years old, forward, 6-foot-8, 6-foot-10 wingspan, 215 pounds, undrafted (2018) out of George Washington
Flier type: 3-and-D Unproven 3

Brief history: The second Japanese player to play in an NBA game, Watanabe has been one of the more exciting G League prospects to watch the past two years. A former Atlantic 10 Defensive Player of the Year and Midseason G League All-Star, Watanabe has used the two seasons primarily on the junior circuit to round out his offensive package that complements a versatile and impactful defensive foundation. Despite being a consistent G League and Summer League standout, Watanabe managed only 279 minutes over two seasons as a Grizzlies two-way player, hardly enough to make a judgment.

Strengths: Excellent defender who can stay with guards on the perimeter and switch as far as power forward on the positional spectrum. Offers defensive playmaking with solid steal rate and weakside rim protection that point to defensive awareness and anticipation. Excellent control closing out to trap shooters. Improved dramatically as a scorer in his second G League season, taking strides inside and outside the 3-point line while cutting down on his turnovers. Knows his role extremely well and stays within it, although he also stepped up when the Memphis Hustle needed it, dropping a hyper-efficient 40 points in January.

Limitations: Despite the improved handle and inside-out scoring instincts, Watanabe hasn't shown much playmaking from the wing, even regressing in that regard statistically last season. That projects him as mostly a catch-and-shoot or transition specialist at the NBA level. That casts his 3-point shooting into question, as he hit only 33.7 percent in college and is at 33.5 percent across both pro levels. That ticked up to 36.4 percent in the G League last season and he's a strong free-throw shooter, but "3-and-D" will require him to shoot well in camp to prove it.

Fit: Long, multi-position defender with great awareness; accepts and thrives within role; team has been in desperate need of a Libra.
Raptors reportedly add trio of journey on training camp deals – Yahoo!
The first signing is Alize Johnson, a 24-year-old forward who went 50th overall in the 2018 draft to the Indiana Pacers. He is light on collegiate experience since he received no Division I offers coming out of high school, but played for Missouri State for two seasons before going pro. It wasn't until his senior year where he finally found traction with NBA executives after receiving an invite to the Adidas Nations camp.

Johnson spent the majority of his NBA career to date in the G-League, where he holds averages of 19.5 points, 13.4 points, and 3.7 assists while shooting 51 percent from the field and 36 percent from deep. His main attribute is that he is an athletically capable wing who consistently gives all-out effort, particularly on the glass. Couple that with a decent handle and enough strength to slash into the paint, and it's not hard to see why the Raptors would like him.

Toronto also added Japanese forward Yuta Watanabe to a training camp deal. The 6-foot-8 lefty went undrafted in 2018, and has been a bench piece for the Memphis Grizzlies over the past two seasons. As with Johnson, Watanabe spent most of his time in the G-League where he averaged 17 points, six rebounds and two assists on 55 percent shooting from the field and 36 percent from three. He is an active wing who can play on the wing, but is more suited to being a smallball power forward.
Raptors training camp roster: What you need to know – The Athletic
The Antetokounmpo trade

Len taking up a chunk of the midlevel exception rather than his minimum means he has a $2.26 million salary for trade matching, not a minimum (which would pay him $2.17 million but only count as $1.62 million in trade). As noted by The Athletic's John Hollinger, the salaries of Powell, Johnson, McCaw and Len are now just enough to make the math work on a trade for a player who makes $25.73 million. Like, say, Antetokounmpo.

Now, the chances of Antetokounmpo being traded this year are tiny, and Len won't be helpful for a sign-and-trade in the offseason. However, there are two things that could be at play. One is keeping open every avenue for Antetokounmpo just in case, which makes sense. And two, if Antetokounmpo is paying attention, this is a fun wink about the Raptors' handling of the salary cap after the Bucks have made multiple missteps with their cap situation in the past year.

Was it worth the $84,000 extra to Len and the lost flexibility to add a third year for someone to leave Antetokounmpo's camp an Easter egg? Probably!
NBA Free Agency 2020: Understanding the hypotheticals for a Giannis-to-the-Toronto Raptors move – Raptors HQ
Is there a way to get Giannis without losing his Bird Rights, allowing him to sign a shorter term deal to get to the supermax on time and then sign him for five years at that elevated salary?

Well, there is one way. Get traded before the deadline. Any team trading for him would still lose the ability to give him a supermax right away, but they would get his Bird Rights. They sign him to his 2+1, then they sign him to the 5-year supermax.

And Giannis (and his agent) likely knows this is the case. If he has a specific destination in mind, and the financial considerations above are significant to him, that's the sort of scenario where he might ask for a trade to his preferred destination.

Enter the following tweet from John Hollinger of the Athletic:

Hollinger is talking there about Alex Len's salary. The Raptors signed Len to barely above his minimum salary with the rest of their Mid-Level Exception. Oh, and the "hypothetical player" who makes exactly that amount that Toronto could then match: Giannis.

Similar to maximum salaries, minimum salaries are different for players with different experience. There is actually a full sliding scale from rookies all the way up to 10-year plus veterans. The league, to discourage teams from going with younger players to save money, reimburses teams for any minimum salary above the two-year veteran value — which is also the value that counts as the cap hit for those players. So Len would have made almost exactly the same amount of money (give or take $0.1 million), but since he did not technically sign for the minimum, his cap hit is the larger salary he is owed ($2.3 million), not that reduced 2-year veteran minimum salary ($1.6 million).

Why would a team ever choose the higher cap hit? The tweet above lays out the answer — bigger cap hit, more salary for matching in a trade.

But Len is on a one-year deal, that means he can only be used to match in a trade between now and the deadline. Which means the Raptors are preparing for a situation where maybe they can trade for Giannis this season, not wait until next off-season for a sign-and-trade or clear cap space to sign him directly.

The suggested trade above is not one I think they would do — in this hypothetical scenario, they know they are getting Giannis the following summer, he has indicated they are his destination of choice to be traded to, etc. So the Raptors would likely not include a piece as valuable as OG Anunoby. The whole point of acquiring Giannis early for the team is to be able to keep their best players around him since they don't need to clear cap. But Stanley Johnson makes essentially the same amount of money and can be substituted in the trade.

The trade then is this: Giannis for Norman Powell, Terence Davis, Patrick McCaw, Stanley Johnson and Alex Len, plus maybe a draft pick or two to provide the Bucks some extra value before Giannis walks for nothing. That just might work. The Bucks get the Bird Rights to Norm, who (a) has always tormented the Bucks in the playoffs and (b) could step into a larger role and perhaps find even more success as a scorer, and they get Davis (who will be a restricted free agent — RFA), plus draft assets to help with life post-Giannis.

The Raptors would be left being able to re-sign Giannis and Lowry next summer, re-up OG as an RFA, and keep Baynes and Boucher on their second years, with Pascal and FVV already locked up.
The Raptors' 20-man training camp will include Terence Davis II while his assault case plays out | The Star
What that investigation bears out — and what becomes of the criminal charges Davis is facing — will ultimately determine whether he plays for Toronto in the 2020-21 season.

Letting the guarantee kick in isn't that significant, financially or from a purely basketball sense. The money is small with a full guarantee of about $1.5 million (U.S.) this season, a drop in the bucket for a team with a payroll approaching $130 million.

While it would send a message to some if the Raptors let Davis go before the deadline, it would certainly prompt a grievance from the players association since the criminal charges have yet to be proved in court — his next court date is scheduled for Dec. 11. It's impossible to argue that Davis, who had a stellar rookie year, should be released for purely basketball reasons.

By bringing him to camp and letting the process unfold, the Raptors assume no risk or liability and still have the option of releasing or disciplining the native of Mississippi in the future.

The Raptors have a long-standing and well-earned reputation for social awareness, fairness and promotion, support and inclusion of women in high-ranking positions. They have not taken the Davis incident lightly and have complied with all of the league's information gathering steps.

Still, they have not publicly addressed the situation other than one statement handing over the investigation to the NBA, as they are compelled to do. The league takes control of any internal probes into cases related to domestic violence, child abuse and sexual assault, and could hand down an array of penalties — anything from a suspension to banishment — on top of any court-imposed sentences.
Toronto Raptors HQ Podcast — That's A Rap #118: Transaction Week Recap – Raptors HQ
Doesn't it feel like the NBA Draft was just a week ago, yet we're already talking about training camp?

The shortest off-season continues at break-neck speed with teams finalizing their respective rosters and bringing in extra bodies for training camp battles. The Toronto Raptors are no different, with Friday's invites/signings of Alize Johnson, Henry Ellenson, Yuta Watanabe, and Oshae Brissett.

Before projecting what the Raptors' final roster will look like, we spent the majority of the latest podcast reminiscing on the past — from the Rogers Centre to Serge Ibaka and Marc Gasol's time in Toronto. Enjoy the latest episode of That's A Rap!
From OG Anunoby to Patrick McCaw, these Raptors have something to prove in training camp. The ball's in their court | The Star
OG Anunoby

Much is expected from the powerful young forward, who is likely to see even more responsibility thrown his way this coming season.

The Raptors are small and the six-foot-seven Anunoby is likely going to play extended time in the frontcourt, where his all-around defensive abilities will be needed. He has to become a better and more consistent rebounder than he's been, but the other facets of his game continue to improve.

If he keeps getting better as a ball-handler, and more active in the offence rather than being satisfied with waiting in the corner to shoot open three-pointers, he will become even more vital to any success the team has.

He's also eligible for a contract extension before the season begins on Dec. 22, but the Raptors went to great lengths to protect their financial flexibility going into next summer, so it may be on hold until a year from now.
Please send me any Raptors related article/video: [email protected]