Top Scientist Admits Webb Telescope Star Photo Was Actually Chorizo – PetaPixel
A prominent French physicist is apologizing after admitting that a viral "distant star" photo he shared on Twitter was not actually captured by the $10 billion James Webb Space Telescope (JWST) but was rather just a slice of chorizo pork sausage.
On July 31st, Etienne Klein, research director of the French Alternative Energies and Atomic Energy Commission, tweeted the photo to his 90,000+ followers on Twitter and claimed that it was a new Webb telescope photo showing the closest star to our Sun.
"Picture of Proxima Centauri, the nearest star to the Sun, located 4.2 light years away from us," Klein wrote in the Tweet (as translated by Google). "It was taken by the James Webb Space Telescope. This level of detail… A new world is unveiled day after day."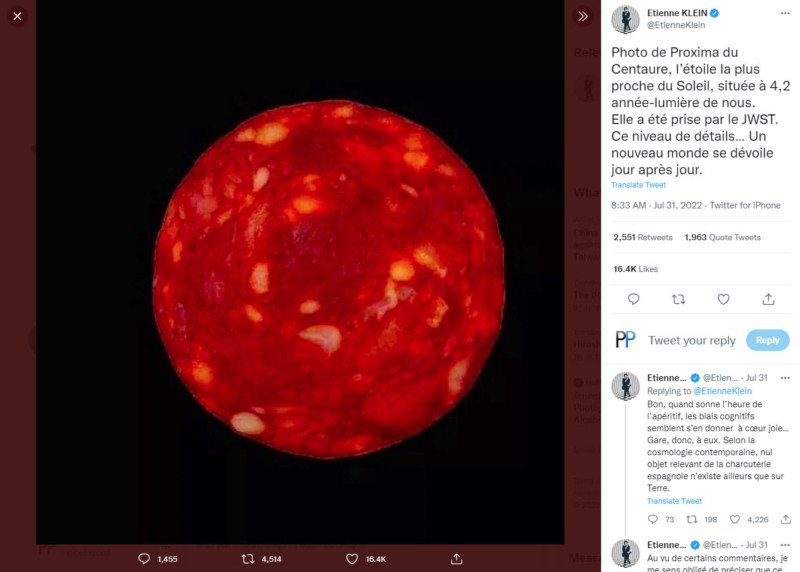 The tweet went viral and was retweeted thousands of times as people marveled at the imaging power of the Webb telescope, which has been wowing the world with never-before-possible space photos, including shots of the oldest galaxies ever observed.
In follow-up tweets, Klein revealed that what he had Tweeted was just a slice of Spanish sausage.
"Well, when it's cocktail hour, cognitive bias seem to find plenty to enjoy… Beware of it," Klein writes. "According to contemporary cosmology, no object related to Spanish charcuterie exists anywhere else other than on Earth.
"In view of some comments, I feel compelled to clarify that this tweet showing an alleged snapshot of Proxima Centauri was a form of amusement. Let us learn to be wary of arguments from authority as much as of the spontaneous eloquence of certain images…"
After receiving angry backlash to his tweet, however, the scientist apologized a few days later for spreading "fake news" that confused quite a number of people, stating that it was just a joke that was intended to warn his followers to be cautious about photos seen online.
"I come to present my apologies to those whom my hoax, which had nothing original about it, may have shocked," he writes. "I simply wanted to urge caution with images that seem eloquent on their own. A scientist's joke."
Klein also tweeted Webb's recent gorgeous photo of the Cartwheel Galaxy, assuring his followers that the photo was "real this time."
"This is the first time I've made a joke when I'm more on this network as a figure of scientific authority," the physicist later told the Paris-based news magazine Le Point. "The good news is that some immediately understood the deception, but it also took two tweets to clarify, "explains the researcher.
"It also illustrates the fact that on this type of social network, fake news is always more successful than real news. I also think that if I hadn't said it was a James-Webb photo, it wouldn't have been so successful."
The James Webb Space Telescope launched in December 2021 and officially began making scientific observations on July 12th, 2022. Now the largest optical telescope in space, it is using its unprecedented imaging capabilities to capture pioneering astronomical and cosmological images, including shots of atmospheres of exoplanets as well as the first stars and galaxies created at the beginning of the universe.
NASA Wants To Mine The Moon, But Law Experts Say It's Not That Simple – SlashGear
The first roadblock facing humans as we seek to expand our presence in the solar system lies in technology. NASA reports that it takes about seven months (measured in Earth days) to travel from our planet's surface to Mars. Thrillist notes that travel to the Moon only requires a three-day journey, while exploration of Jupiter or Saturn (the next bodies out from Mars) would require a lengthy, six- or seven-year voyage, respectively. On a technical level, our current means of launching satellites and humans at these distant bodies is exactly that, a launch (via NASA). In order to make space travel more feasible for human explorers, we would need to develop a propulsion system that could continually deliver powered flight to a spacecraft, or at least the ability to continually augment flight speed, rather than simply relying on initial launch velocity to carry the craft along to its final destination.
This means a combination of two distinct realities: Humans must develop a brand new means of propulsion that requires far less storage space and mass, a revolutionary idea to be sure; and we must develop the ability to hop between planets and refuel along this lengthy journey. Therefore, technological advancement that would support increased space travel would require both colonization and a capacity for extracting mineral resources from the surfaces of neighboring planets and moons. Continuous habitation in new worlds would be required to support these efforts.
Good planning gets the bike rolling – Science Daily
In surveys, a large majority of respondents usually agree that cycling can make a significant contribution to reducing greenhouse gases and to sustainable transport, especially in densely populated areas. In contrast, for many countries in reality there is a large gap between desired and actual numbers. In Germany, for example, only 20% of the short-distance of everyday trips in residential environments are covered by bicycle.
When asked about the reasons, one point repeatedly comes up top of the list: The perceived or actual lack of safety on the bike routes used. Increasing the share of cycling trips in the modal split thus depends crucially on a well-developed bike path infrastructure. However, designing efficient bike path networks is a complex problem that involves balancing a variety of constraints while meeting overall cycling demand. In addition, many municipalities still only have small budgets available for improving bicycle infrastructure.
In their study, researchers from the Chair of Network Dynamics / Center for Advancing Electronics Dresden (cfaed) at TU Dresden propose a new approach to generate efficient bike path networks. This explicitly considers the demand distribution and route choice of cyclists based on safety preferences. Typically, minimizing the travel distance is not the only goal, but aspects such as (perceived) safety or attractiveness of a route are also taken into account.
The starting point of this approach is a reversal of the usual planning process: Under real conditions, a bike path network is created by constantly adding bike paths to more streets. The cfaed scientists, on the contrary, start with an ideal, complete network, in which all streets in a city are equipped with a bike path. In a virtual process, they gradually remove individual, less used bike path segments from this network. The route selection of the cyclists is continuously updated. Thus, a sequence of bike path networks is created that is always adapted to the current usage. Each stage of this sequence corresponds to a variant that could be implemented with less financial effort. In this way, city planners can select the version that fits their municipality's budget.
"In our study, we illustrate the applicability of this demand-driven planning scheme for dense urban areas of Dresden and Hamburg," explains Christoph Steinacker, first author of the study. "We approach a real-life issue here using the theoretic toolbox of network dynamics. Our approach allows us to compare efficient bike path networks under different conditions. For example, it allows us to measure the influence of different demand distributions on the emerging network structures." The proposed approach can thus provide a quantitative assessment of the structure of current and planned bike path networks and support demand-driven design of efficient infrastructures.
Laughing gas in space could mean life
To date, over 5000 exoplanetary systems have been discovered. Biosignatures are chemical components in a planet's atmosphere that may indicate life, and they frequently include abundant gases in our planet's atmosphere.
Scientists at UC Riverside suggest something is missing from the typical roster of chemicals astrobiologists use to search for life on planets around other stars — laughing gas.
Eddie Schwieterman, an astrobiologist in UCR's Department of Earth and Planetary Sciences, said, "There's been a lot of thought put into oxygen and methane as biosignatures. Fewer researchers have seriously considered nitrous oxide, but we think that may be a mistake."
To reach this conclusion, scientists determined how much nitrous oxide a planet like Earth could conceivably produce. After that, they created simulations of that planet orbiting various types of stars and calculated the amounts of N2O that could be captured by a telescope like the James Webb Space Telescope.
Nitrous oxide, or N2O, is a gas produced in various ways by living things. Microorganisms continuously convert other nitrogen molecules into N2O through a metabolic process that can produce useful cellular energy.
Schwieterman said, "Life generates nitrogen waste products that are converted by some microorganisms into nitrates. In a fish tank, these nitrates build-up, which is why you have to change the water. However, under the right conditions in the ocean, certain bacteria can convert those nitrates into N2O. The gas then leaks into the atmosphere."
N2O can be found in an environment and still not be an indication of life in some situations. This was considered in the new modeling. For instance, lightning can produce a small amount of nitrous oxide. However, lightning also produces nitrogen dioxide, giving astrobiologists a hint that non-living meteorological or geological processes produced the gas.
Others who have considered N2O as a biosignature gas often conclude it would be difficult to detect from so far away. Schwieterman explained that this conclusion is based on N2O concentrations in Earth's atmosphere today. Because there isn't much of it on this planet, which is teeming with life, some believe it would also be hard to detect elsewhere.
Schwieterman said, "This conclusion doesn't account for periods in Earth's history where ocean conditions would have allowed for the much greater biological release of N2O. Conditions in those periods might mirror where an exoplanet is a today."
"Common stars like K and M dwarfs produce a light spectrum that is less effective at breaking up the N2O molecule than our sun is. These two effects combined could greatly increase the predicted amount of this biosignature gas on an inhabited world."
The study was conducted in collaboration with Purdue University, the Georgia Institute of Technology, American University, and the NASA Goddard Space Flight Center.
Journal Reference:
Edward W. Schwieterman, Stephanie L. Olson et al. Evaluating the Plausible Range of N2O Biosignatures on Exo-Earths: An Integrated Biogeochemical, Photochemical, and Spectral Modeling Approach. The Astrophysical Journal. DOI: 10.3847/1538-4357/ac8cfb