Twitter Is Exclusive Social Media Partner For Live Look-Ins At All 2022 MLB Postseason Games
Those away from their televisions will have a way to see live-streamed look-ins of every game of the 2022 Major League Baseball postseason.
In an expansion of their partnership, starting today, Twitter
TWTR
will show live segments and highlights via @MLB, @BleacherReport, @BRWalkoff, @ESPN, @MLBonFOX, and other accounts. Other content will be produced by @MLBNetwork.
For the social media platform, they've seen high levels of engagement all season long with much of it reaching outside the U.S. and Canada. According to Twitter in an exclusive to Forbes, 18% of people who tweeted about MLB globally this season had not done so during the 2021 season, thus showing growth in fan interest on the platform.
In a sign that two-way pitching and hitting sensation Shohei Ohtani is reaching fans outside MLB's traditional market range, over one-quarter of the conversation – 28% — has been generated outside the United States. Two of the top 10 most used hashtags during the 2022 MLB season during social conversation globally have been in Japanese (#大谷翔平 – Shohei Ohtani and #エンゼルス – Angels).
For hashtags, Twitter reports that the two most used during MLB conversation have been #MLB and #LGM, the hashtag for the New York Mets. There was a 45% YoY increase in usage of the hashtag #MLBTwitter globally.
For accounts referenced, @yankees has been the most mentioned team globally in 2022 on Twitter thus far, followed by @dodgers and @redsox. All but the latter will be in the postseason beginning with the ALDS and NLDS that follow the Wild Card Series.
As for players, unsurprisingly, @TheJudge44 is the most mentioned player handle globally given his single-season American League home run chase. Judge reached 62 home runs during the final away series for the Yankees when they played the Texas Rangers this week. Judge was followed by @MikeTrout of the Angels, and Albert Pujols (@pujolsfive) who reached the 700 homerun milestone this season. Pujols will continue to play in the postseason with the St. Louis Cardinals. It is assumed that Pujols – a certain Hall of Famer – will retire at the end of the season.
You may be asking, what were the most retweeted MLB tweets this year? Three of the top four were from the Dodgers, with ESPN MLB insider Jeff Passan claiming fourth>
#1 – Kpop sensation ENHYPEN at Dodger Stadium
#2 – Dodgers announce the passing of legendary broadcaster Vin Scully
#3 – ENHYPEN at Dodger Stadium
#4 – Passan announces that MLB and the MLBPA reach a labor deal ending the 99-day lockout.
US not worried about Iran at World Cup despite social media furor – ESPN
AL RAYYAN, Qatar — US defender Walker Zimmerman said he and his teammates have no problem with the pressure that comes with a must-win game.
The US men's national team will face Iran at the Al Thumama Stadium on Tuesday, with a spot in the knockout rounds on the line. Iran is one point ahead of the Americans in the standings thanks to Team Melli's 2-0 win over Wales, making the game a must-win for the Americans, while a draw will likely be enough for Iran to advance.
"Our goal is obviously to win the World Cup, and in order do that, we have to get to the knockout stages," Zimmerman said. "For us, our knockout game comes one game earlier. You look around at a lot of different teams and groups and they're all going into their third game, most of them with having to get a result. Whether that's a tie or win, there's going to be pressure, there's going to be an intensity. For us, that's a win. And we have no problem with that, starting our knockout a little bit earlier."
– World Cup 2022: News and features | Schedule | Squads
For all the focus on the US attack going into this World Cup, they have been rock-solid defensively through two games so far, conceding just Gareth Bale's penalty in the opener against Wales. But Zimmerman's fellow center-back, Tim Ream, remains wary of Iran's attack.
"Obviously there are a couple of very good players up front [including Mehdi] Taremi with his finishing, so he's one to be aware of," he said. "But this game is going to be about us and about what we need to do and what we have to do to advance and to win. Being aware of their compact shape and their counter attacking is going to be key."
Herculez Gomez praises the United States' performance in their 0-0 draw with England at the FIFA World Cup.
On the flip side, the US have struggled to score goals, with Tim Weah's tally against Wales the only time they have broken through. The chances have been there, with several notable ones against England, but overall the team has lacked precision in the final third. Set pieces, long a strength for this American side, could play a factor as well.
"There have been a lot of moments in transition where we can be a little bit sharper," Zimmerman said. "We can pick out that final pass, and hopefully create more. But set pieces is a huge strength for this team. And so, having to go back and look at the plays, watch all of them, see what we can do differently, see what areas we can hit … we want to make sure everyone is doing their job.
"It's going to come down to the little things on set pieces and so we definitely need to work on those, and make sure that that can be a real strength of ours, because I think we have the personnel to score goals off of set pieces."
Tim Ream and Walker Zimmerman offer their support to the Iranian people after U.S. Soccer removed social media posts including the Iranian flag without the Islamic Republic symbol.
USSF backs down following uproar over Iran flag
After posting images on social media with altered images of the Iran flag, which had removed the emblem of the Islamic Republic, the U.S. Soccer Federation (USSF) removed the posts and replaced them with the actual flag after considerable blowback on Sunday.
The Islamic Republic emblem, designed in 1980, is four curves with a sword between them. It represents the Islamic saying "There is no god but God" and honors the date on the Persian calendar when the Islamic Revolution took hold.
The USSF initially posted the images with the center image on the Iran flag removed, though an image on the team's website still included an unaltered image. A USSF spokesperson said the intention in removing the emblem was to show support for protesters in Iran pushing for more equal treatment of women following the death of 22-year-old Mahsa Amini, who had been detained by the country's morality police. The ensuing protests have seen at least 450 people killed since they started as well as over 18,000 arrested, according to Human Rights Activists in Iran, an advocacy group following the demonstrations.
Iran's government reacted by accusing America of removing the name of God from their national flag. According to the official Iran news agency, Iran threatened to file a protest with the FIFA ethics committee, while a report from The Associated Press also stated that Iran was threatening legal action.
USMNT captain Tyler Adams looks ahead to the USMNT's decisive final Group B clash with Iran.
A USSF spokesperson said that the decision to alter the Iran flag was made by the federation, in conjunction with experts on Iran. The spokesperson added that neither US manager Gregg Berhalter nor the players had any prior knowledge of the decision, which was confirmed by both Ream and Zimmerman during Sunday's availability.
Iran's players have attempted to walk a fine line between supporting the protesters while also not running afoul of the Iranian authorities. Iran's players didn't sing the national anthem ahead of their opening game against England, though they did sing the anthem before the second match against Wales. Fans in support of the Iran government also harassed protesters at the Ahmad bin Ali Stadium on Friday in the lead-up to the Wales game.
The USSF spokesperson said that the decision to take down the posts was an internal decision and was not due to outside pressure. The spokesman added that the USSF still supports the protesters in Iran, and the maneuver will likely add more fuel to a match already fraught with political overtones. Zimmerman emphasized that the team is focused on Tuesday but remains in support of women's rights.
"I think it's such a focused group on the task at hand, but at the same time we empathize, and we are firm believers in women's rights and support them," said Zimmerman.
Media go for drama on Victorian election – and miss the story – The Conversation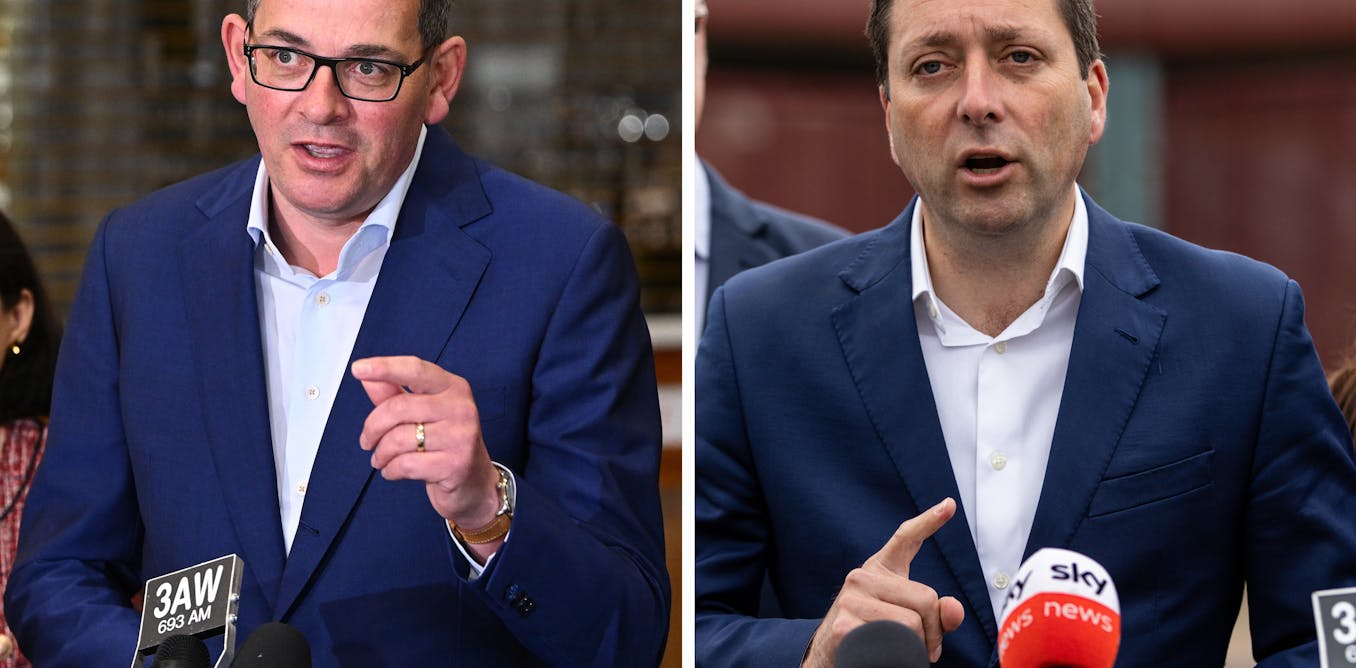 For the best part of two weeks, Victorian voters were told by the media that the election on November 26 might result in either a hung parliament or a minority Labor government.
In the event, the Labor government was returned with a reduced but clear majority, the size of which is not yet known, while the Coalition has suffered a crushing defeat.
How could the pre-election coverage have been at once so breathless and misleading?
The short answer is because of a combination of groupthink and wishful thinking. Unpacking this requires the disclosure of a few trade secrets.
Two days out from polling day, the Herald Sun published an analysis of some focus-group research by RedBridge Group, carried out over the past two years.
---


Read more:
Attacks on Dan Andrews are part of News Corporation's long abuse of power


---
It stated the likeliest scenario on November 26 would see Labor with 43 seats and therefore forced to form a minority government, given it requires 45 seats for a majority. The best-case scenario for Labor was 48 seats and a return to government in its own right.
Earlier in the campaign there had been loose talk in the Herald Sun, based on no particular data, that there could be a hung parliament.
Then in the last week, a Resolve Strategic poll for The Age showed the primary vote for Labor and the Coalition tied at 36%.
It seemed the race was tightening and perhaps a hung parliament or a minority government were real possibilities.
For the media, this is exciting stuff. It suggests drama, suspense, uncertainty – all powerful news values.
So at rival newsdesks, one can imagine an element of consternation. A chief of staff (COS) can be imagined ringing a state political reporter:
COS: "See the Herald Sun has a survey suggesting a minority government?"
Reporter: "Yeah, but some of it's two years old."
COS: "Yeah but a minority government. That's big. I think we have to have something."
Reporter: "All right. Something."
COS: "I mean, we'll look like dills if we don't have something and it happens."
Hours later at news conference, where decisions are made on what stories go where, everyone around the table has seen the Herald Sun. At The Age they've also seen the ABC pick it up and at the ABC they've seen The Age pick it up. Each reinforces the other's assessment of the story's credibility.
The chief of staff assures conference that state rounds are on to it. Minority government becomes the story. Its origin in qualitative data, some of which is two years old, stoked up by the Herald Sun as part of its relentless campaign against the Andrews government, is forgotten or overlooked.
Evidence to support the minority-government hypothesis is assembled, especially the Resolve Strategic quantitative data showing the primary votes neck-and-neck.
News conference's resident Cassandra raises a voice. "What about the two-party-preferred?"
Editor: "What about it?"
Cass: "Every poll we've seen so far has Labor ahead by up to ten percentage points. And they're up to date, not weeks, months or years old."
Editor: "So you're saying we should just ignore the RedBridge stuff?"
Cass: "No, but you can't ignore the two-party-preferred either."
Editor: "All right. Put in a parachute about the two-party-preferred but lead on the minority government. I mean there could even be a hung parliament. We'll look like dills if we downplay this."
Yep. And that's how you look when wishful thinking and groupthink cloud hard-minded analysis of all the available data. Taken together, the data showed the likeliest (but journalistically least interesting) outcome was the return of the government with a reduced majority.
---


Read more:
How Dan Andrews pulled off one of the most remarkable victories in modern politics


---
Not only did the two-party-preferred vote not tighten appreciably, but the primary vote turned out not to be neck-and-neck. This is not hindsight. The discrepancy between the two should have raised a red flag: how could the primary vote be neck-and-neck when the two-party-preferred gap was so large?
In fairness, it was reasonable to suppose this could just be a function of how the minor party and independent preferences would flow, which was unknowable at the time. But this seemed not to enter the discussion about the prospect of a minority government.
And a hard-headed look at the RedBridge focus-group data would have revealed to a dispassionate analyst that once the more far-fetched cases had been eliminated, Labor was likely to end up with somewhere between 47 and 50 seats.
The ABC's election analyst, Antony Green, is giving Labor 52 seats at this stage, with 68% of the vote counted.
Even more curiously, the hung parliament and minority government possibilities were initially generated by the Herald Sun, which acted throughout as a propaganda arm of the Liberal Party. Why on earth would respectable and usually reliable elements of the media such as The Age and the ABC buy into this nonsense?
The answer is that it is an abiding weakness in newsroom decision-making to prefer the most dramatic possibility, however remote, over the most mundane but strongest probability.
It is a further weakness to wish not to be scooped on the most dramatic possibility, even at the expense of misleading your audience, looking foolish in the aftermath and buying into scenarios created by your most politically partisan and least reliable media rival.
The result was a feverish outburst of speculation in the final week of the campaign that fed into questioning of Andrews about whether he would entertain doing deals with crossbenchers if Labor could not muster the 45 seats necessary to form government in its own right.
He batted it away with his customary dismissiveness, and who could blame him?
Your Employees Might Be 'Quiet Quitting' On Social Media. Here Are The Signs
The word "sentiment" is an important one in technology. It means an interpretation about feelings, attitudes, or the general vibes toward a given situation. For those on social media, sentiment can reveal intentions and future decisions.
As one example among thousands, you can usually pick up the sentiment about a political candidate, product or service, or celebrity on social media. Right now, all eyes are on Elon Musk and what appears to be a very public shift in sentiment toward his ability to lead a company.
Sentiment is all about tone. The words people use in their posts, whether they are critical or positive, and even if they post short comments or elaborate more can reveal a lot. Artificial intelligence does an adequate job of analyzing sentiment but has a long way to go.
Many leaders struggle with this topic. Sentiment is hard to pin down and quantify, which means it is hard to put on a spreadsheet. Managers in business prefer hard data and facts that can be relayed by email or in a Word document; they are not as focused on the superficial, emotional stuff.
And yet, there's a lot to learn about employees who post on social media and what they are saying in public spaces like Twitter where it's easy to follow their posts.
Recently, the concept of "quiet quitting" came into the spotlight, likely because of the pandemic and other factors like the recent economic downturn and inflation.
Your employees might be having a rough period; they might be ready to find greener pastures. People are struggling out there, and when they start thinking about moving on to another role, it's often hard to predict what they will do.
On social media, it's perhaps a little easier.
One of the most obvious signs that an employee might be dissatisfied is when the tone of his or her posts turns negative and sour. When an employee suddenly switches from positive messages about the office or their work to a different tone that's more pessimistic, it might indicate job dissatisfaction.
Here's one example. Let's say you normally see posts from an employee about sports or television shows. Maybe you're used to seeing positive posts about business trends. Then, you start seeing negative posts about inflation, the cost of goods and services, or how salaries are not keeping up with the cost of living. You might want to address the problem, at least by asking how an employee is doing.
Employees tend to share their true feelings on social media, looking for some commiseration. Some even know you might be following their posts, which is why they might be sharing negative thoughts about their job, the office, or their coworkers.
Maybe the employee is trying to get your attention in a subtle way. Usually, it's the switch in tone and sentiment that's the dead giveaway.
"Went to the office today and was really bored" might be a post that is meant to air some deeper feelings about the work the employee is doing. Even more direct posts about the management structure, office politics, and products you make are signs the employee might be thinking of quitting at some point, or is already on the hunt.
Have you noticed the sentiment change for someone at your workplace? It might be time to pull up a chair, ask some honest questions, and get to the bottom of the issue.