UK economy grows again but still below pre-pandemic level – Pique Newsmagazine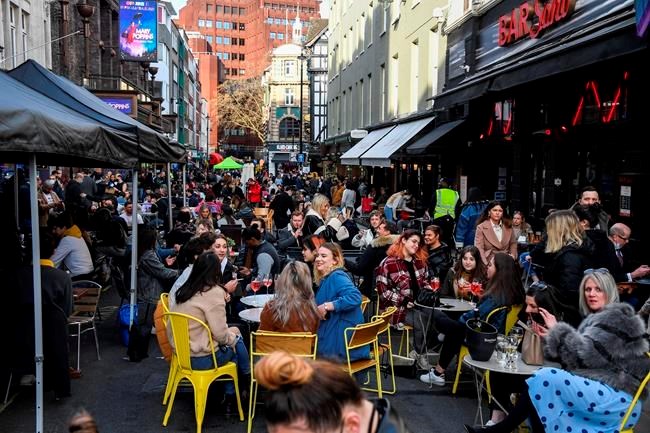 LONDON (AP) — The British economy grew by 4.8% in the second quarter of 2021 as lockdown restrictions were lifted but remains 4.4% below the level it was just before the start of coronavirus pandemic, official figures showed Thursday.
The Office for National Statistics also said the British economy grew by 1% in June alone, the fifth straight month of growth. June was the first full month that many sectors of the economy such as pubs and restaurants were fully open inside and out, following the lifting of restrictions.
"The U.K. economy has continued to rebound strongly, with hospitality benefiting from the first full month of indoor dining, while spending on advertising was boosted by the reopening of many services," Jonathan Athow, deputy national statistician for economic statistics, said.
The lifting of pandemic restrictions following the rapid rollout of vaccines in the U.K. has buoyed growth in recent months. All legal limits on contact, such as social distancing rules and caps on the number of people allowed to gather together, were lifted in July in England. The other nations of the U.K. have been lifting restrictions at a slightly slower pace.
Economists expect further growth in the months to come even though confirmed virus cases have risen as a result of greater social contact. The Bank of England said last week that "a waning impact" from COVID-19 would boost demand growth and help the British economy reach its pre-pandemic level by the end of the year.
Ian Stewart, chief economist at Deloitte, said the "pace of repair" has been "extraordinarily fast," and noted that it took five years for the British economy to recover the output lost in the financial crisis in 2008-9.
"The damage caused by the pandemic has been far worse and the recovery far quicker," he said. "Massive government support has helped preserve capacity and speed up the rebound. This experience will strengthen the hands of those who believe that government — and public spending — should take a far more active role in countering conventional recessions."
Overall, growth is expected to slow toward more normal rates in the months to come, partly reflecting lower government spending as many pandemic programs, such as a salary support scheme, end.
One uncertainty is how the economy will adjust to the end of the furlough scheme, which was introduced at the start of the pandemic last March to ensure unemployment didn't rise substantially when lockdown restrictions were imposed. Under the program, the government paid 80% of the salaries of those workers unable to work because of lockdown measures.
The program, which is being phased out and due to end at the end of September, helped support over 11 million people but the number now is down below the 2 million mark as many sectors have reopened, notably hospitality. It kept a lid on unemployment, which remains relatively low at below 5%.
___
Follow AP's pandemic coverage at: https://apnews.com/hub/coronavirus-pandemic
Pan Pylas, The Associated Press
Province Invests in Wellington County Businesses to Boost Local Economy – Government of Ontario News
Powell meets a changed economy: Fewer workers, higher prices – 95.7 News
WASHINGTON (AP) — Restaurant and hotel owners struggling to fill jobs. Supply-chain delays forcing up prices for small businesses. Unemployed Americans unable to find work even with job openings at a record high.
Those and other disruptions to the U.S. economy — consequences of the viral pandemic that erupted 18 months ago — appear likely to endure, a group of business owners and nonprofit executives told Federal Reserve Chair Jerome Powell on Friday.
The business challenges, described during a "Fed Listens" virtual roundtable, underscore the ways that the COVID-19 outbreak and its delta variant are continuing to transform the U.S. economy. Some participants in the event said their business plans were still evolving. Others complained of sluggish sales and fluctuating fortunes after the pandemic eased this summer and then intensified in the past two months.
"We are really living in unique times," Powell said at the end of the discussion. "I've never seen these kinds of supply-chain issues, never seen an economy that combines drastic labor shortages with lots of unemployed people. … So, it's a very fast changing economy. It's going to be quite different from the one (before)."
The Fed chair asked Cheetie Kumar, a restaurant owner in Raleigh, North Carolina, why she has had such trouble finding workers. Powell's question goes to the heart of the Fed's mandate of maximizing employment, because many people who were working before the pandemic lost jobs and are no longer looking for one. When — or whether — these people resume their job hunts will help determine when the Fed can conclude that the economy has achieved maximum employment.
Kumar told Powell that many of her former employees have decided to permanently leave the restaurant industry.
"I think a lot of people wanted to make life changes, and we lost a lot of people to different industries," she said. "I think half of our folks decided to go back to school."
Kumar said her restaurant now pays a minimum of $18 an hour, and she added that higher wages are likely a long-term change for the restaurant industry.
"We cannot get by and pay people $13 an hour and expect them to stay with us for years and years," Kumar said. "It's just not going to happen."
Loren Nalewanski, a vice president at Marriott Select Brands, said his company is losing housekeepers to other jobs that have recently raised pay. Even the recent cutoff of a $300-a-week federal unemployment supplement, he said, hasn't led to an increase in job applicants.
"People have left the industry and unfortunately they're finding other things to do," Nalewanski said. "Other industries that didn't pay as much perhaps … are (now) paying a lot more."
Christopher Rugaber, The Associated Press
Dialogue NB Seeks To Rebuild An Inclusive Economy Through Conversation – Huddle – Huddle Today
MONCTON – Dialogue NB CEO Nadine Duguay-Lemay says the business community has an integral place in a conversation about building a more equal and just New Brunswick.
That very conversation will take place on September 27 in Moncton with Dialogue Day 2021.
"When we talk about anti-racism, notions of equality, diversity, acceptance and inclusion and all those notions we celebrate, it's not something we can do on our own," said Duguay-Lemay.
"The business community actively needs to participate, if anything, because those topics concern them. That's why you see so many business support the event."
The volunteer-led non-profit organization plans to host an inclusive conversation on Monday at Moncton's Crowne Plaza and virtually, online.
Dedicated to building social cohesion in New Brunswick, the sold-out event will feature discussions about racial justice in the workplace, rethinking the economy as it recovers from the pandemic and how to be a better ally to Indigenous people.
The event, which has sold out of in-person seats, will feature Jeremy Dutcher, a Wolastoq singer, songwriter, composer, musicologist and activist from Tobique First Nation, as its keynote speaker.
The mandate of the discussions is to ensure everyone feels heard, valued and that they belong, making diversity an asset – something Duguay-Lemay considers imperative to a functional economy.
"What I've found is that people don't like to go into uncomfortable discussions. Some people want to embrace social cohesion but don't know where to start, or are afraid of saying the wrong thing. This is our expertise – we're good at the art of dialogue and multiple viewpoints at one table," she said.
"We need a lot of different voices and perspectives at the table to rethink the system for the wellbeing of all. These discussions shouldn't be happening in isolation."
Duguay-Lemay said New Brunswick faces many economic challenges, noting a diverse workforce will help recover from those challenges.
She stressed that the business community needs to work toward a goal of truth and reconciliation, and in a call with Huddle, rebutted the metaphor of everyone being on the same boat during the pandemic.
"I'd argue we're all facing the same storm, but not in the same boat. Some people are in yachts and some are in little boats about to capsize," she said.
Other voices are emerging – female and Indigenous, for example – looking to address poverty and wage inequality and unfairness, employment access, systemic racism and environmental degradation, noted Duguay-Lemay, adding that the province's 4,418 non-profits need more recognition as an economic partner.
"Inclusion is embedded in our DNA as Canadians. We're already a country and province that abides by those laws, so it's important to look at inclusion," she said.
The conversations will also focus on racial justice in the workplace, how the pandemic hurt Indigenous and black Canadian employment, versus non-minorities, access to employment – and the social barriers that exist for racialized workers.
"I invite all organizations, employers, public and non-profits to look at their practices in place and ask if they walk the talk for truth and reconciliation. We're all treaty people – how do we uphold this?" said Duguay-Lemay.
"We want to at least demonstrate to Indigenous people in New Brunswick that we hear their plight and are serious about truth and reconciliation."
Greater social cohesion is the best step forward, Duguay-Lemay noted, adding that real dialogue can build an economy that works for everyone.
She said matters of racial justice in the workplace – and specific matters, such as owners objecting to the declaration of September 30 as a statutory holiday, contending that they can't afford it – will be among the economic issues for which solutions will be sought.
The conversation will also focus on how the province's recovery from the pandemic has exposed inequalities in the economy.
Duguay-Lemay stressed the need to learn from the way the pandemic exposed inequalities, and rethink a system that works for everyone.
"We need to think differently and it really shouldn't be based on the interests of the privileged," said Duguay-Lemay.
"As employers are looking to attract and retain talent, we hear about skill shortages all the time. This becomes a matter of attracting talent, whether from newcomers or tapping into Indigenous communities, how can we make our workplaces more equitable and inclusive?
The event will feature an "eclectic" round table of specialists, artists, activists and experts from numerous sectors, and identities in New Brunswick, with opportunities for networking, inspiration for change with concrete examples and skills to help become a social leader.