VIDEO: Greater Victoria police officers try bhangra dancing with social media star – Saanich News
Greater Victoria police officers came together to learn bhangra from a social media sensation on Friday.
Officers from Saanich, Central Saanich, Victoria and Oak Bay police departments along with West Shore and North Cowichan RCMP danced bhangra with Gurdeep Pandher on the front lawn of the B.C. legislature.
Thank you @GurdeepPandher who led @SaanichPolice @cspoliceservice @OakBayPolice @WestshoreRCMP @N_CowichanRCMP @vicpdcanada officers & staff as we danced Bhangra on the Legislature lawn. "It takes time & effort to spread happiness when fear spreads so quickly"-@GurdeepPandher pic.twitter.com/XyzGI8QxrN

— Victoria Police (@vicpdcanada) August 14, 2020
"Sharing joy [and] celebrating the love that comes with everyone dancing together," said VicPD Chief Del Manak in a Tweet. "Turns out there's even more talent in the Department that I knew!"
Pandher, from the Yukon, moved to Canada from India's Punjab region more than 10 years ago. His videos of bhangra dancing in scenic locations around Canada has earned him a social media following of more than 300,000 people.
Phander announced on Twitter Aug. 7 that he was coming to Vancouver Island for a 10-day visit.
During his time on the Island, the social media star has shared his spirited dance moves from Salt Spring Island, Nanaimo, Ucluelet and Victoria's Government Street. Sandher has even danced with a surf board in one arm and two feet in the Pacific Ocean at Tofino's Long Beach.
Sharing joy & celebrating the love that comes with everyone dancing together. Thank you, @GurdeepPandher You inspired @vicpdcanada today. Turns out there's even more talent in the Department that I knew! #Bhangra #yyj pic.twitter.com/JQ0D7j9VY2

— Del Manak (@ChiefManak) August 15, 2020
---
Do you have a story tip? Email: vnc.editorial@blackpress.ca.
Follow us on on Twitter and Instagram, and like us on Facebook.
VicPDVictoria Police DepartmentWestshore RCMP
Bill Maher Scolds Media For Being "No Help Amplifying" His Concerns Donald Trump Won't Leave Office Peacefully – Deadline
UPDATED with video: President Donald Trump pretty much secured the main talking point for this week's Real Time With Bill Maher after a Wednesday press conference in which Trump refused to commit to a peaceful transfer of power if he lost the November election to Joe Biden.
The topic of the concern over whether Trump would refuse to vacate the White House peacefully has been front and center for Maher for almost two years. It came up time and time again in Friday night's show, from pressing Sen. Bernie Sanders on what a plan might look like if Trump declined to exit in January if Biden wins, to clear frustration that it's taken "mainstream media" outlets so long to catch up to his concerns.
"It does f*ckin' stick in my craw that nobody listened to me and that I got no help from the New York Times, Washington Post, CNN — mainstream media, should have amplified," he said. "Mainstream media — I got no help amplifying the point I was making."
The subject took up the majority of the opening conversation from Sanders, who appeared via video (Maher was back in the studio for a third week in a row in front of a notably small, socially distanced audience).
"If Trump attempts to stay in office after losing, there will be a number of plans out there to make sure he is evicted from office," Sanders said, echoing some of what he said in his last Real Time appearance in April. At one point during a Sanders answer, Maher nudged back, "I still don't know what the plan is." (See the entire video above.)
During the midshow panel with author and CNN political analyst Bakari Sellers and Manhattan Institute fellow and podcaster Coleman Hughes, an engaging discussion on race eventually turned back to what Maher called "the theme that has obsessed me."
He showed two montages — one of previous Real Time episodes dating to April 2018 featuring Maher asking the question of what if Trump doesn't leave office if he loses, another of Trump mentioning Maher's theory during several rally speeches.
[embedded content]
Afterward, he turned to Trump's comments earlier in the week.
"There's a headline I saw in the New York Times yesterday, 'Trump Won't Commit to Peaceful Transfer of Power' — and it was on page 15," Maher said. "This was not the paper I grew up with, but OK."
He relayed the main points of Trump's comments, in response to a question from Playboy reporter Brian Karem, which included the president saying "we're going to have to see what happens." Maher read a passage from NYT reporter Michael Crowley's report, which said in part that "Mr. Trump's refusal — or inability — to endorse perhaps the most fundamental tenet of American democracy, as any president in memory surely would have, was the latest instance in which he has cast grave uncertainty around the November election and its aftermath."
"I would put that on the front page – but that's just crazy me," Maher said.
He added that he was going to drop the subject — though that doesn't seem likely with 38 days to go until the election.
Maher is off next week and returns with a fresh show October 9.
Molly Russell social media material 'too difficult to look at' – BBC News


.css-94m6rd-HeadingWrapperborder-bottom:solid 1px #BABABA;padding-bottom:1.5rem;.css-94m6rd-HeadingWrapper > *:not([hidden]):not(style) ~ *:not([hidden]):not(style)margin-top:1rem;
.css-1c1994u-StyledHeadingfont-family:ReithSerif,Helvetica,Arial,freesans,sans-serif;font-weight:500;font-size:2rem;line-height:2.25rem;color:#3F3F42;@media (min-width:37.5rem).css-1c1994u-StyledHeadingfont-size:2.75rem;line-height:3rem;.css-1c1994u-StyledHeading:focusoutline-style:none;.css-1c1994u-StyledHeading:focus-visibleoutline-style:auto;

.css-11c8au8-MetadataStripfont-family:ReithSans,Helvetica,Arial,freesans,sans-serif;font-weight:400;font-size:0.8125rem;line-height:1rem;margin-top:-0.25rem;color:#696969;
.css-8d0yke-MetadataStripItemdisplay:inline-block;white-space:nowrap;margin-top:0.25rem;max-width:calc(100% – 1em);.css-8d0yke-MetadataStripItem::aftercontent:";display:inline-block;height:1.25em;border-left:#BABABA 1px solid;margin:0 0.5em;vertical-align:-0.25em;.css-8d0yke-MetadataStripItem:last-childmax-width:100%;.css-8d0yke-MetadataStripItem:last-child::aftercontent:none;
.css-2yhany-StyledTagContainerfont-family:ReithSans,Helvetica,Arial,freesans,sans-serif;font-weight:400;font-size:0.875rem;line-height:1.125rem;
Related Topics
.css-1emjddl-Clusteroverflow:hidden;
.css-1oubwgi-ClusterItemsdisplay:-webkit-box;display:-webkit-flex;display:-ms-flexbox;display:flex;-webkit-flex-wrap:wrap;-ms-flex-wrap:wrap;flex-wrap:wrap;margin:calc(0.5rem / 2 * -1);.css-1oubwgi-ClusterItems > *margin:calc(0.5rem / 2);
.css-dh1p3g-StyledTagdisplay:-webkit-box;display:-webkit-flex;display:-ms-flexbox;display:flex;white-space:nowrap;
.css-1sd1v8r-StyledLinkcolor:#3F3F42;border:1px solid #DB7F7F;font-weight:bold;padding:0.5rem;-webkit-text-decoration:none;text-decoration:none;.css-1sd1v8r-StyledLink:hover,.css-1sd1v8r-StyledLink:focusbackground:#B80000;color:#FFFFFF;Social media regulation debate
.css-r83t2i-ComponentWrappermargin:1.5rem 0;
.css-1759m9z-StyledFigurefont-family:ReithSans,Helvetica,Arial,freesans,sans-serif;font-weight:400;font-size:0.875rem;line-height:1.125rem;
.css-uf6wea-RichTextComponentWrappermargin:1rem 0;max-width:36.25rem;
.css-83cqas-RichTextContainercolor:#3F3F42;.css-83cqas-RichTextContainer > *:not([hidden]):not(style) ~ *:not([hidden]):not(style)margin-top:1rem;
.css-14iz86j-BoldTextfont-weight:bold;Instagram has passed thousands of pages of "pretty dreadful" material from the account of Molly Russell to her family's legal team, a court heard.
The 14-year-old killed herself in 2017 after viewing graphic images of self harm and suicide on the platform.
A pre-inquest hearing on Friday was told not all the material had been studied yet as it was too difficult for lawyers and police to look at for long.
A date for the inquest itself is yet to be set.
The inquest will look at how algorithms used by social media giants to keep users on the platform may have contributed to her death.
Oliver Sanders QC told Barnet's Coroner's Court how Instagram's parent company Facebook had recently released a "significant volume" of material relating to the case.
He said: "We haven't been able to review it all yet. Some of it is pretty dreadful and it is not something that can be reviewed in a long sitting and certainly not late at night."
He added certain parts of the material had been redacted and lawyers and police were trying to find out why.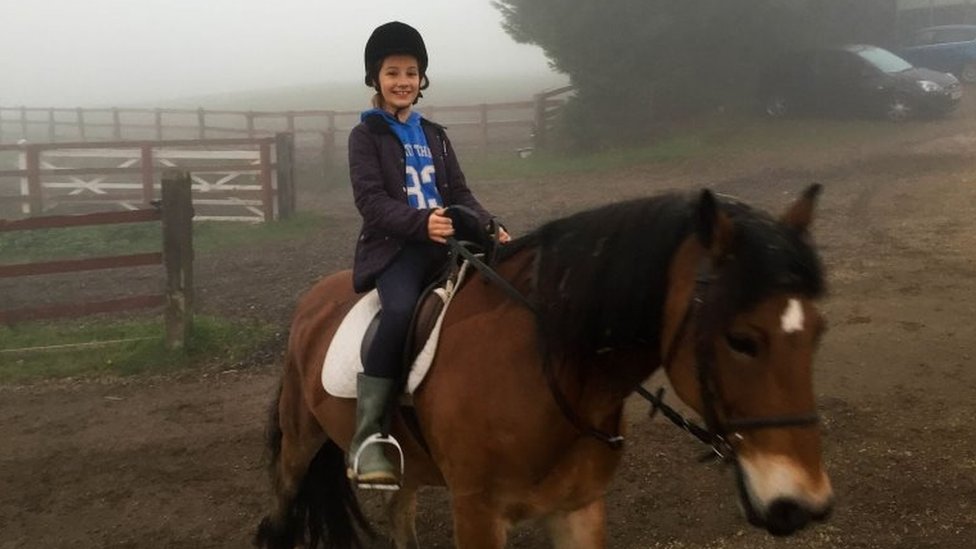 The court also heard the investigation was seeking the cooperation of Snapchat, WhatsApp, Pinterest, Facebook and Twitter, although until recently only Pinterest had co-operated fully.
But Snapchat could not disclose data without an order from a US court, WhatsApp had deleted Molly's account and Twitter was reluctant to handover material due to European data protection laws, the hearing was told.
Coroner Andrew Walker said "some or all" of those social media companies could be named as interested parties in the inquest as they would be "best placed" to give technical information for the case.
He also asked for a psychologist with expertise in the potential psychological impacts of viewing extreme material to be appointed to give evidence.
A further pre-inquest review is due to take place on 26 November.
.css-po6dm6-ItalicTextfont-style:italic;
If you've been affected by
.css-yidnqd-InlineLink:linkcolor:#3F3F42;.css-yidnqd-InlineLink:visitedcolor:#696969;.css-yidnqd-InlineLink:link,.css-yidnqd-InlineLink:visitedfont-weight:bolder;border-bottom:1px solid #BABABA;-webkit-text-decoration:none;text-decoration:none;.css-yidnqd-InlineLink:link:hover,.css-yidnqd-InlineLink:visited:hover,.css-yidnqd-InlineLink:link:focus,.css-yidnqd-InlineLink:visited:focusborder-bottom-color:currentcolor;border-bottom-width:2px;color:#B80000;@supports (text-underline-offset:0.25em).css-yidnqd-InlineLink:link,.css-yidnqd-InlineLink:visitedborder-bottom:none;-webkit-text-decoration:underline #BABABA;text-decoration:underline #BABABA;-webkit-text-decoration-thickness:1px;text-decoration-thickness:1px;-webkit-text-decoration-skip-ink:none;text-decoration-skip-ink:none;text-underline-offset:0.25em;.css-yidnqd-InlineLink:link:hover,.css-yidnqd-InlineLink:visited:hover,.css-yidnqd-InlineLink:link:focus,.css-yidnqd-InlineLink:visited:focus-webkit-text-decoration-color:currentcolor;text-decoration-color:currentcolor;-webkit-text-decoration-thickness:2px;text-decoration-thickness:2px;color:#B80000;
self-harm
,
eating disorders
or
emotional distress
, help and support is available via
the BBC Action Line
.
.css-144ki52-SectionWrappermargin:1.5rem 0;padding-top:1.5rem;
Social media and COVID shaming: Fighting a toxic combination – CTV News
In the spring, Rick Rose drew the wrath of strangers after he practically shouted on Facebook that he wasn't buying a face mask. Two months later, he contracted COVID-19 — and, he posted, he was struggling to breathe. Days later, on July 4, he was dead.
That post, among the Ohio man's final public words on Facebook, attracted attention in the form of more than 3,100 "haha" laughing face emoji and a torrent of criticism from strangers.
"If they would have known him, they would have loved him like everybody else did," says Tina Heschel, mother of the 37-year-old Rose. She says she's "tired of all the hate."
"I just want him to rest," she says.
Shaming people who get sick or don't follow the rules in a public health crisis has been a thing since well before coronavirus, researchers say. But the warp speed and reach of social media in the pandemic era gives the practice an aggressive new dimension.
"It's like someone just turned up the volume on stigmas that were already there," says University of Pennsylvania professor David Barnes, who has studied pandemics and stigmatization.
People shame or stigmatize when they feel threatened by something. They need an explanation, and they find a scapegoat. It helps them reaffirm their thinking and make sense of what's happening. That's an important notion during a pandemic, which can feel vague and invisible.
"There's never been a society that hasn't moralized disease, ever," Barnes says.
Social media sites like Facebook take this practice, which used to be confined to social circles or by geography, and scale it to mass proportions, making it effectively limitless.
"It's changed the expectation of being able to speak up," says Pamela Rutledge, a psychologist who studies the impact of social media as director of the Media Psychology Research Center. "Everyone has a voice now."
And those voices are used.
When a Florida sheriff said in August that his deputies wouldn't be allowed to wear masks except in limited circumstances, Twitter users swiftly branded him a ".COVIDIOT." When doctors diagnosed Ecuador's first coronavirus case earlier this year, pictures circulated within hours on social media showing the retired school teacher unconscious and intubated in her hospital bed.
Rose's death was reported by national media, and visitors from around the country have stopped at his Facebook page to post messages or memes shaming him. Many also left messages wishing him well or scolding those who criticized.
Shaming can help people feel reassured that they have done things right and that the other person must have made a mistake, says Sherry Turkle, a Massachusetts Institute of Technology professor who studies social media. She calls this "magical protection and fantasy."
"It's a way of putting a wall between ourselves and the people who are getting sick," she says.
Social media also gives people isolated in a pandemic a quick way to join communities that share their beliefs. And when someone joins a group, that broader identity makes it easy to pile on.
"You behave in ways that you would not behave individually," Rutledge says.
People may not even realize that they are piling on as they click an emoji or leave a comment while scrolling through their feed. Social media, Turkle says, can make shaming very addictive.
"They're not even addicted to the particular content anymore. They're just sort of addicted to the process of participating," she says.
Plus, Facebook, Twitter and the like give users a way to quickly pass judgment — one that Rutledge says can create "legal, economic and all kinds of ramifications that never would have happened before."
Julian Siegel figures business dropped about 20% earlier this spring at his Fort Lauderdale, Florida, restaurant after someone posted a picture on the Nextdoor app of people waiting in his parking lot for food. The person said the customers weren't following social distancing guidelines at The Riverside Market; Siegel insists that they were.
"It was crazy. People who have never been here were bashing us, saying how we were spreading COVID," Siegel says.
After that, he started seeing people drive slowly by his restaurant, apparently taking pictures or video with phones. "We call them social media warriors. There's nothing you could do," he says. "We would wave."
Siegel saw three or four posts on the Nextdoor app and Facebook, and he says arguments would break out on the posts about whether patrons were being safe. In the end, he figures more people defended the restaurant than criticized it.
Christy Broce used social media to fight stigmatization instead of fuel it. The Pocahontas County, West Virginia, resident spent nearly a month in quarantine this summer after she and her two sons came down with the virus.
She says family members brought them groceries, and she and her boys kept to themselves. But they still felt scorned, especially after someone falsely reported to the local health department that she was shopping at a grocery store a couple days after she tested positive.
That prompted her to make a public plea for compassion on Facebook. Hundreds of people liked or loved that post, and several sent cards or messages of support.
"People have reached out and been a little more caring," Broce says.
Such a response doesn't surprise Rutledge. She says sharing empathy or support on social media makes both the giver and the recipient feel better. Like shaming or criticism, it can also help reaffirm a person's views or beliefs.
And there's this benefit, too: "It's also a way to sort of make the world seem like a kinder, gentler place."