What to do in Burnaby in February: Art exhibition at gallery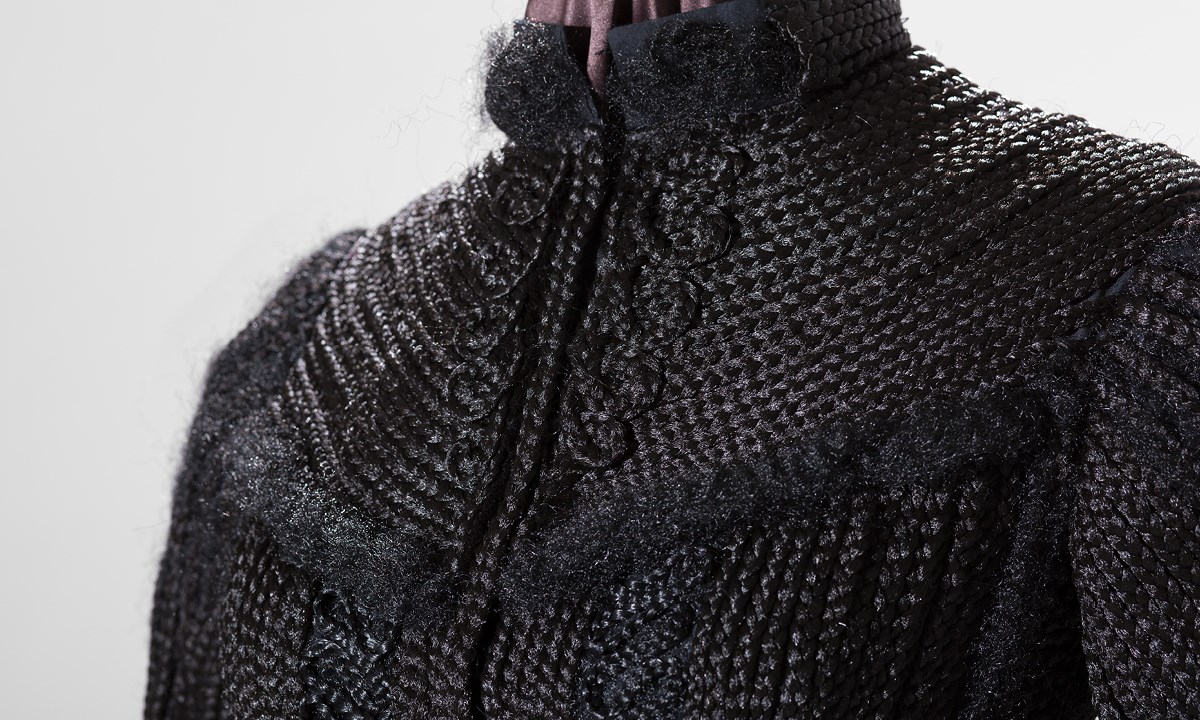 A new exhibition at Burnaby Art Gallery is weaving conversations of beauty, race and colonialism between fine tendrils of gold and hair.
The exhibit, Ornament and Instrument, showcases the intricate and meticulous work of Vancouver-based multidisciplinary artist Karin Jones.
Jones, who was nominated last year for the prestigious Sobey Art Award for emerging Canadian artists, studies how historical narratives shape identities.
Her installation piece Worn, commissioned by the Royal Ontario Museum, features prominently: a bustled Victorian mourning dress created using braided hair extensions, surrounded by cotton bolls scattered on the floor below – some stuffed with Jones' hair.
Her artist statement explains the mourning dress symbolizes sadness, "high culture," the British Empire and the constraints of feminine beauty norms.
The piece "underlines African hairstyles as a craft as refined as any decorative art produced in Europe; it alludes to the invisible labour of the thousands of Africans who contributed to the wealth of the British Empire," states Jones.
Jones has also created a new iteration of the work Freed, using an early 20th-century dress from the Burnaby Village Museum's collection.
Jones' expertise in jewelry and goldsmithing comes into sharp relief through "Damascene inlay work on objects such as farm tools," as she explores the intersections of beauty and race.
The exhibition's opening reception will be Thursday, Feb. 2 from 7 to 9 p.m.
The gallery's opening hours are Tuesday to Friday between 10 a.m. and 4:30 p.m. and weekends between noon and 5 p.m.
When: Feb. 2 to April 16
Where: Burnaby Art Gallery (6344 Deer Lake Ave.)
Cost: $5 suggested donation
Ann Wilson, Last Survivor of an Influential Art Scene, Dies at 91 – The New York Times
Working from a gritty loft in Lower Manhattan in the late 1950s, she made abstract paintings on quilts that brought a fine-art sensibility to a folk art.
Ann Wilson, a painter who rose to prominence among the art luminaries who clustered in an industrial stretch of Lower Manhattan in the late 1950s, creating an eruption of art between the peak of Abstract Expressionism and the burst of Pop Art, died on March 11 at her home in Valatie, N.Y., in Columbia County. She was 91.
Her death was confirmed by her daughter Ara Wilson.
Ms. Wilson was the last surviving member of the influential Coenties Slip group, which also included Ellsworth Kelly, Agnes Martin and Robert Indiana. The group flourished in a bruised, brawny area near the East River in the days of decline after its industrial heyday a century before.
"During the 18th and 19th centuries, this was the heart of New York," the New York Times art critic Holland Cotter wrote in a 1993 retrospective of the storied Coenties Slip art world. "The city's earliest publishing houses were here, as were its theaters, and such writers as Melville, Whitman and Poe walked the streets.
"Although the neighborhood went on to become the financial district," Mr. Cotter continued, "as recently as 30 years ago it was still making cultural history: It was home to some of America's most distinguished and radical living artists."
Ms. Wilson, a Pittsburgh native, landed on Coenties (pronounced coe-EN-teez) Slip in the mid-1950s. The youngest of the artists who thrived there, she drew influences from its established members, in particular Ms. Martin, a celebrated painter who blended the hues of nature with Abstract Expressionism, and Lenore Tawney, a fiber artist known for her monumental sculptural weaving.
Such earthy, elemental minimalism helped inspire Ms. Wilson's primary medium at the time: quilts painted with abstract geometric patterns. Her best-known work, "Moby Dick," a roughly 5-by-7-foot quilt painting from 1955, is in the Whitney Museum of American Art's collection. She also has works in the collection of the Museum of Arts and Design in New York.
"I was interested in geometry," she once said in an interview for the Institute of Contemporary Art at the University of Pennsylvania. "And in the colors of nature. It was just gardening, making a quilt."
In helping to establish the folk art of quilting as a fine-art medium, Ms. Wilson "became a beacon for women artists in the avant-garde who explored alternative mediums and avenues of the arts as they were forming in a momentous time, from the 1950s to 1970s, when New York was burgeoning with new ideas and means of expression that were far outside the mainstream," William Niederkorn, an artist and writer who mounted "1 Saint in 3 Acts," a 2018 retrospective of her work at the Emily Harvey Foundation in Manhattan, wrote in an email.
Ann Marie Ubinger was born on Oct. 14, 1931, in Pittsburgh, the only child of John and Helen (Foley) Ubinger. Her father, who worked in public relations for a steel company, was an intellectual omnivore and a voracious reader, as was her mother, who worked as a librarian but was also a skilled painter and had studied with the renowned artist Samuel Rosenberg at the Carnegie Institute of Technology (now part of Carnegie Mellon University) in Pittsburgh.
Fascinated by art from an early age, she eventually enrolled at Carnegie Tech, where her fellow Pittsburgh native Andy Warhol was also a student. She ultimately graduated from the Tyler School of Art at Temple University in Philadelphia.
After college, she spent two years teaching art history at West Virginia University, where she read copies of ARTnews in the library and realized "there was something more brewing than I had been educated for," she said in an interview with the art historian Jonathan Katz for the Archives of American Art at the Smithsonian Institution.
Those art ambitions led her to New York, where she fell in with her future art compatriots when they were running a paid workshop for hobbyists called the Coenties Slip Drawing School. Among the teachers were Jack Youngerman, who would become known for his exuberantly colorful abstract paintings, and Robert Indiana, who would find fame as the Pop artist who created the famous "love" image, consisting of the letters L-O-V-E stacked in a box.
Before long, Mr. Indiana suggested that she take an open loft in an old factory building at 3-5 Coenties Slip, in the shadow of the Brooklyn Bridge. The loft, which rented for $40 a month, had no electricity — power was wired in from a light fixture in the hall — and was heated with a potbelly stove.
"Not only were these artists drawn together through their ideas and their appreciation of the Slip area, but also through a continuous struggle to live there," Art in America observed in a 2017 history of the scene. "Most of the lofts did not have hot water, heat or kitchens, and it was the Seamen's Institute, then located on the Slip, that provided a much-needed cafeteria and warm showers."
What the buildings lacked in creature comforts, they made up for in artistic significance. Mr. Kelly, a painter renowned for his bold, colorful abstract work, and Ms. Martin lived in the same building as Ms. Wilson. Barnett Newman, Jasper Johns and Robert Rauschenberg lived nearby, on Pearl and Front Streets.
Soon after Ms. Wilson moved in, her art life "just mushroomed," she told Mr. Katz. "I knew everybody in town in about five minutes."
The scene began to splinter in the 1960s as the area faced the onslaught of urban renewal, and Ms. Wilson moved a few subway stops north, to a loft on Canal Street. She became enmeshed in the world of performance art, including the so-called Happenings, which combined dance, theater, poetry and visual art. She also collaborated on installations with the artist Paul Thek.
Ms. Wilson also became close with Robert Wilson (no relation), the groundbreaking experimental theater director and playwright. She worked with him into the mid- 1970s, performing and contributing visual art to "Deafman Glance" and other works of his.
In addition to her daughter Ara, Ms. Wilson is survived by another daughter, Katherine Wilson, and a son, Andrew, from her marriage to the writer William S. Wilson. She and Mr. Wilson separated in 1966, though they never divorced. Mr. Wilson died in 2016.
As the New York art world began to move in new directions in the 1980s and '90s, Ms. Wilson moved upstate, where she explored new mediums like Eastern European icon paintings and taught art at Dutchess Community College.
Even so, she continued to paint, an obsession since early childhood. As her daughter noted, "She always said she had to repeat first grade because all she wanted to do was draw."
The Thief Collector review – the ordinary married couple behind a massive art heist – The Guardian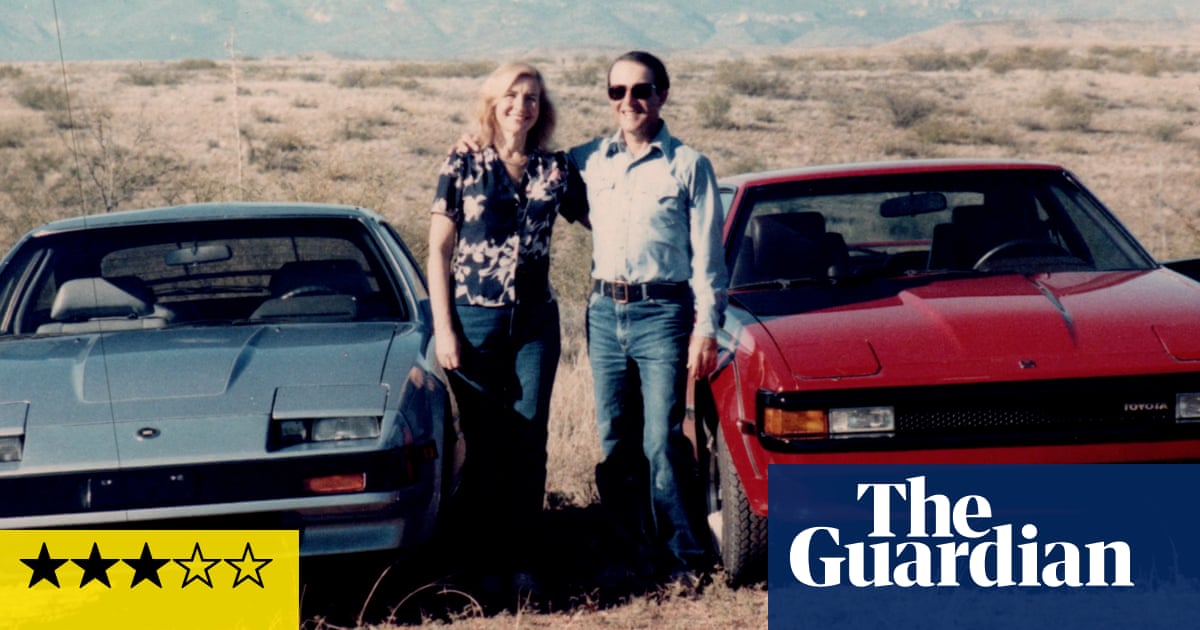 It was a brazen case of daylight robbery. In 1985, a couple walked into an art gallery on the campus of the University of Arizona and left 15 minutes later with a rolled-up Willem de Kooning shoved up the man's jacket. In 2017, the painting was finally recovered – not by the FBI, but by a trio of house clearance guys in New Mexico. It had been hanging for 30 years on the bedroom wall of retired teachers Rita and Jerry Alter.
How an ordinary couple like the Alters pulled off one of the biggest art heists of the 20th century is told in this mostly entertaining documentary. You can imagine the story being turned into a podcast and it's perhaps stretched a little thin for a full-length documentary. (Did we really need an interview with the couple's nephew's son?) The weak link is the film's dramatisation of the theft: a tongue-in-cheek pastiche that feels a bit glib as questions about the Alters' motivations deepen and darken. Still, the film offers a fascinating glimpse into the mystery of other people, especially other people's marriages. Friends and family still look dazed that the Alters – Rita and Jerry! – were behind the theft.
The unlikely heroes of the story are a trio of honest-as-they-come house clearance men who bought the De Kooning along with the contents of Jerry and Rita's house after they died. When a customer offered them $200,000 for the painting, they did a bit of Googling; after realising it could be the missing artwork (Woman-Ochre, now worth around $160m), they were straight on the phone to the gallery in Arizona to return it, with no question of making a dime for themselves.
The three men are brilliant interviewees, warm and thoroughly decent; their experience in rooting through other people's homes and lives has clearly given them the kind of insight that would make them great detectives, too. And if nothing else, this documentary ought to give someone working in television the idea of making a detective series about house clearance experts.
Art in spotlight as 9 countries' Holocaust envoys hold 1st gathering on restitution – The Times of Israel
In 2018, a Dutch court issued a highly controversial ruling, allowing an Amsterdam museum to keep a Nazi-looted painting for free, saying this would serve the "public interest" better than returning the artwork to its rightful Jewish owners.
The decision was panned by Holocaust restitution activists as an outrageous miscarriage of justice, with the potential of undoing decades of progress.
Following an international outcry, the city last year disregarded the court ruling and made the Stedelijk Museum return the Wassily Kandinsky work to the heirs of the art dealer from whom the Nazis stole it, bringing the claim to a close.
On Tuesday, Ellen Germain, the US State Department's Special Envoy for Holocaust Issues, pointed to the case as offering a valuable lesson for other countries on "best practices for restitution of Nazi-looted art."
Speaking in London at a first-of-its-kind summit with eight of her counterparts from around the world, Germain said the Dutch example "is a case where legal complications arose, and were solved in a satisfactory manner. That's exactly the sort of cases we came here to examine and learn from so that governments can build on each other's experience."
In 1998, over 40 countries signed the Washington Principles on Nazi-Confiscated Art, which contains a roadmap for restitution. However, 25 years later, more than 100,000 paintings out of approximately 600,000 that the Nazis stole remain unreturned, according to German media outlet Deutsche Welle.
Mark Weitzman, chief operating officer of the World Jewish Restitution Organization, or WJRO, said during a press conference at the gathering that "whereas significant gaps in restitution remain, there are also positive developments and successes."
He noted Latvia, whose parliament last year voted in favor of a long-awaited restitution plan in which authorities agreed to pay more than $40 million to the country's Jewish community of about 10,000 people over the coming decade. Lithuania, meanwhile, allocated $38 million as compensation for private-owned property that Jews lost there in the Holocaust, when 90% of the community was murdered by the Nazis and local collaborators.
Croatia, Weitzman said, was in the process of advancing its own legislation seeking to resolve this issue.
But "some problems persist," said Eric Pickles, UK Special Envoy for Post-Holocaust Issues, who hosted the meeting. Pickles said it would be "undiplomatic" to name problematic countries.
WJRO has long called on Poland to address private-owned, heirless property, which Polish officials say can be claimed through the civil court system but which restitution activists say requires special legislation. Estimates vary on the value of such property, with some saying it's worth billions of dollars.
In addition to the United States and Britain, the meeting had representatives from Canada, the Netherlands, Austria, Germany, France and Croatia, as well as Israel. The Conference on Jewish Material Claims Against Germany was also represented.
While this week's conference focused mostly on art restitution, Germain invited the delegates to the United States for a follow-up meeting that would focus on other aspects.