Xiaomi Mi 11 Pro leaked renders show massive, different camera island – GSMArena.com news – GSMArena.com
Xiaomi has already made the Mi 11 official in December, and the phone has gone on sale today with great results. But, according to mumblings on Weibo, there's a Mi 11 Pro coming too, at some point in the near future.
This would make sense considering how last year we got a Mi 10 / Mi 10 Pro duo. The Mi 11 Pro is allegedly pictured in these leaked renders you can see below, in blue and silver.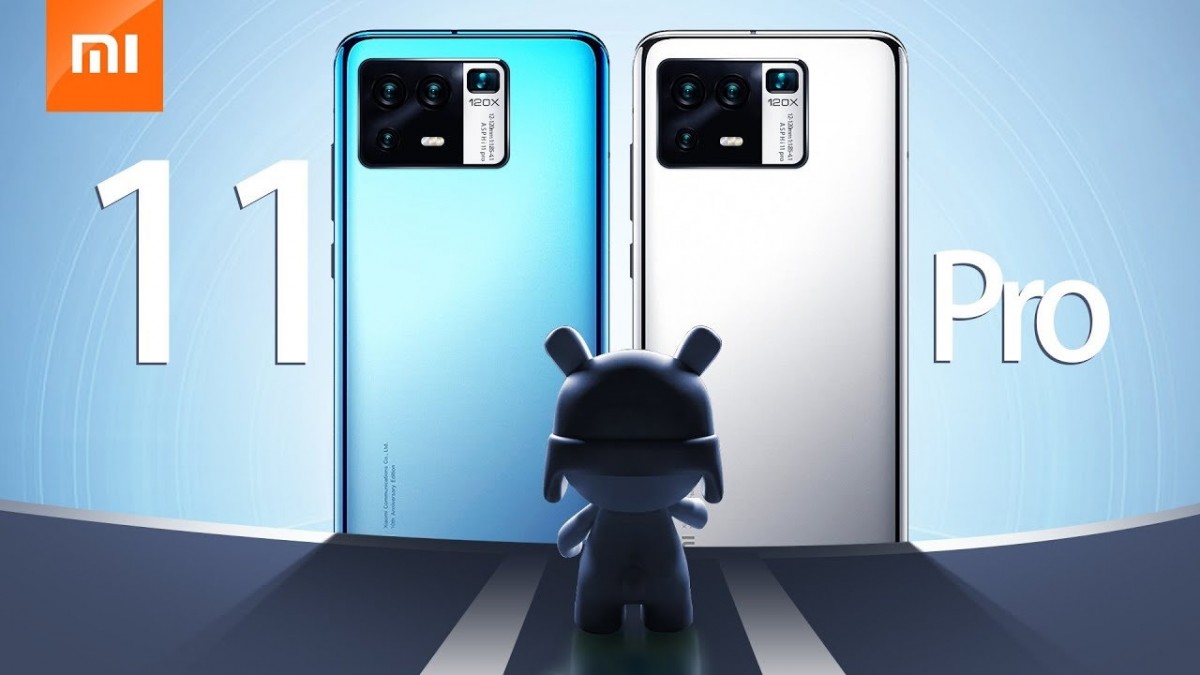 Perhaps surprisingly, the design of the camera island on the back is completely different compared to that seen on the Mi 11. The Mi 11 Pro has four cameras, one of which is of the periscope zoom variety, and the "120x" inscription next to it tells us that Xiaomi doesn't want this phone to digitally zoom any less than the Mi 10 Ultra.
The rest of the writing reveals that the ultrawide has a 35mm equivalent focal length of 12mm, while the periscope goes to 120mm. One of the other shooters is likely to be the exact same 108 MP sensor as the one in the Mi 11, while the last camera could be a 2x or 3x tele for smoother zooming.
We don't yet have a picture of the front of the Mi 11 Pro, but rumor has it you should expect to find the exact same screen that the Mi 11 has, with its 6.81″ size, curved sides, 1440×3200 resolution, 120 Hz refresh rate, 480 Hz touch sampling rate, and 1,500-nit peak brightness. Under the hood the Snapdragon 888 should reign supreme, of course.
Redmi's first gaming phone is coming this year with MediaTek's Dimensity 1200
Xiaomi's Redmi sub-brand is largely known for its stellar Redmi Note series and Redmi series. Spread across the early budget and mid-ranges, these phones are often the epitome of value you can get for every bit of money you spend. Xiaomi reserves the higher end specifications for phones under its Mi branding, but that could change this year, as Redmui's first gaming smartphone is coming with the new MediaTek Dimensity 1200.
Redmi's General Manager in China, Mr. Lu Weibing, has revealed on Weibo (via AndroidAuthority) that the brand will launch its first flagship gaming smartphone. The statements were made within the context of the Dimensity 1200 launch and how Redmi will be the first OEM to ship a phone with the new processor, strongly hinting that this is the chip that could be powering the gaming phone. As is the Redmi philosophy, the pricing is expected to be aggressive, making the entire proposition very enticing. It's unclear if the first phone with Dimensity 1200 would be the gaming smartphone or something within the Redmi K-series lineup.
It's worth keeping in mind that the Dimensity 1200 features the same GPU (ARM Mali-G77MC9) as the Dimensity 1100, Dimensity 1000 Plus, and Dimensity 1000. There are other changes that do benefit a gaming smartphone, such as support for 168Hz refresh rate at FHD+, as well as support for ray tracing through software. There's also MediaTek HyperEngine 3.0 support on the new chip, but the company did not specifically detail what this bump up in versioning brings to the table, and if the same could also make its way to the older Dimensity flagship chips as they bear the same GPU.
One thing that becomes abundantly clear is that OEMs have a lot more faith in MediaTek's Dimensity lineup than ever before, enough to dedicate a few firsts for their brand to the new flagship chips. While it remains to be seen how the Dimensity 1200 measures up to the Qualcomm Snapdragon 888 and Samsung Exynos 2100, it does appear promising as a value performer.
Source: – XDA Developers
Where Alberta is at with testing for COVID-19 variants | Watch News Videos Online – Globalnews.ca
We've heard experts say it's normal for viruses to change or mutate. In Alberta, variants of COVID-19 from the U.K. and South Africa have been detected, so critics are calling on the government to increase testing for these strains. But as Nicole Stillger explains, labs are already very busy right now.
Get the perfect dose of nostalgia with these Galaxy Buds Pro cases – Input
A little dash of old paired with something new can be a great touch to help you reconcile the contemporary with the classic. Samsung's new Galaxy Buds Pro, which will run you about $200, just got that treatment now that the company has launched retro charging cases on sale. These cases are shaped after the nostalgic Anycall T100 and E700 and are available in select locations only. They weigh between 35g to 40g. But who cares about that? Depending on when you came of age, they're worth their weight in nostalgia.
And that's the downside to the news: the cases are available in South Korea as in-store items only. To be clear, the retro clamshell charging cases don't work on their own, so don't expect the clock to change the time accordingly or for the case to deliver messages or calls. Nope, none of that. The retro cases are more of an aesthetic addition to the Galaxy Buds Pro and it's not clear how much battery capacity they actually come with. We expect Samsung to release more details in the coming days. Even then, a T100 or E700 cover sounds like a fun touch for $30 a pop.
Non-functional nostalgia — The purpose behind these T100 and E700 retro clamshell cases isn't to provide any use. Samsung is pretty clear about this much, and it's a detail that won't offend consumers in all likelihood. This is all about nonfunctional nostalgia. The release of these retro cases is bound to resonate with consumers who once owned actual T100 and E700 cellphones… give or take 20 years ago. That crowd might just love it, though it is a bummer that Samsung has limited the sales of these cases to one country only.
Exclusivity is hot — For now, the cases remain on sale in South Korea alone. Maybe there are plans to bring the retro accessories to stores in the West — but that remains to be seen. In the meantime, while Samsung figures out the additional details for these cases (and we hope it lets western consumers but the T100 and E700 cases eventually), we'd love to know if you think Samsung's Galaxy Buds Pro pose a legitimate threat to Apple's AirPods Pro. All we know is the wireless earbuds war is far from over.