2021 Faculty of Communication, Art, and Technology holds undergraduate conference – The Peak
Written by: Jaymee Salisi, News Writer
On March 5, 2021 the eleventh annual Faculty of Communication and Technology (FCAT) undergraduate conference was held online. The conference provides students within the faculty the opportunity to showcase their ideas and interests in a community forum.
With 63 projects and 84 student presenters, this year was the faculty's largest conference. Keynote presenter Jeff Ward and a panel of four FCAT alumni shared career stories and offered advice to students.
During the panel's discussion about the alumni's current jobs, user experience designer and School of Interactive Arts alum Sean Warwick advised students to maintain a connection with colleagues throughout their academic careers. He said the interactive arts field is "a lot smaller of a community once you get out into the world."
To prepare for jobs out of university, panellists emphasized students should "be creative with getting experience," whether through attending networking events, collaborating with faculty professors, or offering to help with social media at a current job.
Communication alum and marketing coordinator Tiana Marconato said jobs often look for writing samples. Her recommendation was for students to draft press releases independently or to reach out to local media outlets for publication.
Student attendees asked how selective they should be when looking for jobs. Kathleen Estanislao, digital marketing manager, advised job seekers to connect with existing workers at the job they are applying for to learn about the work environment before accepting an offer.
The four alumni agreed it is important to have some flexibility because "your first job isn't necessarily going to define your career [but] ultimately, you want to be happy on some level."
In his presentation, Jeff Ward spoke about his experience as an Indigenous entrepreneur, web designer, and software developer. He discussed the importance of centering values and ethics around work to ensure balance and fulfilment.
Ward currently works with nonprofit organizations, charities, and Indigenous initiatives to focus on "the impact of others through technology." He helped develop an app called Next 150, which aims to advance reconciliation by educating users about the Indigenous land they are on.
Students asked Ward whether he finds value in career advisors with varying opinions from his own. He told students to look for people with "a diverse range of inputs." He said it is important for people to balance their surroundings with others who can provide different perspectives, as well as with people who have similar views to maintain core values.
After the speeches, students shared their work. Presentations were split into two blocks, lasting one hour each. There were eight different rooms with an average of four projects being presented in each of them. Rooms were organized by theme, ranging from crisis disaster response to interactive design and media arts.
Some speakers explored the narratives presented in certain news outlets, and others brought forward solutions to individual and global issues.
The event concluded with FCAT dean Carman Neustaedter thanking participants for their efforts in organizing the conference.
Art exhibits return to Callander's Alex Dufresne gallery – BayToday.ca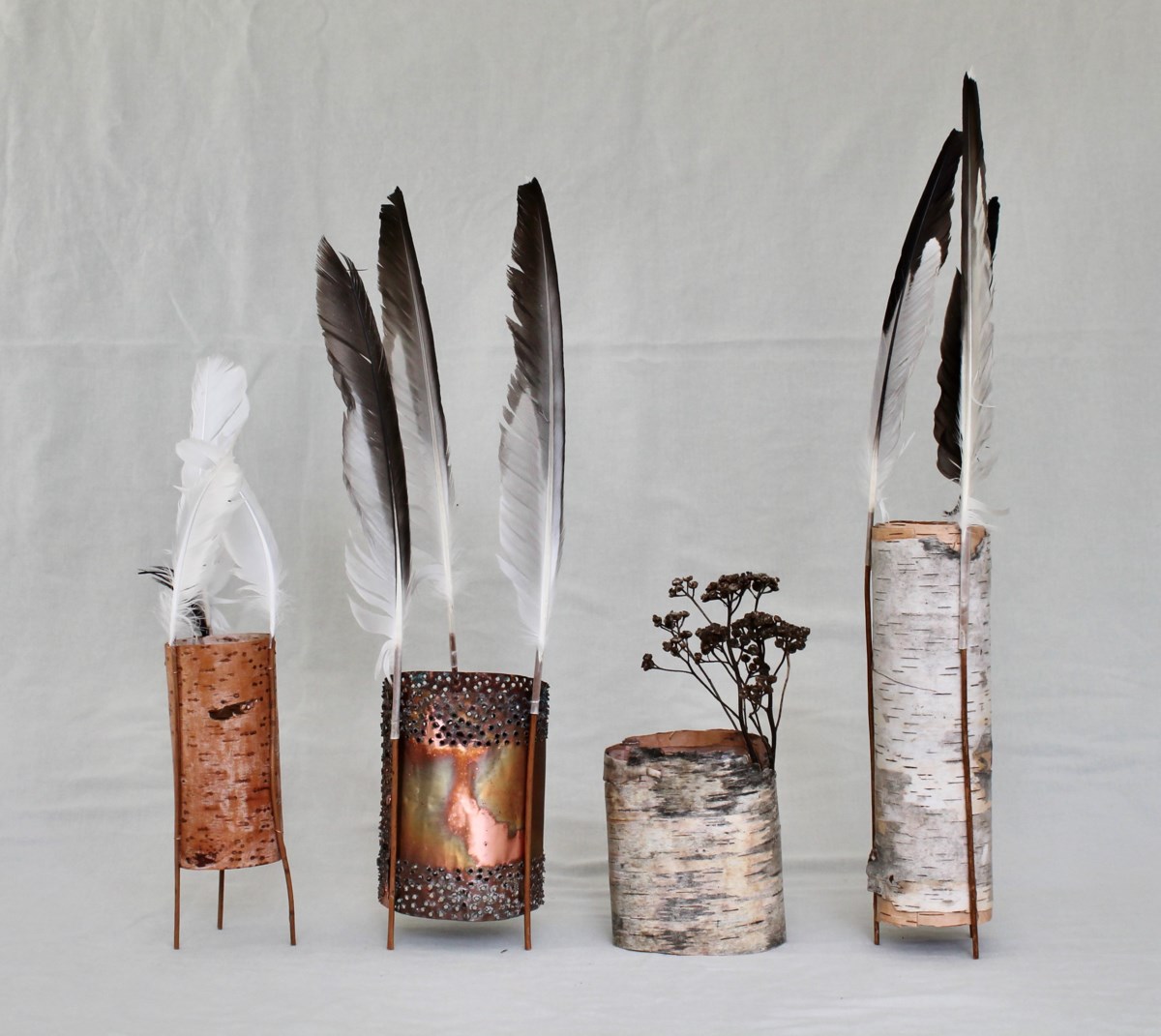 After a long hiatus, art shows are returning to the Alex Dufresne Gallery at the Callander Bay Heritage Museum this Saturday.
The works of Carole Davidson and Sara Carlin-Ball are highlighted in an exhibit entitled "Journeys to a Conversation with Nature."
In a release promoting the show, Davidson and Carlin-Ball explain the "works display a felt presence of our natural environment in unexpected materials and surprising subjects."
Their goal in selecting the pieces for the exhibit is to capture "the luscious spectacular that is Nature, Muse, Essence," and emphasize how these "inspire the audience to revision their place – their gratitude and responsibility – on this Earth."
See: Callander museum reopens from COVID with new art show
"It feels absolutely wonderful to have art back on the walls," said Natasha Wiatr, the gallery's curator.
The last show was this past April but did not last long before Covid regulations closed the event. Since then, "the walls have been empty."
"We haven't consistently had shows in what feels like so long," she said, and is pleased to launch what will hopefully be a long stretch of exhibits.
Currently, the gallery is booked until 2023, "and we've added two more shows per year," Wiatr explained.
"We see ourselves as a community-based gallery," she said, and as such, strive to present as many local artists as possible.
See: White Water Gallery has a new executive director
The Museum and Art Gallery are open Tuesday to Saturday from 10:00 – 5:00 p.m.
The gallery can hold 14 people at once, and walk-ins are welcome. Appointments can also be booked ahead of time at www.mycallander.ca/gallery.
Staff remind to you please wear a mask when you visit and maintain social distance.
Admission to the museum is $5 for seniors and students, $4.50 for kids 6-12, free for children under 6 and adults pay $5.50. Family rate for 4 is $15. Entrance to the gallery is by donation.
See: Mattawa museum celebrates reopening with Community exhibit
Callander museum reopens with art show – The North Bay Nugget
Article content
The art show Journeys to a Conversation with Nature will reopen the Callander Museum and Alex Dufresne Gallery Saturday.
Article content
The works of Carole Davidson and Sarah Carlin-Ball will remain on display to Aug. 20.
"There is an essential longing for life that erupts in a luscious spectacular that we call Nature," the artists said in a statement.
"The human animal is a part of this longing for life that some might call a Muse – a Muse for artists of every passion and discipline. Artists are at the mercy of their muse and transcribe whatever is whispered to them about life, people, and the compelling natural environment they belong to.
"One may be a studied artist haphazardly trained while another may be an experimental soul, interpreting the ever-changing environment around her."
Influenced by the gifts of their lives and the natural offerings around them, each artist interprets what touches her soul. Each piece of art tells a portion of her journey, calling to the viewer to look more closely at what life has to teach us.
Carlin-Ball's muse slumbered as she was raising her children and working. As soon as she could make time, there was an explosion of experimentation driven by her mantra 'What would happen if…?'
Mistakes happily romped with successes. Now, her careful, unique presentations interpret life and nature, and challenge one's imagination.
As she learned of the melting of the muskeg and the possibility that Canada will soon lose that habitat and vibrant spring bloom, Carlin-Bell felt the compulsion to replicate that vital image with unexpected media: patinated and fired copper was punched and threaded through with fibre knotted to create the blooms and surface stems.
Article content
Eventually, the vibrant muskeg spring emerged.
For Davidson, nature was a refuge she quietly celebrated with natural and cultivated talent for art and writing. A busy and brief career in graphic design took over until disabling MS symptoms forced (or allowed) her to slow down.
She began a meditation practice to cope with symptoms and immediately began painting again.
Her creative work parallels her spiritual path and the subjects of her study get smaller and smaller as she has the opportunity to stop and notice. She finds joy in a yellow spider on a sunflower or a nest full of baby robins.
Together, their works display a felt presence of our natural environment in unexpected materials and surprising subjects.
The Museum and Art Gallery are open Tuesday to Saturday from 10 a.m. to 5 p.m. Appointments can be booked ahead of time at www.mycallander.ca/gallery and the museum and gallery also welcome same-day walk-ins.
Those visiting are asked to wear a mask and social distance.
The museum and art gallery are located at 107 Lansdowne St. E., Callander.
Greenpoint This Week: Art Fair, Staycations and More – greenpointers.com
Happy Weekend Greenpoint!
This weekend, The Other Art Fair is back in town, with affordable artworks ready for your post-quarantine redecorating plans.
If you're eager to get out, plan a staycation in the neighborhood, for a change of scenery, without a sink full of dirty dishes. If you prefer your own pillows, consider just spending a day at one of our local outdoor pools. The newly opened Le Doggie Cool also has open cafe hours this Saturday, for pups to play in their backyard pool.
This week, we reported that Brooklyn Bowl is reopening in early September! Get your tickets now for upcoming parties and shows. If you're looking for a free event, Friday night brings a screening of Frozen to Transmitter Park.
We also reported that a new community fridge has opened on Greenpoint Ave. near Transmitter Park. And shared some unfortunate news about a Greenpoint resident arrested for recording his female roommates without their consent.
Make sure to fit in your last visit to the Leonard Library before it closes for renovations on Monday, August 2. Worry not – Greenpoint Library is still up and running, with computer service and open seating also now available.
Don't forget to check out our summer 2021 fashion sundae roundup for this season's best local looks.