A Rare Cézanne Self-Portrait Was Found by a Cincinnati Art Museum Conservator Underneath a Meh Still Life of Bread and Eggs
Museums are always looking to expand their collections, but occasionally a new masterpiece is hiding in plain sight.
After examining Cezanne's Still Life with Bread and Eggs (1865) more closely, Serena Urry, chief conservator of the Cincinnati Museum of Art (CMA), noticed a strange concentration of cracks in two areas of the canvas. Underneath, she thought she could make out some underlying white paint.
It turns out that what she has described as a "hunch" was correct. Further x-ray analysis revealed a hidden self-portrait of the French Post-Impressionist, painted while he was in his mid-20s.
"We went from having two Cezannes to three with this discovery," Urry said.
The work was determined to be a self-portrait by the sitter's orientation turning towards the viewer at an angle, whereas in Cezanne's portraits of other people, the subject tends to appear facing head-on.
Painted during what is known as Cezanne's "dark period," the work is typical of his austere early style. Very few self-portraits from this period survive, and the museum believes this may be one of the artist's first. He did not date most of his paintings, but because he dated the still life, scholars can be certain the self-portrait is from before 1865.
The CMA is sharing its findings with scholars and plans to work with a partner institution to continue investigating the new painting, with the hope of using more advanced scanning technologies to uncover which colors were used. This research will be summarized in a report and may become the basis for a special exhibition.
Artists often reuse canvases to save money or destroy unsatisfactory work. As x-ray technology becomes more sophisticated, many hidden masterpieces once lost to history have been rediscovered. Earlier this year, what is believed to be one of Van Gogh's earliest self-portraits was discovered beneath Head of a Peasant Woman (1885) from the National Galleries of Scotland.
7 Leading Curators Predict the Defining Art Trends of 2023 – Artsy
Art
Ayanna Dozier
In 2022, we witnessed a rise in neo-surrealist art, NFTs, and textile-based art practices. These were trends that were bubbling to the surface by the end of 2021, but weren't fully realized until the spring of the following year. Now, many other styles are emerging as key genres that may have their moment this year.
Artsy spoke to seven leading curators who lent their expertise and shared their insights on which styles and themes may newly emerge or continue to garner attention in 2023. Many anticipate that the sociopolitical climate will continue to inform artists' practices, with some predicting a rise in more provocative art that critiques religion and systemic oppression.
Other curators are looking to Latin American new media practices, and are excited by how artists like Castiel Vitorino Brasileiro and Xandra Ibarra use video and installation to create immersive environments that challenge the separation between the screen and the body. Meanwhile, others are intrigued by the possibilities and questions that AI will continue to raise in relation to authorship in the art world.
All the curators expressed an overall interest in artists who push the limits of their given medium, and continue to expand upon their practices in innovative ways. Overall, there is excitement and hopeful promise that 2023 will bring about a year of artistic risks.
Larry Ossei-Mensah
Independent Curator; Co-Founder, Artnoir
New York
Portrait of Larry Ossei-Mensah by Aaron Ramsey. Courtesy of Larry Ossei-Mensah.
Larry Ossei-Mensah predicts that abstraction by artists of color will become even more prominent in 2023. The genre, Ossei-Mensah believes, is essential to shifting the public's belief that artists of color should only make representational work that is immediately legible. As an example, he pointed to the divisive reaction towards Hank Willis Thomas's recently unveiled public sculpture The Embrace (2022). Ossei-Mensah also expects that abstract masters like Mo Booker, Raymond Saunders, Howardena Pindell, Emma Amos, Atta Kwami, and Barbara Chase Riboud will receive overdue recognition in 2023 as more institutions reexamine their bodies of work in relation to the younger generation they've inspired.
Ossei-Mensah anticipates that criticism by writers of color, specifically those who engage with abstract art's relationship to cultural practice, will be particularly impactful on the art world. He cited the work of Hilton Als, Robin Givhan, Folsade Ologundudu, and Doreen St. Felix as ones to watch. Additionally, he listed the 2023 solo exhibitions of artists Chase Hall, Guadalupe Maravilla, Ming Smith, Tomashi Jackson, Frank Stewart, Amoako Boafo, Kennedy Yanko, and Anoushka Mirchandani as indicative of what's to come this year.
Hans Ulrich Obrist
Artistic Director, Serpentine Galleries
London
Portrait of Hans Ulrich Obrist by Andrew Quinn. © Andrew Quinn.
Hans Ulrich Obrist is looking towards the work of Black, Indigenous, and Latinx artists who are rethinking notions of ownership, land, and the body in relation to futurity. He is particularly excited by immersive and interactive new media art, like video games. As he explained, "Video games are to the 21st century what movies were to the 20th century, and novels to the 19th century. Today, it's much easier for artists to develop their gaming environments."
Obrist referenced the work of Gabriel Massan at the Serpentine Galleries as a key example of an artist who is "uncovering new meanings on video games and phenomenology…that invites players to activate a fantastical and disorienting world populated with Massan's digital sculptures, bespoke animation, films, camerawork, and sound developed by his collaborators," he said. Obrist situates Massan within an incredible generation of artists from Brazil, including Jota Mombaça and Ventura Profana, who use technology to reexamine futurity and a sense of place while in dialogue with decolonial thought and practice.
Adrián Villa Rojas, Yinka Shonibare, and Otobong Nkanga, as Obrist noted, are similarly starting transnational dialogues that imagine a new future for us all. "As artist Ian Cheng often told me, at the heart of his art is a desire to understand what a world is," Obrist said. "Now more than ever, the dream is to be able to possess the agency to create new worlds."
Vivian Crockett
Curator, New Museum
New York
Portrait of Vivian Crockett by Ciara Elle Bryant. Courtesy of the New Museum.
Vivian Crockett is fascinated by what will emerge in the fields of new media art, film, and photography, particularly by artists of color from Latin America. In 2022, more opportunities arose for critical reflection on Latin American art and artists, as evident at the Whitney Biennial "Quiet as It's Kept," and the Focus and Platform sections of The Armory Show. This will likely continue through 2024 as Adriano Pedrosa mounts the 60th edition of the Venice Biennale's international exhibition, becoming the first Latin American curator in its 122-year history.
When approaching Latin American art, Crockett emphasized that an understanding of the continent's political landscapes is crucial. "There is an increased acknowledgement of white supremacist logic affecting Latin American countries, both historically and in the present moment, resulting in more explicit conversations around race, class, and Indigenous struggles for autonomy," she said.
Eileen Jung
Curator, Bronx Museum
New York
Portrait of Eileen Jung. Courtesy of the Bronx Museum.
Eileen Jung predicts that land art, Indigeneity, and immersive art practices will take center stage in 2023. In particular, she pointed to artists who use conceptual art to navigate history and memory, including Firelei Báez, Chloë Bass, Maria Berrio, Andrea Chung, Joana Choumali, Sean Desiree, Abigail DeVille, Anaïs Duplan, Scherezade García, Guadalupe Maravilla, Daniel Lie, and Jodie Lyn-Kee-Chow. Jung added, "Each of these artists have unique perspectives and contributions, and through their work, they've introduced a level of newness and depth to the overall artistic zeitgeist."
Jung further elaborated that artists who provide counternarratives to the dominant historical record, and push the boundaries of their medium across abstract and figurative painting as well as sculpture, will continue to set the trends. She specifically noted the practices of Derek Fordjour, Tomashi Jackson, Sara Jimenez, Anina Major, Natalia Nakazawa, Angel Otero, Kevin Quiles Bonilla, Amina Ross, Tariku Shiferaw, Jean Shin, and Saya Woolfalk. Jung added that the critical scholarship of Lisa Lowe, Anna L. Tsing, and Saidiya Hartman will continue to inform artistic pulses.
She remains excited for new rediscoveries in 2023, like how ceramics has been in recent years. "Another area that is often overlooked are those artists who are self-taught, often labeled as 'outsider artists' (e.g., those whose work does not reflect an overt influence from the mainstream art world), and are bringing a new energy to the field," Jung wrote to Artsy.
Jesse Firestone
Curator, Montclair State Galleries
Montclair, New Jersey
Portrait of Jesse Firestone by Jenna Bascom Photography, LLC's Associate Photographer Nelson. Courtesy of Montclair State Galleries.
Jesse Firestone is on the lookout for more genre-breaking art in 2023. In particular, they point to outsider art practices—like using humor or making provocative works with unconventional material and subject matter—as big trends for the year. "I think performance artists who embrace failure while taking their work seriously, but aren't self-serious, will receive a lot more attention," they said. "There is a lot to learn from this type of work and I think people are hungry to see how we can work with imperfection, messiness, and unpredictability. 2023 is a year of embracing risk."
Firestone's attention to risk comes out of crypto art's tumultuous year in 2022. The incredibly rapid rise and subsequent fall of NFTs have demonstrated that, while artists will continue to innovate art with new technology, some trends might crash as fast and they rose. Firestone believes that artists will continue to learn from the market and reflect upon the failures of these experiences in their work. Because of the NFT crash, Firestone sees physical media art, or art that embraces the body, as major for 2023. This is work they actively support as a curator: "Ultimately I like being able to provide artists with the space to stretch, take risks, and succeed in those efforts," Firestone said.
Rachel Vera Steinberg
Curator, Smack Mellon
New York
Portrait of Rachel Vera Steinberg by Inna Svyatsky. Courtesy of Smack Mellon.
Rachel Vera Steinberg is excited for a greater number of artists to further deepen the mystery of art production across sculpture and computer-generated art. She is inspired by artists who push the boundaries of the medium they are working in, as well as the space in which they exhibit. She cited the work of Emily Clayton, Tomi Faison, and Charisse Pearlina Weston as key examples. Steinberg also anticipates more conceptually driven work in relation to text- and discourse-based art, like K Allado-McDowell's recent book Amor Cringe (2022), which was co-written with AI software.
Additionally, Steinberg predicts that last year's challenges around systemic injustice will usher in artists addressing class and social equity in the art world. "One of the most impactful trends from this past year was the proliferation of AI image generators," she said. "It's hard to forecast this as a direction, but it has the potential to further call into question images as receptacles of meaning."
Separately, Steinberg believes that more artworks inspired by religion will reach the fore in 2023. "I feel like we are entering a moment of reconsidering religion, inclusive of, but also beyond, its relationship to spirituality," she explained. "I see this formally in visual symbols and materiality: For example, in the way an artist like Tammy Nguyen incorporates metal leaf to reference illuminated manuscripts, but also in other modes of production that are trending, such as a heightened interest in metal work."
Zoé Whitley
Director, Chisenhale Gallery
London
Portrait of Zoé Whitley by James Gifford-Mead. Courtesy of Zoé Whitley.
Zoé Whitley is looking to painters who are embracing unconventional materials or pushing the limits of their painting practice to render something vibrantly different and new. "The artists who currently inspire me defy genre expectations," she said.
Furthermore, Whitley is looking forward to artists collaborating more with nonprofit organizations. She hopes that these partnerships, and their accompanying resources, will support ambitious art practices and culminate into long-running exhibitions that a greater number of viewers will be able to see and experience.
These later points are greatly influenced by Tricia Hersey's manifesto Rest is Resistance (2022) and Avery Gordon's Ghostly Matters: Haunting and the Sociological Imagination (1997), which both argue for a process of slowing down with media materials to allow for their presence to be felt, haunting the audience.
Ayanna Dozier
Ayanna Dozier is Artsy's Staff Writer.
Tom Sachs Reveals New McDonald's Public Art – HYPEBEAST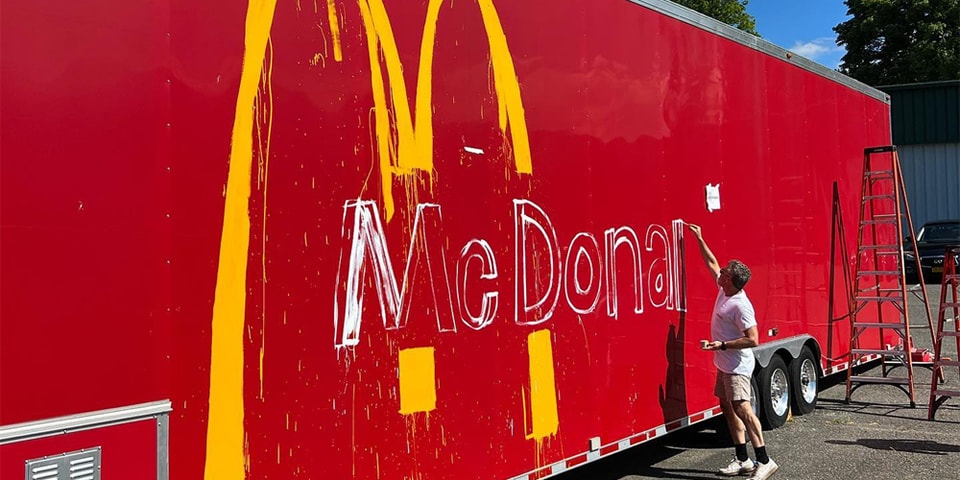 Over the weekend, contemporary visionary Tom Sachs took to Instagram to reveal a new public art piece.
Sachs is taking street art to the next level, showcasing the process of his "Enamel on Trailer" piece that he painted on the side of a red trailer in the middle of Connecticut. The post features a series of images of Sachs painting his own rendition of the McDonald's golden arches and branding. The piece includes signage on the bottom right corner of the trailer and appears to be dated in 2022. A closer look sees that Sachs finds perfection in imperfection as paint leaves streaks from the dripping.
The caption of the Instagram also showcases the dimension as well as the location of the piece — Max Power Motors in New Milford, Connecticut, and is "on display 24/7." The post also shows a Google Map zoom in on where Max Power Motors is located in the world, giving fans who might be interested or passing by, a chance to view the work.
Take a look below.
In other art news, here is an official look at Jahan Loh's Doraemon Sofubi toys.
Lydia Tár Is Not an Art Monster – Vulture
"It's always the question that involves the listener. It's never the answer, right?" famed conductor Lydia Tár asks a student at Juilliard in Todd Field's magisterial new film. By this standard, Tár itself succeeds: It is lush with questions poised between interpretations like a gymnast balanced on a beam. Critics and commentators disagree not only about its meaning but about the rudiments of its plot. Is Tár, played by a magnificently imperious Cate Blanchett, a sexual predator or a victim of "cancel culture"? Does she demonstrate the importance of separating art from its makers, or is her demise evidence that there is, in fact, a close relationship between traditionalist aesthetics and reactionary politics? Is her downfall even real, or is it hallucinated? Is Tár an artist or an art monster?
What's clear enough is that Tár is a member of the cultural elect. A conductor of the esteemed Berlin Philharmonic and a celebrated composer, she is one of the happy few fortunate enough to make a decent living in the arts — and one of the even happier few who can afford to carry on in high style. She speeds through the streets of Berlin in a steely Porsche, dons a tailor-made wardrobe of sleek blazers, composes new music in a studio she rents solely as a work space, and returns each evening to an apartment furnished with glistening and manifestly costly severity.
The wife and child who greet her there take a back seat to her endless flurry of professional commitments. Tár has a touching rapport with her daughter, but for the most part, she is too busy shuttling from one speaking engagement to the next to spend much time with her family. When we first encounter her, she is not mothering but struggling to project humility onstage at the New Yorker Festival, where Adam Gopnik is rattling off her many achievements: a Ph.D. in musicology, innumerable awards, apprenticeship with none other than the legendary Leonard Bernstein. Afterward, she barely manages to squeeze in a lunch date with a colleague before she is impelled to dash off and teach a master class at Juilliard, which is where she extols art that asks questions.
Yet Tár has not taken her own judicious remarks to heart. She is not asking. She is asserting, even grandstanding. Her polemic is directed toward a student who declares himself too much of a "BIPOC pangender person" to appreciate Bach or Beethoven. This feeble straw man, by far the movie's weakest point, ends by calling Tár a bitch and storming out of the classroom. She pauses long enough to shout after him that he is a robot before forging ahead with her monologue. Both of them have a point, though neither appears to have learned much from their exchange. After the master class, Tár flies back to Berlin in a private jet. As soon as she arrives, she gets right back to the all-consuming business of succeeding ruthlessly — though the more she succeeds, the less time she spends making art. Perhaps she is neither an art monster nor an artist but a monster of a different kind.
Back in Berlin, Tár performs her daily routine — jogging so frantically that we wonder what (or whom) she wants to outrun, preparing for an important performance of Gustav Mahler's Symphony No. 5, lecherously contriving to give a pretty young cellist a solo that the inexperienced woman probably does not deserve. At one point, Tár's beleaguered assistant warns her that she has received "another weird email from Krista." We still do not know who Krista is, much less how many weird emails she has sent already, when the assistant breaks the news that she has killed herself.
Now the pace of the film accelerates like a broken metronome clacking ever faster. Hermeneutic entanglements proliferate, and patterns emerge as possible clues. The documentary quality of the opening sequence, in which Gopnik plays himself, gives way to a churning fever dream. Ominous shadows flicker at the edges of the frame, and a terrible scream rings out while Tár is jogging in the park. In the derelict apartment complex where the pretty young cellist lives, there is a growling dog so enormous it seems to have escaped from another world — or is this monster a paranoid fantasy? And, for that matter, is everything else? Tár has always been sensitive to noise, and the cacophony of the city begins to gnaw at her unbearably. Even the hum of the refrigerator is enough to wake her up at night.
In garbled snatches, we discover that Krista was a promising student in a fellowship program that Tár spearheaded. Something happened between the teacher and her apprentice, and Tár sent a series of emails to other prominent conductors warning them not to take Krista on. Perhaps Tár seduced Krista, or perhaps their relationship was consensual (albeit dubiously asymmetrical). Maybe their romance went sour for no particular reason, or maybe Tár dropped her protégé maliciously. Perhaps Tár destroyed the ingenue's career without cause, or maybe Krista really was as disturbed as Tár claims. Maybe Tár is disgraced and fired for her alleged misconduct and she really does arrange an embarrassing meeting with a reputation-management consultant who counsels her to "rebuild … from the ground up," or perhaps the final third of the movie is an extended nightmare.
In any case, we watch as Tár takes refuge in an unnamed South Asian country, where she prepares to conduct again. She ascends the podium with her usual rigid dignity and turns toward the musicians. Only then does the camera pan to reveal the audience — a bunch of cosplayers dressed like characters from the video game Monster Hunter. Tár is conducting a video-game soundtrack. On the face of it, her humiliation looks to be complete.
Tár is teeming with questions, and they are surely plentiful enough to sustain the many diverging answers that critics have proposed. Field's film is about mortality, generational conflict, and guilt that prowls like a predator, but it is at least as much about how an artist can be devoured by her own image — until she is no longer an artist at all.
"You gotta sublimate yourself, your ego, and, yes, your identity. You must, in fact, stand in front of the public and God and obliterate yourself," Tár declares rather grandiosely in her master class. She is right, but once again, she fails to follow her own advice. Instead of obliterating herself, she is off posing for photo shoots and writing a memoir called Tár on Tár.
Does Tár want to be Tár on Tár, or is she forced to be Tár on Tár by dint of her position? There is no question that she enjoys tormenting her students and bullying her subordinates, and truth be told, her magnetic hauteur is what makes her so mesmerizing (if difficult) to watch. But weariness and regret soften her icy mien when she is dutifully trotting out quotable sound bites at the New Yorker Festival, talking to her assistant about recordings of an imminent performance, searching her own name on Twitter — in short, doing everything but making or listening to music.
Tár may be drawn compulsively to what she knows in her marrow to be the superficies of a role that can only be vindicated by music itself, but at least she winces at her own concessions. Many times, she retreats to her studio to compose, but on every occasion, she is interrupted and gives up. In more than two and a half hours of footage, she never listens to music for the sheer joy of it. The one time she puts on a jazz record at home, she intends to pacify her panicked wife, whose anxiety pills she has pilfered.
Blanchett's performance is foremost among the many aspects of Field's film that have divided audiences. Is it riveting? Is it affected? I could not wrench my eyes away from Tár's crisis, but a writer I admire told me that he found the actress almost sickeningly false. It is true that Blanchett's gestures are conspicuously considered and her tone laden with self-importance, yet falsity befits a figure so utterly hollowed into an advertisement for herself. After Tár's shaming, we learn that she hails from humble origins and that her patrician mannerisms are, in fact, one component of the crumbling façade she cultivated so strenuously for so long. Maybe it is the specter of Linda Tarr, a working-class girl from Staten Island who watched Bernstein lectures on VHS, whom Tár hopes to outrun on her jogs. Even the name she adopts as a signifier of sophistication is a grotesque anagrammatic distortion of the word art.
The ending of the film, then, may be perversely redemptive. At last, fate affords Tár the chance to annihilate herself in the service of her art. The cynical reading of her surprising new project is that she is only doing what the sleazy reputation-management consultant has urged her to do — rebuilding from the ground up. But Tár takes her responsibilities more seriously than she needs to if they are merely a means to reputational resurrection. She is as deadly earnest about her new assignment as she once was about Mahler's Fifth — if not more so, for now she has nothing else to be deadly earnest about. For the first time, we witness her working. Instead of flitting from distraction to distraction, she scours music libraries for the composer's score, and when she finds it, crouches over it in a restaurant with a pen, her face furrowed in concentration. "Let's talk about the composer's intent with this piece," she tells her orchestra in rehearsal. When the prestige and social rewards are stripped away, the only thing left is the music itself — and even a sentimental and bombastic soundtrack is infinitely preferable to silence.
Despite the pomposity of her self-presentation, Tár has long been less of an art monster than a reputation-management monster. The question that "involves" the film's audience, as Tár herself would put it, is whether it is too late for her to become a different and more dangerous beast. Maybe she is as surprised as I am to find that, in the end, she confronts the little that remains to her with dignity — that she, at least briefly, proves herself an artist after all.