Animal Crossing: New Horizons Winter Update Arrives This Thursday – Nintendo Life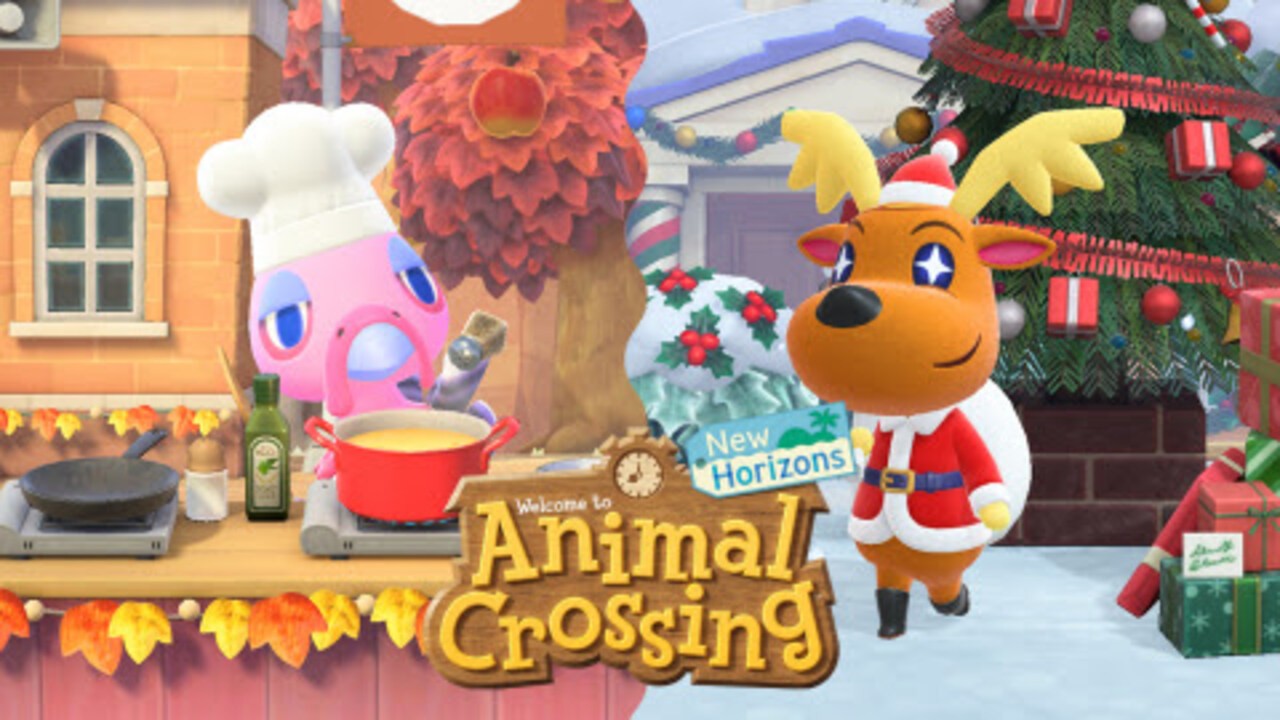 Nintendo has announced that a free Winter update is set to arrive in Animal Crossing: New Horizons this Thursday.
A new trailer for the update has been shared, giving us our first proper look at the new content we'll be able to enjoy over the coming months. It looks just as lovely as ever, and as well as the usual batch of new events and the like, there's also confirmation that the long-awaited save data transfer feature will also be going live (more details on that here).
New seasonal events, Reactions, hairstyles, save data transfer, and more! Get ready to celebrate the heartwarming holiday festivities with the free Winter update, coming to Animal Crossing: New Horizons on November 19!
Here's a look at what we can expect:
---
Turkey Day – On Turkey Day, which will take place this year on 26th November, top class chef Franklin will arrive and host a gathering in the plaza. Players can help Franklin collect ingredients to go in the dishes that will be on display in the plaza. Players helping Franklin cook will receive a gift from him. Please note: This event requires the construction of the Resident Services building beforehand.
Toy Day – It's the time of the year when island residents rejoice … The month of Toy Day is nearly at hand. Players might notice their island and plaza gradually becoming more festive with holiday-themed decorations over the coming weeks. Keep an eye out for decorated trees, too. Shaking these may drop ornaments which will allow players to craft holiday furniture recipes. From 1st December to 25th December, it will be possible to purchase toys from Nook's Cranny and find holiday-themed clothing at the Able Sisters shop. When it's officially Toy Day on 24th December, Jingle will pay a special visit to each island to spread holiday cheer. By helping him deliver presents, players will receive a gift too.
New Reactions and hairstyles – Nine new Reactions and six new hairstyle options can be acquired by redeeming Nook Miles at the Nook Stop terminal located in Resident Services.
Home storage limit upgrade – Players who have previously expanded their home to the largest size and have paid off their debt will be able to apply for a further home storage expansion by speaking to Tom Nook at the Resident Services. This will expand the home storage to 2400 slots.
Visiting random islands in dreams – Everyone enjoying dozing off and visiting other islands within dreams will now be able to choose to visit random islands while dreaming, opening up new vistas of inspiration for island customisations.
Animal Crossing: Pocket Camp collaboration – To commemorate Animal Crossing: Pocket Camp's third anniversary, a Pocket Camp smartphone model will become available in Animal Crossing: New Horizons.
… and more: New seasonal items will be available starting 1st December at Nook Stop. Between 26th and 31st December, there will also be several festive items to celebrate New Year's Eve. In addition to the content of the update, players can look forward to a countdown event on December 31st, starting at 7 p.m. local time, to ring in the new year with their residents as well as friends and family in the game.
---
Make sure to update your game on Thursday to check all of this out for yourself, and let us know if you're excited for a seasonal change in the comments below.
The Hennessey Venom 800 wants to give Ford's F-150 an edge over Ram's TRX – Driving
Ram's new TRX is a factory-built monster truck, with a 703-horsepower Hellcat V8 that tops the charts in terms of truck performance. Neither GM or Ford can rival that performance in a stock truck — but what they lack in factory support, they gain in aftermarket enthusiasm.
Yes, that's where Hennessey comes in, with its new Venom 800 supertruck. Based on the latest generation F-150, the Venom 800 features a 5.0-litre V8 fitted with a 3.0-litre supercharger bigger than the engines of some cars.
The supercharger produces eight pounds of boost, helping to produce 805 horsepower and 727 lb-ft of torque when running on E85. Other horsepower aids include an upgraded stainless-steel exhaust system and new intake, fuel pump, and fuel injectors. All these tweaks make the truck pretty quick, with a quoted zero-to-96-km/h time of 3.6 seconds.
It also has massive six-piston Brembo brakes with 15.1-inch rotors on the front to bring it to a stop, as well as a six-inch lift kit, 20-inch wheels with 35-inch tires, and more aggressive shocks with external reservoirs.
Visual upgrades include a new front bumper, special Hennessey grille, LED light bar, and a numbered plaque on the interior. The Hennessey Venom 800 will be limited to 100 units, and costs US$149,500. That price includes the donor vehicle, as well as a three-year 36,000-mile warranty.
Hennessey already makes a 6×6 variant of the Ram TRX that makes 1,200 horsepower, and it's only a matter of time before the performance brand takes the regular TRX to the next level as well.
$2M from angel donor helps Edmonton toddler receive life-saving treatment – CTV Edmonton
EDMONTON —
It was July 17 and Kaysen Martin's second birthday had come and gone.
A day that had more significance than just adding another candle to the cake. It was also the deadline for Kaysen's family to raise $2.8 million for a one-time gene therapy treatment to combat a rare disease called Spinal Muscular Atrophy Type 1 (SMA 1).
Fast forward four-and-a-half months.
An "angel donor" donated the remaining $2 million Kaysen needed to receive the therapy drug Zolgensma to treat the disease that affects the muscles used for lung support, swallowing, and crawling.
"It was a huge sigh of relief," Kaysen's mom, Lana Bernardin, told CTV News Edmonton. "It did take longer and, you know, it was complicated, but at the end of the day, we're here, it's done, (the drug) is in him and that's all that matters."
His family raised hundreds of thousands of dollars before the July 17 deadline thanks to community, and celebrity, donations.
Canadian actor Ryan Reynolds donated $5,000 to the cause while Edmonton-born actor Nathan Fillion put out a call for help on Twitter.
"To be able to come forward today and say that this has happened, we made it happen as a community is like amazing," said Bernardin.
Which means adding more candles on Kaysen's birthday cakes for years to come.
FIFA 21 PS4 Vs. PS5 Graphics Comparison – Forbes
FIFA 21 is available a day early on next-gen systems for fans who purchased the game on the current-gen version. There are a number of gameplay videos surfacing, but most of them aren't exactly capturing the beauty of 4K gameplay due to system limitations.
Operation Sports' YouTube channel has not only found the right settings for 4K capture on the PlayStation 5, it has also put together a video that compares the game side-by-side to the PlayStation 4 version.
Take a look in the video below:
---
Early Impressions: The Biggest Differences
The haptic feedback in the PS5 controller continues to be a game-changer, and that's especially the case in sports games. In FIFA on PS5, in addition to some resistance in the triggers when you're controller a tiring player, you can feel a rumble from the eruption of a large crowd in one of the game's massive stadiums.
It might be one of the most immersive usages of the technology I've felt in almost three weeks of gameplay.
The visual differences aren't quite as noticeable. Closeups of players generate some stunning detail, but from the playable cameras, it's tougher to see the upgrades. Quite honestly, with a game like world football, this is to be expected.
The gameplay feels solid, but I cannot say that I'm feeling a major difference on that front as of yet.
However, I will hone in on the areas of the game that were said to have be upgraded, and that will be my focus areas in my upcoming review.
---
Review is in Process
Expect to see a full review of the PS5 version of FIFA 21 by Monday, December 7.