Art Beat: It's Art Crawl weekend – Coast Reporter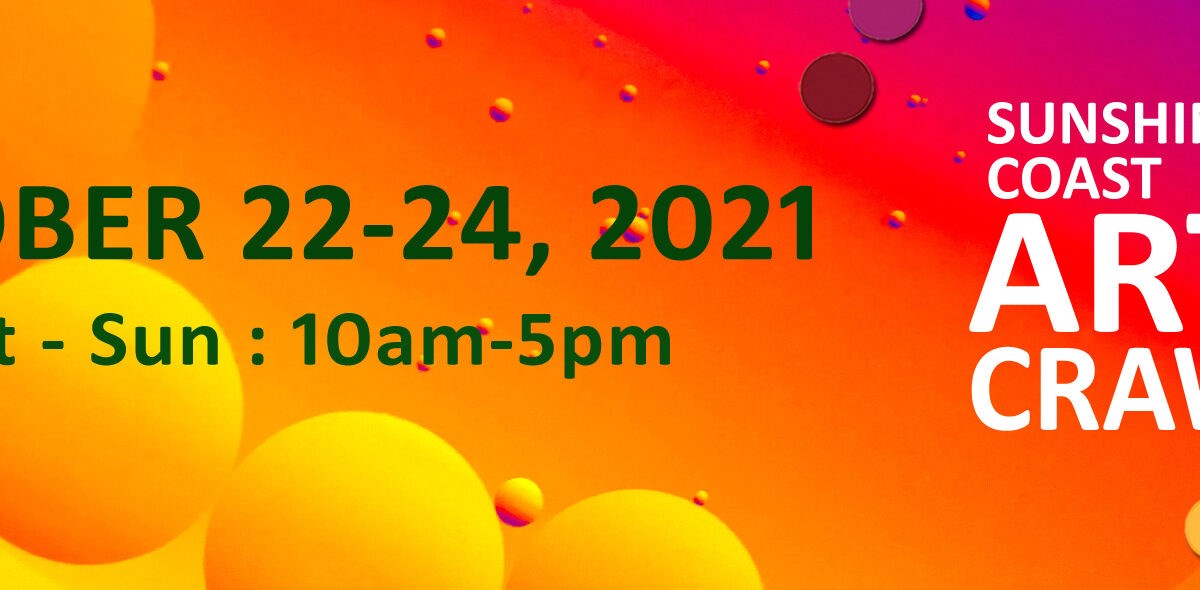 The 2021 Sunshine Coast Art Crawl kicks off Friday, Oct. 22 at 10 a.m., with 164 venues open to visitors until 5 p.m. all three days, through Sunday. And at 10 of those venues (as of press time), Friday evening from 7 to 9 p.m. will also be a time for celebration. Most of the partying is at Gibsons venues, but Redecor + Design (venue #111) on Cowrie Street in Sechelt will also be open, as are Halfmoon Bay venues The Mink Farm Gallery (#146), and Kito Tosetti (#147). Details are at the "Friday Night Parties" link at sunshinecoastartcrawl.com.
Art of Healing
The Sechelt Hospital Foundation's Art of Healing campaign holds its Gala on Saturday, Oct. 23 at the Sunshine Coast Botanical Garden (venue #126). That's where 36 works donated by some great local artists are on display and will be distributed in an exclusive online raffle draw to 36 ticketholders. All visitors to the exhibit can also bid on auction packages, and purchase raffle tickets for the grand travel prizes, among them a grand prize of a trip for two to Venice or any other European destination.
Sechelt Arts Festival
It's also the final weekend of the Sechelt Arts Festival, with the premiere of the play, Voices, at Raven's Cry Theatre. There will be three performances, Friday night, Oct. 22, Saturday night, and a Sunday matinee. The visual art and heritage canoe displays at Seaside Centre become Art Crawl venue #115. Poet Valerie Mason-John speaks in a free event (registration required) at Raven's Cry on Saturday at 11:30 a.m. And your last chance to add your touch to the Paintillio mural at Trail Bay Centre will also be on Saturday, until 4 p.m. Info and tickets at the festival website.
New writers' group
The Sunshine Coast Writers and Editors Society is holding its first meeting on Friday, Oct. 22 at 7 p.m., via Zoom. The society's purpose is "to serve writers, editors and groups on the Sunshine Coast to grow and develop their skills, as well as support other writers' groups and events in the province and across Canada," and "to hold events and launch projects to highlight the incredible talent that exists on the Coast." Contact Cathalynn Cindy Labonte-Smith at 604-724-3534 for a Zoom link.
Meet the author
Writer Jennie Tschoban will be signing copies of her funny and touching memoir, Tales & Lies My Baba Told Me, on Saturday, Oct. 23, from 1 to 3 p.m. at Daffadowndilly Boutique & Gallery, on Marine Drive in Gibsons.
Meet the artists
On Sunday, Oct. 24 starting at 2 p.m., Jennifer Bryant and Jennifer Ireland will talk about their new exhibit, Matters of Scale, on now at the Sunshine Coast Arts Council's Doris Crowston Gallery in Sechelt.
Live Music
The band Astral Motion bring their blend of originals and classics to Roberts Creek Legion on Friday, Oct. 22 at 7 p.m. On Saturday, Oct. 23 at the Creek Legion, Vancouver acoustic band Farmteam start their sets at 7:30 p.m.
The Locals play the Turf Stage at Tapworks in Gibsons on Saturday, Oct. 23, 2:30 to 4:30 p.m. On Wednesday, Oct. 27, Vancouver singer-songwriter Eamon McGrath plays Tapworks at 8 p.m.
At the Gibsons Legion on Saturday, Oct. 23, Poppa Greg and the band kick things off at 7:30 p.m.
At the Clubhouse Restaurant in Pender Harbour, catch Half Cut and the Slackers on Sunday, Oct. 24, from 2 to 5 p.m.
Enter the Chanel Labyrinth at Art Basel – HarpersBAZAAR.com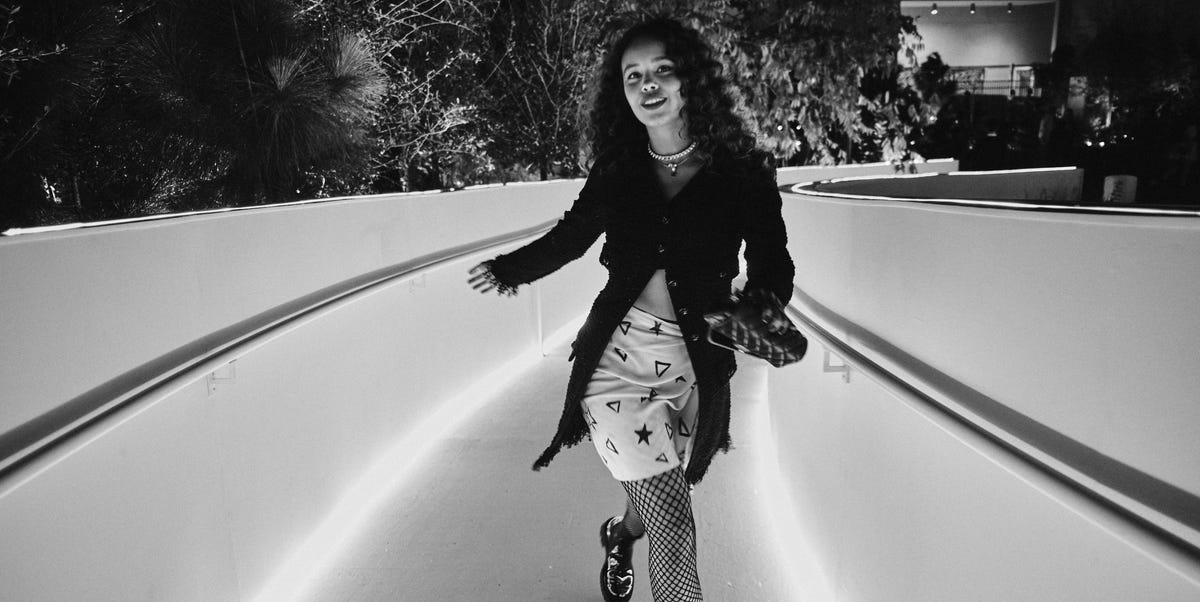 Chanel is on a tour celebrating 100 years of its iconic fragrance, Chanel N°5, and it's latest stop was a jaw-dropping art installation at Art Basel Miami by artist Es Devlin. Entitled "Five Echoes," the multisensory experience includes lights, a sculptural labyrinth, and more than 1,000 shrubs and trees that will be donated to Miami-Dade County for replanting after the exhibition closes to the public on December 21. The space also lent itself to a Chanel-worthy fete on Friday night set under the South Florida stars in Miami Design District's Jungle Plaza. Pharrell Williams, the members of Haim, Gossip Girl reboot star Whitney Peak, Joe Jonas, Latin singing superstar Rosalía (who performed at the event as well), and many more were in attendance.
The French house has a long history of supporting young talent in film, music, and the arts. Alisha Boe is one young actress who has been anointed by Chanel—most recently having been invited to participate in its seventh annual Through Her Lens series for the Tribeca Film Festival, for which she created a short detailing her process as an actor. While outfitted for the night in a Chanel-logo sarong and black bouclé jacket, Boe says she wasn't always so into fashion. "When I was 12, I shopped at Hot Topic," she tells BAZAAR.com. To be fair, we note she is still rocking fishnet stockings for the evening. She laughs and says, "I've become way more appreciative of the art form that's in it. I didn't grow up looking at the runways, but that's been a more recent development."
Boe is most famous for her role in Netflix's 13 Reasons Why, a project she began at age 19 (she is now 24) that catapulted her into a level of fame that can only exist at the unique intersection of streaming websites, Gen Z, and social media. She has amassed 3.8 million Instagram followers to date. "Being that young and not used to social media as a business tool, but just literally for social media to speak with your friends—that was the most overwhelming part," Boe says of her fast ascent. "And also just being so green to the industry. But I got to connect with a bunch of people who connected with me or the show. It was a strange couple of years for sure. But it was fun … fun and overwhelming."
After two seasons of the dark high school series, Boe has more big projects listed on her IMDb page coming, including a drama with Julianne Moore and an ensemble comedy currently entitled Strangers, in which she costars with some of the other rising brightest stars of her generation: Camila Mendes, Sophie Turner, and Maya Hawke. When asked whose career she finds personally inspiring, Boe points to some of these very women. "Honestly, I just like to keep up with my peers and what everyone's doing," she says. "Nowadays, people are creating their own work as well, and it's so fun to be part of their process and finding inspiration from that—that you can have creative control over yourself and what you want to do. My friends are actually a big source of inspiration."
The Norway-born actress holds onto a grounded feeling by surrounding herself with authentic friendships. Skye Bennike, whom she initially met when both modeled for Limited Too at age 11, accompanied her on her Miami trip. The two giggle about Danish food and chat about meditation with the ease of college roommates on our ride from the Faena Hotel to the Design District. "Honestly, it's who you surround yourself with, and I'm such a strong believer in relying on your support system," Boe shares. "I'm really lucky to have built such a strong one." And Chanel is on that short list of true advocates. "They've just been so supportive … of me and my career over the years. I'm just really grateful for it, because they always take good care of me, and obviously, I'm a huge fan of Chanel. So it's just a dream," she says as she steps out of the black SUV and into an evening in celebration of the French house. True friendship goes both ways, after all.
Alisha Boe getting hair and makeup.
Boe in a Chanel sarong and jacket.
Alisha Boe and Skye Bennike.
Boe en route to the event.
Es Devlin and Pharrell Williams.
Lucien Smith and a guest.
Herizen Guardiola in Chanel.
Karlie Kloss and Venus Williams.
Alisha Boe and Skye Bennike watch the performance.
Alana, Danielle, and Este Haim.
BAZAAR editors Kerry Pieri and Amanda Alagem.
This content is created and maintained by a third party, and imported onto this page to help users provide their email addresses. You may be able to find more information about this and similar content at piano.io
Trends at Art Basel Miami Beach That Could Spill Into Next Year – BNN
(Bloomberg) — There are three primary ways galleries source work for an art fair booth.
The first is to get it from an artist the gallery represents. The second is to draw on the gallery's own inventory. The third is via consignment, which is when the owner of an artwork gives it to a dealer, who then takes a commission from the sales price.
Like nearly every art fair before it, the galleries exhibiting at Art Basel Miami Beach brought work acquired through a combination of all three channels, meaning that the art on view wasn't just what was available, it was what insiders thought the market wanted most.
And so, despite the fact that 253 galleries together had thousands of artworks worth many millions of dollars to sell, there were some clear indications of the current state of the contemporary art market—as much for what was not on offer as for what was.
Maybe a Picture Doesn't Last Longer
Contemporary photography has traditionally been an entry point for nascent collectors, both because of its accessibility and a price point that is often lower than painting and sculpture. This year, there wasn't a lot for the fair's 60,000 attendees to choose from.
"I even had a client who mentioned that," says the adviser Heather Flow. "They said, 'When we first started collecting, we bought so much photography, and there's not much here this year.'"
Maybe it was just a question of shifting tastes. Possibly it had something to do with filling the wall space of collectors' fourth or fifth houses. Perhaps it was because everyone, stuck on computers throughout the Covid-19 pandemic, craved something with texture.
"We've all been living in a flatscreen world," says Flow. "The flat, compressed image—which is the way photography can sometimes feel like—maybe it's too reminiscent of having everything on the screen."
The fitful markets of the medium's biggest stars certainly aren't helping.
In recent years, Cindy Sherman, Andreas Gursky, and Jeff Wall have seen their markets sink at auction, both in price and volume; their diminished market power could have a dampening effect on that of other contemporary photographers.
The flip side could also be true: Dealers, flush from a year of sold-out shows and record demand, seemed to bring a much higher caliber tranche of material than in years past, leaving lower-priced art at home.
"Underlying the entire fair was this idea that no one knows what 2022 is going to be like," Flow says. "I think people were bringing whatever they knew they could sell and whatever they could sell for high numbers. Because if they have the cash now, they can plan for 2022."
No Screens
For all the talk of NFTs breaking into fine art, there was barely any digital art in the fair itself.
That could be because NFT projects elsewhere were sucking the air from the room, and dealers didn't want to compete; last week in Miami there were literally hundreds of NFT-related events, including NFT conferences, NFT panel discussions, NFT sales, NFT boat parties, and, of course, NFT exhibitions.
Or it could be that the confusion around NFTs—not to mention much of the art world's distaste for the field—caused traditional galleries to steer clear of anything that even hinted of an association with the trend.
The only notable exception was at Pace Gallery, which offered an NFT by the Drift artists Lonneke Gordijn and Ralph Nauta; it sold for $500,000 (plus a $50,000 donation added by the purchaser) on the second day of the fair.
Everywhere else, very few screens could be found. Digital art as a medium "has been particularly obsolete, except for in the NFT realm," says the adviser Lisa Schiff. "It's been on the downside for a while."
A Market in Transition
So what was selling?
As in the past five years, at least, figurative painting of non-White people by non-White artists continues to do well.
The November auctions in New York that preceded the fair saw spectacular results for work in the category—a 2019 painting by Amoako Boafo sold for $441,000 at Sotheby's over a high estimate of $150,000, for instance, and a 2012 painting by Amy Sherald sold for $3.9 million over a high estimate of $1.8 million at Phillips.
Often, an artist's auction success in November translates to a profusion of their work in Basel in December. "Sometimes, you go down and you can see all the things that recently sold at auction," says Flow. This year, "it didn't feel like that," she says.
Indeed, a careful look at the booths in Miami revealed a transition away from figuration altogether. "You can see the beginning of the end of painterly, figurative paintings," says Schiff.
Momentum ranged from the very high end, such as a 1953 abstract painting by Ad Reinhardt that sold for more than $7 million at David Zwirner, to more affordable price points, including a ceramic sculpture by Masaomi Yasunaga at Lisson Gallery that sold for $10,000.
"Seeing what was brought, it's more conceptual and abstracted. Instead of art thinking in the now, it's thinking in the future," Flow says.
She cites McArthur Binion, whose complex abstract work was featured in Lehmann Maupin and Gray galleries' booths; Fred Eversley, a former engineer whose colorful, cast-polyester sculptures were in the booths of David Kordansky and Nicola Vassell; and Tetsumi Kudo, the late Japanese artist whose challenging, detailed sculptures were on view at Galerie Christophe Gaillard.
This isn't to say that we've returned to the era of ungainly Kunsthalle-specific installations, "but we're starting to shift back to other things," Schiff says. "It's still beautiful art, but it's more conceptual."
©2021 Bloomberg L.P.
This AI art app is a glimpse at the future of synthetic media – The Verge
If you've been hanging out on Twitter lately, then you've probably noticed a profusion of AI-generated images sprouting all over your timeline like weird, algorithmic visions. These pictures have been generated using a new app called Dream, which lets anyone create "AI-powered paintings" by simply typing a brief description of what they want to see. It's odd, often uncanny stuff — and extremely fun.
The resulting artwork has its own particular aesthetic, defined by swirling shapes and incoherent objects. The real magic, though, is that no matter what you type, the app will generate something that is visually compelling (at least until we get too used to these toys) and that matches your prompt in often surprisingly apposite ways.
Consider, for example, the image below: "Galactic Archaeology With Metal-Poor Stars." Not only has the app created a picture that captures the mind-boggling galactic scale of a nebula, but the star-like highlights dotted around the space are mostly blue — a tint that is scientifically accurate for metal-poor stars (as metallicity affects their color).
A few quick searches on Twitter reveal plenty more examples, but really, you should have a play with the app yourself to understand it better. (If nothing else, the images it generates are exactly the right size to create a personalized wallpaper for your phone.)
This sort of AI-generated artwork is not new, but it is becoming higher quality and more accessible. Past examples of these sorts of text-to-image models have included research-orientated programs like DALL-E and VQGAN+CLIP, as well as more specialized commercial projects like Artbreeder (which is particularly good at creating portraits of fictional beings and people). With tools such as these, the AI art scene has exploded in recent years, with practitioners creating everything from lifelike Roman emperors to infinite waifus.
The Dream app takes things a step further with its speed, quality, and accessibility. It's available on iOS, Android, and the web and is the work of a Canadian startup named Wombo. The company previously made that AI-powered app that lets you feed in static images to create lip-synced renditions of memeable songs. What exactly powers Dream isn't clear (we've contacted Wombo to find out), but a lot of AI art tech is open-source, which means the firm has likely built on past work to create the app.
Generally, programs like these are trained on vision datasets — huge libraries of images that are tagged based on objects and scenery. The programs pick out consistent patterns and themes in these images and then use this information to try and generate something that matches the users' prompt. We don't know what dataset Dream's algorithms were trained on, but based on its output, it's safe to say it includes a wide range of imagery — able to generate pictures that correspond to anime characters and video games.
Found an app that is an ai attempting to make art and honestly??? This shit be popping off. I could never render these colors so vibrantly.
These were all created with the words "Knight armor" in Wombo Dream. Like??? They are gorgeous??? pic.twitter.com/mEANARv8Qm

— MotherLyra (@Lyraa121) November 21, 2021
The accessibility of Dream means it's being put to novel uses, too. It's been used for viral games (like inputting your PhD thesis title and sharing the result) and for more directed projects as well. In one amazing Twitter thread, the writer and illustrator Ursula Vernon (who publishes under the name T. Kingfisher) shared a short comic they'd made using Dream. The comic's characters are drawn by hand, but the backgrounds are AI-generated, with the surreal, shifting quality of the images explained as a result of the setting: a dream library overseen by the Egyptian god of writing, Thoth.
Vernon tweeted about her experience, noting that she had to do a not-insignificant amount of work to prepare the images and that the inability of the program to create scenery from within a space with consistent architecture created its own challenges.
"In Conclusion—does it work visually? I think the answer is 'sort of,'" tweeted Vernon. "I'm very aware of the weirdnesses as an artist, obviously. As a dream sequence, the messed up architecture kinda works, but how long can you get away with it? Sooner or later, the reader is probably gonna notice that nothing takes place in the same scene from a different angle."
So this weekend, armed with a couple of AI art programs, I started noodling around to see what I could do, and if I could put together one of my Weird Little Comic ideas using mostly retouched computer generated imagery.

These nine pages were the result. pic.twitter.com/POXoBN0Hbx

— Kingfisher & Wombat (@UrsulaV) December 6, 2021
Despite its obvious limitations, Dream shows us a glimpse of the future of synthetic or AI-generated media. For evangelists in this space, the promise of the technology is one of infinite variety. In the future, they say, games, comics, films, and books will all be generated on the fly in response to our every prompt and whim. And although we're a long, long way from such media matching the quality of human output, limited, hybrid applications will be coming sooner than you think — appearing like something first glimpsed in a dream.