Art By The River Returns To Amherstburg This August – windsoriteDOTca News
Augmenting our reality: Ottawa ARt City is virtually painting the town – Ottawa Citizen
Ottawa ARt City is an augmented reality art festival that is accessed through a locally designed iOS app called Hidelight.
Article content
This summer, a new type of festival has landed in downtown Ottawa; one that exists digitally, not physically.
Article content
Ottawa ARt City is an augmented reality art festival that is accessed through a locally designed iOS app called Hidelight. The app allows users to physically explore and visit a library of virtual art exhibits scattered around the city, created by various local art institutes from Ottawa.
App designer and artist, Paul Sharp, offers an original take on the use of technology for civic engagement with arts and culture during a time where mass social gatherings are discouraged.
When users load the Hidelight app, they will be presented with a map marked with local exhibits to be visited. Once within range of an art piece, users can use their camera to view the exhibit superimposed over the physical scene in front of them.
Article content
Users are also able to learn more about the virtual art pieces which have been submitted by the Ottawa School of Art, Ottawa Public Art, and the Ottawa Art Gallery.
Ottawa ARt City also encourages the contribution of local citizens by allowing them to upload their own content into Hidelight's augmented reality. Users can add their own video, audio, and 3D models into virtual exhibit space to be explored by other visitors.
"Your phone is your ticket for this safe and futuristic festival," writes Sharp on the Ottawa ARt City website.
Augmented reality (AR) is an interactive experience of a real-world environment where objects that reside in the real world are enhanced by digital information.
This technology is being used with Ottawa ARt City to virtually display art pieces at specific locations.
Article content
This merging of real and virtual worlds is often called mixed reality, an environment where physical and digital objects co-exist and interact in real-time.
Hidelight uses the user's mobile device camera to overlay a digital reality over their physical setting. Virtual objects remain spatially proportional and present in augmented reality as users move around in their environment.
Virtual spaces and events have been growing in popularity during the COVID-19 pandemic, but often lack spatial presence and compelling interactivity when being viewed from behind a screen. AR offers some solutions to these challenges in a time where physical spaces are not accessible to everyone.
Back in 2016, Niantic's Pokemon Go took the world by storm, essentially overlaying a fantasy world over daily physical reality to create a gamified scavenger hunt for virtual assets. This fictional-reality approach to AR is but a single example of how physical and digital worlds can be merged to bring communities together in their local space.
Article content
With ever-present innovation in software and hardware, new possibilities for entrepreneurs and artists alike are on the rise. While many tech giants like Google, Microsoft, and Apple are designing their own interfaces for interacting with mixed realities, Hidelight showcases a local artistic integration of the same technological fundamentals.
While the festival officially ran from July 10 to 18, the exhibits remain accessible through the Hidelight app on iOS devices. If you're looking for a way to safely engage with local arts and culture while also getting a preview of the next wave of tech, Ottawa ARt City is a summer bucket list must.
This story also appears in Capital Current, the community news site run by Carleton University's journalism program.
Art contest, mall pop up and more – Sault Star
Article content
The WKP Kennedy Gallery has welcomed over 75 guests through our doors since opening our two current exhibitions: Feats of Clay, Then and Now, and Alive and Thriving: The Unseen Resiliency.
We've met so many amazing members of our community and welcomed back our regulars with open arms and wide, masked covered smiles.
But like anything, it's time to say goodbye.
Both our current exhibitions close this Friday, the 6th of August, so if you haven't been in to view these two diverse and cultural exhibitions, make sure you book for the next three days.
These two exhibitions have raised so many talking points in our community about history, tradition and North Bay's perception of the individuals that make up our vibrant city.
Head over to our website to book your spot to see these shows.
After we close our current exhibitions, the Kennedy Gallery will take a small break from the public eye to de-install and prep our gallery for a very exciting fall.
We have new shows coming up that are out of this world, while still connecting us to our roots here in North Bay, of course, and we also have … an art contest.
That's right local artists you read right.
With Blues Fest just around the corner here at the Capitol Centre and the WKP, we're hosting an art contest based around a song from the headliner, Jack de Keyzer.
All the information on how to enter is on our website, but here is a little teaser.
This is a free submission art contest where you create an artwork inspired by the song, '6 String Lover,' by Jack de Keyzer.
Article content
The artwork must be hang ready and can be dropped off Aug. 30.
On Thursday, Sept. 2, there will be an open mic night in the gallery where all your art pieces will be displayed with a People's Choice Award to crown the art contest winner.
Please email us at info@kennedygallery.org or head over to our website for more information.
Lastly, have you checked out our newest art installation at the Northgate Shopping Centre?
Right across from the food court is a brand new installation that we set up in collaboration with Ivy Ireland, @vibeyivy on Instagram, a local artist.
Take a peek into our fantastical world and get lost with your head in the clouds. Take a picture and tag us on Instagram.
That's all for now North Bay, see you soon!
Art Bikers attempt to mend communities one stitch at a time – HalifaxToday.ca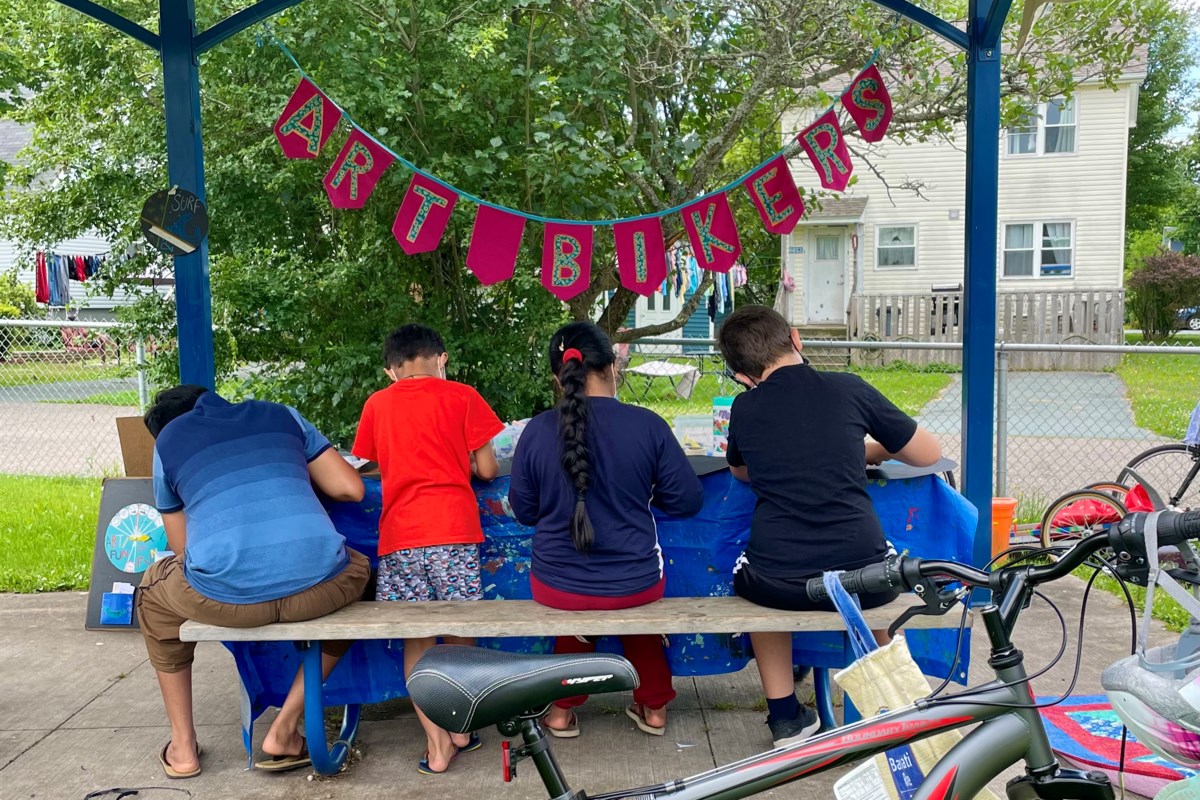 A new biker gang will be taking over Fort Needham Memorial Park on August 7 but it's not likely the band of swarthy roughnecks you are imagining.
Called the Art Bikers, the mobile bicycle and trailer-based art program is planning to set up shop in the North End park in order to launch their Clothing Care and Repair Project, the first of three outdoor public gatherings aimed at breathing new life into the items in your closet.
The Art Bikers have actually been roaming Halifax neighbourhoods since 2007. Formed through the 4Cs Foundation to provide free art-making opportunities around Halifax, the group has earned its place as a well-respected community-building program in HRM.
Renee Brazeau is the coordinator of the Art Biker's 15th season. She moved from Ottawa to get her Master's degree in art education and says landing the position was a thrilling opportunity.
"I very much care about art education and I'm super passionate about teaching art and also I'm a certified teacher," says the 23-year-old NSCAD student who was looking to explore ways to teach art outside the classroom and get more involved in the community.
"It's really a pleasure to get involved and interact with different folks in different neighbourhoods, different communities — just seeing the joy that we can bring through art and connecting," adds Brazeau. "(After the pandemic), you can just tell that everyone is just itching to be together and create together so it's just a really nice treat."
The Art Bikers have already hosted a handful of projects in Halifax since COVID-19 restrictions were lifted. The first event of the year was on July 10 at the Sands at Salter along the harbour where they launched a Waterfront Play Day and handed out free handmade booklets to children, encouraged drawing and participating in sidewalk games.
The group has also hosted recurring pop-up activities every other week at Mulgrave Park Caring and Learning Centre as well as at The North Grove in Dartmouth.
"The way that I've been approaching the coordinator role has been (to say) how can I develop a relationship with different community partners and see what their needs are," says Brazeau, with the focus always on the community's needs. "I think as a pop-up art program, you're going into communities that you don't necessarily belong to or aren't in on a regular basis (so) there's a lot of relationship-building that needs to happen before just showing up."
With the Art Bikers upcoming Clothing Care and Repair Project, the mobile arts crew will not only share their techniques and knowledge for mending or embellishing clothes in a fun way, but they will also be supplying participants with donated materials and tools.
"We encourage people to bring an item of clothing or maybe a few, depending on how much they want to work on throughout the event," says Brazeau, suggesting any items with rips or wear and tear will do. As well, people can just bring clothes to be decorated.
"We are going to have things like zippers, buttons, lots of embroidery materials to do embroidery mending techniques," adds Brazeau. "We're also thinking of creating some screen-printed patches that people can use either as decoration or to cover up any sort of rip."
Brazeau adds residents don't necessarily need to have old clothes to mend in order to participate either. In fact, for her, one of the best parts of being a member of the Art Bikers is simply meeting other neighbours in the community.
"Learning from others and connecting with others — I think that's so important especially with the past year and a half that we've had," says Brazeau. "Just having the ability to connect with people in-person and create together is so special."
For more information on the Art Bikers, visit their Facebook page.