ARTS AROUND: Summer art camps return to Port Alberni – Alberni Valley News
Looking for something fun and creative for the kids this summer?
Join Freya and Olivia, our summer leaders at the Rollin Art Centre, for eight weeks of creative summer art programs for children between the ages of 7-13.
Each week is a different medium. From drawing to painting, we will have something everyone will enjoy. It's a great way to have fun and meet new friends while learning new techniques.
The three-day camps take place Monday to Wednesday in the morning (10 a.m. to 12:30 p.m.) for ages seven to eight and afternoons (1:15 p.m. to 3:45 p.m.) for ages 9-11. The cost is $75 per week.
The Rollin Art Centre will also be offering a one-day camp on Fridays (10 a.m. to 2 p.m.) for ages 11-13. The cost is $45 per camp.
Call 250-724-3412 to register. Spaces are limited.
WOMEN'S WORK
The Rollin Art Centre's current art exhibit features a group of four local female artists: Sue Thomas, Jillian Mayne, Colleen Clancy and Ann McIvor. This exhibit showcases their own individualism, as the diversity of the work reflects each woman's unique creative process and artistic expression.
From nature, to abstract, oils to watercolour, this exhibit is a lovely collection you won't want to miss. It runs until July 22. The Rollin Art Centre is located at the corner of Eighth Avenue and Argyle Street and is open Tuesday to Saturday from 11 a.m. to 4 p.m.
CALL TO ARTISTS
The Rollin Art Centre will be holding a summer inspired art exhibit from July 27 to Aug. 26. We are inviting all local artists to submit up to three pieces (size depending) with their own rendition of the season of summer. All mediums are welcome.
Application forms are available at the Rollin Art Centre. The fee is $10 per submission. Deadline is July 15.
LANDSCAPES MADE EASY
Spaces are still available for this acrylic painting workshop on the terrace at the Rollin Art Centre.
On Saturday, July 16, artist Susan Schaefer will guide you through what makes a good composition while simplifying your landscape.
The workshop fee is $115 + GST. A supply list is available. Register at the Rollin Art Centre at 250-724-3412.
CHAIR RAFFLE
The Community Arts Council is holding a summer raffle at the Rollin Art Centre featuring a chair designed by Leave Her Wild Container Design. Tickets are $2 each or three for $5.
SUMMER TEAS
Teas on the Terrace are back at the Rollin Art Centre this summer. Tickets are now on sale.
Strawberry teas are $20 (featuring decadent strawberry shortcake) and a "high tea" is $25 (served on a two-tiered plate).
July 7 – Strawberry Tea – Folk Song Circle
July 21 – High Tea – Dennis Olsen
August 4 – Strawberry Tea – Dennis Olsen and Guy Langlois
August 18 – High Tea – Doug Gretsinger
Melissa Martin is the Arts Administrator for the Community Arts Council, at the Rollin Art Centre and writes for the Alberni Valley News. Call 250-724-3412. Email: communityarts@shawcable.com.
Windsor Public Library wants to show you local art while you ride your bike – CBC.ca
Windsor Public Library wants to showcase the city's downtown art. It plans to have two cycling tours to show it off.
Becky Mayer, a librarian at the Windsor Public Library organized the tours. She said the main reason she wanted to do this is because people think there's nothing to do or see in Windsor.
"I often ride my bike around and I see a lot of cool and weird stuff," said Mayer. "So, I just thought that maybe a few people would want to join me on a weird stuff tour."
Mayer said she'll be bringing Betty the Bookmobile along for the journey. She said the ride will be pretty casual and if someone has a story to tell she's happy to give them space to share.
"I'm fine with talking as well. If you want to have a silent tour, that's also cool. Like, it's very, very casual. Go with the flow. We'll see what happens," Mayer said.
The first tour starts at 6 p.m. August 16, the second tour is on August 20 starting at 10 a.m. The tours last about an hour and starts at the library's Central Branch at the corner of Ouellette Avenue and Pitt Street.
Youth get creative at summer art camp – Lakeland TODAY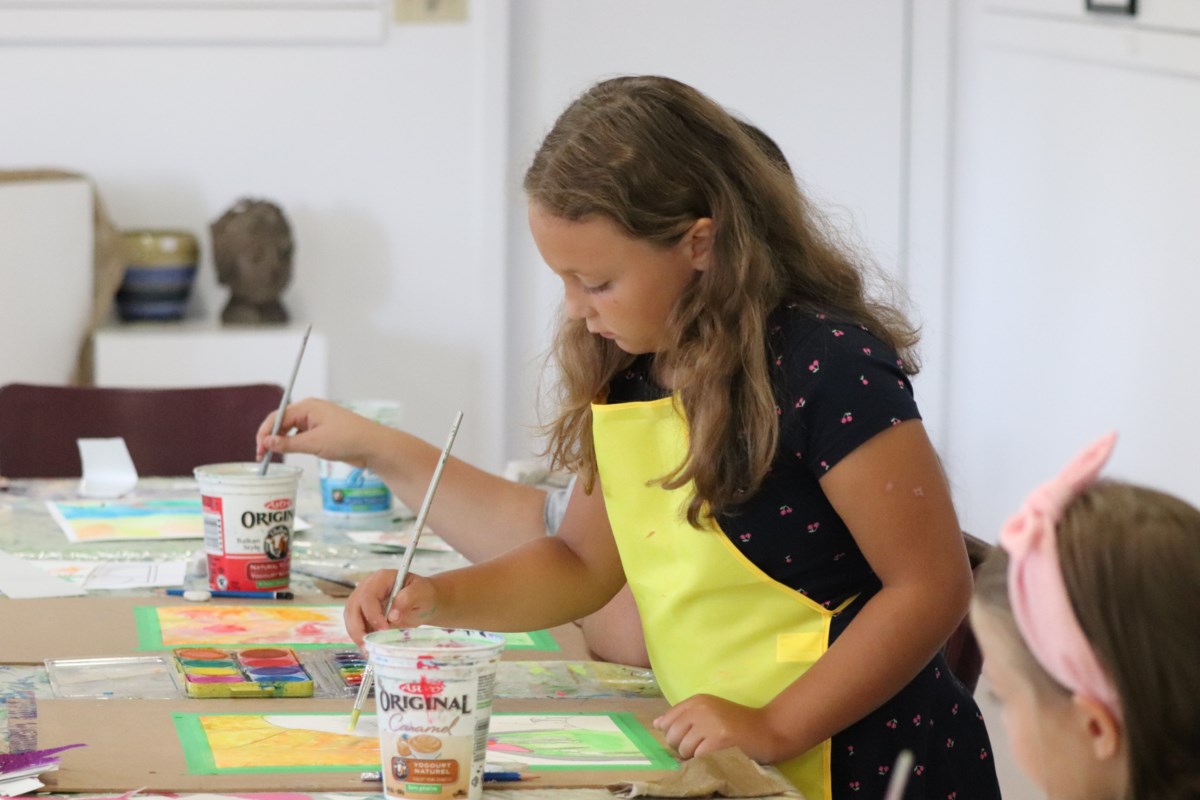 ST. PAUL – A variety of mediums were used to create unique works of art during a week-long Youth Art Camp held at the St. Paul Visual Arts Centre, last week.
Pam Bohn, the art instructor for the art camp, said the camp gives youth the chance to not only do art but form friendships.
"We also go outside to play and go to the park, and so it is also a day where they can make friends."
The art camp included acrylic painting, watercolour painting, mixed media projects, and much more.
"While I facilitate the classes, [the children] are free to create as they please," she said. "That allows those who like to do art that freedom to have different art mediums and try things that they may be unable to do at home."
Bohn said the participating youths have enjoyed the art camps, adding, "They all get excited when they come and take their [art] home to show their parents."
The Hive celebrates three new exhibitions at Art Gallery of Burlington | inHalton – insauga.com
Published August 15, 2022 at 2:41 pm
A special event celebrating three new exhibits is being hosted by the Art Gallery of Burlington.
The Hive is happening Saturday, Aug. 27, from 1 to 4 p.m. This free, all-ages event incorporates the organization, cooperation and energy of a beehive into an afternoon of art, activity, learning and fun.
The Hive will feature a special workshop led by Toronto's Clay and Paper Theatre, live arts and crafts demonstrations, a screen-printing presentation, live performance, food and drink.
The event is being held in celebration of the AGB's three new fall exhibitions:
The Future of Work, an exploration into how the pandemic has affected labour markets and our quality of life

ਨਜਰ ਨਾ ਲੱਗੇ

/Nazar na lage/Knock on wood, a vibrant and meaningful interpretation on the art of rangoli by artist Noni Kaur
Know your Place, an exhibit of cartoon-like clay sculpture that reveal the raw emotional experiences of the artist Sami Tsang
Known for work inspired by oral traditions, folk songs, poems and fables, Clay and Paper Theatre will charm participants and audiences with their original multi-disciplinary performance-based production. Guests who wish to participate with Clay and Paper Theatre should arrive early and be ready to create.
Visitors are invited to an interactive, screen-printing demonstration led by artist Jesse Purcell and are encouraged to bring any used clothing to be transformed into a bunting display to be hung in the gallery by the artist collective Works-in-Progress.
Arts Burlington will be opening its doors to guests with arts demonstrations and the Burlington Handweavers and Spinners Guild will guide guests through a natural plant-based dying demonstration, teaching attendees what they need to know to create from home.
The AGB parking lot will be free for the day. For more information, visit the AGB website.

insauga's Editorial Standards and Policies
Stay the know
Subscribe now to receive our daily email of today's top stories in your city!
advertising