Blackhawks owner requests 'X-ing' out Aldrich's name on Stanley Cup – TSN
Chicago Blackhawks owner Rocky Wirtz has requested that former video coach Brad Aldrich's name be removed from the Stanley Cup.
Wirtz wrote to Hockey Hall of Fame chairman Lanny MacDonald to request Aldrich be removed from the plaque belonging to the 2009-2010 Chicago Blackhawks.
"Aldrich's involvement with the team during the 2010 season has cast a pall on the players' extraordinary work that year," Wirtz wrote as part of his letter. "The names of some of hockey's most talented athletes appear on the Stanley Cup. But so does the name "Brad Aldrich" whose role as video coach made him eligible for the engraving. His conduct disqualified him, however, and it was a mistake to submit his name. We are sorry we allowed it to happen.
"I am humbly requesting that the Hockey Hall of Fame consider 'X-ing' out his name on the Stanley Cup. While nothing can undo What he did, leaving his name on the most prestigious trophy in sports seems profoundly wrong."
Wirtz pointed to the name of Basil Pocklington being covered by Xs on the Edmonton Oilers' 1983-84 plaque as precedent for the move, and requested Aldrich's name be treated in the same manner.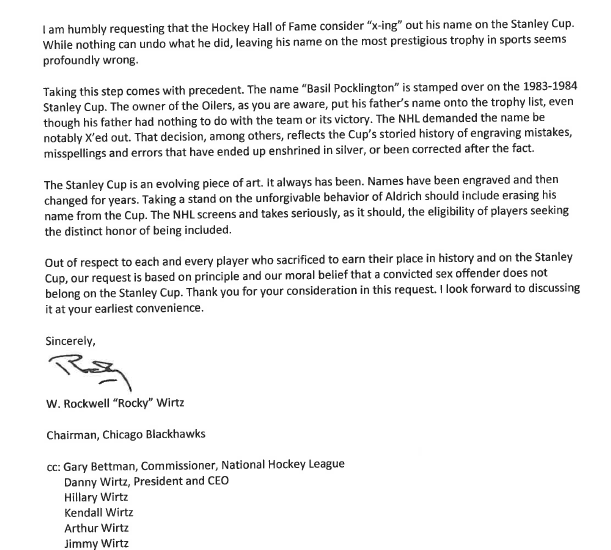 Former Blackhawks prospect Kyle Beach identified himself as the player allegedly sexually abused by Aldrich in 2010 earlier this week after an independent showed members of the organization were made aware of the allegations in 2010 and elected not to act during the team's Stanley Cup run.
"First, we would like to acknowledge and commend Kyle Beach's courage in coming forward," the Blackhawks said in a statement in response Beach revealing himself as John Doe Wednesday. "As an organization, the Chicago Blackhawks reiterate our deepest apologies to him for what he has gone through and for the organization's failure to promptly respond when he bravely brought this matter to light in 2010. It was inexcusable for the then-executives of the Blackhawks organization to delay taking action regarding the reported sexual misconduct. No playoff game or championship is more important than protecting our players and staff from predatory behavior.
The Blackhawks have implemented numerous changes and improvements within the organization, including hiring a new leadership team that is committed to winning championships while adhering to the highest ethical, professional, and athletic standards."
The Jenner & Block investigation investigation showed that front office members John McDonough, Al MacIsaac, Stan Bowman, Kevin Cheveldayoff, Jay Blunk, James Gary, and then-head coach Joel Quenneville were made aware sexual assault allegation during a May 23, 2010 meeting.
Quenneville resigned from his position as head coach of the Florida Panthers on Thursday after he met with NHL commissioner Gary Bettman. Bowman resigned from his position as general manager of both the Blackhawks and United States men's Olympic hockey team Tuesday, while MacIsaac, the only other member of the group listed still with the Blackhawks, was also dismissed. Cheveldayoff, who is currently serving as GM of the Winnipeg Jets, met with Bettman on Friday in New York.
Marner leaves Maple Leafs practice early after 'scary' collision with Muzzin – Sportsnet.ca
Mitch Marner's status for Saturday's game in Minnesota is uncertain after the Toronto Maple Leafs winger was on the sour end of an accidental collision with teammate Jake Muzzin during Friday's practice.
Marner hit the ice after the hit and needed a few moments to rise to his feet.
"It's scary. I just hope everyone's OK," goaltender Joseph Woll told reporters.
"Two very important players on our team, and Mitchy looked like he took a little bit of the worst of it. So, I hope he's good. He's a battler, so I'm sure he'll be fine and do everything he can to be playing."
After expressing some frustration to Muzzin, Marner skated off the Ford Performance Centre ice early for precautionary reasons. He was accompanied by a member of the club's medical staff.
"We'll see how he is in the morning. It's not looking like anything serious at this point. He's going to travel and all that kind of stuff and prepare to play, but we'll see how he is in the morning," head coach Sheldon Keefe said before the club chartered west.
"I was told there was a little bit of an exchange right before I came out here, but especially those two guys, I don't worry about that kind of stuff at all. Things happen out there, whether it's practice, games, whatever. Our team's really close, and that kind of stuff will be shaken off pretty quickly."
This is the second time this season Marner has been on the business end of an accidental hit during Leafs practice.
Wayne Simmonds clipped the winger the day before October's opener. Marner left that skate early, too, but felt fine the next morning and has not missed a game all season.
Marner leads the club with 15 assists.
One-Timers: Ondrej Kase (upper body) took part in his first full practice in more than a week. He's a possibility to draw into the lineup against the Wild. … Ilya Mikheyev (thumb) also skated with the team. He'll travel with the group for the weekend double-header but will not play. … Backup goalie Petr Mrazek (groin) has been loaned to the Marlies on a conditioning stint. He's expected to start Sunday versus Laval. … Both Joseph Woll (day-to-day, stiffness) and Michael Hutchinson will travel with the team. One should get the start Sunday in Winnipeg. … Morgan Rielly took Friday off for maintenance. He's still smarting from a shot block (watch below) a week ago in San Jose and hasn't missed a game since. "It acted up to the point where they wanted to get further imaging on it," Keefe said. X-rays were clear.
How to Choose the Right Online Casino Game
People looking to start their online casino adventure are often astounded by the number of gaming options and their versatility. Thankfully, the Canadian online gambling scene continues to flourish, giving casino enthusiasts an abundance of exciting and unique games.
Choosing the right game is an important decision that will set the tone for the entire experience. If you come across something you don't like or understand, you might get frustrated and end up losing money. To avoid that from happening, read the following article. It will help you set out your preferences and decide which games match them.
Afterwards, you could consult platforms like JohnSlots Canada, read different online casino reviews, and find a gambling site that suits you best. Let's get started!
Explore the Available Game Types
Online casinos have become the ultimate entertainment thanks to their ability to host thousands of high-quality games, including slots, table games, and live dealer titles. That way, players of all tastes and preferences can enjoy a vivid and immersive gambling experience.
Below is a rundown of the most popular casino games perfect for beginners:
Slots — Millions of people enjoy online slots due to their simplicity and ease of use. Additionally, they carry fantastic features like free spins, multipliers, and bonus rounds that boost the excitement and odds of winning massive prizes.
Roulette — Roulette is another luck-based game that doesn't require much experience. The excitement you feel while waiting for the spinning ball to find its place makes roulette a common choice among thrill-seekers.
Blackjack — Despite relying on skill and technique, blackjack is a fan-favourite thanks to its low house edge. In fact, this is a game with the lowest house edge among all gaming options. If played right, you might go home with fantastic prizes.
Baccarat — Although the game comes in many variations, the gist remains the same. You can bet on the bank or the player, choosing which one you think will win. If you guess correctly, your bank balance might increase.
Video poker — If you enjoy the simplicity of online slots but want to switch it up a little, video poker is an excellent choice. The decisions you make during this game can influence the outcome.
You may have noticed we left out one of the world's most commonly played casino games. Poker is not a game fit for inexperienced players as it requires high levels of skill and strategy. Of course, we can't stop you from trying, but you should first learn the rules and practice for a while before playing for real money.
Decide Which Ones Match Your Interests
Overall, casino games can be divided into two major categories — skill- and luck-based. The first group is reserved for games like poker and blackjack that require knowledge and experience. On the other hand, slots and roulette are games of chance because their outcome is unpredictable, and you have little to no control over the game course.
Therefore, choosing the right gaming option is no small feat. You need to be clear about your preferences and expectations before joining an online casino. Luck-based games are a better choice when looking for a relaxing and carefree gambling experience.
However, if you want to improve your skills or acquire new ones, you should go straight to the "Table Games" section and browse among dozens of blackjack and poker titles.
Choose Wisely
Ultimately, it all comes down to personal preferences. You can follow our advice to better understand the game types you'd enjoy playing. With a little bit of research, you'll uncover an assortment of engaging and fun casino games.
One last tip — find an online casino with a "free play" option. That way, you can test different types without investing real money and see which ones you like the most. Finally, remember to enjoy — no casino game is worth stressing over.
Canadiens vs. Avalanche game recap: It's Effortless – Habs Eyes on the Prize
Dominique Ducharme was dealt what he himself referred to as a "curveball" on Thursday morning, when it became clear that defenceman Sami Niku and franchise favourite, right-winger Brendan Gallagher, got held up in the league's COVID protocol, and have since had confirmed results that they have the coronavirus.
It wasn't all bad news pre-puck drop though. Former hat trick-hero Mathieu Perreault was cleared to return after missing the last 15 games with an eye injury that required laser surgery. The same was true for the defensive side, where Niku effectively could be replaced by either Brett Kulak or Chris Wideman; with both defencemen ready to strap on the gear after getting rid of their respective ailments. Ducharme opted to insert all three players into the lineup, with rookie Mattias Norlinder being the odd man out against the Stanley Cup-chasing Colorado Avalanche.
Apparently the game started with a first period which lasted 20 minutes. I say apparently, because there wasn't a lot going on from either side during the opening third. Colorado looked complacent, like they already knew they wouldn't have to go full throttle to get the win. Montreal, meanwhile, kept on displaying the slow and inefficient offence they've been demonstrating since the start of the season.
During four of these 20 minutes, the Habs were one man up, without creating any substantial pressure whatsoever. Instead, Jake Allen had to be alert to save a potential opening goal from the opposition during the second of the two power plays.
The highlight of that first period was the lead-up to that second man advantage. Alexander Romanov, who takes no prisoners, decided to skate across the ice to take out the Avalanche's prodigy, Cale Makar. With the hit, he managed to take out not only Makar, but also teammate Ryan Poehling.
Cale Makar and Ryan Poehling get taken out by Alexander Romanov

Which means Aube-Kubel took a penalty for Romanov hitting his own teammate lmao pic.twitter.com/48lvtriCGf

— Scott Matla (@scottmatla) December 3, 2021
This scene caused Avs winger Nicolas Aube-Kubel to lose his temper and throw his gloves to the ground, sending him to the box for unsportsmanlike conduct. Meanwhile, Romanov was quick to get off the ice, having been hit in the face during his own tackle, causing his now broken nose to bleed profusely.
Montreal started the second just as they finished the first. They drew an early penalty, which was positive and indeed a nice effort by the newly composed fourth line. Eleven seconds into the power play, however, Chris Wideman spilled the puck deep in his own zone, and one quick pass later Valeri Nichushkin had an open strada toward both Allen and the net. The puck slid over the line ever so slowly, just as an added insult to injury.
Shortly thereafter, Colorado were allowed to come two-on-zero while still being a man down, but that time Allen saved his team from further embarrassment.
When three power plays had come and gone, the home side had still to record a single shot on the Avalanche's Swedish netminder, Jonas Johansson. But you know what wise people tend to say; the fourth time's the charm.
Colorado continued to put its foot in its mouth, taking dumb penalties without evident reason behind them. Just a minute after Tyson Jost had rejoined his team for the latest penalty kill, captain Gabriel Landeskog decided to board Tyler Toffoli, sending him to the sin bin.
At this point, one could imagine the Avs players and coaching staff thinking that they had nothing to worry about while playing the penalty kill. In fact, they had thus far been the only team to record shots while Montreal were playing with the extra man. If you're skilled enough, you only need one shot (do not miss your chance to blow) though.
Ben Chiarot has previously only reached five goals twice in his eight-year NHL tenure. That's now three times in nine seasons, and this time he's done so in just 25 games. If he continues at this pace, he may very well eclipse the 10-goal barrier for the very first time in his NHL career. Being in a contract year, Chiarot is making himself a sought-after commodity come the trade deadline.
Cole Caufield was credited with an assist on Chiarot's equalizer, and at this point anything that can help thaw our frozen goal-scoring prodigy's confidence is appreciated.
Landeskog redeemed himself later in the period by getting into position in front of goal and disturbing Allen enough to let a point shot from Makar sneak through. Whether Gabe himself touched the puck with his stick for the redirect or not, that is the question. Nonetheless, Colorado were a goal up heading into the third.
One goal up became two early on in period three. A pinball-like situation around Allen's net ended up with Malmö product André Burakovsky whipping the puck through the legs of the flailing goalie and into the net.
If not for Jake Allen, this night would have been just as ugly on the scoresheet as it looked on the ice. The Canadiens' coaching staff seem to have taken the phrase "open-door policy" and implemented it as the team's defensive philosophy. Combined with an anemic power play, a leaky penalty kill, and a nonexistent offensive game plan, it is difficult from the outside to understand what actually is being worked on during the training sessions.
A Swedish singer-songwriter named Sabina Ddumba had a hit a few years ago which was called Effortless. In it you find lyrics like: "We don't even try. Not at all. It's effortless. So effortless." During the final minutes of the game, I found myself humming this song while relating it to this year's version of the Montreal Canadiens.
Landeskog eventually got his goal, as he fired in an empty-netter with three minutes remaining to make it a 4-1 score. There weren't many players who stood out in the loss for Montreal, but Allen, Poehling, and Romanov were beacons of light on a dark December evening.
There may be something good waiting at the end of the Yellow Brick Road. But for now, Jeff Gorton certainly has his hands full.