Canada's economy added 104,000 jobs in December, unemployment fell slightly
Canada's economy added 104,000 jobs in December as the unemployment rate fell slightly to 5.0 per cent, Statistics Canada said Friday.
This marks the third decline in the unemployment rate in fourth months, edging it closer to the record low of 4.9 per cent reached in June and July.
In its latest labour force survey, the federal agency says the rise in employment was driven by an increase in full-time work.
The number was much higher than economists had forecast, "blowing way past consensus expectations for a paltry [5,000] gain," Andrew Grantham, a senior economist at CIBC, said in a note.
The number of employees in the private sector increased last month, with job gains made across industries.
Meanwhile, employment in the public sector held steady.
Wages continued to grow at a year-over-year pace above 5.0 per cent for the seventh consecutive month, with wages up 5.1 per cent.
Similar to the previous month, December's employment gain wasn't reflected in working hours. That's due to an increase in staff absenteeism due to illness, Grantham added.
"The strength in hiring therefore partly appears to be a reflection of companies having to retain more staff in order to obtain the same level of supply."
The strong reading could mean that the Bank of Canada will issue another 25 basis point interest rate hike in January, Grantham said.
Labour market has been resilient
Wage growth, however, still lags behind the country's inflation rate, which was 6.8 per cent in November.
Employment among youth aged 15 to 24 rose in December, fully recouping job losses experienced between July and September.
The jobs report also noted that the employment rate among women between the ages of 25 and 54 reached a record-high last month.
LISTEN | How to negotiate when offered a job:
7:36How to get what you want when you're negotiating a job offer
A tight labour market right now means employees have the upper hand. If you're negotiating a job offer right now, Edmonton AM's workplace columnist, Margot Ross-Graham, has some advice for you.
The Bank of Canada has previously flagged the country's tight labour market as a contributor to high inflation.
The central bank has raised interest rates aggressively in hopes of bringing down the pace of price growth and cooling the economy.
While economists expect unemployment to rise in response to higher borrowing costs, the labour market has remained resilient over recent months.
IMF upgrades outlook for the global economy in 2023 – GuelphToday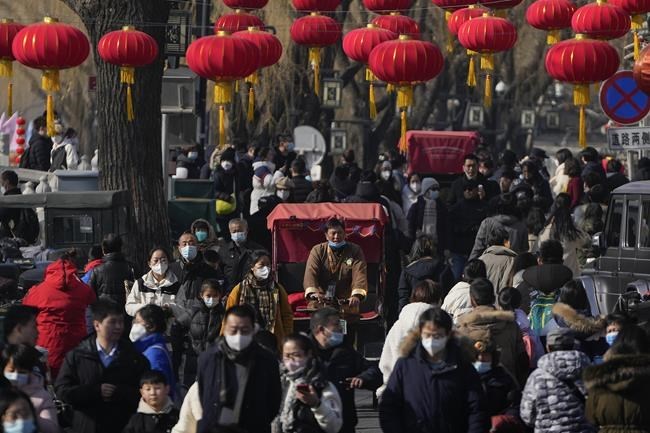 WASHINGTON (AP) — The outlook for the global economy is growing slightly brighter as China eases its zero-COVID policies and the world shows surprising resilience in the face of high inflation, elevated interest rates and Russia's ongoing war against Ukraine.
That's the view of the International Monetary Fund, which now expects the world economy to grow 2.9% this year. That forecast is better than the 2.7% expansion for 2023 that the IMF predicted in October, though down from the estimated 3.4% growth in 2022.
The IMF, a 190-country lending organization, foresees inflation easing this year, a result of aggressive interest rate hikes by the Federal Reserve and other major central banks. Those rate hikes are expected to slow the consumer demand that has driven prices higher. Globally, the IMF expects consumer inflation to fall from 8.8% last year to 6.6% in 2023 and 4.3% in 2024.
"Global conditions have improved as inflation pressures started to abate," the IMF chief economist, Pierre-Olivier Gourinchas, said at a news conference in Singapore. "The road back to a full recovery with sustainable growth, stable prices and progress for all has only started."
A big factor in the upgrade to global growth was China's decision late last year to lift anti-virus controls that had kept millions of people at home. The IMF said China's "recent reopening has paved the way for a faster-than-expected recovery.''
The IMF now expects China's economy — the world's second-biggest, after the United States — to grow 5.2% this year, up from its October forecast of 4.4%. Beijing's economy eked out growth of just 3% in 2022 — the first year in more than 40, the IMF noted, that China has expanded more slowly than the world as a whole. But the end of virus restrictions is expected to revive activity in 2023.
Together, China and India should account for half of this year's global growth, while the United States and Europe contribute 10%, according to Gourinchas.
"China's reopening is certainly a favorable factor that's going to lead to more activity," Gourinchas said. "But this is in the context in which the global economy itself is slowing down."
The IMF's 2023 growth outlook improved for the United States (forecast to grow 1.4%) as well as for the 19 countries that share the euro currency (0.7%). Europe, though suffering from energy shortages and higher prices resulting from Russia's invasion of Ukraine, proved "more resilient than expected,'' the IMF said. The European economy benefited from a warmer-than-expected winter, which held down demand for natural gas,
Russia's economy, hit by sanctions after its invasion of Ukraine, has proved sturdier than expected, too: The IMF's forecast foresees Russia registering 0.3% growth this year. That would mark an improvement from a contraction of 2.2% in 2022. And it's well above the 2.3% contraction for 2023 that the IMF had forecast for Russia in October.
The United Kingdom is a striking exception to the IMF's brighter outlook for 2023. It has forecast its economy will shrink 0.6% in 2023; in October, the IMF had expected growth of 0.3%. Higher interest rates and tighter government budgets are squeezing the British economy.
"These figures confirm we are not immune to the pressures hitting nearly all advanced economies,'' Chancellor of the Exchequer Jeremy Hunt said in response to the IMF forecast. "Short-term challenges should not obscure our long-term prospects — the U.K. outperformed many forecasts last year, and if we stick to our plan to halve inflation, the U.K. is still predicted to grow faster than Germany and Japan over the coming years."
The IMF noted that the world economy still faces serous risks. They include the possibility that Russia's war against Ukraine war will escalate, that China will suffer a sharp increase in COVID cases and that high interest rates will cause a financial crisis in debt-laden countries.
Asked about the impact of U.S. efforts to limit Chinese access to advanced processor chip technology due to security concerns, Gourinchas cautioned that curbs on semiconductor trade and government pressure to pull back industries to within their own borders and limit reliance on foreign partners "potentially could be harmful to the global economy."
"Diversification of supply chains is much more important in trying to improve resilience, improve growth, improve standards of living, rather than moving toward re-shoring or 'friend shoring,'" Gourinchas said.
The global outlook has been shrouded in uncertainty since the coronavirus pandemic struck in early 2020. Forecasters have been repeatedly confounded by events: A severe if brief recession in early 2020; an expectedly strong recovery triggered by vast government stimulus aid; then a surge in inflation, worsened when Russia's invasion of Ukraine nearly a year ago disrupted world trade in energy and food.
Three weeks ago, the IMF's sister agency, the World Bank, issued a more downbeat outlook for the global economy. The World Bank slashed its forecast for international growth this year by nearly half — to 1.7% — and warned that the global economy would come "perilously close'' to recession.
___
AP Business Writer Joe McDonald in Beijing and AP Writer Danica Kirka in London contributed to this report.
Paul Wiseman, The Associated Press
The $16 Trillion European Union Economy – Visual Capitalist
a.bg-showmore-plg-link:hover,a.bg-showmore-plg-link:active,a.bg-showmore-plg-link:focuscolor:#0071bb;
The $16 Trillion European Union Economy
The European Union has the third-largest economy in the world, accounting for one-sixth of global trade. All together, 27 member countries make up one internal market allowing free movement of goods, services, capital and people.
But how did this sui generis (a class by itself) political entity come into being?
A Brief History of the EU
After the devastating aftermath of the World War II, Western Europe saw a concerted move towards regional peace and security by promoting democracy and protecting human rights.
Crucially, the Schuman Declaration was presented in 1950. The coal and steel industries of Western Europe were integrated under common management, preventing countries from turning on each other and creating weapons of war. Six countries signed on — the eventual founders of the EU.
Here's a list of all 27 members of the EU and the year they joined.
| Country | Year of entry |
| --- | --- |
| 🇧🇪 Belgium | 1958 |
| 🇫🇷 France | 1958 |
| 🇩🇪 Germany | 1958 |
| 🇮🇹 Italy | 1958 |
| 🇱🇺 Luxembourg | 1958 |
| 🇳🇱 Netherlands | 1958 |
| 🇩🇰 Denmark | 1973 |
| 🇮🇪 Ireland | 1973 |
| 🇬🇷 Greece | 1981 |
| 🇵🇹 Portugal | 1986 |
| 🇪🇸 Spain | 1986 |
| 🇦🇹 Austria | 1995 |
| 🇫🇮 Finland | 1995 |
| 🇸🇪 Sweden | 1995 |
| 🇨🇾 Cyprus | 2004 |
| 🇨🇿 Czechia | 2004 |
| 🇪🇪 Estonia | 2004 |
| 🇭🇺 Hungary | 2004 |
| 🇱🇻 Latvia | 2004 |
| 🇱🇹 Lithuania | 2004 |
| 🇲🇹 Malta | 2004 |
| 🇵🇱 Poland | 2004 |
| 🇸🇰 Slovakia | 2004 |
| 🇸🇮 Slovenia | 2004 |
| 🇧🇬 Bulgaria | 2007 |
| 🇷🇴 Romania | 2007 |
| 🇭🇷 Croatia | 2013 |
Greater economic and security cooperation followed over the next four decades, along with the addition of new members. These tighter relationships disincentivized conflict, and Western Europe—after centuries of constant war—has seen unprecedented peace for the last 80 years.
The modern version of the EU can trace its origin to 1993, with the adoption of the name, 'the European Union,' the birth of a single market, and the promise to use a single currency—the euro.
Since then the EU has become an economic and political force to reckon with. Its combined gross domestic product (GDP) stood at $16.6 trillion in 2022, after the U.S. ($26 trillion) and China ($19 trillion.)
ℹ️ GDP is a broad indicator of the economic activity within a country. It measures the total value of economic output—goods and services—produced within a given time frame by both the private and public sectors.
Front Loading the EU Economy
For the impressive numbers it shows however, the European Union's economic might is held up by three economic giants, per data from the International Monetary Fund. Put together, the GDPs of Germany ($4 trillion), France ($2.7 trillion) and Italy ($1.9 trillion) make up more than half of the EU's entire economic output.
These three countries are also the most populous in the EU, and together with Spain and Poland, account for 66% of the total population of the EU.
Here's a table of all 27 member states and the percentage they contribute to the EU's gross domestic product.
| Rank | Country | GDP (Billion USD) | % of the EU Economy |
| --- | --- | --- | --- |
| 1. | 🇩🇪 Germany | 4,031.1 | 24.26% |
| 2. | 🇫🇷 France | 2,778.1 | 16.72% |
| 3. | 🇮🇹 Italy | 1,997.0 | 12.02% |
| 4. | 🇪🇸 Spain | 1,390.0 | 8.37% |
| 5. | 🇳🇱 Netherlands | 990.6 | 5.96% |
| 6. | 🇵🇱 Poland | 716.3 | 4.31% |
| 7. | 🇸🇪 Sweden | 603.9 | 3.64% |
| 8. | 🇧🇪 Belgium | 589.5 | 3.55% |
| 9. | 🇮🇪 Ireland | 519.8 | 3.13% |
| 10. | 🇦🇹 Austria | 468.0 | 2.82% |
| 11. | 🇩🇰 Denmark | 386.7 | 2.33% |
| 12. | 🇷🇴 Romania | 299.9 | 1.81% |
| 13. | 🇨🇿 Czechia | 295.6 | 1.78% |
| 14. | 🇫🇮 Finland | 281.4 | 1.69% |
| 15. | 🇵🇹 Portugal | 255.9 | 1.54% |
| 16. | 🇬🇷 Greece | 222.0 | 1.34% |
| 17. | 🇭🇺 Hungary | 184.7 | 1.11% |
| 18. | 🇸🇰 Slovakia | 112.4 | 0.68% |
| 19. | 🇧🇬 Bulgaria | 85.0 | 0.51% |
| 20. | 🇱🇺 Luxembourg | 82.2 | 0.49% |
| 21. | 🇭🇷 Croatia | 69.4 | 0.42% |
| 22. | 🇱🇹 Lithuania | 68.0 | 0.41% |
| 23. | 🇸🇮 Slovenia | 62.2 | 0.37% |
| 24. | 🇱🇻 Latvia | 40.6 | 0.24% |
| 25. | 🇪🇪 Estonia | 39.1 | 0.24% |
| 26. | 🇨🇾 Cyprus | 26.7 | 0.16% |
| 27. | 🇲🇹 Malta | 17.2 | 0.10% |
| | Total | 16,613.1 | 100% |
The top-heaviness continues. By adding Spain ($1.3 trillion) and the Netherlands ($990 billion), the top five make up nearly 70% of the EU's GDP. That goes up to 85% when the top 10 countries are included.
That means less than half of the 27 member states make up $14 trillion of the $16 trillion EU economy.
Older Members, Larger Share
Aside from the most populous members having bigger economies, another pattern emerges, with the time the country has spent in the EU.
Five of the six founders of the EU—Germany, France, Italy, the Netherlands, Belgium—are in the top 10 biggest economies of the EU. Ireland and Denmark, the next entrants into the union (1973) are ranked 9th and 11th respectively. The bottom 10 countries all joined the EU post-2004.
The UK—which joined the bloc in 1973 and formally left in 2020—would have been the second-largest economy in the region at $3.4 trillion.
Sectoral Analysis of the EU
The EU has four primary sectors of economic output: services, industry, construction, and agriculture (including fishing and forestry.) Below is an analysis of some of these sectors and the countries which contribute the most to it. All figures are from Eurostat.
Services and Tourism
The EU economy relies heavily on the services sector, accounting for more than 70% of the value added to the economy in 2020. It also is the sector with the highest share of employment in the EU, at 73%.
In Luxembourg, which has a large financial services sector, 87% of the country's gross domestic product came from the services sector.
Tourism economies like Malta and Cyprus also had an above 80% share of services in their GDP.
Industry
Meanwhile 20% of the EU's gross domestic product came from industry, with Ireland's economy having the most share (40%) in its GDP. Czechia, Slovenia and Poland also had a significant share of industry output.
Mining coal and lignite in the EU saw a brief rebound in output in 2021, though levels continued to be subdued.
| Rank | Sector | % of the EU Economy |
| --- | --- | --- |
| 1. | Services | 72.4% |
| 2. | Industry | 20.1% |
| 3. | Construction | 5.6% |
| 4. | Agriculture, forestry and fishing | 1.8% |
Agriculture
Less than 2% of the EU's economy relies on agriculture, forestry and fishing. Romania, Latvia, and Greece feature as contributors to this sector, however the share in total output in each country is less than 5%. Bulgaria has the highest employment (16%) in this sector compared to other EU members.
Energy
The EU imports nearly 60% of its energy requirements. Until the end of 2021, Russia was the biggest exporter of petroleum and natural gas to the region. After the war in Ukraine that share has steadily decreased from nearly 25% to 15% for petroleum liquids and from nearly 40% to 15% for natural gas, per Eurostat.
Headwinds, High Seas
The IMF has a gloomy outlook for Europe heading into 2023. War in Ukraine, spiraling energy costs, high inflation, and stagnant wage growth means that EU leaders are facing "severe trade-offs and tough policy decisions."
Reforms—to relieve supply constraints in the labor and energy markets—are key to increasing growth and relieving price pressures, according to the international body. The IMF projects that the EU will grow 0.7% in 2023.
UK to Be the Only G-7 Economy in Recession This Year, IMF Says – BNN Bloomberg
(Bloomberg) — Britain faces the bleakest two years of any major industrial nation with a recession in 2023 and the slowest growth of peers in 2024, the International Monetary Fund predicts.
The UK will be the only Group of Seven member whose economy will shrink this year, with a contraction of 0.6%, the IMF said. The Washington-based institution downgraded its outlook by a massive 0.9 percentage point from October, saying higher interest rates and taxes along with government spending restraint will exacerbate a cost-of-living crisis.
The forecast highlights the challenges Prime Minister Rishi Sunak's government faces in the leadup to the next election. Chancellor of the Exchequer Jeremy Hunt suggested the economy is likely to perform better than the IMF expects.
"The governor of the Bank of England recently said that any UK recession this year is likely to be shallower than previously predicted," Hunt said in a statement. "We are not immune to the pressures hitting nearly all advanced economies. Short-term challenges should not obscure our long-term prospects."
In 2024, the economy will rebound only slowly, growing at 0.9% — matching Japan and Italy at the bottom of the G-7 league table for growth.
The forecast anticipates the first UK recession, excluding the pandemic, since the financial crisis in 2009. Across the two years leading up to the deadline for Prime Minister Rishi Sunak to call an election, the economy will effectively stagnate — expanding just 0.3%.
The IMF did not downgrade any other G-7 economy this year as it raised its global growth forecast from 2.7% to a still sluggish 2.9%. An escalation of the war in Ukraine or a health crisis in China as Covid spreads could set back the world economy, it said in its World Economic Outlook update. However, "adverse risks have moderated since October."
The downgrade to UK growth is striking because the IMF's October forecast was prepared before the £45 billion ($55.7 billion) unfunded tax giveaway in the September budget during the short-lived Liz Truss premiership. At the time, the fund said the fiscal splurge would have boosted growth.
Since then financial conditions have tightened, rising borrowing costs for businesses and households. The Bank of England has raised rates from 2.25% to 3.5%, and markets now expect rates to settle around 4.5%. The IMF said it's downgrade also reflected "tighter fiscal" policy but, according to Treasury figures, fiscal policy is looser this year than at the last forecast.
In October, the IMF attacked the UK's massive spending spree — arguing that fiscal and monetary policy should not be working at cross purposes and that the government needed to bring the public finances under control.
IMF Chief Economist Pierre-Olivier Gourinchas repeated the warning. In a blog post alongside the forecast, he said many countries are being too generous with their energy support, which is "costly and increasingly unsustainable."
Instead, countries should "adopt targeted measures that conserve fiscal space, allow high energy prices to reduce demand for energy, and avoid overly stimulating the economy," Gourinchas said.
He also urged central banks, like the Bank of England, to press on with rate rises even if it means inflicting more misery on cash-strapped households. The BOE is expected to raise rates a half point to 4% on Thursday.
"Where inflation pressures remain too elevated, central banks need to raise real policy rates above the neutral rate and keep them there until underlying inflation is on a decisive declining path," Gourinchas said. "Easing too early risks undoing all the gains achieved so far."
Read more:
UK Wage Inflation Points to Another Big Rate Hike This Week
–With assistance from Andrew Atkinson.
©2023 Bloomberg L.P.