Canadian economy contracted 5.4 per cent in 2020, worst year on record – The Tri-City News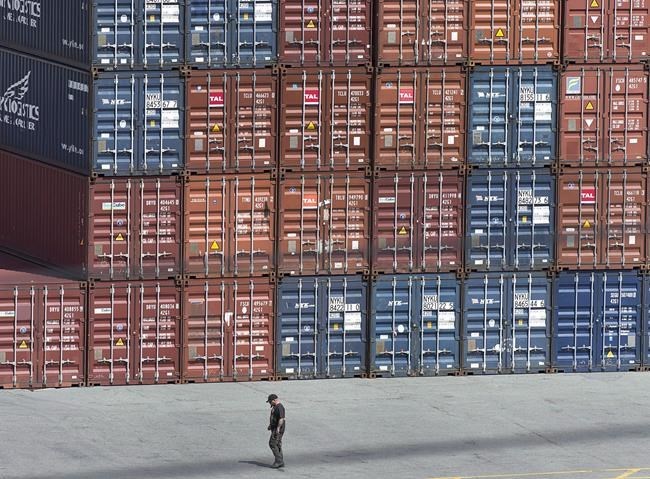 OTTAWA — The Canadian economy posted its worst showing on record in 2020 as the COVID-19 pandemic swept across the country, shutting down businesses and putting millions out of work.
Statistics Canada says real gross domestic product shrank 5.4 per cent in 2020, the steepest annual decline since comparable data was first recorded in 1961.
The drop for the year was due to the shutdown of large swaths of the economy in March and April during the first wave of the COVID-19 pandemic that crushed the economy.
Since then, economic activity has slowly and steadily grown.
Statistics Canada says the economy grew at an annualized rate of 9.6 per cent in the fourth quarter of last year, down from an annualized growth rate of 40.6 per cent in the third quarter.
That was higher than expected, with the average economist estimate at 7.5 per cent, according to financial data firm Refinitiv.
However, despite the better-than-expected result for the quarter as a whole, December eked out a 0.1 per cent increase, which followed a 0.8 per cent increase in November.
Statistics Canada noted that total economic activity in December was about three per cent below the pre-pandemic level in February 2020.
Looking ahead to January, Statistics Canada said its early estimate was for growth in the economy of 0.5 per cent.
CIBC chief economist Avery Shenfeld wrote in a note that the early January figure should set aside fears of an outright downturn in the first quarter.
Statistics Canada said wholesale trade, manufacturing and construction sectors led the increase, while retail trade fell to start the year.
BMO chief economist Douglas Porter said the economy soldiered through second-wave restrictions better than anticipated, and may signal a better-than-anticipated quarter, and potentially year overall.
"Look for new growth drivers to kick into gear as the economy re-opens in stages through this year, leading to roughly (six-per-cent) growth — a nice mirror image to last year's deep dive," he wrote in a note.
"It's not precisely a V-shaped recovery, but it's very close."
This report by The Canadian Press was first published March 2, 2021.
The Canadian Press
CANADA STOCKS – TSX ends flat at 19,228.03
* The Toronto Stock Exchange's TSX falls 0.00 percent to 19,228.03
* Leading the index were Corus Entertainment Inc <CJRb.TO​>, up 7.0%, Methanex Corp​, up 6.4%, and Canaccord Genuity Group Inc​, higher by 5.5%.
* Lagging shares were Denison Mines Corp​​, down 7.0%, Trillium Therapeutics Inc​, down 7.0%, and Nexgen Energy Ltd​, lower by 5.7%.
* On the TSX 93 issues rose and 128 fell as a 0.7-to-1 ratio favored decliners. There were 26 new highs and no new lows, with total volume of 183.7 million shares.
* The most heavily traded shares by volume were Toronto-dominion Bank, Nutrien Ltd and Organigram Holdings Inc.
* The TSX's energy group fell 1.61 points, or 1.4%, while the financials sector climbed 0.67 points, or 0.2%.
* West Texas Intermediate crude futures fell 0.44%, or $0.26, to $59.34 a barrel. Brent crude  fell 0.24%, or $0.15, to $63.05 [O/R]
* The TSX is up 10.3% for the year.
Canadian dollar outshines G10 peers, boosted by jobs surge
By Fergal Smith
TORONTO (Reuters) – The Canadian dollar advanced against its broadly stronger U.S. counterpart on Friday as data showing the economy added far more jobs than expected in March offset lower oil prices, with the loonie also gaining for the week.
Canada added 303,100 jobs in March, triple analyst expectations, driven by the recovery across sectors hit by shutdowns in December and January to curb the new coronavirus.
"The Canadian economy keeps beating expectations," said Michael Goshko, corporate risk manager at Western Union Business Solutions. "It seems like the economy is adapting to these closures and restrictions."
Stronger-than-expected economic growth could pull forward the timing of the first interest rate hike by the Bank of Canada, Goshko said.
The central bank has signaled that its benchmark rate will stay at a record low of 0.25% until 2023. It is due to update its economic forecasts on April 21, when some analysts expect it to cut bond purchases.
The Canadian dollar was trading 0.3% higher at 1.2530 to the greenback, or 79.81 U.S. cents, the biggest gain among G10 currencies. For the week, it was also up 0.3%.
Still, speculators have cut their bullish bets on the Canadian dollar to the lowest since December, data from the U.S. Commodity Futures Trading Commission showed. As of April 6, net long positions had fallen to 2,690 contracts from 6,518 in the prior week.
The price of oil, one of Canada's major exports, was pressured by rising supplies from major producers. U.S. crude prices settled 0.5% lower at $59.32 a barrel, while the U.S. dollar gained ground against a basket of major currencies, supported by higher U.S. Treasury yields.
Canadian government bond yields also climbed and the curve steepened, with the 10-year up 4.1 basis points at 1.502%.
(Reporting by Fergal Smith; Editing by Andrea Ricci)
Canadian dollar rebounds from one-week low ahead of jobs data
By Fergal Smith
TORONTO (Reuters) -The Canadian dollar strengthened against its U.S. counterpart on Thursday, recovering from a one-week low the day before, as the level of oil prices bolstered the medium-term outlook for the currency and ahead of domestic jobs data on Friday.
The Canadian dollar was trading 0.4% higher at 1.2560 to the greenback, or 79.62 U.S. cents. On Wednesday, it touched its weakest intraday level since March 31 at 1.2634.
"We have seen partial retracement from the decline over the last couple of days," said Greg Anderson, global head of foreign exchange strategy at BMO Capital Markets.
"With oil prices where they are – let's call WCS still at roughly $49 a barrel – I still think CAD has room to strengthen over the medium term and even over a one-week horizon."
Western Canadian Select (WCS), the heavy blend of oil that Canada produces, trades at a discount to the U.S. benchmark. U.S. crude futures settled 0.3% lower at $59.60 a barrel, but were up nearly 80% since last November.
The S&P 500 closed at a record high as Treasury yields fell following softer-than-anticipated labor market data, while the U.S. dollar fell to a two-week low against a basket of major currencies.
Canada's employment report for March, due on Friday, could offer clues on the Bank of Canada's policy outlook. The central bank has become more upbeat about prospects for economic growth, while some strategists expect it to cut bond purchases at its next interest rate announcement on April 21.
On a more cautious note for the economy, Ontario, Canada's most populous province, initiated a four-week stay-at-home order as it battles a third wave of the COVID-19 pandemic.
Canadian government bond yields were lower across a flatter curve in sympathy with U.S. Treasuries. The 10-year fell 3.3 basis points to 1.469%.
(Reporting by Fergal Smith;Editing by Alison Williams and Jonathan Oatis)