Canucks anthem singer let go for 'standing up against' COVID rules – TSN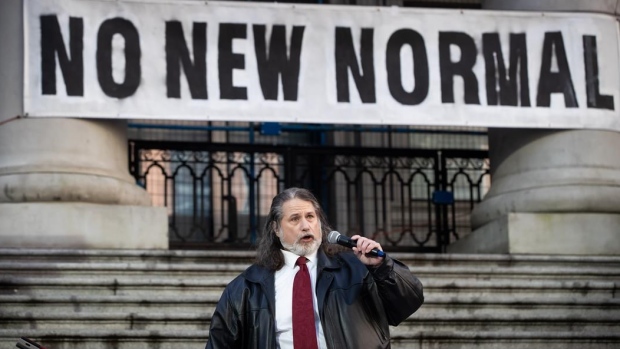 VANCOUVER — The popular singer of O Canada at the Vancouver Canucks hockey games says he knew he might lose his job for standing up against what he describes as the "tyranny" of COVID-19 restrictions.
Mark Donnelly sang the anthem at an event called the Christmas Freedom Rally in Vancouver on Saturday, where hundreds of people protested restrictions imposed by B.C.'s provincial health officer.
Vancouver Canucks owner Francesco Aquilini tweeted late Friday that Donnelly was now the former Canucks anthem singer, followed by the hashtag #wearamask.
Donnelly told the crowd, many of whom weren't wearing masks or social distancing, that he decided to sing because he questions the "draconian lockdown protocols."
"What was originally sold as 15-day hunkering down sprint for the common good has turned into a 10-month marathon from hell, where the finish line is constantly being moved further into the distance," he said.
He said he doesn't think health officials have done a cost-benefit analysis looking at the harms of the restrictions compared with preventing the spread of COVID-19.
"As someone known for singing our great national anthem, I'm standing up against what I feel is tyranny, plain and simple," he said to applause and cheers from the crowd.
Donnelly said his firing is censorship by an institution that he's followed for 50 years and been publicly associated with since 2001.
"Sports figures, entertainers, politicians, et cetera, can stand for anything as long as it supports the narrative. You can support rioting, looting, destructions of livelihoods and reputation, but take a position against the narrative and you are worthy of exile or worse."
Donnelly said he hasn't had direct contact with Aquilini or the Canucks and if he is no longer with the team, a phone call would have been a more respectful way to find out his reasons for taking part in the rally.
He had hoped the ownership and management of the Canucks would have had the "courage to support the freedom to express science-based position that is for the greater good of the country," he said.
No one from the Canucks responded to a request for comment.
The protesters then took to the streets in a march.
Vancouver police spokeswoman Tania Visintin said police need to exercise discretion with large groups of protesters violating public health orders, saying public safety is the priority.
She said mass arrests or ticketing could escalate an already tense situation.
"This position does not automatically guarantee anyone special privileges at a protest. The bottom line is people who are contravening the public health order, they could be issued a ticket. Officers are using discretion with each situation that arises."
B.C. health officer Dr. Bonnie Henry said last month that she has "no time for people who believe that wearing a mask somehow makes them ill or is a sign of lack of freedom."
Instead, she said wearing a mask is about respect for those who suffering through the pandemic together.
This report by The Canadian Press was first published Dec. 5, 2020.
–with files from News 1130.
Horvat, Canucks overcome Toffoli hat trick to beat Canadiens – TSN
VANCOUVER — Bo Horvat scored the shootout winner to give the Vancouver Canucks a 6-5 victory over the Montreal Canadiens Wednesday.
The Canucks captain put a shot between the legs of Montreal goalie Carey Price to seal the win in Vancouver's home opener.
Horvat and Brock Boeser each had two goals and an assist for Vancouver (2-3-0) in regulation. Tyler Motte also scored for the Canucks, and J.T. Miller notched three assists.
Canucks goalie Braden Holtby stopped 31-of-36 shots through regulation and overtime.
Carey Price had 23 saves for the Canadiens (2-0-2), who have yet to be beaten in regulation this season.
Former Canuck Tyler Toffoli scored a hat trick for Montreal in regulation, while Jesper Kotkaniemi had a goal and an assist and Brendan Gallagher scored his first goal of the year.
Boeser forced overtime 16:51 into the third period, blasting a snap shot past Price for his second goal of the game.
Toffoli had put the Canadiens up by one 32 seconds earlier, deflecting in a shot by Jeff Petry.
Toffoli spent the end of last season in Vancouver after the Canucks acquired him from the L.A. Kings at the trade deadline. He had 10 points (six goals, four assists) in 10 regular-season appearances for Vancouver, then signed a four-year deal, at US$4.25-million per season with Montreal in free agency.
Kotkaniemi had evened the score at 4-4- with a blast from the top of the slot 10:14 into the third period.
It was the first goal of the season for the 20-year-old Habs forward.
Horvat had previously broken a 3-3 deadlock with a power-play goal 3:24 into the final frame.
Miller sent the Canucks captain a slick pass from below the goal line and Horvat snapped a shot past Price from the slot.
After struggling through the first four games of the season and failing to convert on 15 opportunities with the man advantage, Vancouver's power play found its groove Wednesday
The Canucks opened the scoring with a power-play marker 11:07 into the game after Montreal's Ben Chiarot was called for holding.
Miller slid a short pass to Horvat who riffled it in past Price for the Canucks' first power-play goal of the season.
The home team added another 12:13 into the second frame when Kotkaniemi was called for unsportsmanlike conduct after appearing to say something untoward to an official.
Vancouver's power play looked strong from the start, with shots from Elias Pettersson and Quinn Hughes missing the target before Boeser hammered in a rebound.
Motte also scored for the Canucks in the second period, patiently skating deep into Montreal territory and assessing his options before sending a wrist shot past Price.
Vancouver suffered some breakdowns in the second frame, though, starting 1:37 in when the squad lost track of Toffoli during a Canadiens change.
Kotkaniemi sent Toffoli the puck and he waltzed deep into the Vancouver zone alone, putting a shot over Holtby's blocker.
It was the 28-year-old centre's first goal of the year.
Toffoli struck again with a power-play goal 5:27 into the second period after Antoine Roussell was called for interference.
Nick Suzuki sent the puck rocketing towards the Vancouver net and Toffoli tipped it in for his second goal of the game.
Gallagher added to the Canadiens goals to close out the period, deflecting a pass from Tomas Tatar into the net and ensuring the score was tied at 3-3 heading into the second intermission.
Wednesday's game marked the first the Canucks played in Vancouver in 316 days.
Without fans in the stands, players from both sides could be heard vocally disputing the officials' calls and cheering teammates on.
Simulated crowd noise pumped into the arena sounded similar to the background noise in videogames.
Midway through the second period, a video on the big screen over centre ice read "make some noise," challenging the upper bowl to compete with the lower bowl as both sat empty.
Montreal won't have to wait long to seek revenge for the loss — the Canadiens and Canucks will face off again in Vancouver on Thursday.
NOTES: Canucks defenceman Jalen Chatfield made his NHL debut. The 24-year-old from Ypsilanti, Mich., went undrafted before signing as a free agent with Vancouver in March 2017.
This report by The Canadian Press was first published Jan. 20, 2021.
The Edmonton Oilers know that an ugly 3-1 win in Toronto is still a win – Edmonton Journal
Article content continued
ADAM LARSSON. 7. Turned in a tremendous defensive effort, including 2 big shot blocks late with the Leaf's net empty. A smart 2nd Period clear was just 1 of a half-dozen sharp plays he made with either his stick or his body. +1 with 5 blocks in a rock-solid 19:50. If Larsson can deliver this kind of effort consistently, what a boon it would be for this club in its own end.
SLATER KOEKKOEK. 7. This is fast looking like a terrific pickup. Koekkoek and Larsson formed a pretty effective shut-down pairing, allowing Barrie and Russell to see some softer minutes (in which they thrived). Koekkoek had 2 shots, a hit and 2 blocks against a lot of tough comp. A number of cycle busters and a couple clears at important times. Looking good.
KYLE TURRIS. 4. Nothing doing with the puck (0 points, 0 shots and weak shot shares). Turris did turn in an intelligent defensive effort. The most notable of those was an essential faceoff win in his own zone to relieve the pressure after he and his mates had been pinned deep. But as a 3C, they need more from him.
JOAKIM NYGARD. 4. Worked hard enough but came out on the short end of scoring chances by a 2-to-1 margin while he was on the ice. And committed a 1st Period turnover. Could be a candidate to be replaced on Friday.
JESSE PULJUJARVI. 6. Has a solid game in a lot of little but important ways. Good net front presence on the 3rd Period Power Play and was rewarded with an assist after a pass deflected off his skate. An extra effort diving play helped Ethan Bear clear the zone after pressure in the 2nd. Another good clear of the D-zone in the 3rd. Then finished his night with a solid body check on Marner.
Canadiens @ Canucks: Game thread, rosters, lines, and how to watch – Habs Eyes on the Prize
How to watch
Start time: 10:00 PM EST / 7:00 PM PST
In the Canadiens region: TSN2 (English), RDS (French)
In the Canucks region: Sportsnet Pacific
Streaming: NHL.tv/NHL Live, RDS Direct, Sportsnet Now, TSN Direct
It was a difficult off-season for the Vancouver Canucks, losing their starting goaltender, Jacob Markstrom, and a key offensive player, Tyler Toffoli, from the roster — and to teams now within their own division, no less. The decisions by those free agents to move on has led to a watered-down lineup that has some proper weapons at the top, then some members who would have a difficult time cracking opposing rosters.
Vancouver's loss was Montreal's gain, adding Toffoli to play on a third line that has all the hallmarks of a second. He only has one point on the season so far, but that's worse news for the Canucks than it is for the Canadiens because he has been getting his chances, and will be eager to start converting them versus his former team.
After getting a rare night of rest on Monday, Carey Price is back between the pipes for the first of what will probably be two games of this three-game series. He had an exceptional game versus the Oilers on Saturday, and will be called upon by the likes of J.T. Miller, Elias Pettersson, and Quinn Hughes as the Canucks try to put a 1-3 start behind them.
Montreal Canadiens projected lineup
Forwards
| Left Wing | Centre | Right Wing |
| --- | --- | --- |
| Left Wing | Centre | Right Wing |
| #90 Tomas Tatar | #24 Phillip Danault | #11 Brendan Gallagher |
| #92 Jonathan Drouin | #14 Nick Suzuki | #17 Josh Anderson |
| #73 Tyler Toffoli | #15 Jesperi Kotkaniemi | #40 Joel Armia |
| #41 Paul Byron | #71 Jake Evans | #62 Artturi Lehkonen |
Defencemen
| Left Defence | Right Defence |
| --- | --- |
| Left Defence | Right Defence |
| #8 Ben Chiarot | #6 Shea Weber |
| #44 Joel Edmundson | #26 Jeff Petry |
| #77 Brett Kulak | #27 Alexander Romanov |
Goaltenders
| Starter | Backup |
| --- | --- |
| Starter | Backup |
| #31 Carey Price | #34 Jake Allen |
Vancouver Canucks projected lineup
Forwards
| Left Wing | Centre | Right Wing |
| --- | --- | --- |
| Left Wing | Centre | Right Wing |
| J.T. Miller | Elias Pettersson | Brock Boeser |
| Tanner Pearson | Bo Horvat | Nils Hoglander |
| Antoine Roussel | Adam Gaudette | Jake Virtanen |
| Tyler Motte | Jay Beagle | Brandon Sutter |
Defencemen
| Left Defence | Right Defence |
| --- | --- |
| Left Defence | Right Defence |
| Quinn Hughes | Travis Hamonic |
| Alexander Edler | Jalen Chatfield |
| Nate Schmidt | Tyler Myers |
Goaltenders
| Starter | Backup |
| --- | --- |
| Starter | Backup |
| Braden Holtby | Thatcher Demko |