Chrysler shows off an EV concept and a future for the brand – CNN
(CNN Business)Chrysler was once one of the biggest names in the American auto industry, famous for flashy cars with chrome, fins and style that belied their relatively affordable prices. Cars like the Chrysler New Yorker, the Imperial and the classic Chrysler 300 helped it become a solid competitor to brands like General Motors' Buick which founder Walter P. Chrysler once ran.
Today, Chrysler is a shadow of its former self, offering just two models. One is a sedan that hasn't been substantially updated in 16 years. The other is a minivan.
Chrysler's new parent company, Stellantis, has now announced a plan to return Chrysler to its former glory, with the company hoping to bring it back to relevance with an all-electric lineup.
The Chrysler Airflow concept provides a preview of an electric crossover SUV available for sale by 2025, according to Chrysler. After that, Chrysler will become Stellantis' first all-electric car brand in North America by 2028, said Chrysler chief executive Christine Feuell.
In 2021, Chrysler sold 98,000 Pacifica vans and just over 16,600 of the 300 sedan. Tesla
delivered
over 240,000 vehicles in the third quarter alone.
Car buyers have largely shifted to SUVs, which Chrysler doesn't offer. Most Chrysler dealers, however, also sell other Stellantis brands such as Jeep and Dodge, so Chrysler's lack of offerings in the most popular market segment hasn't been a major issue for dealers. With the brand lying largely fallow, the transition to electric vehicles gives Chrysler hope for a renewed purpose. By going fully electric while the other brands change over to EVs more gradually, Chrysler can help usher in Stellantis's transition to full electrification, said Feuell.
"Chrysler is going to focus on on-road performance, connected experiences and delivering both extended high battery electric range and fast charging capabilities," she said.
A production version of the Airflow may not be exactly like the concept, Feuell said, but its features offer clues as to what the future crossover SUV could offer. For instance, the concept vehicle has a camera for each of the vehicle's four seats allowing all occupants to participate in video calls. Also, items appearing on any of the touchscreens can be shared with others by swiping.
The Airflow's design also shows what future Chrysler models could look like, Feuell said.
"If you take a look at the products that we have in market, now, you could make the case that they don't even really look related to each other, if you were to remove the badges," she said of the Pacifica and the 300. "We're definitely going to have a more harmonious design theme across all of our new products."
The Airflow concept is named after a famous 1930s Chrysler model. The original Airflow, introduced in 1934, was one of the first American cars designed with aerodynamics as a major consideration. Orville Wright, of the famous airplane-inventing Wright brothers, was a consultant on the project, according to Chrysler marketing materials from that era. Chrysler constructed a wind tunnel, one of the first in the industry, to test its shape. The original Airflow also featured a number of other design and engineering advancements. It set speed records at the Bonneville Salt Flats and one drove across America achieving the remarkable — at the time — fuel economy of 18 miles per gallon.
While aerodynamic testing and design is a part of virtually all new car development today, the Airflow's novel appearance was apparently a turn-off to customers in Depression-era America. While the Airflow is now regarded as an important step in the history of automotive design and engineering, it was a sales flop and went out of production after only three years.
Asian shares, U.S. futures slide as traders fret about Ukraine, rate rises – Reuters
Register now for FREE unlimited access to Reuters.com
Register
HONG KONG, Jan 25 (Reuters) – Asian shares and U.S. futures tumbled on Tuesday after a tumultuous Wall Street session, with investors nervous about the situation in Ukraine and eyeing the U.S. Federal Reserve amid worries about a move to tighter monetary policy globally.
NATO said on Monday it was putting forces on standby and reinforcing eastern Europe with more ships and fighter jets, in what Russia denounced as Western "hysteria" in response to its build-up of troops on the Ukraine border. read more
MSCI's broadest index of Asia-Pacific shares outside Japan (.MIAPJ0000PUS) shed 1.2%, falling to its lowest in a month, and Japan's Nikkei (.N225) skidded 2% to its lowest level since August.
Register now for FREE unlimited access to Reuters.com
Register
There were sharp declines around the region. Hong Kong (.HSI) lost 1.64% and Korea's KOSPI (.KS11) fell 1.67%. The Australian benchmark (.AXJO) tumbled 2.73% to hit an eight-month low, hurt also by a high inflation print Tuesday morning that stoked fears of approaching rate hikes Down Under. AZN0236PW
Asian markets were being dragged lower by concerns about faster U.S. rate hikes, mounting tensions over Ukraine, rising inflation and higher oil prices, said Carlos Casanova, senior economist at UBP.
"But on the upside, valuations are becoming more attractive and earnings growth are still robust for some sectors. So I think we will see a tug of war in the market for this week," he said.
U.S. futures also fell in Asian hours, Nasdaq futures (.NQc1) shed 1.2% and S&P500 futures lost 0.95%, after U.S. stock markets had recovered strongly late in the session to close higher, recouping steep losses made early in the day, as bargain-seeking investors snapped up shares.
The Dow Jones Industrial Average (.DJI) finished up 0.29%, the S&P 500 (.SPX) gained 0.28% and the Nasdaq Composite (.IXIC) added 0.63%.
Keeping traders on their toes, the Federal Reserve will begin its two-day meeting later on Tuesday, with investors starting to speculate that there is a small possibility that they will announce a surprise rate hike.
Investors are also anxiously looking out for any hints about the timing and pace of rate hikes expected later this year. Money markets are priced for a first rate hike in March, with three more quarter-point increases by year-end.
However, U.S. benchmark Treasuries were sitting out some of the speculation. Yields on benchmark 10 year notes were at 1.76%, steady on the day, having finished a choppy day of trading Monday near where they started.
Singapore's central bank also tightened monetary policy on Tuesday in an out-of-cycle move. read more
Market nerves sent the dollar higher against most peers. The dollar index was at 95.922, hovering near a two-week high, having gained 0.29% overnight. FRX
The Aussie dollar gained briefly after the high inflation print, but failed to hold on to its gains and the risk friendly currency was still hovering near the one-month low hit the day before.
Oil prices were also elevated, further worrying stock investors. U.S. crude rose 0.5% to $83.73 per barrel and Brent crude was at $86.83, up 0.65%.
Gold held on to its recent gains as investors sought safety. The spot price was at $1,841 an ounce, flat on the day but near last week's two-month high of $1,847.7.
Register now for FREE unlimited access to Reuters.com
Register
Reporting by Selena Li, Xie Yu and Alun John; editing by Richard Pullin
Our Standards: The Thomson Reuters Trust Principles.
US shares rebound after Russia-Ukraine tensions hit markets – BBC News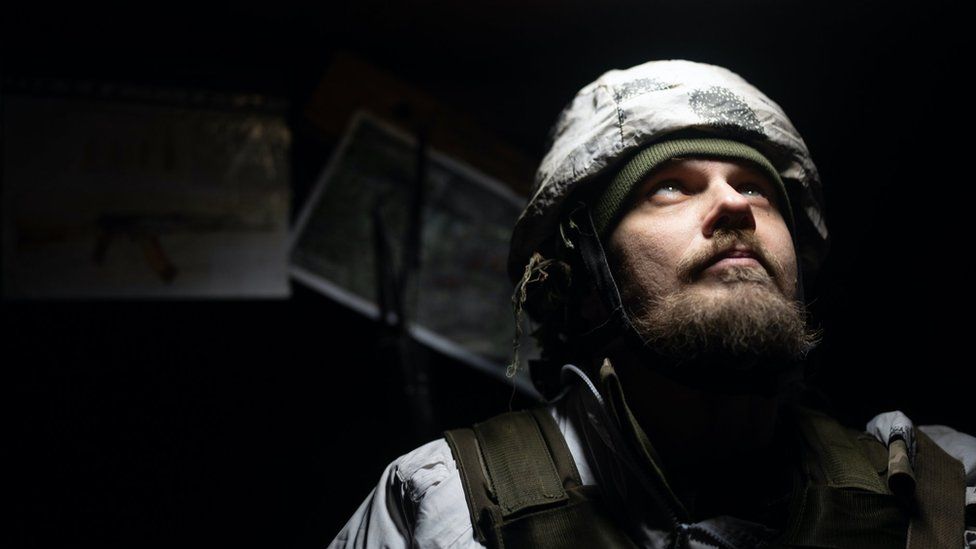 European markets dropped sharply on Monday as concerns about military tension between Russia and Ukraine and interest rate rises prompted sell-offs.
In London, the FTSE 100 fell more than 2.6%, while exchanges in Germany and France slid nearly 4%.
But shares in the US staged a rebound and closed in positive territory despite falling more than 2% earlier.
The swings came ahead of a meeting of the US central bank and amid warnings of a potential invasion in Ukraine.
Nato on Monday said it was putting forces on standby, after Russia deployed some 100,000 troops and heavy armour at the Ukrainian border. On Sunday, the situation prompted the US, the UK and Australia to order diplomats' families to leave Kyiv.
"Ukraine clearly is a concern that's weighing on the markets today," said Darren Schuringa, chief executive officer of investment adviser ASYMmetric ETFs.
"This will continue to weigh on the markets for the foreseeable future until there's some type of resolution and more clarity as to what the outcome looks like."
Concerns about inflation, Covid and other issues have led to three weeks of consecutive declines on US markets.
The tech-heavy Nasdaq has fallen more than 10% from its previous high – a drop considered a market "correction" – and the broad-based S&P 500 is flirting with a similar decline.
Meanwhile, the price of Bitcoin, which hit a high of $69,000 in November, has almost halved since, dropping below $35,000 on Monday, before recovering ground to more than $36,000.
Monday saw moments of torrid selling piling onto January's losses, with the Dow down more than 1,000 points – nearly 3% – at one point.
But the index, which includes many of America's biggest companies, closed nearly 0.3% higher.
The Nasdaq reversed a more than 3% drop to end 0.6% higher, while the S&P 500 finished 0.3% up.
The swings come as investors wait for action by the US central bank, which has said it expects to respond to soaring US inflation by raising interest rates this year.
Such moves typically depress stock prices by making other kinds of investments more attractive.
Investors have also been also selling shares as they try to position themselves ahead of a wave of reports from companies about their end-of-year performance.
The declines were seen as a possible warning about other firms.
Walt Disney, which has been focusing on its streaming strategy to compete with Netflix, was among the biggest initial losers on the Dow on Monday, down more than 4% at one point, while Tesla, which reports this week, fell more than 6%.
Shares in both firms later recovered, with Disney ending flat and Tesla down about 1.5%.
Stocks plunge into the red then rebound as uncertainty returns to markets – CBC News
Stock markets plunged into the red before recovering to finish the day in positive territory on Monday, as fears over war in Ukraine and higher interest rates in the U.S. and Canada took investors on a wild ride.
Early in the afternoon, the Dow was off by more than 1,000 points, or about three per cent, and the tech-heavy Nasdaq was faring even worse as investors worried about the prospect of war in Ukraine.
"What really sparked the sell-off today is the fact that we seem to be marching inexorably towards a full-scale invasion of Ukraine by Russia," Dennis Mitchell, CEO of Toronto-based investment firm Starlight Capital, said in an interview.
Canadian shares were not exempt from the sell-off, as the benchmark Canadian index was on track for its worst day in months, down more than 600 points, or three per cent at one point.
In the afternoon, however, the market changed direction and investors started buying up shares. All three major U.S. stock groupings, the Dow Jones Industrial Average, the S&P 500 and the Nasdaq, finished the day in positive territory.
"The selling that you're seeing today is usually a good indication that this is a good buying moment," Mitchell said.
After falling nearly three per cent by midday, the TSX mounted a comeback of its own in the afternoon but fell short of reversing its losses, and closed the day down 50 points to 20,571.
Dianne Swonk, chief economist with Grant Thornton, said the pandemic has been a time of unprecedented volatility for almost two solid years now, and that can sometimes result in wild swings for stock prices.
"This is giving us a lot of turbulence out there," she said in an interview, "and the problem is it it ups the uncertainty at a time when uncertainty is already high."
Higher rates coming
Prior to Monday's trading, the major event of the week was slated to be the Bank of Canada's interest rate decision on Wednesday. Expectations are growing that central banks will soon have to raise their interest rates to keep a lid on inflation, which has run up to the highest level we've seen in decades lately.
All things being equal, higher interest rates are bad news for stocks because they raise the cost of borrowing. That gives companies and investors less of an incentive to borrow to invest.
Currently, the market is pricing in about a 60 per cent chance of a rate hike in Canada as soon as this week. If one doesn't come this time around, it's a near certainty to happen next time the bank meets in March, according to trading in investments known as swaps.
Swonk said some of the uncertainty comes from figuring out how central banks are going to try to find the right balance between keeping a lid on inflation but also not harming the economy that is still being hit by Omicron.
"They don't want to put the flame out on the economy, but they certainly want to cool it off a bit," Swonk said. "That's left many people unsure of how fast rates will go up."