Collapsed FTX owes nearly $3.1 billion to top 50 creditors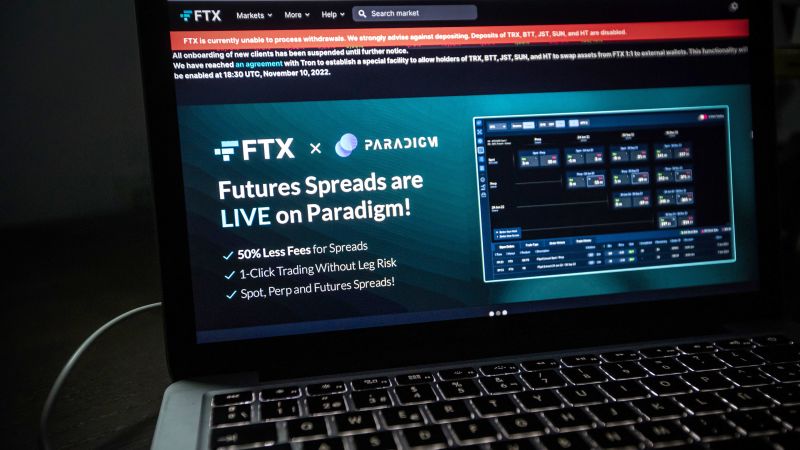 Cryptocurrency exchange FTX, which has filed for US bankruptcy court protection, said it owes its 50 biggest creditors nearly $3.1 billion.
The exchange owes about $1.45 billion to its top ten creditors, it said in a court filing on Saturday, without naming them.
FTX and its affiliates filed for bankruptcy in Delaware on Nov. 11 in one of the highest-profile crypto blowups, leaving an estimated 1 million customers and other investors facing total losses in the billions of dollars.
The crypto exchange said on Saturday it has launched a strategic review of its global assets and is preparing for the sale or reorganization of some businesses. A hearing on FTX's so-called first-day motions is set for Tuesday morning before a US bankruptcy judge, according to a separate court filing.
FTX's rapid collapse marked a stunning downfall for one of the biggest and most powerful players in the crypto industry.
There could be more than 1 million creditors in the US cases that are already filed, FTX Group said, adding that it has been in touch with "dozens" of US and international regulatory agencies including the US Attorney's Office, the US Securities and Exchange Commission and the Commodity Futures Trading Commission.
Meanwhile, authorities in the Bahamas — where FTX is based — are investigating whether any criminal misconduct occurred related to the company's implosion, the Royal Bahamas Police Force said in a statement last Sunday. The Bahamian authorities have also taken control of cryptocurrency assets held by FTX Digital Markets, The Bahamas-based FTX unit that filed for Chapter 15 bankruptcy protection Tuesday.
The Securities Commission of The Bahamas announced Thursday night that it had directed the transfer of all digital assets of FTX Digital Markets and that those assets are being transferred to a digital wallet controlled by the Bahamas regulator for "safekeeping."
– CNN's Matt Egan, Chris Isidore and Allison Morrow contributed to this report.
Keystone pipeline temporarily closed following Kansas oil spill – Al Jazeera English
The energy company in charge of the pipeline has not said what caused the spill or how much oil was released.
The Keystone pipeline has halted operations following an oil spill into a creek in the United States state of Kansas. The pipeline carries more than 600,000 barrels of oil from Canada to the Texas Gulf Coast each day.
Canada-based TC Energy said in a press release that it shut down the pipeline on Wednesday night in response to a drop in pipeline pressure. The company has yet to offer information on the scale and cause of the spill.
"The system remains shut down as our crews actively respond and work to contain and recover the oil," the release said.
The spill resulted in oil leaking into a creek in northeastern Kansas and the company has said they were using machinery to prevent the oil from moving further downstream. Pipelines have long spurred concerns about the destructive potential of oil spills.
Another pipeline previously proposed by TC, the Keystone XL pipeline, would have been 1,930 kilometres (1,200 miles) long and cut across US states such as Montana, South Dakota and Nebraska.
That proposal spurred strong opposition from advocates who said it would increase the chance of spills, undermine the rights of Indigenous communities and worsen climate change.
Former President Donald Trump approved a permit for the contentious project in 2017 but a court halted construction in 2018 before the permit was cancelled by President Joe Biden's administration last year.
TC finally abandoned the effort in June 2021 but has since filed a claim seeking remuneration for losses it says it faced because of the cancellation.
The spill on Wednesday occurred several years after the Keystone pipeline leaked about 1.4m litres (383,000 gallons) of oil in eastern North Dakota in 2019.
As word of the shutdown spread on Wednesday, oil prices ticked upwards by about five percent.
"It's something to keep an eye on, but not necessarily an immediate impact for now," said Patrick De Haan, head of petroleum analysis at GasBuddy, which tracks gasoline prices, according to the Associated Press. "It could eventually impact oil supplies to refiners, which could be severe if it lasts more than a few days."
In their statement, Keystone said their primary focus was the "health and safety of onsite staff and personnel, the surrounding community, and mitigating risk to the environment through the deployment of booms downstream as we work to contain and prevent further migration of the release".
Previous Keystone spills have resulted in stoppages that lasted up to two weeks. However, analysts have noted that the current stoppage could possibly last longer because it involves a body of water.
Bank of Canada policy will 'hit home' in 2023: David Rosenberg
The Bank of Canada may be signalling a possible end to its months-long aggressive interest-rate hike cycle, but economist David Rosenberg said next year will see the lagging impact of 2022's monetary policy "hit home" for Canadians.
"Next year is the payback," Rosenberg, chief economist and strategist at Rosenberg Research and Associates Inc., said in an interview with BNN Bloomberg.
"2022 was the year of the sharp run-up in rates, 2023 will be the year where the policy lags from those rising rates hit home."
He made the comments Thursday, a day after the Bank of Canada raised its overnight lending rate by 50 basis points to 4.25 per cent, as the central bank continued with its approach to bringing down inflation.
Rosenberg predicted a "severe recession" for Canada next year based on the rate hike cycle, calling for a "triple whammy" with economic impacts compounded by high levels of household debt, a housing bubble and ripples in the global economy.
Possible spillover effects from the interest rate cycle could be felt, Rosenberg said, as banks may constrain the availability of credit and spending drops across various sectors.
Based on the latest rate increase, Rosenberg said he predicts at potentially one more rate hike from the bank before a pause. Once inflation starts to come down, Rosenberg said he thinks the central bank may start to cut rates, possibly in the second half of 2023.
"The next stage is going to be waiting for the inflation to come down, which I think it will, and the recession is going to catch a lot of people by surprise," he said.
A similar pattern may play out in the U.S., but Rosenberg said Canadians are more exposed to higher interest rates through variable-rate mortgages and because more consumer credit is tied to short-term interest rates.
"As bad as it's going to be in the U.S., and believe me, it's not going to be a pretty picture there, I think the Canadian situation in the next year is going to be clouded at best," he said.
CRTC rejects Telus' request to charge credit card processing fee for some services
The Canadian Radio-television and Telecommunications Commission ruled Thursday that Telus is not able to charge a credit card processing fee for regulated home telephone services.
This ruling applies to Alberta and B.C. services that are regulated by the CRTC, which are generally home telephone services in certain smaller communities.
Since Oct. 6, most Canadian businesses, except in Quebec, can charge their customers a fee for credit card transactions, following a class-action lawsuit filed by retailers against Visa, MasterCard and card-issuing banks.
Quebec is not included in this decision due to the province's Consumer Protection Act, which prohibits the application of such surcharges.
On Aug. 8, Telus filed an application with the CRTC to introduce a credit card processing fee of 1.5 per cent, plus taxes, for payments made with a credit card.
On. Oct. 17, Telus began to charge the fee to clients paying by credit card in areas where services are not regulated by the CRTC, which includes its wireless and internet customers outside of Quebec.
Telus does not need to ask for the CRTC's approval to add the surcharge to its unregulated services but the organization said it is "very concerned" about this practice as it goes against affordability and consumer interest.
"We heard Canadians loud and clear: close to 4,000 of you told us that you should not be subjected to an additional fee based on the method you choose to pay your bill," Ian Scott, chairperson and CEO of the CRTC, said in a statement. "We expect the telecommunications industry to treat Canadians with respect and do better."
The CRTC said, with this ruling, it is sending a "clear message" to Telus and other telecommunications service providers that are thinking of imposing a fee like this one on their customers.