Everything We Know About the 2022 iPad Air Coming in March – MacRumors
Apple is working on an updated version of the iPad Air, and the new tablet is set to launch this spring at an event that's expected to be held on March 8.

We're not expecting too many changes to the ‌iPad Air‌, but there are a few updates, with everything we know outlined in this guide.
Design
The ‌iPad Air‌ is expected to look identical to the current model, with no outward-facing design changes planned. It's possible that Apple will introduce new color options to set the updated models apart from the existing ‌iPad Air‌, which comes in silver, space gray, rose gold, green, and sky blue.



Like the iPad Pro, the ‌iPad Air‌ features an all-display design, but it does not include Face ID. Apple instead uses a Touch ID Power button for authentication purposes. The tablet will continue to feature ‌Touch ID‌, and it will have a 10.9-inch display and a USB-C port.
While there are no physical changes expected, the ‌iPad Air‌ will adopt features that were first introduced in the iPad mini 6, its sister tablet.
5G Connectivity
Like the latest ‌iPad mini‌, the updated ‌iPad Air‌ will adopt a 5G chip that will allow it to connect to 5G networks. The chip in the ‌iPad mini‌ is limited to sub-6GHz 5G networks rather than the fastest mmWave 5G networks, so it's possible we could see this same limitation in the ‌iPad Air‌, but not guaranteed.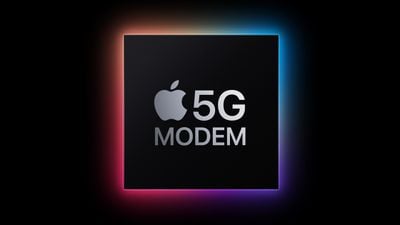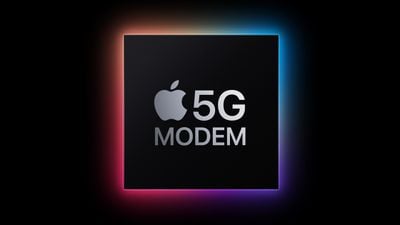 Sub-6GHz 5G is the more widely available version of 5G that can be found in urban, suburban, and rural areas across the United States and other countries, while mmWave 5G is more limited in availability and in range.
AT&T and Verizon have recently expanded their 5G networks with C-band spectrum that improves the availability of mmWave networks in the U.S., so it's possible Apple will take this into account when updating the ‌iPad Air‌.
Updated Processor
We're expecting the ‌iPad Air‌ to get the same 6-core A15 chip that's in the ‌iPad mini‌ 6 and the iPhone 13 lineup. Apple downclocked the A15 chip in the ‌iPad mini‌, so it runs at 2.9GHz instead of 3.2GHz as it does in the iPhone, but it's not clear if the same clock speed will be used for the ‌iPad Air‌.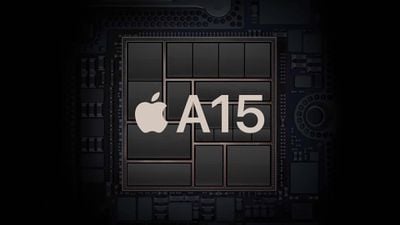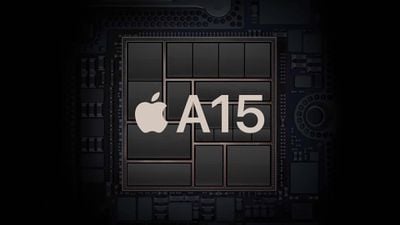 With the downclocked A15, the ‌iPad mini‌ is around two to eight percent slower than the ‌iPhone 13‌ when it comes to CPU performance, but either way, it will be an improvement over the A14 chip in the current model.
Center Stage and FaceTime Camera
Rumors suggest the ‌iPad Air‌ will adopt an updated 12-megapixel Ultra Wide front camera that will work with Center Stage, a feature first introduced in the ‌iPad Pro‌ and the ‌iPad mini‌ 6.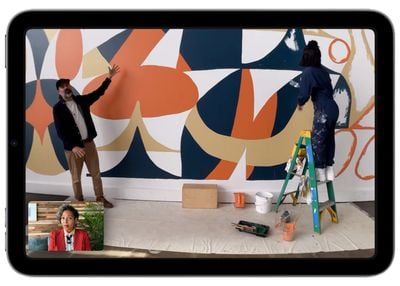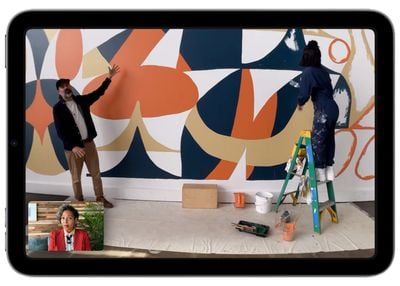 Center Stage is a FaceTime feature designed to keep you in focus and perfectly framed when you're on a ‌FaceTime‌ video call. The wide-angle front-facing camera shows more of the room that you're in, while the processor inside the iPad works to keep you front and center even as you move around.
If more than one person is participating in the call, the camera will zoom out to attempt to keep everyone in view and make sure they're part of the conversation. Though designed with ‌FaceTime‌ in mind, Center Stage also works with other third-party video apps like Zoom.
As for the rear camera, it is expected to continue to feature a single-lens setup, though Apple could add a quad-LED True Tone flash, which would be a new addition as the current ‌iPad Air‌ does not include a flash option.
Other Features
We are not expecting any other notable changes in the ‌iPad Air‌. Because the body design is staying the same, it's unlikely that we'll see any significant updates to the battery life.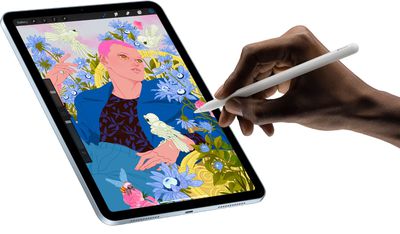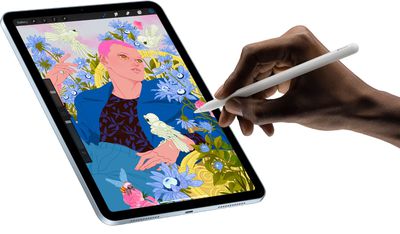 USB-C support will continue to be included, and it will be compatible with Apple accessories that include the Magic Keyboard and the Apple Pencil 2.
Pricing
‌iPad Air‌ pricing is not expected to change, and it will likely be priced the same as the current ‌iPad Air‌. Existing models start at $599 for 64GB of storage, with 256GB available for $749. We haven't heard rumors about storage changes, and the ‌iPad mini‌ 6 also starts at 64GB storage.
Release Date
Rumors suggest the refreshed ‌iPad Air‌ is going to be released alongside an updated version of the iPhone SE at an event that's set to be held in March. Right now, Apple is targeting Tuesday, March 8 for the event.
Guide Feedback
Have questions about the 2022 ‌iPad Air‌, notice a mistake, see something we left out, or want to offer feedback on this guide? Send us an email here.
'Genshin Impact' V2.8 Primogem Gift Codes, Plus New Banners And Diluc Skin – Forbes
Genshin Impact just wrapped up its v2.8 special program reveal stream, back on schedule with its constant releases after COVID lockdowns forced delays earlier. We are marching toward the 3.0 update of the game with new continent Sumeru, but until then, we have two more patches to go. And v2.8 is proving to be a bit lighter than most.
But still, the stream gave away three gift codes for Primogems and other goodies, as it always does, and that's probably the main reason you're here. They are:
DTNVKAWBWSF5 – Reward: 100 Primogems and 10 Mystic Enhancement Ores
WANVJAFAXTER – Reward: 100 Primogems and 10 Mystic Enhancement Ores
HA6C2AFBXSZV – Reward: 100 Primogems and 10 Mystic Enhancement Ores
These have to be redeemed by the end of the day tomorrow, so get on that. And yes, the secondary reward is all Mystic Ore for some reason this time around, I'm not sure why that is. You will want to redeem this on the reward page right here. I just checked them, and all of them work.
As for the character banners for v2.8, we only have one new character this time around, and they're only a four star. We do, however, have the return of one very coveted 5 star, Kazuha, who is also the main character of the 2.8 story content, it seems.
The banners will be:
Banner 1 – Kazuha and Klee, with rate-ups for new 4 star Heizou
Banner 2 – Yoimiya
The entire "storyline" for 2.8 is called Summer Fantasia, and will contain the usual amount of various types of events we get for new patches. Among them will be Summertime Odyssey, Resonating Visions, Reminiscent Regimen, Hidden Strife, Evermotion Mechanical Painting and most impotantly a new outfit for Diluc where he has a high ponytail. Oh and Fischl has one too. Whatever.
Anyway, this should not be the biggest patch in the world, nor does this seem like the set of banners that you will blow every Primogem you have on, unless you are dying for Kazuha which you don't have yet, or you need to get more constellation tiers on him. I think most people are probably starting to save for 3.0 and all the new Sumeru Dendro characters at this point, and that reveal should be in the next couple months here ahead of what seems like a fall release for that region.
Follow me on Twitter, YouTube, Facebook and Instagram. Subscribe to my free weekly content round-up newsletter, God Rolls.
Pick up my sci-fi novels the Herokiller series and The Earthborn Trilogy.
5 Ways to Make Wearing a Mask in the Summer More Tolerable – First For Women
Mask mandates have been dropped in offices, grocery stores, and transit hubs nationwide, and as a result many people have (understandably) stopped wearing them. After living through two years of a pandemic, folks are tired of muffled voices, sweaty faces, and fogged-up lenses.
There's been some debate surrounding masks' effectiveness in preventing COVID-19 infection — particularly at the start of the pandemic — but laboratory studies show that masks protect those who wear them.
If you're among those still masking up, you're likely looking for solutions to make masking more comfortable — especially during the warm summer months. Here are five easy tricks to make wearing yours more tolerable.
Ease the Strain of Mask Strings
When you're wearing a mask all day, the ear loops may begin to put a strain on the backs of your ears. Your tender ears will thank you for purchasing some mask clips. There are several options availble, from simple straps with buttons or hooks to silicone and rope accessories.
We like this Candace Cort ear saver, which is clear, bendy, and subtle. Mask extenders can also help you to customize your mask fit (if you, like me, have a head that's far smaller than average). Try this silicone mask extender set from EVGLOW that comes in a variety of colors ($6.99 from Amazon).
De-Fog Your Glasses
If you've ever worn glasses and a mask simultaneously, you know the foggy lens struggle. This problem can range from a mere nuisance to an actual hazard — if you can't see where you're going, it doesn't matter how protected you are from COVID-19. The most effective way to reduce fogging while masking is to improve the seal between the top of the mask and your skin. Masks with adjustable nose-bridge wires (which tend to be the best quality masks anyway, most adept at virus protection) make it easier to close off this seal.
If you have a well-fitting mask that's sealed off at the nose but are still experiencing lens fog, try Ultra Clarifty's Defog kit ($15.99 from Amazon). It's compatible with many different types of lenses; just be warned that it does require frequent reapplication, and you might want to keep a small microfiber cloth on hand to scrub away any vision-blurring streaks.
Make Your Mask Smell Nicer
We've all become intimately familiar with the smell of our own breath over the last two years. Even when you're certain of your minty-freshness, there's something about "mask breath" that's just… unpleasant. To fix this, spritz a nice-smelling refreshing spray in your mask before heading out the door.
Enfusia's mask deodorizer spray ($19.99 from Amazon) is made with pure essential oils — a blend of eucalyptus, spearmint, peppermint, rosemary, lavender, and tea tree. The scent is sure to relax you throughout the day; and even if it doesn't, it's probably better than smelling your breakfast.
Buy a Cute Necklace Chain
If you're like most of us, you periodically take your mask off for a breather and then put it back on when needed. But it's annoying to search frantically for a mask that's lost in your jacket pocket or in the dirty dregs of your handbag. The solution? A cute mask chain. This invention looks like a necklace and functions like an eyeglass chain. It hangs around your neck to ensure your mask rests on your chest like a pair of sunglasses when not in use — and it makes your mask immediately accessible when you do reach for it.
Try the Reuven Designs Gold Face Mask Chain ($14.50 from Etsy), a simple gold chain best-seller with a customizable length. For a classy option that looks like real jewelry, consider the Lima Jewelry Pearl Necklace Chain ($20.64 from Etsy).
Find a Comfortable Fit
Cloth masks are the most breathable options, but health experts don't recommend using them against Omicron. Instead, they suggest wearing an N95, KN95, or KF94 to protect against this more transmissible variant. Surgical masks are slightly better than cloth, and placing a cloth mask on top of a surgical one is more effective than wearing a surgical alone (because it tightens the fit).
KN95s come with ear loops, which are undoubtedly more comfortable to wear than the headstraps of N95s. However, you need to watch out for counterfeit N95s. Get yours from a site like Project N95, the National Clearinghouse for personal protective equipment (PPE) and COVID-19 tests. Their KN95 in stylish black ($14 from Project N95) and N95 ($35 from Project N95) provide the ultimate in protection.
For a more in-depth look at the best kind of masks to protect you from Omicron, check out this thorough breakdown of masks we recommend for the variant. Stay safe out there, and enjoy your summer!
We write about products we think our readers will like. If you buy them, we get a small share of the revenue from the supplier.
TCL 30 XE 5G Smartphone Review – CGMagazine
TCL or "Telephone Communication Limited" is a lesser-known company in North America, more known for their TVs than they are known for their cell phones. While they may have used Blackberry's brand name for the production of the KEY2, recently TCL has started producing cell phones under their own name and brand. Today we are looking at one of their latest models, the TCL 30 XE 5G, part of their 30 Series lineup. Listed at $355 CAD, the 30 XE is targeted more at the budget to lower mid-range class of users. Running alongside competitors such as the Samsung A13 5G, can TCL bring enough to the table to make a bigger name for themselves?
Unboxing the phone is your fairly standard experience as with most phones these days. You get the phone, a USB-C charging cable with power brick, SIM Card eject tool and some basic paperwork. No headphones or case, unfortunately. The box itself shows a photo of the phone along with TCL branding and notable specs and features of the phone.
The TCL itself is made of a sturdy-feeling matte plastic along the sides and back with a flat glass display. The side buttons are also made of plastic. Not a dealbreaker considering the price, and should be solid enough to satisfy most users. Along the top of the device is a microphone and a headphone jack, a very welcome addition in my opinion. Along the bottom, you will find another microphone, a single firing speaker, and the USB-C port for charging and data transfer.
The sim tray along the left includes a single sim card slot and SD card slot supporting up to a 512 GB card, something I personally wish flagship devices continued to incorporate. Along the back you will find the triple camera array along with a snappy and accurate fingerprint reader. On the front you find a teardrop notch for the single selfie camera, the earpiece speaker and the pleasantly smooth 90 Hz 720p display.
"Using the TCL 30 XE 5G as my daily device for the last little while has been an interesting experience."
Upon booting up and setting the phone up for first use, you are greeted by one of your first notable surprises, a nearly stock build of Android 11. TCL is claiming to offer two years of security and software upgrades so, it will be interesting to see whether they follow through with that on a budget device. Most included stock apps are built by Google, although TCL includes their own camera and music player apps, along with a few others including a compass app, notes and even FM tuner app! That being said, those wanting to use the FM tuner will need to plug in a set of headphones to use it.
Using the TCL 30 XE 5G as my daily device for the last little while has been an interesting experience. Coming from my current flagship Samsung Galaxy Z Flip3 5g, the TCL 30 XE 5G was able to comfortably fit into my lifestyle and daily use without too much compromise. The reasonably large 64 GB of on-board storage was able to allow me to download all my apps without any hassle. Any files I needed on the go I stored on an SD card.
The built-in 4500 mah battery was able to easily get me through a day and a half of fairly heavy use with tasks of snapping several pictures, messaging/calls, GPS use and even some moderate gaming. I was always going to bed with over 40% battery life and over 5 hours of screen-on time, all while having Bluetooth and 5G antennas enabled.
"The built-in 4500 mah battery was able to easily get me through a day and a half of fairly heavy use with tasks of snapping several pictures, messaging/calls, GPS use and even some moderate gaming."
Apps all launched quickly and ran smoothly without any notable issues thanks in part to the 4 GB of onboard RAM. This means browsing the web and scrolling endlessly through your social media feeds will feel generally seamless. Videos looked sharp and crisp despite only being a 720p display. Watching videos on the 6.52" screen meant I didn't have to squint to see what I was watching, like on smaller phones of yesteryear.
The 90 Hz display made the device feel much more premium that competitors in this class of device. Many other devices still only offer a 60 Hz display. TCL's included NXTVision software shines in this aspect as it helped to enhance the media I was viewing. Even under bright sunlight, the display was fully readable and clear, something those constantly outdoors will appreciate.
Charging the phone when the battery was low was done at a respectable 18W, far from the slowest on the market but certainly not as fast as much more expensive phones. I found it generally took about two hours to completely recharge the phone, perfectly acceptable for those charging the phone at night or at a desk, not so much for the on-the-go user.
"TCL has done an overall superb job with the TCL 30 XE 5G, they have certainly produced a great value phone for the price."
With all the great stuff TCL has managed to pack into the TCL 30 XE 5G, there are bound to be some negatives, right? Unfortunately, this is all too true being a less expensive phone. Many times, I found myself wishing I had my Samsung for its photo quality. The included rear camera array TCL includes worked alright in well lit environments but inside with less-than-optimal lighting, images often came out blurry, grainy and did not produce an image I would want to share with others.
The same can be said for the selfie camera. In bright lighting, images look acceptably sharp but are not overly flattering. On top of that, while the single firing speaker can get adequately loud for a quiet room, I found it to be rather "tinny" at higher volume. I also found myself missing the stereo speakers on other past flagship level devices I've become accustom to.
All that being said, it is important to remember that the TCL 30 XE 5G smartphone wasn't built to impress high-end users such as myself. While I'd love to sit and tell you that I wish it had features such as wireless charging or an IP rating, it was made for the user who doesn't want to spend a small fortune on a device. Someone looking for a device that can do day-to-day tasks without breaking the bank but still wants modern comforts with some of yesterday's tech as well.
I thoroughly enjoyed my time with the TCL 30 XE 5G smartphone. It really goes to show that you don't need a high-end flagship to do a lot of regular tasks these days. Smartphones have come a long way in the last several years, even the budget market has greatly stepped up their game. TCL has done an overall superb job with the 30 XE 5G, they have certainly produced a great value phone for the price.