Gatling Exploration Inc. Drills 170.0 m of 1.5 g/t Au from Near Surface; Proves Growing Continuity and Strength of Mineralization at Larder Gold Project, Ontario – Junior Mining Network
VANCOUVER, BC / ACCESSWIRE / February 16, 2021 / GATLING EXPLORATION INC. (TSXV:GTR) (OTCQB:GATGF) (the "Company" or "Gatling) is pleased to announce that drilling at its Larder gold project in Ontario has intersected increased continuity and grade with 170.0 m of 1.5 g/t Au starting just 31 m from surface. Hole GTR-20-089 was drilled on Zone 2 of the Fernland deposit and follows Gatling's recent success 400 m west at Zone 1, where drilling hit 101.3 m of 1.1 g/t Au from near surface. The Company will continue with its current focus on near surface gold mineralization by testing Zone 3 at Fernland – one of three gold deposits along a 4.5 km trend at the Larder project that hosts high-grade mineralization at depth and widespread mineralization near surface.
Jason Billan, President and CEO for Gatling, commented, "This second round of drill results in our ongoing 25,000 m program are led by highlight hole GTR-20-089, which matched the highest metal factor ever hit since the inception of Gatling. Furthermore, our exploration team has demonstrated impressive, near-surface continuity for the first time at Larder. The Fernland deposit will be the focus for just over half of the current drill program, before we deliver an initial resource estimate at Fernland along with a resource update at Cheminis and Bear (due out in H2)."
News Highlights
Rapidly Increasing Continuity of Gold Mineralization at Fernland Deposit. Fernland is the most under explored of the deposits at Larder. Drilling continues to prove that the gold system is far more extensive than prior operators believed and includes an impressive near surface component. Drilling at Zone 2 has hit 170.0 m of 1.5 g/t Au starting 31 m from surface in hole GTR-20-089. The hole is approximately 400 meters away from hole GTR-20-088 at Zone 1, which intersected 101.3 m of 1.1 g/t Au in (Figure 1 to 4), also starting near surface.
Widespread results include significant high-grade intervals and potential for increased grades at depth. Results from hole GTR-20-089 also returned sections as high as 8.6 g/t Au over 3.0 m, indicating that there is still a deeper source of gold mineralization to be explored down plunge, which in this case is South-Easterly.
High Percentage of Gold Mineralization is above Regional Open Pit Cut-Off. Mineralization has displayed significant gold grades above the regional open pit cut-off of 0.3 g/t Au. Of the 170 m of intersected gold mineralization, 128 m (75%) was above 0.3 g/t Au, demonstrating the best continuity to date for Gatling. Additionally, some higher grade zones indicate the presence of oblique plunging gold chutes, which may play a vital role in exploring the deposit at depth.
Zone Definition at Fernland Indicates Robust Continuity and Thickness. The Fernland deposit has 3 distinct zones. Gatling has now demonstrated a thickness up to 13.0 m at 2.0 g/t Au and a continuity of 170.0 m at 1.5 g/t Au at Zone 2. Drilling previously at Zone 1 displayed thicknesses up to 35.0 m and over 100 m in gold continuity. These results continue to reveal the excellent grade distribution, size, and vast potential of the near surface gold mineralization at the Fernland deposit.
Table 1. Drill Hole Highlights
| | | | | | | |
| --- | --- | --- | --- | --- | --- | --- |
| Hole ID | From (m) | To (m) | Length (m) | Au (g/t) | Rock Type | Zone |
| GTR-20-089 | 31.0 | 201.0 | 170.0 | 1.5 | South Volcanics | Fernland – Zone 2 |
| Including | 132.0 | 135.0 | 3.0 | 8.6 | South Volcanics | Fernland – Zone 2 |
| Including | 151.0 | 153.0 | 2.0 | 7.7 | South Volcanics | Fernland – Zone 2 |
| GTR-20-090 | 82.0 | 95.0 | 13.0 | 2.0 | South Volcanics | Fernland – Zone 2 |
| Including | 88.0 | 90.0 | 2.0 | 6.8 | South Volcanics | Fernland – Zone 2 |
| GTR-20-091 | 137.0 | 139.0 | 2.0 | 10.3 | South Volcanics | Fernland – Zone 2 |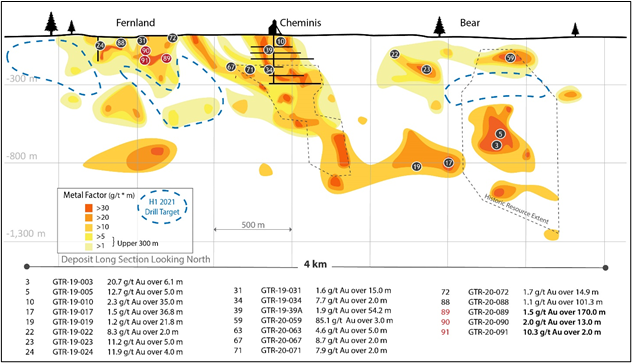 Figure 1. Larder project long section showing the new gold mineralized zones identified from recent drill results and target areas for the 2021 drill campaign.
Figure 2. Geological plan map of the newly defined zones at the Fernland Deposit with multiple mineralized lenses at each zone and recent drill hole traces.
Figure 3. Level plan showing multiple gold zones and gold mineralization from surface down to 100 m below surface at the Fernland deposit.
Figure 4. Fernland long section showing the location of recent drill results, new mineralized zones, and gold contours connecting Fernland mineralization with Cheminis.
About Gatling Exploration
Gatling Exploration is a Canadian gold exploration company focused on advancing the Larder Gold Project, located in the prolific Abitibi greenstone belt in Northern Ontario. The Larder property hosts three high-grade gold deposits along the Cadillac-Larder Lake Break, 35 km east of Kirkland Lake. The project is 100% controlled by Gatling and is comprised of patented and unpatented claims, leases and mining licenses of occupation within the McVittie and McGarry Townships. The 3,370 ha project area is positioned 7 km west of the Kerr Addison Mine, which produced 11 million ounces of gold. All parts of the Larder property are accessible by truck or all-terrain vehicles on non-serviced roads and trails.
QA/QC
Drill core is logged and sampled at the Larder Gold project site. Core samples from the program are cut in half, using a diamond cutting saw with half sent for assay at SGS lab in Cochrane, Ontario. The other half is secured and retained on site. All samples are analyzed for gold using standard Fire Assay-AA techniques. Samples returning greater than 5.0 g/t gold are analyzed utilizing standard Fire Assay-Gravimetric methods. Certified reference standards and blanks are routinely inserted into the sample stream as part of Gatling's quality control/quality assurance program.
Qualified Person
The technical content of this news release has been reviewed and approved by Nathan Tribble, P. Geo., VP Exploration of Gatling Exploration, and a Qualified Person pursuant to National Instrument 43-101.
ON BEHALF OF THE BOARD OF DIRECTORS,
Jason Billan, President and CEO
Gatling Exploration Inc.
For further information on Gatling, contact Investor Relations:
Telephone: 1-888-316-1050
Email: This email address is being protected from spambots. You need JavaScript enabled to view it.
Neither TSX Venture Exchange nor its Regulation Services Provider (as that term is defined in the policies of the TSX Venture Exchange) accepts responsibility for the adequacy or accuracy of this release.
Forward Looking Statements: Statements contained in this news release that are not historical facts are forward-looking statements, which are subject to a number of known and unknown risks, uncertainness and other factors that may cause the actual results to differ materially from those anticipated in our forward-looking statements. Although we believe that the expectations in our forward-looking statements are reasonable, actual results may vary, and we cannot guarantee future results, levels of activity, performance or achievements.
ASUS GeForce RTX 3060 STRIX Gaming OC review – guru3d.com
ASUS ROG STRIX GeForce RTX 3060 Gaming OC review
We move to ASUS, which released their ROG GeForce RTX 3060 STRIX Gaming OC, with 12GB, 3584 shading processors activated and a boost clock of 1882 MHz the card has been tweaked extensively straight out of the box for you. Much has been said, rumored, and spoken about this card. And weird it is that it's released after the Ti model made a fashionable introduction.
However, with that 3584 shading cores and Ampere architecture, this 3060 series is bound to impress in the 2560×1440 (WQHD) domain. If we look back at the previous generation, the product would sit at GeForce RTX 2070 (SUPER) performance levels and, in due time, will replace that series. If stock becomes available in plentiful volumes though. The GPU is again fabricated on an 8nm node derived from Samsung. This process further develops Samsung's 10nm process; no EUV is applied in production just yet. The first wave of announcements has seen the GeForce RTX 3080 and 3090 being released first, and, as a bit of a surprise, the GeForce RTX 3060 Ti and 3070. It's now late February 2021 and NVIDIA is set to release its more 'regular' 3060 prices 329 USD. As you will have noticed, the 3060 GPU cores count is about 26 percent lower than with the RTX 3060 Ti, which has a GA104 chip with 4864 shading cores (shader/stream/cuda cores = all the same thing with a different name). NVIDIA is launching the 3060 series with the 12GB model, which's remarkably enough is 2GB more than the GeForce RTX 3080 (!). Later on, they'll likely silently slip in a 6 GB version, though that has not been confirmed. NVIDIA advertises the series with 13 'shader teraflops' and 25 'RT-ops', the latter giving an indication of the ray-tracing performance. Notable is that a change is in effect, the memory runs ar 15 Gbps as opposed to the usual 14 Gbps, likely to compensate for the perf hit of going 256-bit towards 192-bit on the memory bus due to that memory configuration. It's the same for the shader core cluster, it's clocked higher in the boost frequency compared to the Ti model, also compensating a bit for the lower number of shader cores.
The Ampere lineup nearly doubles ray-tracing performance with Gen2 ray-tracing cores and 3rd iteration Tensor cores. These cards will all be PCIe 4.0 interface compatible and offer HDMI 2.1 and DisplayPort 1.4a, but most importantly is that exorbitant shader processor count (referred to as CUDA cores by NVIDIA). With just over a third of the shader processor count seen from the flagship product, we now meet the NVIDIA GA106 GPU. And despite being a lower segmented card, it still holds a sizable GPU die. In this round, NVIDIA is not seeding Founder edition cards, aka FE GeForce RTX 3060. But of course, they do present the reference specification; a boost clock of 1780 MHz and a base clock of 1320 MHz.
| | | | | | |
| --- | --- | --- | --- | --- | --- |
| Model | Base Clock (MHz) | Boost Clock (MHz) | VRAM Base Clock (MHz) | VRAM Effective Datarate (MHz) | Max Power % |
| GeForce RTX 3060 | 1320 | 1780 | 1875 | 15000 | – |
| ASUS RTX 3060 STRIX OC | 1320 | 1882 | 1875 | 15000 | 23 |
| PALIT RTX 3060 DUAL OC | 1320 | 1837 | 1875 | 15000 | 6 |
| MSI RTX 3060 Gaming X TRIO | 1320 | 1852 | 1875 | 15000 | 6 |
| EVGA RTX 3060 XC | 1320 | 1882 | 1875 | 15000 | 12 |
| ZOTAC RTX 3060 AMP Wh. | 1320 | 1867 | 1875 | 15000 | 10 |
ASUS ROG STRIX GeForce RTX 3060 Gaming OC
It has to be stated, ASUS really needs to do something about loin naming, holy moly. But yeah, meet the ASUS ROG STRIX GeForce RTX 3060 Gaming OC. The premium card comes with that NVIDIA GA106 GPU, this time the revision 300 GPU SKU; it a proper shader core count paired with 12GB GDDR6 graphics memory at 192-bit running at 15 Gbps. Muscled up with cooling, this card is equipped with a dual-bios design with performance and silent mode; the three fans start to spin and cool once the GPU warms up. The card has a single (6+2) pin power header. Armed with a BIOS that offers an 1882 MHz Turbo (1780 MHz = reference) in the performance BIOS setting and a cooler that you'll bow to. This card manages to produce 32 Dba noise levels at temperatures under 60 Degrees C in a Silent BIOS mode. These are incredibly silent acoustics when under load. The card is rated by us at 167 Watt power as a typical draw. Despite that we test the factory twaekd model, it still overclocks quite well bringing, and accumulated it makes this product a notch faster than founder edition specifications for the base model.
Watch Sony's PlayStation 5 'State Of Play' Right Here, Right Now – Forbes
If you're curious about what's next for the PlayStation 5 you should tune in to today's State Of Play.
We're not sure what to expect from the presentation, but it sounds like we'll get quite a bit of new info on upcoming PS5 games. Here's everything you need to know.
What Time?
Soon—the show starts at 2pm PT / 5pm ET so you only have just over half an hour to wait.
Where To Watch?
You can tune in on Sony's YouTube or Twitch channels or check out the embed here on this post:
Pretty handy, I know!
What To Expect
According to Sony, this State of Play will "deep dive" into 10 games coming to the PS4 and PS5. Some of these are undoubtedly cross-gen games that will release on both platforms and hopefully some are PS5 exclusives as well.
Some games we might see include:
Ratchet & Clank: A Rift Apart
Kena: Bridge Of Spirits
Solar Ash
Little Devil Inside
Horizon Forbidden West
Returnal
Maybe some new indie titles
Hopefully some brand new announcement of a big PS5 exclusive
Other possibilities include ports for GTA V, Death Stranding, and other PS4 titles.
Gimme that Bloodborne 2 announcement! (Not at all realistic, of course).
Some of these still need release dates, so cross your fingers for that.
Stay tuned. We'll make sure to cover all the best announcements here at Forbes Games, even if Sony doesn't love us anymore.
What do you hope to see in the State Of Play today?
Everything Sony Announced During Today's PlayStation State Of Play – Kotaku
Here's everything Sony announced, revealed, or otherwise discussed during today's PlayStation State of Play broadcast.
Crash Bandicoot 4: It's About Time is getting some PlayStation 5-exclusive upgrades when it launches on March 12. These include faster loading times, DualSense features like improved haptics and adaptive trigger usage, and enhanced 3D audio. Players will also be able to transfer saves from PlayStation 4 to PlayStation 5.
Returnal, the third-person roguelike from the makers of Resogun, is coming to PlayStation 5 on April 30. We saw some new, very action-y gameplay footage.
Knockout City was unveiled earlier this month with some great marketing. The game itself looks alright. It launches on May 21.
Sifu is the next game from Sloclap, the team behind Absolver. Its brawling action is planned to release on PlayStation 5 and PlayStation 4 sometime this year.
Solar Ash was first revealed in 2019, and it's finally coming out in 2021. By the creators of Hyper Light Drifter, it will be available for both PlayStation 4 and PlayStation 5.
We got our first gameplay footage of Five Nights at Freddy's: Security Breach. The new animatronics look great.
Oddworld: Soulstorm will be free on PlayStation 5 for PlayStation Plus subscribers when it launches April 6. I can't wait.
The highly anticipated Kena: Bridge of Spirits is finally coming out on August 21. It was previously scheduled for a March 2021 release.
Deathloop is still a thing. Here's some more gameplay ahead of its May 21 release. Dig that Bondian theme song.
Last and definitely not least, Final Fantasy VII Remake is getting a PlayStation 5 update called Intergrade. It features some new content, including the first playable appearance of Yuffie Kisaragi in these new games.
If you already own the remake on PlayStation 4, you get Intergrade for free, and it even includes save-data transfer from the previous game. You'll be able to hop back into one of last year's best adventures with improved graphics and loading times on June 10.