Help Wanted – Women In Renewable Energy. Saves The Planet And The Economy, Study Found – Forbes
This Labor Day when the world is swirling in a kaleidoscope of massive challenges, it looks like maybe a few of those challenges can be tackled at once by transitioning to be an economy that runs on renewable energy, versus primarily on fossil fuels.
The massive and unexpectedly devastating damage from Hurricane Ida this past week, even in New York City and inland New Jersey as well as in coastal Louisiana, is a stark reminder that we must mitigate and slow climate change.
To do so, we need to power the economy without adding carbon emissions, and many scientists say that also we need a "negative carbon" system, which removes the CO2 already in the atmosphere.
The good news for the economy is that, "the ongoing global energy transition offers the chance to create new jobs and reshape all aspects of how energy is produced and distributed," according to the International Renewable Energy Agency's (IRENA) report "Renewable Energy: A Gender Perspective" (2019), estimating that these jobs could grow to nearly 29 million in 2050.
How do President Biden's infrastructure bills address these needs? "This is very much a jobs plan," Anne Kelly, Vice President of Government Relations and Director, Business for Innovative Climate and Energy Policy at Ceres, a long-time sustainability-focused nonprofit, told me on my podcast Electric Ladies recently.
Biden's infrastructure plans, Kelly asserted, address "four interwoven challenges the administration is facing. The first is the post-pandemic reality, the second is the economic downturn, the third is the climate crisis, and the fourth is inequality and racial equity and the disproportionate environmental harm and other harms that have been placed on low-income communities and communities of color."
"The general theme is that the road to economic recovery is through climate action. And so, it is an infrastructure and a jobs plan, but there's no question it very intentionally addresses the climate crisis in a number of ways," she explained.
Help Wanted: Women in Renewable Energy
To drive this climate-friendly economic growth, the IRENA report states that we need more women in the renewable energy sectors – and a lot of them. Currently, women hold only 32% of renewable energy jobs, which is better than in fossil fuels where women hold only 22% of jobs. But women still hold far fewer of the science, technology, engineering and math (STEM) jobs.
We need the skills and innovative ideas that diverse talent brings, so "gender equality…is also essential to shaping positive social and economic development outcomes. Women provide valuable perspectives on key decisions, from investment priorities to project design," the IRENA report states.
Since the renewable energy sector needs talent across its supply chain – from utilities to engineering firms, from independent power producers to start-ups, in policymaking, regulators, academic institutions and at the community level – "The renewable energy industry needs to engage and retain more women – and promote them – to fill its growing needs for skills," the IRENA report insists.
Women's "leadership and contributions will be crucial to ensuring that the energy systems of the future address the needs of modern societies and leave no one behind," and therefore, it added, "Promoting gender equality and including gender considerations on all levels should be a high priority in both the public and private sectors."
The August 2021 Jobs Report showed growth in at least one key area
While many have been framing the August 2021 jobs report as disappointing based on expectations and the prior few months of very strong job growth, one sector key to economic growth and the clean economy is transportation, and that sector added jobs this month, at least modestly. Transportation and warehousing added 53,000 jobs in August 2021, and women hold more transportation jobs than they did a year ago. Women hold 25.1% of transportation jobs as of the August 2021, according to the Bureau of Labor Statistics (BLS), versus 24.5% of them in August 2020 (and more than 25% in July 2021).
Kelly said this sector is critical to addressing climate change: "we're going to have to go after the biggest sources of emissions. So, the (Biden infrastructure) plan really looks at transforming our transportation system, to electrifying our transportation system, to the purchase of electric vehicles, to the buildout of electric vehicle infrastructure in a major, major way, again it's got some of those job-generating elements."
Protecting us from losing power – and creating jobs
We know we'll have more extreme weather events and that they will become more and more severe. Think of Hurricane Ida on steroids. That means we must get that "smart grid" we've all been hearing about for years.
"Grid modernization…is essential if you're contributing to a clean energy economy, you have to upgrade the grid and make it responsive," Kelly insisted, adding "and all of this is job-generating."
We just need to make sure women get an equitable share of those jobs, so we don't have a repeat of the Texas ERCOT groupthink catastrophe. Our lives and livelihoods depend upon it.
Stagflation rocked the economy before. Is it coming back? – CNN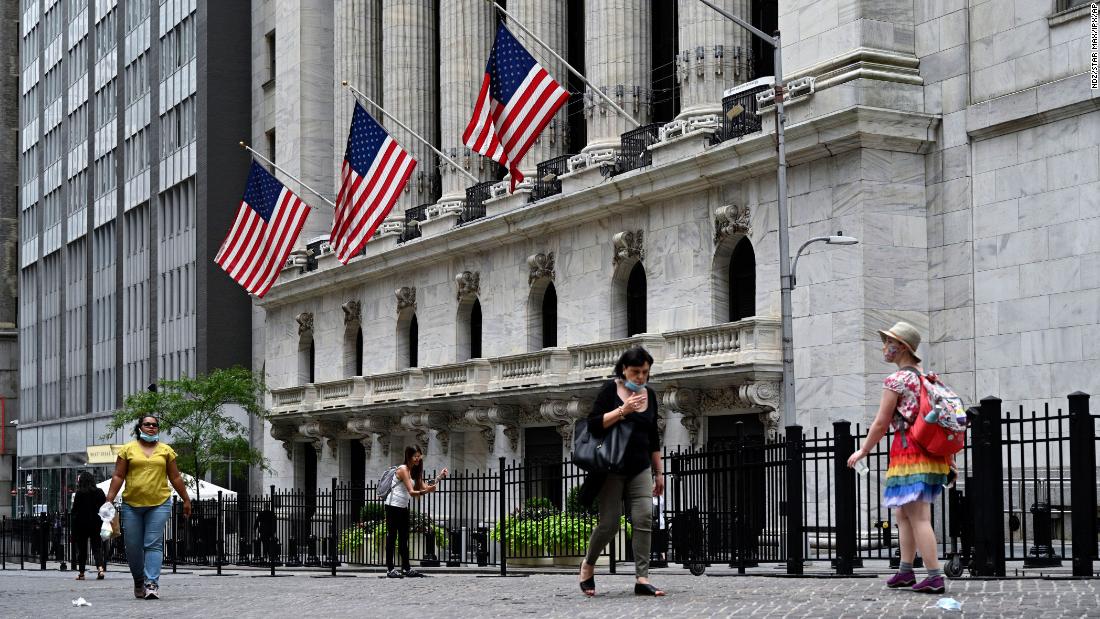 A version of this story first appeared in CNN Business' Before the Bell newsletter. Not a subscriber? You can sign up
right here
.
London (CNN Business)Mention the word "stagflation" to someone who followed the economy in the 1970s, and you can expect a strong reaction.
The phenomenon — which describes a period of high inflation and stagnant economic growth — was a nightmare for policymakers, leaving them with few options to rein in runaway prices without damaging the economy.
Federal Reserve Chair Paul Volcker
was ultimately forced to jack up interest rates to unprecedented levels to get inflation under control.
Now for the bad news: Decades later, talk of stagflation is back.
"One can make a case that 'mild' stagflation is already underway," the economist Nouriel Roubini wrote in a
recent column
. "Inflation is rising in the United States and many advanced economies, and growth is slowing sharply, despite massive monetary, credit, and fiscal stimulus."
Meanwhile, economists have been downgrading predictions for economic growth as they assess the impact of the highly contagious Delta variant of the coronavirus, which arrives as some stimulus measures start to wind down.
A prolonged period of stagflation is still not the baseline assumption among economists and Wall Street investors.
"Is that a permanent state, or is [it] more related to frictions around reopening? I think most of it is temporary," Neil Shearing, group chief economist at Capital Economics, told me.
But there is reason to pay close attention to what's unfolding. Although the Federal Reserve also maintains that recent inflation is transitory, and will pass once post-pandemic supply chain pressures and labor market disruptions ease, consumers are exhibiting growing anxiety.
Last week, the Federal Reserve Bank of New York released its latest survey of consumer expectations. It found that inflation expectations for the year ahead were at a record high, as were those at the three-year horizon. The data goes back to 2013.
Breaking it down: Economists closely watch inflation expectations because they could encourage workers to demand higher wages. If consumers are paid more, their purchasing power grows, and businesses may hike prices again — starting the entire cycle anew.
In a recent note to clients, Bank of America strategists Ohsung Kwon and Savita Subramanian also flagged concerns about energy prices. The 1973 oil crisis is widely seen as having exacerbated inflation problems.
"Although not our base case, stagflation has often been accompanied by oil shocks, and with crude prices recently jumping on supply chain disruptions, the risk of oil shocks has increased," Kwon and Subramanian said.
What happens next: The economy is showing some signs of resilience in the face of the Delta variant. But Kwon and Subramanian are advising clients to consider stocks with healthy dividends and shares of smaller companies that are more protected from inflation.
Those in charge of managing the economy, meanwhile, must weigh a complex matrix of factors. Officials at the Federal Reserve and the Bank of England, who will meet this week, have to decide whether to stick to their assessment that the problem is fleeting.
That would allow them to start pulling back crisis-era support in an orderly fashion. But as stagflation chatter grows, these decisions won't be easy.
"It's going to be an uncomfortable few months for central banks," Shearing said.
Catch up on the WSJ's blockbuster Facebook investigation
Last week, the Wall Street Journal released a
series of damning articles
about
Facebook
(FB)
, citing leaked internal documents that detail in remarkably frank terms how the company is not only well aware of its platforms' negative effects on users, but also how it has repeatedly failed to address them.
There's a lot to unpack from the Journal's investigation. But one thing that stands out is just how blatantly Facebook's problems are documented, using simple, observational prose not often found in internal communications at multinational corporations, my CNN Business colleague Allison Morrow writes.
On teen health:
In the Journal's report on Instagram's
impact on teens
, reporters cite a slide deck from Facebook's own researchers.
"We make body image issues worse for one in three teen girls," said one slide from 2019, according to the WSJ. Another reads: "Teens blame Instagram for increases in the rate of anxiety and depression … This reaction was unprompted and consistent across all groups."
Facebook's whitelist:
Facebook CEO Mark Zuckerberg has repeatedly, publicly maintained that Facebook is a neutral platform that puts its billions of users on equal footing. But in
another report
on the company's "whitelisting" practice — a policy that allows politicians, celebrities and other public figures to flout the platform's rules — the WSJ found a 2019 internal review that called Facebook out for misrepresenting itself in public.
"We are not actually doing what we say we do publicly," the review said, according to the paper. "Unlike the rest of our community, these people" — those on the whitelist — "can violate our standards without any consequences."
Getting angrier:
In 2018, Zuckerberg said a change in Facebook's algorithm was intended to improve interactions among friends and family and reduce the amount of professionally produced content in their feeds. But according to the documents published by the Journal,
staffers warned
the change was having the opposite effect.
A team of data scientists put it bluntly: "Misinformation, toxicity and violent content are inordinately prevalent among reshares," they said, according to the Journal's report.
Up next
Monday: NAHB Housing Market Index
Tuesday:
OECD economic outlook; US building permits and housing starts;
AutoZone
(AZO)
,
Adobe
(ADBE)
,
FedEx
(FDX)
and
Stitch Fix
(SFIX)
earnings
Wednesday: Bank of Japan and Federal Reserve policy decisions; US existing home sales; General Mills earnings
Thursday:
Bank of England policy decision;
Darden Restaurants
(DRI)
,
Rite Aid
(RAD)
,
Nike
(NKE)
and
Costco
(COST)
earnings; US initial jobless claims
Friday: New US home sales
Opinion | The Economic Mistake Democrats Are Finally Confronting – The New York Times
The words "supply side" are coded, in American politics, as right wing. They summon the ghost of Arthur Laffer, the history of Republicans promising that cutting taxes on the rich will encourage the nation's dispirited John Galts to work both smarter and harder, leading economies to boom and revenues to rise. This has made it vaguely disreputable to worry about the supply side of the economy. It's as if the nonsense of phrenology had made it sordid for doctors to treat disorders of the brain.
But look closely and you can see something new and overdue emerging in American politics: supply-side progressivism.
Many of progressivism's great dreams linger on the demand side of the ledger. Universal health care promises insurance people can use to buy health care. Food stamps give people money for food. Housing vouchers give them money for rent. Pell Grants give them money for college. Social Security gives them money for retirement. The child tax credit gives them money to care for their children. The minimum wage and the earned-income tax credit give workers more money. A universal basic income would give everyone more money.
This is the driving theory of most of the progressive policy agenda, most of the time: give people money or a money-like voucher they can use to buy something they need or even just want.
I don't mean, in any way, to diminish the importance of those policies. There is little Democrats could do that will help as many people right now as making the expanded child tax credit permanent. The rumblings that it may be allowed to expire, or restricted only to those who pay federal income taxes, are worrying. If Democrats do nothing else this session, they should delete the expiration date from the biggest anti-poverty legislation they've passed since the Great Society.
But progressives are often uninterested in the creation of the goods and services they want everyone to have. This creates a problem and misses an opportunity. The problem is that if you subsidize the cost of something that there isn't enough of, you'll raise prices or force rationing. You can see the poisoned fruit of those mistakes in higher education and housing. But it also misses the opportunity to pull the technologies of the future progressives want into the present they inhabit. That requires a movement that takes innovation as seriously as it takes affordability.
The first problem is explored in "Cost Disease Socialism," a new paper by the center-right Niskanen Center. "We are in an era of spiraling costs for core social goods — health care, housing, education, child care — which has made proposals to socialize those costs enormously compelling for many on the progressive left," Steven Teles, Samuel Hammond and Daniel Takash write.
There are sharp limits on supply in all of these sectors, either because regulators make it hard to increase supply (zoning laws make it difficult to build new housing), because training and hiring workers is expensive (adding classrooms means adding teachers and teacher aides, expanding health insurance requires more doctors and nurses), or both. "This can result in a vicious cycle in which subsidies for supply-constrained goods or services merely push up prices, necessitating greater subsidies, which then push up prices, ad infinitum," they write.
The paper is largely an appeal to Republicans to rethink their approach. Instead of focusing on "backward-looking deficit reduction strategies based on budgetary gimmicks or dead-on-arrival cuts to existing entitlements," the authors urge conservatives to tackle costs directly. Too often, Republican proposals to cut government spending are just shell games that shift costs onto individuals. The conservative enthusiasm for moving Medicare beneficiaries onto (often more expensive!) private plans "risks being little more than an accounting trick — a purely nominal change in 'who pays' that would do little to address the underlying sources of cost growth." Preach!
It would be nice to have the Republican Party the Niskanen Center imagines, one more focused on making a decent life affordable than on making vaccination optional, and I wish it well in its effort to white paper it into existence. For now, though, it's Democrats who are starting to take supply-side concerns seriously.
But before we get to that, I want to widen the definition of "supply," a dull word within which lurks thrilling possibilities. Supply-side progressivism shouldn't just fix the problems of the present, it should hasten the advances of the future. A problem of our era is there's too little utopian thinking, but one worthy exception is Aaron Bastani's "Fully Automated Luxury Communism," a leftist tract that puts the technologies in development right now — artificial intelligence, renewable energy, asteroid mining, plant and cell-based meats, and genetic editing — at the center of a post-work, post-scarcity vision.
"What if everything could change?" he asks. "What if, more than simply meeting the great challenges of our time — from climate change to inequality and aging — we went far beyond them, putting today's problems behind us like we did before with large predators and, for the most part, illness. What if, rather than having no sense of a different future, we decided history hadn't actually begun?"
Bastani's vision is bracing because it insists that those of us who believe in a radically fairer, gentler, more sustainable world have a stake in bringing forward the technologies that will make that world possible. That is a political question as much as a technological one: Those same technologies could become accelerators of inequality and want if they're not embedded in thoughtful policies and institutions. But what Bastani sees clearly is that the world we should want requires more than redistribution. It requires inventions and advances that render old problems obsolete and new possibilities manifold.
Climate change is the most pressing example. If the Biden administration gave every American a check to transition to renewables, the policy would fail, because we haven't built that much renewable capacity, to say nothing of the supply chain needed to deploy and maintain it. In a world where two-thirds of emissions are now coming from middle-income countries like China and India, the only way for humanity to both address climate change and poverty is to invent our way to clean energy that is plentiful and cheap, and then spend enough to rapidly deploy it.
Or take health care. House and Senate Democrats are squabbling over dueling policies to let Medicare set the prices it pays for drugs. Europeans and Canadians pay far less for the same prescription drugs that we buy, and so House Democrats want to let Medicare set the prices of at least some drugs at 120 percent what our peer countries pay. Senate Democrats, according to STAT, seem to be moving toward directing Medicare to set prices based on what the Veterans Health Administration pays, which is lower than before but still higher than abroad. (It's darkly comic that neither chamber has simply taken the position that Americans shouldn't pay more than Canadians for prescription drugs.)
The counterargument here is frustrating, but important. Yes, Americans overpay compared to peer countries for drugs. But truly curing, managing or preventing disease is of extraordinary value to humanity. Pfizer and Moderna will make billions from their coronavirus vaccines, but they've created trillions of dollars in economic value by unfreezing economies, to say nothing of the lives saved. It is true that European countries free-ride off the high cost we pay for drugs, because it's the U.S. market that drives innovation. But that doesn't mean we'd be better off paying their prices, if that meant new drug development slowed. We don't just want everyone to have health insurance in the future. We want them to be healthier; freed from diseases and pain that even the best health insurance today cannot cure or ease.
To this, progressives will note that pharmaceutical companies pump money into me-too drugs, spend gobsmacking amounts on advertising and administration, and make billions and billions in profits. And they're right. It's ludicrous to say that the pharmaceutical system we have now is oriented toward innovation. It's oriented toward profit — sometimes that intersects with innovation and sometimes it doesn't.
Too often, though, progressives let their argument drop there. They need to take the obvious next step: We should combine price controls with new policies to encourage drug development. That could include everything from more funding of basic research to huge prizes for discovering drugs that treat particular conditions to more public funding for drug trials. Years ago, Bernie Sanders had an interesting proposal for creating a system of pharmaceutical prizes in which companies could make millions or billions for inventing drugs that cured certain conditions, and those drugs would be immediately released without exclusive patent protections. Focusing on the need to make new drugs affordable while ignoring the need to make more of them exist is like trimming a garden you've stopped watering.
But this is a lesson progressives are, increasingly, learning. This is clearest on climate. Much of the spending in the Biden agenda is dedicated to increasing the supply of renewable energy and advanced batteries while building the supply of carbon-neutral transportation options. Democrats have realized that markets alone will not solve the climate crisis. And the same is true for much else on the progressive docket.
In a blog post, Jared Bernstein, a member of President Biden's Council of Economic Advisers, and Ernie Tedeschi, a senior policy economist for the council, framed the Biden agenda as "an antidote for inflationary pressure" because much of it expands the long-term supply of the economy.
"The transportation, rail, public transit, and port investments will reduce efficiency-killing frictions that keep people and goods from getting to markets as quickly as they should," they wrote. "The child and elder care investments will boost the labor supply of caretakers. The educational investments in pre-K and community college will eventually show up as higher productivity as a result of a better-educated work force."
A list like this could go on. It's not clear whether it'll be in the reconciliation bill, for instance, but Biden has proposed an expansive plan to increase housing supply in part by pushing local governments to end exclusionary zoning laws. And in California, that's exactly what's happening, as I wrote a few weeks back. A decade ago, progressives talked often of making housing affordable, but they didn't talk much about increasing housing supply. Now they do. That's progress.
I don't think these various policies have cohered into a policy faction, a way progressives think of themselves, at least not yet. But I'd like to see that happen. Political movements consider solutions where they know to look for problems. Progressives have long known to look for problems on the demand-side of the economy — to ask whether there are goods and services people need that they cannot afford. That will make today fairer, but to ensure tomorrow is radically better, we need to look for the choke points in the future we imagine, the places where the economy can't or won't supply the things we need. And then we need to fix them.
Swedish Economy Can Withstand Surging Energy Prices, Lofven Says – BNN
(Bloomberg) — The Swedish economy is robust enough to withstand the effects of the energy crunch that has gripped Europe and filtered into Scandinavia, Swedish Prime Minister Stefan Lofven said.
"We have a very, very strong economy," Lofven said in an interview in New York on Sunday. "If we have dramatically higher prices in the long term that will affect consumption, but I don't think we're there."
Sweden's debt to gross domestic product ratio has held below 40% even during the Covid-19 crisis and remains one of the lowest in Europe. That measure is set to fall to about 35%, Lofven said.
Natural gas prices in Europe have more than tripled this year, sparking fears of surging inflation across the continent and even prompting the U.K. government to hold emergency talks with power suppliers.
While natural gas isn't widely used in Sweden, it has spurred a jump in other energy costs, which have historically been among the lowest in the region. Consumer prices climbed more than expected in August, and Swedbank AB warned last week that inflation could reach the highest level since the global financial crisis in 2008.
One simple solution, according to Lofven, is to produce more power. The country normally has an annual surplus of about 25 terawatts that it sells to Europe — hydro power accounts for the biggest proportion of Sweden's electricity production, followed by nuclear. By 2040, it plans to double electricity output from current levels, he said.
The current crisis reinforces the need for the European Union to work out how best to produce more electricity in the longer term, according to Lofven, who said last month he was stepping down as prime minister.
"We need to watch out," he said. "The whole European Union needs to think this through."
©2021 Bloomberg L.P.