Human Brain Project researchers identify new marker of ALS outcome – Medical Xpress
A study by Human Brain Project (HBP) researchers has identified a new marker for predicting the clinical outcome of patients with Amyotrophic Lateral Sclerosis (ALS) through magnetoencephalography. This marker can be measured in the brain during its resting state and highlights the importance of brain flexibility for ALS patients. The study has been led by the Institut de Neurosciences des Systèmes in Marseille, in collaboration with Consiglio Nazionale delle Ricerche, Parthenope University of Naples and Institute of Diagnosis and Care Hermitage Capodimonte in Naples, and the Monash University in Melbourne. It was published online on Sept. 30, 2022, in Neurology.
ALS is a neurodegenerative disease of the brain and spinal cord that causes loss of muscle control. The ability of moving, speaking and, eventually, breathing is progressively impaired. There is no known cure but treatments to improve symptoms, including magnetic stimulation, are being tested.
"The behavior of the brain of an ALS patient is often hard to understand. The impairments can be caused by neuronal dysfunction of a small area of the brain that influences a much larger area, meaning you need whole brain scans to make predictions of the clinical outcome," explains Pierpaolo Sorrentino from the INS, the last author of the study. "Patients can struggle with motor tasks during the scans. This new method, instead, can be applied to the brain at rest, making it easier for the patients and more consistent."
The researchers collected magnetoencephalography data on 42 ALS patients and 42 healthy controls at the University Parthenope in Naples, whose MEG facilities have recently become part of EBRAINS—a digital research infrastructure developed as part of the HBP. The new study builds on previous work by the same group, which applied the methodology to Parkinson's disease.
"A healthy brain is a flexible one, capable of reconfiguring itself to respond to stimuli, triggering neuronal avalanches across different areas," adds Sorrentino. "Think of it as a goalkeeper waiting for a penalty kick. If you are fast enough, constantly moving rather than standing in the same place is a better strategy for being ready for most possible trajectories."
"The neuronal avalanches spread in patterns which we can monitor with whole-brain scans," explains Arianna Polverino of the Institute of Diagnosis and Care Hermitage Capodimonte, lead author of the study. "We call the collection of all unique patterns the 'functional repertoire,' a measurement of the flexibility of the brain."
The researchers focused on quantifying the functional repertoire of ALS brains, even when the patient is unprompted and the brain is in a resting state. "We found that a restriction of the functional repertoire corresponded to a more severe functional impairment. The more flexible the brain, the better the clinical outcome: the functional repertoire can be used as a reliable predictor of how the clinical outlook of a patient will likely evolve."
"It is often difficult to tell how a particular therapy is working—now we might have a strong marker to predict its outcome," says Sorrentino.
The next step, according to the scientists, is to use this non-invasive readout in a longitudinal study that tracks the evolution of the disease in a patient-specific way and adjust treatment accordingly. "The ultimate goal is to apply the predictive power of the functional repertoire in personalized medicine, perhaps extending the same approach to brain dynamics to other, large-scale applications," concludes Polverino.
---
---
Provided by
Human Brain Project
Citation:
Human Brain Project researchers identify new marker of ALS outcome (2022, September 30)
retrieved 30 September 2022
from https://medicalxpress.com/news/2022-09-human-brain-marker-als-outcome.html
This document is subject to copyright. Apart from any fair dealing for the purpose of private study or research, no
part may be reproduced without the written permission. The content is provided for information purposes only.
Cobourg resident first at Peterborough Regional Health Centre to receive new cancer treatment – kawarthaNOW.com
Two years ago, a doctor looked at a CT scan of Stuart Morley's kidney and saw a tumour. It was small — only 15 millimetres — but the Cobourg resident was over 80 years old, so major surgery wasn't the best option for him. Instead, he was a candidate for a minimally invasive interventional radiology procedure.
Stuart became the first-ever patient at Peterborough Regional Health Centre (PRHC) to receive life-changing cancer treatment by interventional radiology-radiofrequency ablation.
The amateur photographer and retired radiographer tells how PRHC's Dr. Kebby King put a metal probe through a small cut in his skin and, using a CT to guide her, found the tumour and dissolved it with radio waves.
Tweet this quote
"It was amazing," Stuart recalls. "I felt no pain and I was able to go home later that afternoon. Now I'm back taking photos and looking forward to travelling the world again. I worked in diagnostic imaging for 12 years. But back in the '60s, we could never have imagined the kinds of things doctors can do these days."
Interventional radiology is often described as 'the future of medicine'. It's used to diagnose and treat a wide range of emergency and chronic health conditions such as cancer and other illnesses, without the use of conventional surgery and the associated pain, complications, and longer hospital stays.
For patients in the Peterborough region, this means they can go home sooner, with less pain and less risk, all without having to travel far away.
VIDEO: Interventional Radiology is helping to revolutionize cancer care at PRHC

Interventional radiologist Dr. King describes that difference as "night and day."
It's remarkable how many life-threatening health conditions can be diagnosed and treated with this innovative specialty. It can be used to biopsy or treat tumours like Stuart's, put in ports for chemotherapy, or stop bleeding — in as little as an hour.
Dr. King and her colleagues already perform 6,000 interventional radiology procedures each year at PRHC, and the need for this kind of care is only growing in our region. PRHC's interventional radiology suites are 14 years old, however, and are too small to fit new advanced technology and the staff required to use it.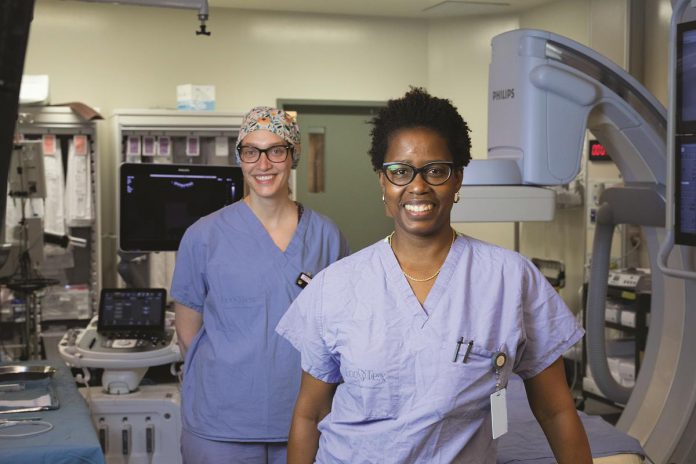 Tweet this quote
A $6 million investment in state-of-the-art equipment, upgraded suites, and an expanded recovery room is essential to meeting the need — so more patients with more complex conditions can be diagnosed and treated close to home.
Grateful for the great care he received and determined to help pave the way for new ground-breaking therapies to be offered at PRHC in the near future, Stuart donated to the PRHC Foundation for the first time. He wants to support the interventional radiology renovation and upgrade, and he knows that the government doesn't fund hospital equipment.
"Our regional hospital needs our help," Stuart says. "I'm asking everyone to join me in donating to support the interventional radiology facilities. Pictures can save lives. I know this because medical imaging saved mine. Now, our donations will help others. Thank you for helping to give people like me a brighter future."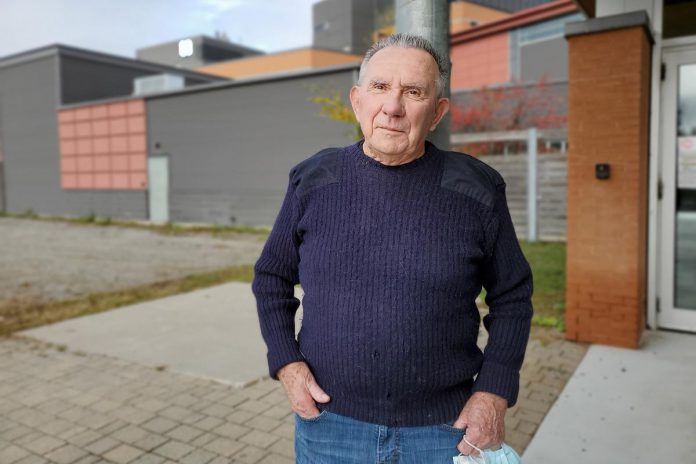 Not only do donations fund state-of-the-art technology not funded by the government, fuel innovation, and bring new services to our region, they also help PRHC attract and retain the best and brightest healthcare professionals. Doctors, nurses and staff want to do their jobs to the best of their abilities, and advanced equipment and innovative treatments support them in doing that.
This holiday season, donors and grateful patients like Stuart can help ensure PRHC's frontline workers have the tools they need to provide expert, compassionate care, and receive some good cheer. Tribute donations can include a message of thanks or best wishes to a hospital department or individual physician, nurse or staff member when made online at prhcfoundation.ca or by phone at 705-876-5000.
To donate, find out more about interventional radiology, or share your own PRHC grateful patient story, please visit prhcfoundation.ca or call 705-876-5000.
This branded editorial was published in partnership with the PRHC Foundation. If your organization or business is interested in a branded editorial, contact us.
Canadians should ensure kids get routine vaccines following COVID disruptions: doctors – National | Globalnews.ca – Global News
Preventable diseases like measles could follow trends seen elsewhere in the world and spread quickly in Canada due to a drop in routine vaccinations during the COVID-19 pandemic, say pediatricians who are urging parents to ensure their kids are fully immunized.
Provinces and territories log data on vaccinations provided in the community against infectious diseases like measles, diphtheria, polio and whooping cough, as well as vaccines against other illnesses administered in school immunization clinics.
Although much current data doesn't cover years beyond 2019, provinces with more recent figures are already seeing a dramatic decline in routine vaccinations.
Pediatricians are concerned about possible outbreaks of preventable diseases if too many children were underimmunized or not vaccinated at all while public health clinics focused on COVID-19 vaccines. Widespread school closures and vaccine disinformation that swayed some parents against immunization efforts complicated matters still further.
Recent data from Public Health Ontarioshows that for 12-year-olds, vaccination against the liver infection hepatitis B plummeted to about 17 per cent in the 2020 to 2021 school year, compared with 67 per cent in the school year ending in 2019.
For human papillomavirus, or HPV, which can cause cancer, the vaccination numbers were even lower, plunging to 0.8 per cent last year, compared with 58 per cent in 2019. For the meningococcal vaccine, which helps protect against four types of the bacteria that cause a rare disease, vaccinations fell to about 17 per cent from 80 per cent over the same time. Risks of the potentially deadly illness include meningitis, an infection of the lining of the brain and spinal cord.
1:40
Flu cases on the rise in Alberta
"The large decline in coverage in 2019-20 and 2020-21 illustrates the impact of the COVID-19 pandemic, as there was limited capacity to deliver school-based immunization programs," Public Health Ontario said in a statement.
It said data for uptake of vaccines aimed at protecting younger kids against measles, for example, is not available beyond 2019, and a report on later numbers is expected to be released next spring.
Dr. Monika Naus,medical director of Immunization Programs and Vaccine Preventable Diseases Service at the BC Centre for Disease Control, said in-school vaccines, starting in Grade 6, were delayed, but work is underway to return to pre-pandemic levels.
Younger children missed appointments at doctors' offices while physicians were seeing patients virtually and public health clinics, which mostly administer routine vaccines for kids outside of the Lower Mainland region of the province, were busy with COVID-19 shots, Naus said.
3:24
Routine childhood vaccinations drop during pandemic
Dr. Sam Wong, director of medical affairs for the Canadian Paediatric Society, said disinformation and vaccine hesitancy during the pandemic, "combined with the failure of the public health system" to provide routine vaccines, mean certain populations could be left vulnerable to highly contagious diseases like measles, which spreads through coughing and sneezing.
Trending Now
Trending Now
"You could walk into a room an hour after someone's been in there and potentially get infected," he said.
"We're worried, as a group of health-care providers, that if you have lower rates of vaccinations that you're more likely to have localized outbreaks of vaccine-preventable illnesses such as measles or mumps and chickenpox," Wong said.
Wong said it's important for doctors and parents to discuss the importance of routine vaccinations that have been proven effective for decades, adding some people believe young kids' immune systems are not ready so they'd rather wait until they're older.
"But that's why you want to give the vaccine, because their immune system is not able to fight off infections," he said.
"Some parents don't want to even have discussions with me about it. But if there is an opening, I'm happy to talk about it," said Wong, who works in Yellowknife, Edmonton and Victoria.
The Public Health Agency of Canada said Canadian studies have found immunization coverage declined during the pandemic for the measles, mumps and rubella vaccine.
2:04
Toronto Public Health to resume in-school vaccination clinics in September
Quebec saw a 39 per cent drop in April 2020 compared with 2019, the agency said, with the greatest impact seen in children aged 18 months.
In Alberta, the agency said vaccination for those diseases declined by 10 per cent in April 2020 compared with the same month a year earlier. Coverage for Ontario children under two decreased by 1.7 per cent, it added.
"The Public Health Agency of Canada continues to work with provinces and territories on an ongoing basis to understand the impact of the pandemic on routine immunization coverage across Canada, and to improve the availability of high-quality data to inform immunization programs," it said in a statement.
It is currently in discussions with all jurisdictions on ways to monitor coverage of vaccines, similar to a surveillance system used for COVID-19 vaccines, the agency said.
Nova Scotia Health said its last report on childhood vaccines was completed three years ago, and numbers have fallen during the pandemic.
"Anecdotally, we know there was a drop in childhood vaccination, but we do not have the specific numbers available at this time," it said in a statement.
However, the school immunization program is aiming to help students catch up on vaccines that were missed early in the pandemic, mostly through doctors' offices, it said, adding that getting an appointment was a challenge for some families.
"We know that a substantial number of Nova Scotians do not have a family doctor. Public Health often works with local primary care clinics to provide vaccines to those who do not have a family doctor and some public health offices will offer clinics to this population."
Last week, the World Health Organization and the United States Centers for Disease Control and Prevention released a statement saying a record high of nearly 40 million children missed first and second doses of the measles vaccine in 2021 due to disruptions in immunization programs since the start of the pandemic.
The two groups said there were an estimated nine million measles cases and 128,000 related deaths worldwide in 2021, and 22 countries experienced large outbreaks.
Dr. Noni MacDonald, a professor of pediatrics and infectious diseases at Dalhousie University in Halifax, said a national registry that could quickly tell doctors which children have not been vaccinated is essential in Canada.
"I feel like I'm banging my head against a brick wall," she said of her efforts to call for that change.
"How can we do proper health-care planning when we don't have the data?"
Canada is an "outlier" that lags behind most European countries on the measles vaccine, she said, adding a coverage rate of 95 per cent is needed to create so-called herd immunity against the highly infectious disease.
Canada recently had 84 per cent uptake of the second dose of the measles vaccine. MacDonald said Australia, in comparison, had 94 per cent based on the most recent data from the WHO. She used the two countries as an example because they had a similar number of births _ 368,000 in Canada, and 300,000 in Australia in 2021.
"We are just not in the same league, and we should be embarrassed."
Flu shots are now free for everyone in Quebec due to overwhelmed hospital ERs
While the campaign for flu shots has already been underway in Quebec for several weeks, the provincial government announced on Friday that immunization will now be free of charge for any Quebecer over the age of six months.
Previously, only people who met certain criteria (babies, seniors, the chronically ill, etc) were able to get the influenza immunization free of charge, and the vaccination sites set up for COVID-19 were only handling free flu shots. Meanwhile, the general population in Quebec was previously only able to get vaccinated at pharmacies, for a fee.
The decision was made due to the critical state of hospital ERs in the province, particularly at children's hospitals in Montreal, where kids are being brought in by parents in larger numbers than usual due to rising rates of flu, COVID-19 and RSV infections.
"With the trio of viruses currently circulating, the influenza vaccine is now available free of charge to all Quebecers who wish to take advantage of it. It's one more tool to limit the pressure on our network."

—Quebec Health Minister Christian Dubé
To schedule an appointment for a flu shot and/or a COVID-19 shot, please visit the Clic Santé website.