iOS 14 includes a major Siri redesign with new translation features – The Verge
Apple unveiled its latest iOS 14 operating system during WWDC today, and Siri is getting a big update. Siri will pop up with a new, larger cartoonish icon that appears when you summon the digital assistant in iOS. The new circle now appears over the regular UI of iOS 14, and it can even can throw up widgets when you ask for the weather.
Siri also appears to include a new compact mode, and the assistant will now support sending audio messages. Apple is also adding improved translation support. As part of a new Translate app, Siri will help with translations that will even work completely offline. The new Translate app feels like a big competitor to Google's own Translate app, and it will also work in landscape mode on iPhones.
Apple is also updating its iPadOS 14 version of Siri. Results will appear in a compact screen in the bottom right-hand corner of an iPad screen. The new icon also hovers over the new iPadOS 14 user interface that includes widgets directly on the home screen.
Apple has been gradually improving Siri in recent years, with it supporting 20 times more facts than just three years ago. Apple revealed today that Siri also now serves 25 billion requests per month.
Developing… we're adding more to this post, but you can follow along with our WWDC 2020 live blog to get the news even faster.
Samsung's next major smartphone launch set for August 5 – CNBC
Samsung's "Galaxy Unpacked" will take place on August 5, 2020. The South Korean electronics giant is expected to unveil a new device in its Note series of smartphones.
Samsung Electronics
Samsung is set to reveal its next major smartphone on August 5 — and media reports say the latest version of its high-end Galaxy Note 20 smartphone could be unveiled.
The South Korean electronics giant usually unveils a new version of its Galaxy Note series of devices at its August "Galaxy Unpacked" event. This year's edition will be virtual due to the coronavirus pandemic.
The promotional video featured the tip of a stylus — known as the S Pen, which comes with Samsung's Galaxy Note phones.
This appears to back up a number of leaks that suggest the next device will be the Galaxy Note 20 which will come in several versions.
A report by SamMobile earlier this year also said that another foldable smartphone could be unveiled called the Galaxy Z Fold 2. That would be the successor to the Galaxy Fold Samsung released last year that had serious technical problems when it launched.
It's a tough time for smartphone makers launching phones due to the ongoing coronavirus pandemic which has forced countries around the world to lock down, and caused massive economic damage.
Worldwide smartphone shipments decreased 11.7% year over year, in the first quarter of 2020, their largest yearly decline, according to IDC. The market research firm expects shipments to fall 11.9% this year.
Samsung saw shipments plunge 18.9% year-on-year in the March quarter, IDC said.
Samsung's Galaxy Note 20 event will take place on August 5 – The Next Web
Samsung today sent out 'invites' for its next Galaxy Unpacked event, when the company is expected to launch the Galaxy Note 20. Indeed, the company teases such in a short video posted with the announcement:
[embedded content]
As previously rumored, the event will take place on August 5, with the livestream beginning at 10 am ET. Samsung itself doesn't explicitly say much about what to expect, other than confirming it will "explore our latest Galaxy Devices ecosystem."
That said, the Note 20 is a given; the company appeared to have accidentally leaked the Note 20 Ultra(or Plus) last week, showing off a phone with a similar rose gold finish to that shown in the video above.
The device is expected to include similar specs to the Galaxy S20, including a 120Hz display, a Snapdragon 865, 8/12GB of RAM, and 128/256/512GB of storage. The Ultra/Plus model is expected to come with a 108MP primary sensor, like the Galaxy S20 before it.
You can tune in to the livestream on Samsung.com come the day of the event.
For more gear, gadget, and hardware news and reviews, follow Plugged on
Twitter and
Flipboard.

Published July 8, 2020 — 01:05 UTC
When does Lillia arrive on League's live servers? – Dot Esports
One of League of Legends' newest champions, Lillia, the Bashful Bloom, is set to arrive on live servers alongside the teased "big" summer event, Spirit Blossom.
Riot's champion design team has been hard at work; the developer released five champions in 2019 and said six new champions would be arriving in 2020. The first arrival of this year was Sett, the Boss, who made his debut in January.
Riot's now getting ready to release two champions, and one of them is Lillia. She's coming to live servers as early as Patch 10.15, on July 22. The date also marks the start of the Spirit Blossom event, which will come with cool thematic skins.
Lillia is the first dedicated jungler release since 2017 that likes to keep her distance from her enemies. Riot describes her as a shy fawn, and she has a spell-kit that suits her nature. Most of her spells are long-ranged abilities, and her ultimate sends her enemies to sleep.
When does Lillia release?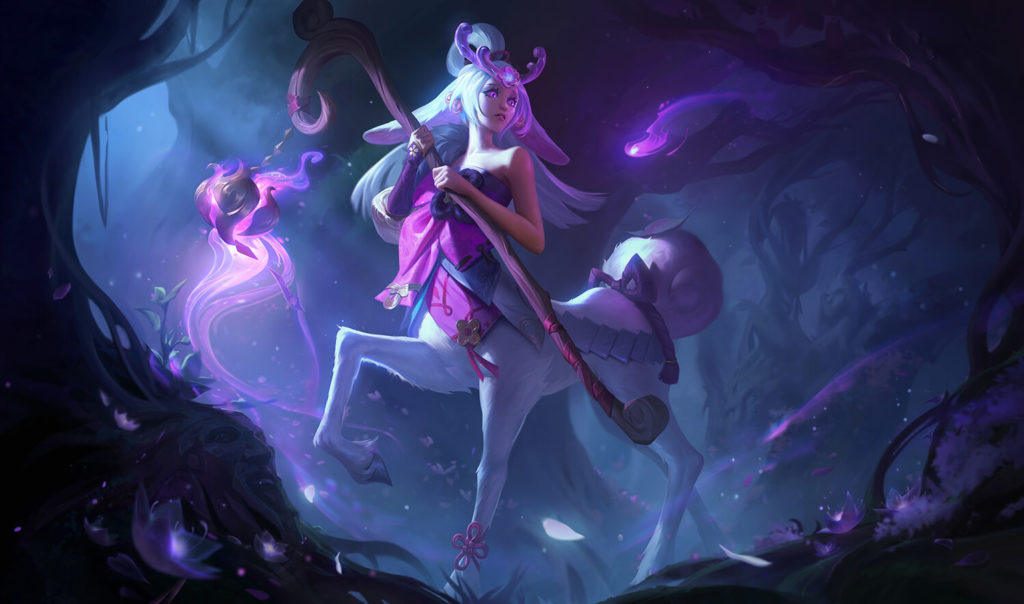 Lillia is expected to release as a part of League's Patch 10.15, which is scheduled to hit the Rift on Wednesday, July 22.
As with every patch, Riot's also planning to introduce some tweaks to existing champions to spice up the gameplay. Ahri and Udyr will be getting a VFX update, making their spells and auto attacks look more updated.
Considering there is still time before the patch releases, Riot can choose to implement more changes, so keeping an eye on PBE is a must if you're looking to continue your road to Challenger rank on release day.