iPhone 12 preorders now live, but Apple's doing things differently this time. Here's how to buy – CNET
iPhone 12 preorders are open to everyone. Well, at least for two models. You can buy the iPhone 12 and iPhone Pro now, though not everyone will get them at the same time. Even just a few hours after preorders began on Friday morning, the iPhone 12 Pro delivery date estimates slipped into November with free shipping, or a few days earlier if you pay for faster shipping.
The iPhone 12 is still marked for delivery on launch day, Friday, Oct. 23, which is also when those first two models hit stores. But if you want the iPhone 12 Mini or iPhone 12 Pro Max, you'll have to wait until Nov. 6 to place an order, and until Nov. 13 for them to actually ship.
The other big change for 2020 is pricing: All four carriers are selling two iPhones for $30 less than if you buy a SIM-free model from Apple. With so many models (here's how to tell them all apart) and staggered sale dates, this is certainly Apple's most confusing iPhone launch yet.
Each new iPhone has 5G connectivity, a first for Apple, an OLED display and camera improvements, especially the iPhone 12 Pro and Pro Max.
Read more: The new iPad Air is arriving Oct. 23
We lay out everything you need to know about buying an iPhone 12, including the full pricing options across carriers, models and configurations. And if you're switching to a new iPhone 12, make sure you go through our checklist on your current iPhone.
iPhone 12 pricing: All four new models
| | 64GB | 128GB | 256GB | 512GB |
| --- | --- | --- | --- | --- |
| iPhone 12 Mini (Carrier model) | $699 | $749 | $849 | N/A |
| iPhone 12 Mini (SIM-free from Apple) | $729 | $779 | $879 | N/A |
| iPhone 12 (Carrier model) | $799 | $849 | $949 | N/A |
| iPhone 12 (SIM-free from Apple) | $829 | $879 | $979 | N/A |
| iPhone 12 Pro | N/A | $999 | $1,099 | $1,299 |
| iPhone 12 Pro Max | N/A | $1,099 | $1,199 | $1,399 |
When can I buy the iPhone 12?
This year, Apple is staggering the release of all the iPhone 12 models. That means the timing of preorders will be based on the model you want.
iPhone 12 and iPhone 12 Pro: Preorders are now available. They opened Friday, Oct. 16 at 5 a.m. PT (8 a.m. ET). Availability and sale date is Oct. 23, though shipping time for the iPhone 12 Pro is slipping to late October or early November.
iPhone 12 Mini and iPhone 12 Pro Max: Preorders begin Friday, Nov. 6 (no time announced yet). Availability and sale date on Nov. 13.
Unless otherwise noted below, all US carriers and retailers will begin preorders and deliveries at the same time.
What are my iPhone 12 color options?
iPhone 12 Mini: Black, red, white, green, blue
iPhone 12: Black, red, white, green, blue
iPhone 12 Pro: Gold, silver, graphite, blue
iPhone 12 Pro Max: Gold, silver, graphite, blue
How much does the iPhone 12 cost?
iPhone 12 Mini
The iPhone 12 Mini is the smallest of the lot, with a 5.4-inch display. It's also the least expensive model.
64GB: $699
128GB: $749
256GB: $849
Order (starting Nov. 6) from Apple | AT&T | Verizon | T-Mobile | Xfinity Mobile | Walmart | Target | Best Buy
iPhone 12
The iPhone 12 has a 6.1-inch screen and two rear-facing cameras and is available in a handful of bright and fun colors.
64GB: $799
128GB: $849
256GB: $949
Order from Apple | AT&T | Verizon | T-Mobile | Xfinity Mobile | Walmart | Target | Best Buy
iPhone 12 Pro
The iPhone 12 Pro also has a screen size of 6.1 inches, but it has a stainless-steel housing, three rear-facing cameras and a lidar sensor for improved AR functions.
128GB: $999
256GB: $1,099
512GB: $1,199
Order from Apple | AT&T | Verizon | T-Mobile | Xfinity Mobile | Walmart | Target | Best Buy
iPhone 12 Pro Max
The iPhone 12 Pro Max has a 6.7-inch screen, the largest ever in an iPhone. Like the smaller version, the Pro Max also has three rear-facing cameras, and a lidar sensor for improved AR.
128GB: $1,099
256GB: $1,199
512GB: $1,399
Order (starting Nov. 6) from Apple | AT&T | Verizon | T-Mobile | Xfinity Mobile | Walmart | Target | Best Buy
Buy from Apple in just a few taps
Naturally, you can buy directly from Apple. Pro tip: Use the Apple Store app on your iPhone to speed up the process. You can pick out your exact model, go through the approval process with your carrier for the upgrade and even sign up for Apple Card or agree to the iPhone Upgrade Program terms. It's a smooth experience all around.
Wireless carriers
Buying the new iPhone through a wireless carrier can have the added benefit of deals and promotions, but often the deals require you to switch carriers or add lines to your account.
AT&T
New or existing AT&T customers can get a free iPhone 12 by trading in an iPhone 8 or newer, and sign up for one of AT&T's new unlimited plans.
Verizon Wireless
Verizon announced it was expanding its 5G network nationwide, and alongside that running a promotion for the iPhone 12 that includes a free phone with the trade-in of "select" phones and signing up for a "select" unlimited plan when you switch to the carrier. Existing customers can sign up to pay $15 a month under the same promotion.
T-Mobile
T-Mobile is running several different promotions for the iPhone 12 launch. For example, you can get two iPhone 12 Pros with two lines of service on an unlimited 5G plan for $100 a month with a qualifying trade-in. Adding a line to your account and trading in an eligible phone can get you up to $850 off an iPhone 12. If you've been with T-Mobile or Sprint for five years or longer, you can get $200 off a new iPhone when you trade in your current iPhone.
Xfinity Mobile
New customers who port their number over to Xfinity Mobile will get $250 off an Apple device, while existing customers will get a $250 prepaid debit card.
Retailers
Sometimes big-box retailers like Best Buy or Walmart offer the best deals and promotions. If nothing else, they serve as a backup plan if you're looking for launch day availability.
Walmart
You can save up to $130 on the iPhone 12 when you preorder from Walmart. It appears the discount only applies to purchases made with a qualifying device payment plan.
Target
Target's website has placeholders for the iPhone 12 and iPhone 12 Pro lines, with an availability date of Oct. 23 for the iPhone 12 and iPhone 12 Pro. Currently, there are no promotions listed on the site.
Best Buy
Best Buy is effectively mirroring AT&T's offer: Get the iPhone 12 for free with "qualified activation and trade-in with AT&T for new and existing customers," or the Pro with the same basic stipulations for $6.67 per month over 30 months.
We will continue to update this post as more carriers and retailers announce their plans.
The Moon Is Getting Cell Service – Futurism
Zero Bars
NASA wants any human presence on the Moon to have a great cell signal, so it's investing in a lunar 4G network.
The Space Agency gave Nokia's Bell Labs a $14.1 million in grant money to build out the Moon's telecom infrastructure, Business Insider reports. With the goal of having a network up and running by 2030, the goal is to get a network in place that could help any sort of outpost on the Moon manage life off-world.
Roaming
NASA wants anyone on a Moon base to be able to use the network to navigate their area — sort of like how we look up directions — as well as stream video messages and remotely steer rovers and other space robots, Business Insider reports.
"This mission will validate the future of other operational deployments and the potential for human habitation on the moon," Bell Labs tweeted last week.
This mission will validate the future of other operational deployments and the potential for human habitation on the moon. (6/6)

Learn more about the "Tipping Point" project here: https://t.co/M372GpU09q

— Bell Labs (@BellLabs) October 15, 2020
Moon Base Operational
The planned 4G network is just one of several investments NASA made recently with the goal of setting up a long-term base of operations on the Moon and, eventually, beyond.
"Together, NASA and industry are building up an array of mission-ready capabilities to support a sustainable presence on the Moon and future human missions to Mars," NASA administrator Jim Bridenstine said in a press release.
READ MORE: NASA gave Nokia $14.1 million to build a 4G network on the moon [Business Insider]
More on Moon exploration: Scientists: Astronauts Could Build Moon Base Using Human Urine
iPhone 12 Pro Max Has Smaller 3,687 mAh Battery According to Regulatory Filing
Apple's new iPhone 12 Pro Max is equipped with a 3,687 mAh battery, which is around 7% less capacity than the 3,969 mAh battery in the iPhone 11 Pro Max, according to a regulatory filing published by TENAA, the Chinese equivalent of the FCC.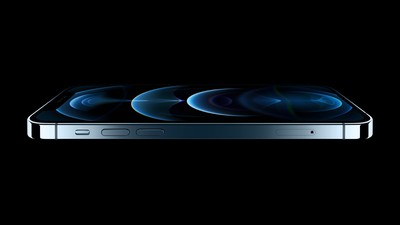 The regulatory filing, spotted by MacRumors, also lists the iPhone 12 Pro Max with 6GB of RAM as seen in benchmark results last week.
Apple has filed many products with TENAA over the years, and the listings have proven to be accurate on multiple occasions. Last year, for example, accurate battery capacities and RAM in the iPhone 11, iPhone 11 Pro, and iPhone 11 Pro Max appeared in the database a few days prior to those devices launching. A rumor also suggested that the iPhone 12 Pro Max would have a 3,687 mAh battery earlier this year.
Despite having a smaller battery, Apple's tech specs indicate that the iPhone 12 Pro Max has the same battery life as the iPhone 11 Pro Max, with both devices providing up to 20 hours of video playback and up to 80 hours of audio playback.
Apple never discloses battery capacities or RAM in iPhones, but teardowns of the new devices should confirm these details in the coming days.
Source:- MacRumors
The Best iPhone 12 Cases & iPhone 12 Pro Cases, From OtterBox To Casetify – Forbes
[Update 10/20: 15:21 iPhone 12 cases are now available for pre-order.]
With the first round of iPhone 12 and iPhone 12 Pro pre-orders coming this Friday, you might be feeling a little anxious that you don't yet have a case to wrap around your shiny new Apple device.
Despite the fact that the iPhone 12 sports some of the most durable glass ever used in an iPhone display, the fact remains that the back of the iPhone 12 Pro is still normal iPhone glass, and the stainless steel that adorns the sides is just begging to get scratched or dented.
Making it even tougher is the fact that there are even more options than before. Not only do you have to choose between plastic, silicon, clear, and leather cases. Now there are MagSafe cases to think about!
Not to worry, I've got you covered, literally. Here are all the cases that are available for order or are coming soon to save your iPhone 12 from your slippery grip. Getting an iPhone 12 Pro instead? Not to worry, these cases will fit either phone.
---
Best iPhone 12 Cases With MagSafe
Let's start with the cases that everyone is talking about. With Apple's new MagSafe connector, they've created a whole new way to easily protect and customize your iPhone 12. Rather than twisting and bending your iPhone and the case to the breaking point, you simply pop the cases on and off using magnets embedded in the iPhone itself.
Apple Silicone Case with MagSafe
Of course, Apple is first out the gate with a new collection of MagSafe cases in a wide assortment of colors. I especially like the Kumquat paired with the new Pacific Blue iPhone 12 Pro. Apple's clean design aesthetic really shines in their cases. And in-hand, the soft-touch silicone just feels nicer than other cases. The micro-fiber interior keeps your iPhone safe from errant grit that might find its way into the case.
---
Otterbox Figura Series
Otterbox is the only official third-party MagSafe provider at the moment and they're making it count with their Figura series. These painterly cases are eye catching and remind me more of Impressionistic paintings than cases. They pop on and off just like Apple's MagSafe cases and offer the protection that Otterbox is known for.
The slim profile fits the iPhone 12 perfectly and feels great in hand. The buttons on Otterbox's cases are always just a little more prominent than the official cases, which makes them easy to find without looking. I also like that the raised edge of the case keeps your iPhone from falling flat on its screen.
---
Otterbox Aneu Series
If you're looking for something that's a little more standard, Otterbox has also launched their Aneu cases. Like the Figura, these are slim, MagSafe cases, but they come in single or two-tone colors. The edges are a little grippier for better handholds and the raised edge of the case protects the screen.
---
Otterbox Symmetry Series+
If you're looking for the ultimate protection in a MagSafe case, then you'll want to check out the Symmetry Series+ cases. These are rated to three times military drop standards and have long-wear antimicrobial coatings. The case itself is infused with a silver-based additive to inhibit microbial growth. It's more expensive than Otterbox's other offerings, but it's also going to keep you and your iPhone more protected.
---
Best Clear iPhone 12 Pro Cases
Especially if you've picked up one of the new colors, you might be hesitant to cover up your new iPhone 12. That's why these clear cases are perfect for adding drop protection (and maybe a bit more), while keeping your new device safe.
Casetify Ultra Impact
Made from 50% recycled materials, the Casetify Ultra Impact cases also have an antimicrobial coating to keep your iPhone 12 Pro germ free. The bigger bumpers on the Impact case will protect against drops of up to 9.8 feet. And like all of Casetify's products, it's fully customizable. If clear isn't your thing, There are hundreds of designs and customization options on the Casetify site.
---
Apple Clear Case with MagSafe
Apple's official clear case is a bit blingier than expected, with the MagSafe magnet that makes popping the case on and off prominently on display. Of course, clear magnets aren't a thing, so that's to be expected. But it makes for a bit of visual pop in what's usually one of the more staid case choices.
---
Otterbox Symmetry Series Clear
This easy to install one-piece case from Otterbox is completely clear, so your color of choice can shine through! While it doesn't have the antimicrobial protection of the Series+ cases, it still has the three-times military drop protection and is compatible with their full line of Alpha and Amplify glass protectors. It also comes in glittery and more opaque varieties if you want "clear, but with some style".
---
Nimble Disc Case
If you're looking for a clear case made from a truly unique material, then you'll want to check out these crystal-clear cases from Nimble. Nimble cases are made from post-consumer compact discs (which are mostly made out of polycarbonate). The plastic is treated so that it resist scratches and yellowing, making sure it looks just as clear in a year as it does when you pop it out of the (plastic free) packaging.
It also has a permanent antimicrobial treatment so that your iPhone stays germ-free. Nimble has done edge-test drops of up to 6-feet, so you can feel confident that your iPhone 12 is protected from drops. I especially like that in every package there's an e-waste recycling bag so that you can properly dispose of your old case (or earbuds or batteries). Doing so will get you 15% off your next Nimble purchase.
---
Best Traditional iPhone 12 Pro Cases
If you don't care about magnets and clear cases aren't your thing, don't worry. There are plenty of traditional cases out there for your new iPhone 12 and iPhone 12 Pro.
Totallee Thin Case
Totallee cases buck the over-engineering trend and do something that could be called, well, "under-engineered." Their Thin Case for the iPhone 12 Pro is .02 inches thick. It barely adds any bulk to the iPhone and yet it still protects the back glass and sides from drops and scratches. The raised lip around the camera keeps it protected as well. There's even a clear version if you want to get more minimalist.
---
Zagg Gear4 Holborn Slim
Made from recycled bottles, the Holborn Slim is a great case from Zagg. The bumper incorporates D3O – an industry-leading high impact absorption material used in helmets and other protective gear.
While it doesn't have the 20-foot drop protection of some other Zagg cases, it still has an impressive 10-foot drop protection. That's well beyond what many slim cases provide. The Holborn case also uses their proprietary antimicrobial technology to keep your iPhone 12 Pro germ free.
---
Lifeproof Wake
Made from 85% recycled plastic the Lifeproof Wake is one of the most environmentally friendly ways to protect your device. Lifeproof works with commercial fishermen to reclaim fishing nets at the end of their useful life. Usually these nets end up in landfills or worse, cut loose and drifting on the bottom of the ocean.
Instead, Lifeproof breaks them down into black, dark green, or light green pellets, then turns that plastic into ultra-thin, drop-proof, one piece cases. There's a nice wave design on the back of the case that makes it easy to grip as well.
Even better, when you can send the case back to Lifeproof when you're done with it so that they can recycle it and use it in a new case (they're even working on accepting non-Wake cases). For every purchase or registered case, they'll donate a dollar to a water-focused charity.
---
Otter + Pop Symmetry
If you're looking for a case with a Pop Socket built right in, then you have to check out the Otter + Pop Symmetry series from Otterbox. They have the three-times drop protection of the other Symmetry cases (but not the antimicrobial coating). The only caveat is that you might need to remove the Pop Socket when you wirelessly charge your iPhone. If you're a plug-in charging type, then don't worry about it.
---
Oakywood Slim iPhone 12 Case
Oakywood hand polishes the Cherry or Walnut wood that makes up the back panel of their durable bumper cases. The raised bumper on the front of the case will protect the screen in the even that you drop your new iPhone 12 on its face.
The Oakywood cases look even better when paired with one of their wooden charging stations. They may not have the magnetic "snap" of Apple's MagSafe charger, but they look undeniably better than anything Cupertino is putting out.
---
Gray Morpheus Carbodyne
Gray's Morpheus Carbodyne case might be "traditional" but it is in no way "standard." The unique pattern on the back of the limited edition case stacks three sheets of carbon fiber in three different directions to create a unique, organic pattern.
The rest of the case is aggressively styled with hard edges and raised angles that are eye-catching and far different from other iPhone 12 cases. It's a case that's meant to be talked about as its eye-watering price tag attests to. If carbon fiber isn't your style, there are several titanium and aluminium backplates to choose from in a wide variety of colors.
---
Best Protective iPhone 12 Pro Cases
While clear is nice, you know that you need the most rugged protection available for your new iPhone 11. These cases are for you.
Lifeproof Fre
If you're looking for full waterproof protection, but want a recycled materials case, you're in luck. The Fre from Lifeproof offers full wraparound waterproof protection and uses 60% recycled plastic. Fre features an integrated screen cover and can keep water away from your iPhone 12 for up to an hour in 2 m. of water. It also has closed speaker grates and a sealed (but still accessible) bottom port so that you don't have to worry about gunking up your charging port. Lifeproof will donate $1 to a water-minded charity for every Fre purchased or registered.
---
Otterbox Defender Series Pro
Built like a tank and easy to grip, the Defender Series Pro is a chunky screenless case that's rigid and solid. It will protect your iPhone from drops (four-times military standard) and the port covers keep your charging port and mute switch free of debris. The soft microfiber backing will keep the glass back of your iPhone scratch-free as well. It comes with a belt holster that can double as a kickstand. As with most of Otterbox's cases, the Defender Series Pro has an antimicrobial coating and is infused with a silver-additive to inhibit microbial growth.
---
Razer Arctech Pro
All that extra RAM in the iPhone 12 Pro is perfect for next-gen mobile gaming (like the new mobile League of Legends title). Or maybe you took my advice and got a Razer Kishi controller. Either way, turning your iPhone into a gaming machine means one thing—heat. Add a case to a hot iPhone and that can mean disaster. That's why I'm thrilled that Razer has released a new series of Arctech cases for the iPhone 12 Pro.
Gone are the confusing variations of the previous cases, now Razer's thrown everything they've learned at a single next-gen case. The case has a layer of Thermapene inside that traps and directs heat out of the back of the case. That should keep your phone cool and protected. This year's Arctech Pro line is also antimicrobial to keep germs from growing on your iPhone.
I also noticed that the interior bumpers are slightly thinner right around the areas where the 5G antennas are on the iPhone 12. It's a nice touch and shows how dedicated Razer is to performance.
---
Mous Limitless
No, this isn't a case inspired by Bradley Cooper's character in a movie about mind-altering pharmaceuticals. The "Limitless" in this case refers to what you can do when you've wrapped your iPhone 12 in Mous's torture tested case. They've dropped them from 45 feet in the air, kicked them with ice skates, rolled them down rocky mountain trails, and more to prove the effectiveness of their AiroShock material.
The Limitless cases are as stylish as they are durable, with multiple leather, wood, and fiber choices. They also have a line of magnetic accessories that's compatible with their line of cases. This is good, since the extra thickness of the case will interfere with MagSafe accessories like card wallets. What's nice is that if you travel often, there's a place built right into the case for extra SIM cards and a SIM removal tool.
---
Best Leather iPhone 12 Pro Cases
There's something about leather cases. They feel nicer in-hand, they look great, and the best ones develop a patina over time that's completely unique to the user. Usually Apple has a leather case available right away, in fact there was a peek-a-boo folio-style case seen during the keynote, but it hasn't materialized yet. In the meantime, you've still got great leather options.
Nomad Rugged Leather Case
Nomad makes some of the best cases on the market today. The natural, vegetable-tanned Horween leather of the Rugged Leather case for the iPhone 12 Pro is a perfect example. It combines beautiful vegetable-tanned Horween leather with a rubber shock-absorbing bumper that can withstand up to a 10-foot drop. The leather of the case will age as you use it, darkening and developing the telltale scratches and imperfections of good leather.
There are also two lanyard attachment points on the bottom of the case in case you're the type that likes to use a wrist strap with their iPhone. The colors available are also available in Apple Watch straps. So if you'd like your iPhone and Apple Watch to match, you can make that magic happen.
---
Mujjo Leather Case
I'm a fan of the Mujjo leather case for one distinct reason, they're one of the only ones out there that comes in blue. I love the the new Pacific Blue colorway for the iPhone 12 Pro but hate to cover it up with black or brown leather. The dark blue leather of the Mujjo case isn't just a perfect match, it'll develop a rugged patina over time. This is a full leather case, including the sides, so you don't have any ugly polycarbonate bumpers maring the design.
Mujjo's cases also come in brown, black, and a lovely hunter green. If you're looking for a place to stick your cards, they have a wallet case available that'll let you stash a couple of cards on the back.
---
Pipetto Magnetic Leather Case
Pipetto added magnets to their leather cases before Apple decided magnets were cool. Their slim, form-fitting leather cases come with a special metal plate in the case that interacts with the bundled magnetic mount. What's neat is that, while most magnetic cases interfere with charging, Pipetto has engineered a solution to maintain Qi charging compatibility.
I especially like that the buttons are anodized metal rather than the cheap plastic nubs you get on most cases. While the cases don't work like the MagSafe cases do, I like that you get Pipetto's entire magnetic mounting solution in one shot rather than having to buy additional accessories (or wait for them to be manufactured in the first place).
---
Best iPhone 12 Pro Wallet Cases
The MagSafe Leather Wallet attachment highlighted the fact that there are plenty of folks out there that just aren't interested in stuffing multiple things into their pockets every time they go out. And while a magnetic wallet sleeve is nice, we can do even better.
Nomad Rugged Leather Folio
The Nomad Rugged Folio is nearly the same as the Rugged Leather Case above, except in this case there's an added cover that can hold up to six cards and some cash. The Rugged Leather Folio will also develop a patina over time and can absorb major falls and shocks. The only difference is that you might want to invest in a glass protector to make sure the cards don't end up scratching your screen.
---
Pad & Quill Bella Fino Wallet Case
Each Pad & Quill Bella Fino Wallet case is handmade using a single piece of American full-grain leather. They're stitched with parathread and have a lay-flat cover that can hold 5-7 cards and cash. You can also add an optional elastic cord in several different colors to secure the folio (or not, they easily detach via a hook system).
The case is fully wireless charging compatible. The leather is guaranteed free from defects by Pad & Quill for 25 years. Which at first seems like overkill, but as long as your next iPhone isn't larger than the case, you can easily remove the snap-in iPhone case and attach one to fit your next-gen iPhone. This is one folio case that you'll be able to keep for a while.
---
Spigen iPhone 12 Slim Armor Wallet
The Spigen Slim Armor Wallet is a stealthy entry in the "wallet case" category. Rather than looking like an old school checkbook, this case looks like a sleek polycarbonate case. Slide the hidden door open and you can store two cards.
Without the cards loaded, the Slim Armor Wallet is still wireless charging compatible. I'm impressed with how thin Spigen managed to keep the case. Especially since even Apple's own MagSafe card wallet is more obtrusive. If the wallet model isn't for you, then make sure you check out one of the multitude of iPhone 12 cases Spigen has to offer—everything from super thin, to clear, there's even a case that you can attach to a bike mount.
---
Best iPhone 12 Minimalist Cases
Alter Ego
Because every list needs a serious "WTF?" entry. Looking more like a prop from a science fiction movie or an anime, the Alter Ego cases from Gray are nothing like traditional cases. They're more like titanium or aluminum sculptures that just happen to fit around your iPhone 12 Pro.
With anodized coatings and handcrafted details, these are truly unique pieces. Each "case" is part of a limited batch and they have the high price tag to prove it. If you're interested be prepared to spend $1,399 or more and wait until early next year when production is complete.
---
Toast Wood Cover
If wrapping your iPhone in a metal framework that costs more than the iPhone 12 itself doesn't interest you, but you're still not keen on getting a regular case, then check out Toast. Toast was the "case" of choice for my iPhone 11 Pro Max and I plan on applying one of their real wood covers to my iPhone 12 Pro once it arrives. They're easy to use, make your iPhone look great, don't interfere with heat dissipation or wireless charging, and are the slimmest way available to protect your device.
Toast's founder told me that he created Toast to provide "cases for people who don't want cases" and this definitely fits the bill. With Toast my phone is protected, but isn't any bulkier. The only issue is that Toast is a one-time solution. Taking it off your phone destroys the applique (but leaves no residue on your iPhone). If you're the type that changes cases often, you'll need to look elsewhere.
---
15:21 Cork Cases
15:21 cases are ultra-minimalistic, a pleasure to hold in hand, and one of my favorite cases in this roundup. It pops on and off easily, has a super slim profile, and feels great in-hand (even if the cork does catch a bit on pants pockets). The wraparound case protects the edges of your iPhone but leaves the screen completely unencumbered.
If you've ever tried to swipe in from the edge of your iPhone only to be blocked by the edge of a bulky case, you'll understand why this is a good thing. Made in Stockholm using environmentally-friendly materials and production practices, they're available for pre-order now.