John Robson: When did the media join Kamala Harris's campaign team? – National Post
Article content continued
So the weird thing about the VP slot is you have to be so dispensable you can spend four or eight years attending funerals, and so indispensable you can step into the Oval Office on a moment's notice depending whose funeral you attend. And given Biden's health, NBC's glowing "Kamala Harris' real significance may only be seen four years from now" might be too pessimistic.
Someone described Harris as perfectly suited to be VP, which strikes me as damning with faint praise
Or optimistic. But the point isn't whether I want her as president, or that she savaged Biden during the primaries and the Times made this vicious disunity a virtue, calling it "her more energetic style." It's that after months of teasing us over which woman of colour Biden would pick, the press erupted into applause rather than analysis when he picked this one.
On Aug. 11 NBC crowed "Biden's choice of a Black woman for VP is historic. It could also help him win." The next day it assured me she "creates a conundrum" for Trump's campaign: "Harris was difficult to pin down ideologically in the Democratic presidential primary, which hurt her candidacy and ultimately forced an early exit from the race. But it now makes her a more complicated target of attacks from Trump …" Slippery and unpopular? Heck no. You go, girl.
There is much to analyze about Harris. Some is unquestionably positive: Her competence, energy and intelligence mean anyone, including me, would be happier seeing Biden win knowing she's Plan B. But there are also issues journalists need to confront, from her radicalism to her evasiveness. As well, while Trump's affairs have been scrutinized, what about Harris's affair with married 31-years-older California power broker Willie Brown, which her Wikipedia entry conspicuously omits? And how can the press discuss whether an unreflective embrace of identity politics tends to alienate voters while enthusiastically engaged in one?
Will the Democrats win the election? Quite possibly. Will Kamala Harris become the first African-American, Asian-American, female president? Quite possibly. Will she do a decent job? Quite possibly. Will she be dangerously radical? Quite possibly. Should the press be part of her campaign? Certainly not.
Feeling Overwhelmed and Depressed? Could be Too Much Social Media – Net Newsledger
UNIVERSITY PARK, Pa. – LIVING – Can't stop checking social media for the latest COVID-19 health information? You might want to take a break, according to researchers at Penn State and Jinan University who discovered that excessive use of social media for COVID-19 health information is related to both depression and secondary trauma.
"We found that social media use was rewarding up to a point, as it provided informational, emotional and peer support related to COVID-19 health topics," said Bu Zhong, associate professor of journalism, Penn State. "However, excessive use of social media led to mental health issues. The results imply that taking a social media break may promote well-being during the pandemic, which is crucial to mitigating mental health harm inflicted by the pandemic."
The study, which published online on August 15, 2020 in the journal Computers in Human Behavior, included 320 participants living in urban districts of Wuhan, China. In February 2020, the team gave the participants an online survey that investigated how they accessed and shared health information with family members, friends and colleagues on social media, specifically WeChat, China's most popular social media mobile app.
The team used an instrument created to measure Facebook addiction to assess participants' use of WeChat. Using a 5-point Likert-type scale, ranging from strongly disagree to strongly agree, the survey assessed participants' views of WeChat in providing them with informational, emotional and peer support. The survey also assessed participants' health behavior changes as a result of using social media.
Statements related to informational support included, "I use WeChat to gain information about how to manage the coronavirus epidemic," and "If I have a question or need help related to the coronavirus epidemic, I can usually find the answers on WeChat." Statements related to emotional support included, "My stress levels go down while I'm engaging with others on WeChat," and "The health information on WeChat helps me alleviate feelings of loneliness." Statements related to peer support included, "I use WeChat to share practical advice and suggestions about managing the coronavirus epidemic," and "I have used some of the information I learned from WeChat friends as part of my management strategies for coping with the coronavirus epidemic."
The survey also investigated participants' health behavior changes related to the use of WeChat, asking them to rate statements such as, "The health information on WeChat has changed many of my health behaviors, such as but not limited to wearing face masks, using sanitizer, or washing hands."
To assess depression, the researchers used a 21-item Depression Anxiety Stress Scale in which participants rated statements such as, "I couldn't seem to experience any positive feeling at all," and "I felt that life was meaningless."
According to Zhong, secondary trauma refers to the behaviors and emotions resulting from knowledge about a traumatizing event experienced by a significant other. Using the Secondary Trauma Stress Scale, the researchers asked respondents to rate statements such as, "My heart started pounding when I thought about the coronavirus epidemic," and "I had disturbing dreams about the coronavirus epidemic."
"We found that the Wuhan residents obtained tremendous informational and peer support but slightly less emotional support when they accessed and shared health information about COVID-on WeChat," said Zhong. "The participants also reported a series of health behavior changes, such as increased hand washing and use of face masks.
More than half of the respondents reported some level of depression, with nearly 20% of them suffering moderate or severe depression. Among the respondents who reported secondary trauma, the majority reported a low (80%) level of trauma, while fewer reported moderate (13%) and high (7%) levels of trauma. None of the participants reported having any depressive or traumatic disorders before the survey was conducted.
"Our results show that social media usage was related to both depression and secondary trauma during the early part of the COVID-19 outbreak in Wuhan," said Zhong. "The findings suggest that taking a social media break from time to time may help to improve people's mental well-being during the COVID-19 pandemic."
Presidential debate: How the world's media reacted – BBC News
US voters have endured the first of three presidential debates between President Donald Trump and Joe Biden.
The event has also prompted a huge reaction from world audiences who tuned in for the chaotic event.
Newspapers and commentators around the world have criticised the tone and tactics of the debate.
As The Times in the UK wrote, "The clearest loser from the first presidential debate between Donald Trump and Joe Biden was America."
UK
The paper went further, saying the event "was not a debate in any meaningful sense" but rather "an ill-tempered and at times incomprehensible squabble between two angry septuagenarians who palpably loathe each other".
The Guardian described it as a "national humiliation".
"The rest of the world – and future historians – will presumably look at it and weep," the paper wrote, adding that Mr Biden was the only man who looked "remotely presidential" on the stage and saying that if Mr Trump was re-elected in November, "this dark, horrifying, unwatchable fever dream will surely be the first line of America's obituary."
The Financial Times highlighted how the president had stoked lies about voter fraud and urged his supporters to carefully watch polling stations. "'Dog-whistling' is the politico-speak for such language, but it implies subtlety. Mr Trump was blatant," it wrote.
The paper also noted that snap polls after the event said Mr Biden had come out on top. "But no one with a care for American democracy can have switched off feeling anything but queasy."
France
"Chaotic, childish, gruelling" – that's how French newspaper Libération described Tuesday's debate. Le Monde agreed, calling it a "terrible storm", and saying that the president had sought to "push his opponent off his hinges" with constant interruptions and by mocking his answers.
Le Figaro said Mr Biden had "systematically refused to play his opponent's game". While Mr Trump tried to directly confront his challenger, pointing at him and addressing him directly, the Democratic candidate spoke more to viewers and looked directly into the camera.
"Trump voters are unlikely to have had any doubts about their candidate, despite an unconvincing performance. Those of Biden, on the other hand, had confirmation that the Democrat was able to measure up to his formidable opponent, and even put him on the defensive," the paper wrote.
Germany
Der Spiegel's analysis of the debate is headlined "A TV duel like a car accident".
In a piece titled "Part fist-fight, part play", Süddeutsche Zeitung wrote: "Both Trump and Biden could go home satisfied because as far as the theatrical performance is concerned, both did their job properly. Donald Trump played Donald Trump, Joe Biden played Joe Biden, and fans should have liked it."
Die Welt said the debate had revealed very little about policy. "Most importantly, it showed that America has a president whose behaviour stands out and who lacks self-control – but that's not exactly news," it wrote.
Mr Biden in contrast was not an exciting candidate but "at least someone with common sense and a stable personality" who would "bring something like normalcy back to the White House".
Italy
"Never had American politics sunk so low," La Repubblica's US correspondent wrote, describing the debate as "Chaotic, rowdy, and based on mutual contempt".
Il Corriere della Sera meanwhile said President Trump's refusal to condemn white supremacy was "a message for Black America".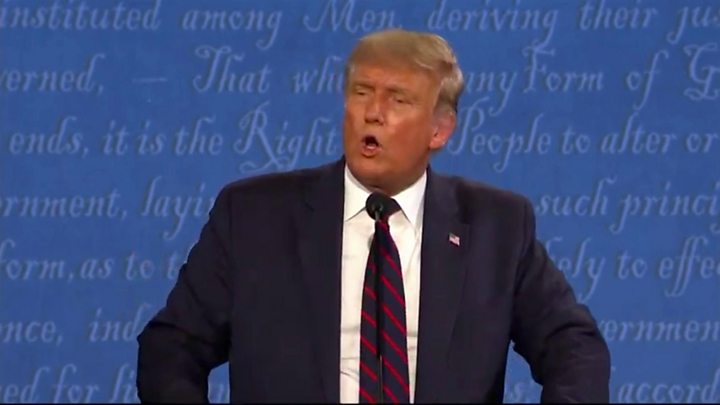 Russia
One broadcaster described it as a "one and a half-hour exchange of insults", while another said there was "no constructive dialogue".
"The rivals kept interrupting each other and instead of a balanced discussion they chose the path of mutual insults," pro-Kremlin NTV television said.
Mr Biden's description of President Trump as "Putin's puppy" also generated comments on Russian social media. One Twitter user said: "Two old men are figuring out which of them is more worthy to become the president of the United States, but without Putin, you can't boost your rating."
China
Chinese official media sites broadly ignored the US debate although some wrote about how both candidates had used China to attack their opponent.
The state-run Global Times called it "the most chaotic presidential debate ever" and noted that Mr Trump had taken "aim at China by blaming [it] for the raging Covid-19 epidemic and US economic woes".
Editor-in-chief Hu Xijin wrote on Twitter that the debate reflected "division, anxiety of US society and the accelerating loss of advantages of the US political system".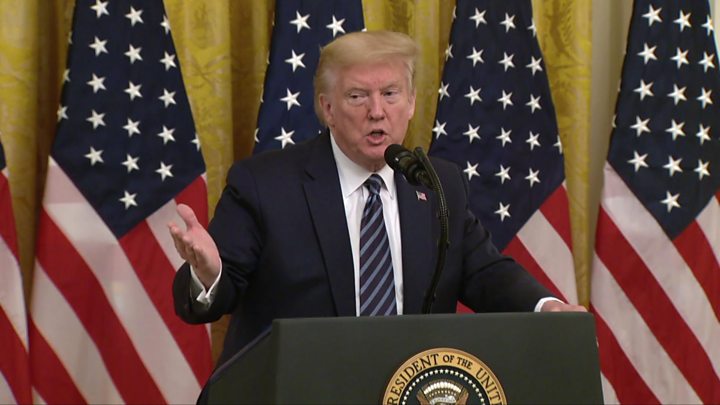 India
Hindi-language news channel AajTak accused both candidates of "mud-slinging", while broadcaster Times Now said the debate was "marred with personal jibes and political barbs".
But the strongest commentary came from The Times of India, the country's largest-selling English-language newspaper, which compared the debate to "mud-wrestling".
"The US embarrassed itself before the world for 100 minutes," it wrote.
BBC Monitoring contributed to this report.
Stingray Business and Space Factory Media Announce Strategic Partnership – GlobeNewswire
MONTREAL, Sept. 30, 2020 (GLOBE NEWSWIRE) — Stingray (TSX: RAY. A; RAY. B), a leading music, media and technology company, today announced that its commercial services division, Stingray Business has signed an agreement with California-based Space Factory Media to represent Stingray products and services for in-store music, digital experiences and AI-driven consumer insights for brands and businesses. Brands today expect more from media experiences, and this new partnership seeks to provide a deeper, cross-platform offering with meaningful connections to consumers. The deal also includes an exclusive option for Stingray to acquire Space Factory Media at a pre-determined purchase price.
With a team of experienced industry professionals, Space Factory will expand Stingray Business's reach globally and will deliver business planning, market development, strategic sales, and mergers & acquisitions support to activate Stingray's entry into the commercial background music and in-store media business in the United States. The deal also includes the representation of Chatter Research, a company Stingray acquired earlier this year, providing AI-driven customer insight solutions for instant, actionable data.
Existing and new clients alike will recognize the contextually relevant, premium products and services that drive higher loyalty and transactions. Businesses who seek comprehensive digital media solutions will be able to offer a unified brand experience to their customers through music, digital signage, mobile engagement, and customer data/insights.
"We strongly believe in the continued growth of our commercial music services and are thrilled to be working with Space Factory to allow brands to better connect with their consumers," said Eric Boyko, President, Co-founder and CEO of Stingray. "Our next phase of expansion in the United States solidifies our position as a global leading music provider for businesses while making way for innovative, data-driven solutions," he added.
"My partner Walt Tatum and I founded Space Factory with a vision to be a key part of reinventing the branded music media industry," said John Crooke, Co-Founder and Chief Media Officer for Space Factory. "We sought a partner who shared our commitment to bringing a multi-dimensional solution to enterprise brands inclusive of music, content, media, technology, mobile, and data/insights—all working together ubiquitously across the commercial and consumer space. It was clear that Stingray not only shared our vision but had built the integrated business and solutions to back it up. We couldn't be more excited about our strategic partnership and what we will accomplish together."
With more than 125,000 commercial locations around the world, Stingray Business is a dominant provider of licensed background music and digital display for businesses and amongst the leading global suppliers of background music and in-store media.
About Stingray
Montreal-based Stingray (TSX: RAY.A; RAY.B) is a leading music, media, and technology company with over 1,200 employees worldwide. Stingray is a premium provider of curated direct-to-consumer and B2B services, including audio television channels, 101 radio stations, SVOD content, 4K UHD television channels, karaoke products, digital signage, in-store music, and music apps, which have been downloaded over 150 million times. Stingray reaches 400 million subscribers (or users) in 156 countries. For more information: www.stingray.com
About Space Factory
A Los Angeles based digital media collective offering a range of brand development, music, mobile engagement, and content marketing services for Enterprise Brands, Sports & Entertainment, and Digital Out-of-Home: www.spacefactorymedia.com
For more information, please contact:
Mathieu Péloquin
Senior Vice-President, Marketing and Communications
Stingray
1 514-664-1244, ext. 2362
mpeloquin@stingray.com
John Crooke
Co-Founder / Chief Media Officer
Space Factory Media
info@spacefactorymedia.com