Maybe Canada's economy can pull off that soft landing after all
Canada's economy faced a lot of headwinds in 2022, from nearly double-digit inflation that pushed up the prices of gas and food to aggressive interest rate hikes from the Bank of Canada.
Somehow, so far there has been no recession, and the economy has chugged through, even adding 150,000 jobs in January, about 10 times as many as expected.

The question now is whether those headwinds blow the economy off course in 2023, or if the storm passes?

James Orlando, a director and senior economist at TD Economics, earlier this month co-authored a report suggesting that there are already signs that inflation will cool down to a comfortable two to three per cent range by the end of the year.
This week, on Down to Business, he said that many of the early causes of inflation such as supply chain snarls and uncertainty in consumer demand have started to resolve. Consumer spending on services, such as dining out or a haircut, has resumed, he said.
But he acknowledges that there are still a lot of risks that inflation won't cool, in which case, interest rates may need to go higher still. Osborne talks about what kind of impact this might have given Canada's high levels of household debt and other changes that are reshaping the economy. As always the interview is edited for clarity and brevity.
As economy faces potential recession, Liberals to release 'tricky' budget Tuesday – Financial Post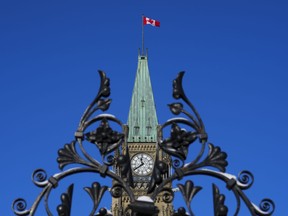 Article content
OTTAWA — The federal Liberals are set to unveil a budget on Tuesday intended to showcase their plans to keep Canada competitive amid the clean energy transition while supporting Canadians who are struggling with affordability.
Article content
Finance Minister Chrystia Freeland has promised to accomplish as much over the last few weeks, while also pledging to keep the budget fiscally restrained.
Article content
But that balancing act isn't expected to be easy. A slowing Canadian economy could weigh on government coffers.
"It's going to be very tricky for the federal government," said Randall Bartlett, a senior director of Canadian economics at Desjardins.
The Liberals are expected to invest considerably in Canada's clean energy transition, in an attempt to keep Canada competitive with the United States as it launches its own aggressive measures.
The Inflation Reduction Act, signed into law last August by U.S. President Joe Biden, invests nearly US$400 billion in everything from critical minerals to battery manufacturing, electric vehicles and clean electricity, including hydrogen.
Article content
Ottawa has also promised big bucks for health care. It recently signed 10-year funding agreements with provinces on health-care transfers, and that spending is expected to be accounted for in the budget.
And with the cost of living still a top economic issue for many Canadians, the Liberals have signalled the budget will include new affordability measures.
"In the weeks to come, for those Canadians who feel the bite of rising prices the most acutely, for our most vulnerable friends and neighbours, our government will deliver additional, targeted inflation relief," Freeland said in Oshawa, Ont. on Monday.
But Bartlett said the federal government has to balance its big-ticket spending priorities with an uncertain economic outlook.
Article content
Many economists are forecasting that Canada could enter a recession this year as high interest rates weigh on the economy. Since March 2022, the Bank of Canada has aggressively raised interest rates to crack down on high inflation.
As global price pressures ease and interest rates dampen spending in the economy, inflation has been slowing. Canada's annual inflation rate has tumbled from 8.1 per cent in the summer to 5.2 per cent in February.
Even as inflation becomes less of a problem, though, a slowing economy means less government revenues to finance spending.
According to a report from Desjardins, new spending measures alone wouldn't necessarily put federal finances on an unsustainable path. But if significant new spending is paired with a worse-than-expected economic downturn, that could spell trouble for the federal government, the report says.
Article content
"Planning for an optimistic future and spending accordingly now could lead to very challenging circumstances going forward," Bartlett said.
The federal government also runs the risk of fuelling inflation with excessive spending, making the Bank of Canada's job of cooling inflation more challenging. Freeland has repeatedly said she doesn't plan on doing that, noting the federal government can't compensate all Canadians for the rise in prices.
Bartlett said the federal government so far has done a good job balancing the need to help low-income Canadians while avoiding adding fuel to the fire.
"My concern is this that (if) they continue to layer this on top of additional spending for other other initiatives … it's not only going to make potentially the Bank of Canada's job more challenging, but it's also going to just increase the size of the deficit at a time when the economic outlook is very uncertain," he said.
Article content
There is some ambiguity around how the government will approach tax policy in this year's budget.
Some policy experts have suggested that increasing tax revenues might be part of the solution when it comes to stabilizing federal finances. A shadow budget put together for the C.D. Howe Institute, an economic thinktank, recommended increasing the GST tax rate.
But Bartlett said raising taxes might be a tough sell for Canadians, especially because the federal government has had mixed results on some of its key areas of investment, such as its national housing strategy.
"If we continue to see increased spending, and that requires tax increases to to afford that spending, there's going to be … increased scrutiny by the public on whether or not we're getting the bang for the buck," Bartlett said.
Article content
On the political front, the Liberals also have to contend with New Democrat priorities as outlined in the party's supply-and-confidence agreement with the Liberals. It agreed to support the minority government in key votes until 2025 — including on federal budgets — in exchange for movement on shared priorities.
In the upcoming budget, NDP Leader Jagmeet Singh has said he wants to see the government extend the six-month boost to the GST rebate, introduced last fall, which temporarily doubled the amount people received.
Singh has also said he'd like to see federal funding for school lunches.
Per the parties' agreement, the Liberals have already agreed to create a federally funded and administered dental care program this year that would replace the dental benefit for children in low-income families that was rolled out in the fall.
The deal also commits the Liberals to passing legislation on a national pharmacare program by the end of 2023 — although there's been no sign of movement on that yet.
This report by The Canadian Press was first published March 26, 2023.
Property Sector Biggest Overhang for China Economy: Hong – Bloomberg
[unable to retrieve full-text content]
Property Sector Biggest Overhang for China Economy: Hong Bloomberg




Source link
Prices are High: Yet Inflation has dropped to 5.2%
The Inflation rate remains relatively high at 5.2% but it has declined reasonably since the interest rates began to rock and roll upwards.
Will the decision be made to raise rates further or drop them? I believe the rates will stay where they are or go up a further point. America will be increasing its rates in an effort to quell its own inflation, and our government will follow suit as usual. A Federal election may well be announced once the inflation rate in Canada has halved itself. Interest rates will be allowed to decline and the public will show their support for the Liberals in kind.
More importantly, why are prices still extremely high while inflation continues to drop? Greed and Shrinkflation of course. Any manufacturer knows the marketplace in Canada and the US has rebounded since mid-summer 2022. Supply chain problems aside, the decline of needed products that once were earmarked for North American Markets have been redirected to China and Indian needs. This is deliberate of course, allowing those manufacturers in Asian Markets to demand higher prices. Products within the retail sector have gone up in price or the price remains the same while the product has been reduced in size. After 2020-2021, most retailers did increase their prices and realized that our markets still were prepared to purchase what was needed, so they will retain their higher prices until forced to change their pricing structure in the near future.
Has this increase in slowing the economy work? North America's Economy has been booming since mid-summer 2022. Growth rates in the US show promise, and Canada's Economy has benefited from the boom to the south. America's President Biden continues to sell its America First purchasing policy putting Canada's Liberal Government into a fear fest spin. Trump's "make America great again has been followed by Biden's purchase American 1st". Federal Agencies must purchase American manufactured products and services 1st, before giving foreign firms a chance to bid. Canada's begun to apply taxes on various products in an effort to pay down their massive public debt. Beer and most forms of booze and other items that fall into the luxury tax sector are being targeted.
Have you noticed that most media outlets have refused to offer an attitude of clarity with regard to higher prices and inflation? Why are prices so high? Most so-called specialists claim various reasons why, while others insist grocers are not making loads of money, surviving on a 2-4% profit margin.
Would it not be nice to see a media broadcaster or journalist come out with something like this…
"The Public is being taken for a ride by basically everyone within the retail-manufacturing sectors"
"It's greed baby, with a side of massive profiteering".
Canadian and US Corporations are taking our funds to the bank, and we are letting them do so. The public continues to buy what they want on credit while complaining all the more. And did our government demand that essential items needed by the public be made locally, and not imported from some distant land? Words with no follow-up, propaganda with no real power behind them. Instead of going after the wayward profiteering firms, our governments are canceling funding programs for the businesses most damaged by the pandemic(restaurants and Mom & Pop Stores) and also pursuing some individuals that asked for CERB. Governments are and will continue to create new taxes and tax us, while they let the wealthy hide their fortunes in banking centers throughout the world. The government is so comfortable that it will pursue a policy of taxation that strikes at the most vulnerable, our elderly, who also have within their bank accounts @ 3.2 trillion Canadian and much more in America. The average Canadian Boomer is worth @$206,000 and the government and many corporations want some of that.
Like Premier Ford said last year…Ontario is back in business. So to the taxation hikes to come.
Why do our governments allow corporations to blind us with advertising propaganda while their hands are in our pockets, robbing us blind? The very basics of foodstuff, energy demands, and housing needs are pushing many towards a credit crisis never seen before. If the public fails, so do their public governments.
Steven Kaszab
Bradford, Ontario
skaszab@yahoo.ca