More real estate records set | 96.1 Renfrew Today – renfrewtoday.ca
The record pace of home sales and average prices set new records in Renfrew County Real Estate Board territory in September.
Residential sales activity totaled 198 units in September, a significant increase of 48.9% from September 2019, and a new sales record for the month.
The average price of homes sold in September 2020 was a record $330,768, higher by 34.5% from September last year and a new pricing record for the third straight month.
Active residential listings numbered 302 units at the end of September; this was a substantial decline of 51.8% from the end of September 2019. Overall inventory hovering at the lowest level in more than 30 years.
A combination of strong demand and low inventory has created an imbalance, driving the market firmly into seller's territory.
The dollar value of all home sales in September 2020 was $65.5 million, more than double the levels from a year earlier.
The Importance of Mortgage Loan Insurance
Mortgage Loan Insurance is meant to shield the borrower from default on the borrower's part, both straightforward and easy. However, the Canada Mortgage and Housing Corporation (CMHC) has built mortgage loan insurance to cover more than just banks. The CMHC needed homeowners to be better able to reach the housing market at an earlier time and better results. After all, more privately-owned housing means more employment, more market activity, more money invested, and so on. If there are more jobs and more investment, the economy will gain. In short, the risk to lenders has been eliminated, leaving them in a stronger position to offer lower interest rates and lower payments.
When the CMHC developed its Mortgage Loan Insurance (MLI) plan, it had a stipulation that if the borrower had less than 20% of the purchase price as a down payment, the insurance was necessary. Before introducing MLI, the Canadian Bank Act restricted federally controlled lending institutions from lending to those with less than 20% of loans. Banks will now fund up to 95 percent of the purchase price, given that MLI is purchased. The move meant that so many more people, who had previously given up on owning a house, now had hope.
MLI offers choices for those who already own a house for those who want to renovate, refinance, or move to another place. CMHC MLI's are portable from an existing home to a newly purchased one, often without paying the initial premium for a new home. Besides, self-employed individuals looking to fund the purchase of a new home are now in a position to do so without offering conventional forms of proof of income. And those new to Canada are eligible. Current homeowners who choose to integrate energy-efficient elements into their home (the NRCan Energy Assessment Rating must increase by at least five points) are entitled to an extended amortization period-without a surcharge and with a 10% insurance premium rebate. There are also more incentives for borrowers to buy a second home or income land.
Now that we know the value of MLI, how do we translate it into numbers? Ok, it depends on a few equations, for instance. Your lender will do it for you, but if you want an idea ahead of time, start measuring the Gross Debt Service (GDS). The GDS estimates the most expenses you can afford per month, particularly those related to running your house. The cumulative GDS need not be more than 32% of your gross household income to apply for an MLI. Next is your Total Debt Service (TDS) estimation, which calculates the most debt cost your payment can cover. The TDS should not be more than 40% of your total monthly household income. Use the online mortgage calculator to enter the details and your gross monthly income, along with other factors, and you will be presented with the maximum allowable mortgage you apply for.
The MLI premium rate will then be measured as a percentage of the overall loan, taking into account the down payment size. For example, if you need the lender to fund 80% of the property's cost, your fee would be 1 % of the total loan. If the purchase requires 95 percent of the lender's funding, the price would be 2.75 percent of the total amount of the loan. The lower the sum financed, the lower the insurance premium.
Also, the harder homeowners work to pay off their mortgage, the more equity they create in their house. The ability to buy earlier than was traditionally feasible (through the MLI), homeowners took the opportunity to go faster than even the lender had expected. As of 2009, the CMHC estimated that Canadian homeowners' equity status was, on average, 74 percent, while that of its American counterparts was 43 percent. The importance of the MLI is obvious now.
Tips to Get the Best Mortgage – Ontario Mortgage
There are more choices than going to your bank if you are finding an Ontario mortgage. Banks in Ontario, Canada, loan money more quickly than during the global economic collapse, but when you step off the highway, they will rarely give you the best price. Offices in individual high-rise buildings owned by central Canadian banks in downtown Toronto each have a vested interest in catching the Canadian loan market within their product offerings. Loan officers work for the bank, and they can only offer you limited services or solutions for mortgages. On the other hand, by buying your loan from several different forms of lenders in Ontario and elsewhere in Canada, a mortgage broker works with you and can help you find the best price with your mortgage needs.
When buying a home in Canada, having the right financing is essential because it will possibly be the single largest investment you make in your life. It makes much more sense to purchase a house than to rent one in Ontario as an investment, since there are no capital gains taxes on real estate in Ontario, Canada, unlike elsewhere in the United States.
There is access to bank mortgages from a Canadian mortgage broker who can always get better deals for you than if you approach a bank on your own. Besides, hundreds of other lending options are available to mortgage brokers in Ontario, including loans from Canadian finance firms, trust companies and private lenders. You will save time and money by not having to shop around on your own for your Ontario mortgage, and you only need to fill out one request. Then the mortgage agent or broker has lenders vying for your business. The best part is that you get professional advice that can save you thousands of dollars and that doesn't cost you anything. The mortgage agent is paid a fee if you choose the lender, so it costs you nothing to tap into their expertise.
A seasoned, licensed mortgage expert from Ontario knows how to negotiate the best deals and can clarify to you all your choices. Since over 25% of all Canadians live in Southern Ontario, it is necessary to draw on the local experience of an Ontario mortgage broker or agent as lenders in various parts of Canada and all have other requirements internationally. Although it is essential to get a low-interest rate, it is not the only consideration. The mortgage brokerage industry in Ontario, Canada, is governed by the Ontario Financial Services Commission or the FSCO. On all promotional materials and blogs, you can see a fair Ontario mortgage brokerage license number released. Taking into account fixed versus variable rates; payment options; terms or fees, a mortgage agent or broker can help you get the best package for your financial needs.
The Bank of Canada recently signaled a rise in mortgage rates, which in turn causes higher mortgage rates in Ontario. In Southern Ontario, the housing market was doing exceptionally well in 2018, and prices are again rising. Recent inflation worries may have been overshadowed, and the Bank of Canada's urge to increase interest rates is being balanced by the need to boost a rising but still fragile Canadian economy. Given the current interest rate levels in Canada, one solution for Ontario home buyers is to lock in lower rates for at least 90 days while shopping for their home to take advantage of the lowest Canadian mortgage rates available.
If you're a first-time buyer, self-employed or new to Canada, you'll have a much stricter time applying for a bank mortgage. Recent amendments to Ontario legislation have put constraints more stringent on mortgages, so it's best not to go alone, but to get the assistance of a local mortgage specialist. If you're shopping for a home, it's also worth being pre-qualified for a mortgage to guarantee the rate and know how much you can pay. From extended hours to house calls, you'll even get generous support for your Ontario mortgage from a central mortgage agent or broker.
RioCan CEO says real estate industry's norms have turned upside-down – OrilliaMatters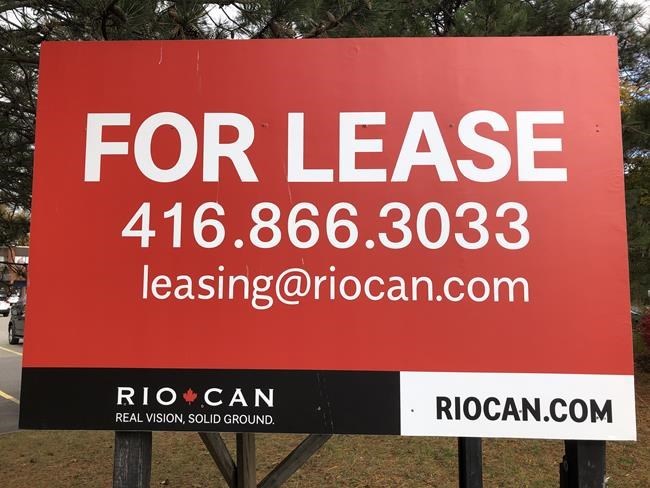 TORONTO — Demand for space in prime office towers and shopping malls has plunged because the pandemic suddenly turned them into places that customers and tenants "don't even want to go to," RioCan Real Estate Investment Trust's veteran chief executive said Tuesday.
"Unfortunately … everything that was accepted wisdom in the real estate business only eight months ago has been turned on its head, even in the face of record low interest rates and massive government spending," Edward Sonshine told analysts on a conference call.
Another formerly "bulletproof" segment of the industry — multi-unit residential rental properties — is also being questioned due to government freezes on rents and evictions, Sonshine said.
An exception to the gloom, Sonshine said, has been strong demand for new condo developments and single-family residences.
Sonshine said RioCan fared better during the third quarter than he expected it would and credited the work of RioCan management, led by Jonathan Gitlin, who becomes chief executive April 1. Sonshine, who announced on Oct. 21 that he'll retire as CEO in March after nearly three decades, will become chairman of the board.
Gitlin told analysts on RioCan's third-quarter conference call that rent collected from tenants, plus government subsidies, represented 93.4 per cent of billed rent for July, August and September and 91.9 per cent for October.
That compared with just 73 per cent in the months of April, May and June, as reported in July with RioCan's second-quarter results.
"While we'd clearly prefer to report 100 per cent collection, as we've been able to do during the first 26 years of our operation, we're pleased with the steady upward collection trajectory since April," Gitlin said.
RioCan had estimated early in the pandemic that its overall property occupancy rate could fall to as low as 94 per cent by the end of 2020, but it had improved to 96 per cent as of Sept. 30 and it's expected to be stable through to the end of the year.
"Happily, we're leasing space up almost as fast as the tenants disappear," Sonshine said.
But he said forecasts about coming trends are difficult to make without knowing how long new COVID shutdowns will be in effect. especially in the Greater Toronto Area and the Ottawa region — the biggest markets for RioCan.
"You know, there's only so long that tenants can go without revenue before they start wanting to talk to their landlord," Sonshine said.
RioCan said that as of the end of the quarter on Sept. 30, essentially all of its tenants were open and operating — compared with only 85 per cent as of July 28.
The real estate trust said it had $117.6 million of net income or 37 cents per unit for the three months ended Sept. 30, down from $177.6 million or 58 cents in the 2019 third quarter.
It said $14.4 million of the $60-million decline was due to pandemic-related provisions related to rent abatement and bad debts, while $48 million was due to higher net fair value losses.
Funds from operations, a key metric in real estate, declined to $128.8 million or 41 cents per unit from $142.8 million or 47 cents per unit.
All the key financial measures were an improvement from RioCan's second quarter ended June 30, when it posted a net loss of $350.8 million or $1.10 per unit and FFO dropped to 35 cents per unit.
In July, RioCan said it would divest from brick-and-mortar apparel retailers in favour of grocery stores, pharmacies and e-commerce.
But Sonshine said Thursday that RioCan has decided to hold onto its traditional retail properties, which include shopping malls and plazas, and look for better opportunities.
"It's a really slow market, in any event, because (I think) there's so much uncertainty about the future of retail," he said.
Revenue fell to $302.3 million from $353.9 million a year earlier.
This report by The Canadian Press was first published Oct. 29, 2020.
Companies in this story: (TSX:REI.UN)
David Paddon, The Canadian Press