Nintendo president apologizes for Joy-Con drift – Polygon
Nintendo president Shuntaro Furukawa addressed the company's ongoing problems with Joy-Con drift during a financial Q&A posted recently. Furukawa said the company apologizes for "any trouble caused to our customers," noting that Nintendo is "continuing to aim to improve" its products.
Of course, Nintendo is still facing a class-action lawsuit — filed in the United States in 2019 and updated later in the year — regarding the complaints about the controllers, something Furukawa noted in his statement, translated by Kotaku.
"Regarding the Joy-Con, we apologize for any trouble caused to our customers," Furukawa said in the statement. "We are continuing to aim to improve our products, but as the Joy-Con is the subject of a class-action lawsuit in the United States and this is still a pending issue, we would it like to refrain from responding about any specific actions."
The class-action lawsuit was filed against Nintendo of America in July 2019, citing claims of Joy-Con controllers malfunctioning. Nintendo began issuing free repairs for controllers afflicted with Joy-Con drift shortly after the lawsuit was filed.
In September, Nintendo released the Switch Lite, a smaller, handheld-only version of the original console. Notably, the Joy-Cons are built into the system — they can't be replaced or unattached. Just over a week after the Switch Lite was released, the new console was added to the class-action lawsuit.
---
<div class="c-shoppable c-shoppable–has-image" data-anthem-component="918721" data-cid="site/shoppable-1593584579_2552_218884" data-cdata=""anthem_component_id":918721,"title":"Nintendo Switch Pro Controller","chorus_asset_id":19829547,"url":"https://www.amazon.com/Nintendo-Switch-Pro-Controller/dp/B01NAWKYZ0/ref=as_li_ss_tl?ascsub&deals=150ce66c&handlerName=OctopusDealLandingStream&marketplaceId=ATVPDKIKX0DER&pf_rd_i=gb_main&pf_rd_m=ATVPDKIKX0DER&pf_rd_p=a7e1c818-e7bc-4318-ae47-1f5300505baf&pf_rd_r=S2SFX3WFXV468F1Q6TYR&pf_rd_s=slot-5&pf_rd_t=701&smid=ATVPDKIKX0DER&linkCode=sl2&tag=polygondeals-20&linkId=8b5fe1da27157dcffbd1e32637da1f25&language=en_US","retailer":"Amazon","price":"$69.99","description":"
"If you're positive that you'll be spending a majority of your time playing the Switch at home, connected to a television, then you should seriously consider investing in the Switch's Pro Controller." —Polygon's Nintendo Switch review
","entry_id":21072126,"image_url":"https://cdn.vox-cdn.com/thumbor/IhouzXx2wLusC-h9GA5sKba5_Lk=/1000×0/cdn.vox-cdn.com/uploads/chorus_asset/file/19829547/ply_nintendo_switch_pro_controller.jpg","anchor_id":"Nintendo_Switch_Pro_Controller-918721"">
Vox Media has affiliate partnerships. These do not influence editorial content, though Vox Media may earn commissions for products purchased via affiliate links. For more information, see our ethics policy.
Huawei Mate V might be on the way, folding inwards – GSMArena.com news – GSMArena.com
Huawei and Samsung have so far diverged on what the best design would be for a phone that can turn into a tablet through the magic of folding screens. While Samsung's Galaxy Fold folds inwards, Huawei's Mate X and Mate Xs both fold outwards.
While Samsung has been rumored to stick with its previous design for the upcoming Galaxy Z Fold 2, and improve upon the formula, Huawei may just give up on its unique path and actually join Samsung in the inward-folding realm for the next device.
This has been referred to in rumors as Mate X2, but Huawei has recently filed for a new trademark in the EU that hints at something different. The mark in question is Mate V, and that name implies a different design than the Mate X and Mate Xs.
A V might stand for 'folding like a book', hence, inwards. It's also interesting that back in April Huawei filed for a design patent proposing just such a departure from its former antics.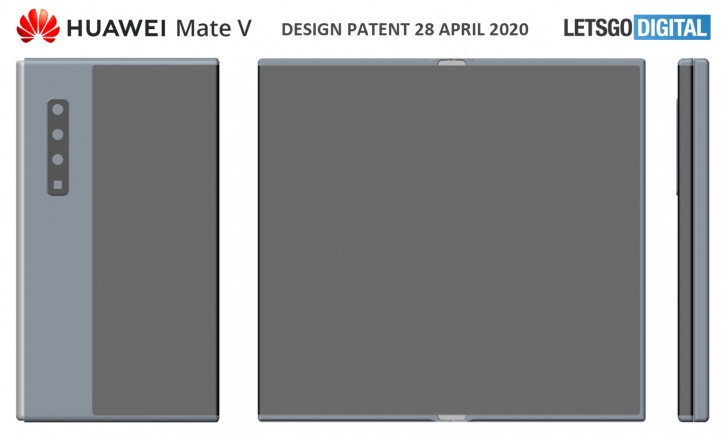 With the next Huawei foldable expected to become official around October, we should start seeing some leaks about it soon, so hang tight and we'll let you know which way it will go.
Via (in Dutch)
Pixel 5 renders based on leaks showcase hole-punch camera and rear fingerprint sensor – MobileSyrup
Three-dimensional CAD renders of the highly anticipated Pixel 5 have leaked online.
According to the renderings, the phone measures in at 44.6mm long, 70.4mm wide and 8mm thick or 9.5mm thick if you include the rear camera bump. This means that the Pixel 5 features slightly smaller dimensions than the iPhone 11.
EXCLUSIVE: Google Pixel 5 renders, dimensions and 4K video https://t.co/y65v3bQ03m#googlepixel #android #pixel5
Thanks to collaboration with @xleaks7

— Pigtou (@Pigtou_) July 6, 2020
If these renders are accurate, the design for this upcoming flagship is poised to be a bit odd in a few ways, but generally, the phone looks similar to the still-unannounced Pixel 4a. The front of the Pixel 5 sports a display with substantial bezels surrounding it. The screen also has a hole-punch camera, which means Google will be ditching the Motion Sense technology featured in the Pixel 4 series.
On the rear the handset features a square-shaped camera module similar to the Pixel 4 series, with the flash at the top and not the bottom. The device also sports a rear fingerprint sensor instead of an in-display scanner like other modern flagship Android smartphones.
Additionally, the handset features a USB Type-C port on the bottom with two speaker grills flanking it. It's likely the Pixel 5 will sport aluminum sides and a glass back, but it's unclear what material the phone is made of. Pigtou in collaboration with relatively unknown leaker David Kowalski shared the renders showcasing the front and the back of Google's still-unannounced next flagship smartphone.
Previous rumours suggest the Pixel 5 will feature a Snapdragon 765 chipset and a 5.78-inch OLED display with QHD resolution.
Similar to past years, Google is expected to launch the Pixel 5 in October. As with all leaks, I'd take this with a grain of salt and wait until Google officially unveils its flagship, especially given it's only a CAD render.
Image credit: Pigtou
Source: Pigtou, David Kowalski (@xleaks7)
Here's your first real-life look at the Samsung Galaxy Note 20, and it's gorgeous – Pocketnow
Samsung Galaxy Note 20 recently appeared on the official Samsung website – by mistake, apparently – and ever since, we've been drooling over how beautiful it looks. Well, we finally have more to feast our eyes upon. Tipster Jimmy Is Promo (@jimmyispromo) has shared a couple of live images of the Galaxy Note 20 (or a Galaxy Note 20 Ultra) in a glossy black finish, and it looks gorgeous.
The leaked images focus on the camera module, and it looks almost exactly the same as the one we saw in the leaked renders last week. There are two regular cameras and a rectangular periscope lens opening stacked vertically, while the second column has the LED flash and what appears to be an assembly of ToF camera and laser autofocus below it.
The rear panel appears to be made entirely out of glass that curves around the edges, and there is a metallic frame to keep it all together. The camera bump is huge and appears to have a slightly different surface texture a contrasting finish, much like what we saw on the iPhone 11 series. We also get to see the S Pen with a matching color scheme.