Not spooked by the pandemic, haunted houses find ways around COVID-19 – Red Deer Advocate
TORONTO — Psychotic clowns. Axe murderers. Bedrooms possessed by poltergeists.
Many of the frights greeting visitors of horror attractions this Halloween will be familiar, but the thrill-creators behind them say one terrifying experience is squarely off-limits: the terrors of COVID-19.
Before the pandemic shook our lives, haunted houses sometimes dipped into the fears of contagion, splashing themed rooms with signs of a viral outbreak, hazmat suits and contamination warnings.
But with those experiences uncomfortably close to reality this year, horror masters like Shawn Lippert say reminding people of the virus is one line they're not willing to cross.
"We use the analogy: Treat 'COVID' like the F-word in church," said the owner of Scarehouse, an industrial-sized indoor haunted house in Windsor, Ont.
"It's too real and so close to home. It's almost like when you tell a joke and they say, 'Too soon.'"
Lippert said that's one of several rules he's introduced at his haunt in order to keep people feeling safe and heath authorities satisfied. Ticketholders arrive at staggered times, and everyone is required to wear a mask.
Creepy objects that once brushed against visitors have been removed, and the giant airbags that evoke the feeling of claustrophobia have been stowed away to decrease the potential spread of germs.
Lippert describes those as small changes in a challenging year.
Many haunt operators were jittery about moving ahead with their usual Halloween festivities, considering health authorities could shut down the houses without much notice if the region experiences a surge in local cases. That would leave a brutal dent in their investments.
"If we can keep our doors open for the full run at this point, that would be a success for us," Lippert said.
Several Toronto haunted houses decided the risk was too high. Casa Loma's Legends of Horror and 28-year pillar Screemers at Exhibition Place were among the operators who decided to sit this year out, even before the city introduced tighter restrictions that would've closed them anyway.
Some organizers have used the pandemic to imagine ways to scare the living daylights out of people from a distance — often from the safety of their own vehicles.
The Pickering Museum Village put a historic spin on its spooky experience with a drive-thru tour that urged visitors to creep their cars along a roadway checkered with old houses, as ghost stories played on their FM radios.
Others have gone online with virtual group parties for kids or, for those of legal drinking age, what's being sold as Canada's first Virtual Halloween Cocktail Crawl.
Mentalist Jaymes White decided to embrace the digital world this year for his annual Halloween seances. His new Zoom experience, called Evoke, invites a small circle of friends to channel a spirit through video chat. He admits the idea goes against the traditions of a séance, where people usually hold hands around a table, but he's confident the spirits will still be ready to unsettle his guests.
"They don't care that we have a pandemic," he said.
Paul Magnuson, one of the leaders at Calgary artist collective Big Art, will take over a downtown self-serve car wash for three days for a drive-in of the dead later this month.
Scare Wash is described as a trip to hell and back that begins when a wash attendee's seemingly normal car rinse spirals into a nightmare.
Magnuson came up with the idea when it was clear plans for his usual neighbourhood spectacle wouldn't be possible in the pandemic.
"Last year I turned my garage into a Dexter killer room where we did performances all night. In previous years I've had an interactive cemetery," he said.
"I'm not going to let COVID take this holiday."
Robby Lavoie felt a similar conviction for keeping Terror Train on track this year at the National Ontario Railroad Museum and Heritage Centre. The annual Halloween event draws thousands of people to Capreol, Ont., part of Greater Sudbury, and provides the museum with a healthy dose of revenue.
Lavoie said he drew inspiration from videos he saw of a Japanese zombie drive-in haunted house over the summer. He knew there was a way to tone down the gore and make the idea a bit more Canadian.
After speaking with museum organizers, Lavoie secured the board's approval for "Inferno 6077," an immersive drive-in horror experience inside the garage of the fire hall.
Pulling from his own knowledge of working in live theatre and movies, Lavoie began thinking on a grand scale. He hired a local writer who penned a story about townsfolk who seek revenge on an old man, and built rolling set pieces for the spectacle, which reaches its peak when the space is engulfed in flames, an illusion created with lights and projections.
"We're putting you almost in an interactive movie, and it all came together within a month," he said.
"I see myself doing this again next year, even if there isn't COVID."
Kathrine Petch understands the urge to keep Halloween on the calendar. As the general manager of Deadmonton Haunted House in Edmonton, she's laid down strict COVID-19 precautions for their Area 51-themed haunt.
"The absolute, pure excitement of the customers is contagious to us," she said.
"As long as we can pay the bills and have some money left over to make a different haunted house next year, I think we'll be pretty happy."
Petch said keeping Deadmonton open during the pandemic was important to everyone who runs the show.
"One of our biggest goals was to provide people with some kind of escape from all the crappiness that is 2020," she said.
"And when they reach the end of our haunted house, at least they know the scares are done."
Follow @dfriend on Twitter.
This report by The Canadian Press was first published Oct. 20, 2020.
David Friend, The Canadian Press
Note to readers: This is a corrected story. A previous version misspelled Robby Lavoie's given name.
European Space Agency inks deal to deploy massive space pincers to clean up orbit – ZDNet
The European Space Agency (ESA) has inked a deal with ClearSpace SA to clean up orbit with craft equipped with pincers designed to grab space junk.
As space agencies and private companies go beyond research and start exploring the potential of commercial space and tourism, the space 'junk' we are accumulating will only grow.
This is a severe issue, considering the smallest satellite or piece of defunct technology zooming around at thousands of meters per second, if it collides with craft or other objects, can cause massive damage that also sends additional debris into space.
To tackle the problem, the ESA has signed an €86 million contract with startup ClearSpace to fund and launch debris-removal missions.
Due to launch in 2025, the first active debris removal mission, dubbed ClearSpace-1, will propel a craft into space equipped with pincers able to capture satellites. In this test, the ESA says that ClearSpace craft will "rendezvous, capture and bring down for reentry a Vespa payload adapter."
The adapter, a leftover from a 2013 mission, has a mass of 112kg and is roughly the size of a small satellite.
"Cleaning space is no longer optional," ClearSpace says in its mission statement. "Removing human-made space debris has become necessary and is our responsibility to ensure that tomorrow's generations can continue benefiting from space infrastructures and exploration."
ClearSpace was selected out of 12 candidates in 2019 by the ESA to develop a commercial debris removal solution for space.
The ESA is only partially funding the mission and the agency intends to raise the rest of the mission cost from commercial investors interested in the technology.
See also: Intel sends AI to space in launch of a satellite the size of a cereal box
According to the ESA's latest Space Environment report, there are over 25,000 objects in space — including satellites and various hunks of debris — and rocket bodies, upper stages leftover from launches, and malfunctioning satellites that can't be deorbited are forms of space junk causing the most concern.
The majority of objects on the list were launched before 2000 and modern space junk mitigation guidelines were adopted by space agencies.
In October, IBM revealed a separate project designed to tackle the emerging problem of space junk. A new open source venture between the tech giant and Dr. Moriba Jah at the University of Texas at Austin is focused on predicting where space objects are in orbit, and where they are likely to go.
By accurately predicting future orbit positions through the creation of machine learning (ML)-based algorithms, this could help companies such as ClearSpace track junk and clean up orbit more effectively.
Previous and related coverage
---
Have a tip? Get in touch securely via WhatsApp | Signal at +447713 025 499, or over at Keybase: charlie0
---
Elon Musk's satellites now streaming to some rural N.B. homes – CBC.ca
Billionaire Elon Musk's satellite internet service is now streaming to some homes in New Brunswick.
Starlink has enlisted some households in rural areas of Canada and the northern US to test the service before a full launch, possibly in mid 2021.
Greg Rekounas of the Kingston Peninsula is one of those who signed on to help test the high-speed internet service.
The database administrator, who works from home for an IT company, said he has to be connected at all times.
After barely a week with the new service, he's bowled over by the difference over his previous DLS link, which sometimes forced him to stop using his camera while participating in work related video-conferencing.
"It changes everything," said Rekounas. "For me, it was almost to the point where I was considering moving. And now that thought is out of my head."
Providing service to people around the world
Musk has been using SpaceX, his rocket company, to blast clusters of 60 low earth orbit satellites into space since May, 2019. The twice-monthly launches have so far planted 955 satellites in low earth orbit, about 550 kilometres above the earth.
The satellites can provide service improvements to people all over the world who are without access to high-speed internet.
Rekounas said it will certainly be welcome in homes in rural parts of New Brunswick.
"They're able to video conference, they're able to download, they're able to stream. They're able to stay connected almost a hundred per cent of the time," he said.
Service comes with a price
Upfront costs could be a barrier to some. Rekounas paid $820 for the required Starlink hardware, a satellite receiving dish, modem, power supply and 100 feet of cable.
The subscription fee is then $130 a month.
The goal is to have 12,000 in orbit by 2024.
SpaceX did not respond Thursday to a CBC interview request.
Musk is expected to face tough competition from Amazon owner Jeff Bezos, who has his own rocket company, Blue Origin, and is planning an alternate satellite internet service with 3,200 spacecraft in low earth orbit.
Another company, Telesat, which originates in Canada, also has plans to enter the low earth orbit internet market with 298 satellites.
The thousands of new satellites, and others likely to follow, are raising questions about the potential impact on the night skies and on the science of astronomy.
Thailand: Rare whale skeleton discovered – BBC News


.css-94m6rd-HeadingWrapperborder-bottom:solid 1px #BABABA;padding-bottom:1.5rem;.css-94m6rd-HeadingWrapper > *:not([hidden]):not(style) ~ *:not([hidden]):not(style)margin-top:1rem;.css-vk3nhx-ComponentWrappermargin:1.5rem 0;
.css-1759m9z-StyledFigurefont-family:ReithSans,Helvetica,Arial,freesans,sans-serif;font-weight:400;font-size:0.875rem;line-height:1.125rem;
.css-uf6wea-RichTextComponentWrappermargin:1rem 0;max-width:36.25rem;
.css-83cqas-RichTextContainercolor:#3F3F42;.css-83cqas-RichTextContainer > *:not([hidden]):not(style) ~ *:not([hidden]):not(style)margin-top:1rem;
.css-14iz86j-BoldTextfont-weight:bold;An almost perfectly preserved whale skeleton thought to be between 3,000 and 5,000 years old has been discovered in Thailand.
The bones were found in early November some 12km (7.5 miles) off the coast just to the west of Bangkok.
The 12m (39ft) long skeleton is thought to be that of a Bryde's whale.
Experts hope the find might provide "a window into the past," especially for research on sea levels and biodiversity.
The partially fossilised bones are "a rare find," mammal researcher Marcus Chua of the National University of Singapore told the BBC.
"There are few whale subfossils in Asia," he said, and even fewer ones are "in such good condition".
Pictures shared by Thailand's environment minister Varawut Silpa-archa show the bones apparently almost entirely intact.
.css-18mjolk-ComponentWrappermargin:1.5rem 0;max-width:50rem;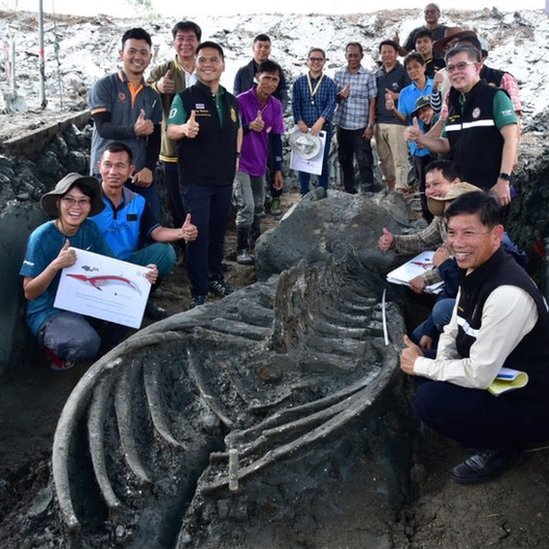 According to the politician, more than 80% of the skeleton has so far been recovered, including vertebrae, ribs, fins and one shoulder blade.
The skeleton's head alone is estimated to be about 3m in length.
Mr Chua says the discovery will allow researchers to find out more about the particular species in the past, whether there were any differences compared to today's Bryde's whales.
The skeleton will also provide information about the "paleobiological and geological conditions at that time, including sea level estimation, types of sediments, and the contemporary biological communities at that time".
.css-1pzprxn-BulletListContainermargin-left:1.5rem;.css-1pzprxn-BulletListContainer *:not([hidden]):not(style) ~ *:not([hidden]):not(style)margin-top:1rem;.css-1pzprxn-BulletListContainer ullist-style-type:disc;.css-1pzprxn-BulletListContainer ollist-style-type:decimal;
.css-yidnqd-InlineLink:linkcolor:#3F3F42;.css-yidnqd-InlineLink:visitedcolor:#696969;.css-yidnqd-InlineLink:link,.css-yidnqd-InlineLink:visitedfont-weight:bolder;border-bottom:1px solid #BABABA;-webkit-text-decoration:none;text-decoration:none;.css-yidnqd-InlineLink:link:hover,.css-yidnqd-InlineLink:visited:hover,.css-yidnqd-InlineLink:link:focus,.css-yidnqd-InlineLink:visited:focusborder-bottom-color:currentcolor;border-bottom-width:2px;color:#B80000;@supports (text-underline-offset:0.25em).css-yidnqd-InlineLink:link,.css-yidnqd-InlineLink:visitedborder-bottom:none;-webkit-text-decoration:underline #BABABA;text-decoration:underline #BABABA;-webkit-text-decoration-thickness:1px;text-decoration-thickness:1px;-webkit-text-decoration-skip-ink:none;text-decoration-skip-ink:none;text-underline-offset:0.25em;.css-yidnqd-InlineLink:link:hover,.css-yidnqd-InlineLink:visited:hover,.css-yidnqd-InlineLink:link:focus,.css-yidnqd-InlineLink:visited:focus-webkit-text-decoration-color:currentcolor;text-decoration-color:currentcolor;-webkit-text-decoration-thickness:2px;text-decoration-thickness:2px;color:#B80000;Ancient four-legged whale fossil found
"So this find provides a window into the past once the skeleton has been dated," Mr Chua says.
The bones are yet to be carbon-dated to determine their exact age, with the results expected in December.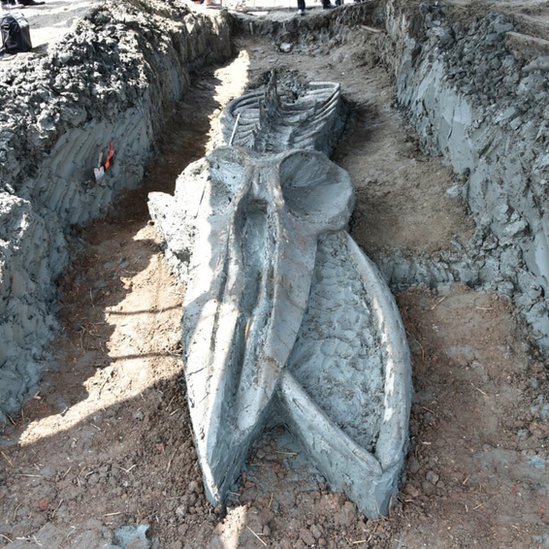 The gulf of Thailand has an interesting history in the last 10,000 years, the biologist points out, with sea levels possibly up to 4m higher than today and active tectonic activity.
The skeleton was found off the current coastline in Samut Sakhon.
Bryde's whales, which live worldwide in warm temperate and tropical waters, are still found in the waters around Thailand today.
You may be interested in watching:
.css-144ki52-SectionWrappermargin:1.5rem 0;padding-top:1.5rem;