One-time home-run king Hank Aaron dead at 86 – CBC.ca
Hank Aaron, who endured racist threats with stoic dignity during his pursuit of Babe Ruth's home run record and gracefully left his mark as one of baseball's greatest all-around players, died Friday. He was 86.
Atlanta, Aaron's longtime team, said he died peacefully in his sleep. No cause was given.
Aaron made his last public appearance just two-and-a-half weeks ago, when he received the COVID-19 vaccine. He said he wanted to help spread word to Black Americans that the vaccine was safe.
"Hammerin' Hank" set a wide array of career hitting records during a 23-year career spent mostly with the Milwaukee and Atlanta, including RBIs, extra-base hits and total bases.
His most memorable swing
But the Hall of Famer will be remembered for one swing above all others, the one that made him baseball's home run king.
It was a title he would be hold for more than 33 years, a period in which the Hammer slowly but surely claimed his rightful place as one of America's most iconic sporting figures, a true national treasure worthy of mention in the same breath with Ruth or Ali or Jordan.
[embedded content]
Before a sellout crowd at Atlanta Stadium and a national television audience, Aaron broke Ruth's home run record with No. 715 off Al Downing of the Los Angeles Dodgers.
The Hall of Famer finished his career with 755, a total surpassed by Barry Bonds in 2007 — though many continued to call the Hammer the true home run king because of allegations that Bonds used performance-enhancing drugs.
Bonds finished his tarnished career with 762, though Aaron never begrudged someone eclipsing his mark.
His common refrain: More than three decades as the king was long enough. It was time for someone else to hold the record.
But no one could take away his legacy.
"I just tried to play the game the way it was supposed to be played," Aaron said, summing it up better than anyone.
He wasn't on hand when Bonds hit No. 756, but he did tape a congratulatory message that was shown on the video board in San Francisco shortly after the new record-holder went deep.
While saddened by claims of rampant steroid use in baseball in the late 1990s and early 2000s, Aaron never challenged those marks set by players who may have taken pharmaceutical short cuts.
[embedded content]
Besides, he always had that April night in 1974.
"Downing was more of a finesse pitcher," Aaron remembered shortly before the 30th anniversary of the landmark homer. "I guess he was trying to throw me a screwball or something. Whatever it was, I got enough of it."
Aaron endured abuse, racism
Aaron's journey to that memorable homer was hardly pleasant.
He was the target of extensive hate mail as he closed in on Ruth's cherished record of 714, much of it sparked by the fact that Ruth was white and Aaron was Black.
"If I was white, all America would be proud of me," Aaron said almost a year before he passed Ruth. "But I am Black."
We're a different country now. You've given us far more than we'll ever give you.– Bill Clinton, former U.S. president
Aaron was shadowed constantly by bodyguards and forced to distance himself from teammates.
He kept all those hateful letters, a bitter reminder of the abuse he endured and never forgot.
"It's very offensive," he once said. "They call me 'n—–' and every other bad word you can come up with. You can't ignore them. They are here. But this is just the way things are for Black people in America. It's something you battle all of your life."
After retiring in 1976, Aaron became a revered, almost mythical figure, even though he never pursued the spotlight.
He was thrilled when the U.S. elected its first African-American president, Barack Obama, in 2008. Former president Bill Clinton credited Aaron with helping carve a path of racial tolerance that made Obama's victory possible.
"We're a different country now," Clinton said at a 75th birthday celebration for Aaron. "You've given us far more than we'll ever give you."
Aaron spent 21 of his 23 seasons with the Braves, first in Milwaukee, then in Atlanta after the franchise moved to the Deep South in 1966. He finished his career back in Milwaukee, traded to the Brewers after the 1974 season when he refused to take a front-office job that would have required a big pay cut.
Feared hitter, gifted fielder
While knocking the ball over the fence became his signature accomplishment, the Hammer was hardly a one-dimensional star. In fact, he never hit more than 47 homers in a season (though he did have eight years with at least 40 dingers).
But it can be argued that no one was so good, for so long, at so many facets of the national pastime.
The long ball was only part of his arsenal.
Aaron was a true five-tool star.
He posted 14 seasons with a .300 average — the last of them at age 39 — and claimed two National League (NL) batting titles. He finished with a career average of .305.
Aaron also was a gifted outfielder with a powerful arm, something often overlooked because of a smooth, effortless stride that his critics — with undoubtedly racist overtones — mistook for nonchalance. He was a three-time Gold Glove winner.
Then there was his work on the base paths. Aaron posted seven seasons with more than 20 stolen bases, including a career-best of 31 in 1963 when became only the third member of the 30-30 club — players who have totalled at least 30 homers and 30 steals in a season.
To that point, the feat had only been accomplished by Ken Williams (1922) and Willie Mays (1956 and '57).
Six-feet tall and listed at 180 pounds during the prime of his career, Aaron was hardly an imposing player physically. But he was blessed with powerful wrists that made him one of the game's most feared hitters.
'A quiet superstar'
Hall of Famer Mike Schmidt described Aaron as "an unassuming, easygoing man, a quiet superstar, that a '70s player like me emulated."
"He was one of my heroes as a kid, and will always be an icon of the baby boomer generation," Schmidt said. "In fact, if you weigh all the elements involved and compare the game fairly, his career will never be topped."
Aaron hit 733 homers with the Braves, the last in his final plate appearance with the team, a liner down the left field line off Cincinnati's Rawley Eastwick on Oct. 2, 1974. Exactly one month later, he was dealt to the Brewers for outfielder Dave May and minor league pitcher Roger Alexander.
The Braves made it clear they no longer wanted Aaron, then 40, returning for another season on the field. They offered him a front office job for $50,000 a year, about $150,000 less than his playing salary.
"Titles?" he said at the time. "Can you spend titles at the grocery store? Executive vice-president, assistant to the executive vice-president, what does it mean if it doesn't pay good money? I might become a janitor for big money."
Aaron became a designated hitter with the Brewers, but hardly closed his career with a flourish. He managed just 22 homers over his last two seasons, going out with a .229 average in 1976.
Standing the test of time
Even so, his career numbers largely stood the test of time.
Aaron still has more RBIs (2,297), extra-base hits (1,477) and total bases (6,856) than anyone in baseball history. He ranks second in at-bats (12,354), third in games played (3,298) and hits (3,771), fourth in runs scored (tied with Ruth at 2,174) and 13th in doubles (624).
"I feel like that home run I hit is just part of what my story is all about," Aaron said.
While Aaron hit at least 20 homers in 20 consecutive seasons, he was hardly swinging for the fences. He just happened to hit a lot of balls that went over the fence.
Through his career, Aaron averaged just 63 strikeouts a season. He never whiffed even 100 times in a year — commonplace for hitters these days — and posted a career on-base percentage of .374.
He was NL MVP in 1957, when the Milwaukee Braves beat the New York Yankees in seven games to give Aaron the only World Series title of his career. It also was his lone MVP award, though he finished in the top 10 of the balloting 13 times.
Aaron also was selected for the All-Star Game 21 consecutive years — every season but his first and his last.
His only regret was failing to capture the Triple Crown. Aaron led the NL in homers and RBIs four times each, to go with those two batting crowns. But he never put together all three in the same season, coming closest in 1963 when he led the league in homers (44) and RBIs (130) but finished third in hitting (.319) behind Tommy Davis of the Dodgers with a .326 average.
"Other than that," Aaron said, "everything else was completed."
Demko earns shutout as Canucks ride hot start to win over Jets – Sportsnet.ca
WINNIPEG — When the Vancouver Canucks discovered that screened point shots were getting results, they kept doing it.
By the time the Winnipeg Jets figured things out, it was too late.
Vancouver scored three first-period goals in similar fashion Monday night in a 4-0 victory at Bell MTS Place. Nate Schmidt, J.T. Miller and Nils Hoglander staked the Canucks to an early lead and Thatcher Demko did the rest, making 27 saves for his first shutout of the season.
All three goals came from shots inside the blue line that were tipped, redirected or knuckled past Winnipeg goaltender Connor Hellebuyck.
"When you know you can get yourself into those areas, that's where the goals are scored," said Schmidt. "I was proud of our guys for how we got to those areas tonight."
Elias Pettersson sealed it with an empty-net goal as the Canucks (9-14-2) won for the first time in five games and ended Winnipeg's four-game winning streak.
"I think top to bottom we had some good efforts tonight," said Canucks head coach Travis Green.
After being held to one shot on goal over the first eight-plus minutes, Schmidt sent a fluttering shot from the high slot past a screened Hellebuyck at 8:28.
A similar play just 18 seconds later doubled Vancouver's lead. This time Schmidt's point shot was redirected by Miller at 8:46.
Vancouver's second power-play unit used the same formula to extend the lead at 14:50. Tyler Myers sent a wrist shot from inside the blue line that Hoglander tipped to make it 3-0.
Demko, meanwhile, was steady when needed in the Vancouver net. He gave up few rebounds and delivered when the Jets pressed late in the game.
"I think over the last handful of games, our defensive side of things is coming along really nicely," Demko said. "Tonight was kind of the pinnacle of building up to this point."
After a sluggish first period, the Jets (13-7-1) seemed more inspired in the second period but had difficulty delivering any sustained pressure.
Mark Scheifele had two decent chances midway through the third period and Blake Wheeler was denied after a crafty deflection on a Sami Niku shot.
The Jets pulled Hellebuyck with over five minutes left in regulation. Winnipeg hit the post on a deflected shot before Pettersson put the game away at 16:26.
The teams will face off again Tuesday night in the finale of the Jets' four-game homestand.
"You've got to have a short memory in this league," Scheifele said. "You can't dwell on things too long. You've got to get a good sleep tonight and get ready for tomorrow."
The Canucks had 19 shots on goal and improved to 4-8-0 on the road.
After Tuesday's game, the Jets will take to the road for 12 of their next 14 games.
The Canucks will return home to kick off a five-game homestand Thursday against the Toronto Maple Leafs at Rogers Arena.
Mitch Marner magic helps Toronto Maple Leafs navigate injury issues – TSN
TSN Toronto Reporter Mark Masters reports on the Maple Leafs, who held an optional skate in Edmonton on Monday ahead of their evening game against the Oilers.
---
Sheldon Keefe smiled when asked about potentially making changes to a winning lineup.
"Well, I think we'd always make room for Auston [Matthews]," the Leafs coach said.
Whether Keefe will be able to write No. 34 onto his lineup card tonight in Edmonton remains unclear. The National Hockey League's leading goal scorer missed Saturday's game with a wrist injury.
Matthews stayed out late at Monday's optional workout and skated hard, which is something only the projected scratches usually do. Toronto's No. 1 centre still doesn't appear to be shooting the puck particularly hard. Keefe referred to Matthews as a game-time decision.
The Leafs played extremely well without Matthews during a 4-0 win on Saturday.
"A really special player who's having an incredible year, so any time you have a guy like that out … the whole team has to step up," said winger Zach Hyman. "We did that."
The absence of Matthews may open up more shooting opportunities for crafty winger Mitch Marner, who scored his 10th goal of the season on Saturday.
"When you're playing with a guy like Auston you're always trying to find him in spots and not really thinking of shooting," Marner said after the game. "This year, now, my mindset is still to try and find Auston if I think I can get it to him but, if not, then it's trying to get it on net and realizing that sometimes a play off a goalie is better than a pass. I'm trying to do that more. I worked on my shot a lot this year and I just feel confident when I'm shooting nowadays."
The new-look line of Marner, John Tavares and Joe Thornton found instant chemistry. It was the first time Tavares and Thornton lined up together in a game this season. The trio all touched the puck on Marner's goal.
"Joe puts himself in a good spot and stretches the ice and [Morgan] Rielly finds him and he finds John in the space that Joe's created underneath," Keefe said. "John attacks the middle of the ice and kicks it back to Mitch and drives through the middle of the ice making it harder on the defence and the goalie and it leads to a goal so there's a lot of things that go into that."
Swish and flick 🪄#LeafsForever pic.twitter.com/kpHtGGHPBO

— Toronto Maple Leafs (@MapleLeafs) February 28, 2021
Marner also picked up an assist on the William Nylander power-play goal.
More impressive than the offence was the responsible two-way play. Toronto's top line outscored the Connor McDavid line 1-0 and kept the Oilers captain quiet most of the night.
"We didn't really over-complicate things," Marner said. "We were playing smart with the puck. When we were getting it down low we were talking to each other, finding exits out of corners and off the wall. We got to make sure we keep doing that. The communication throughout our D-zone and getting the puck in our hands to go up the ice with speed was very, very good."
The whole Leafs team was very good and very disciplined. Toronto didn't take a single penalty.
"They played such a good game," said McDavid, who managed just one shot on net. "They were so solid everywhere. They were never in a desperate situation where they needed to hook or hold a guy. Part of that is us not going hard enough to the net or making enough plays. Another part is them just playing so well and being in the right position all of the time."
—
Frederik Andersen and Jack Campbell are also listed as game-time decisions. Andersen, like Matthews, stayed out late at the morning skate. Keefe indicated yesterday it was unlikely Toronto's No. 1 goalie would be ready to return from a lower-body injury on Monday.
For the second straight day, Campbell wasn't on the ice. He returned from a leg injury on Saturday and stopped all 30 shots faced, but also looked to be in discomfort after being run into by Tyler Ennis in the first period.
Michael Hutchinson was in the starter's net at Monday's skate and also the first goalie off the ice. He's 2-1-0 with a .924 save percentage this season. Hutchinson was in net last season when McDavid scored a highlight-reel against the Leafs in Toronto.
—
The Leafs signed T.J. Brodie in the off-season with these type of matchups in mind. The veteran blueliner stared down McDavid and Leon Draisaitl on Saturday and didn't blink during 22 minutes and 15 seconds of work.
"He doesn't care who he's playing against," said Keefe. "It doesn't rattle him. It doesn't concern him. He's comfortable in his own game and realizes he's got to stay within his skill set and do what works for him. Even if he gets beat or makes a mistake, he's just going to go back and drink some water and go out and give his best shot the next time out and more often than not it works out for him. That's why he is who he is in the league."
Brodie picked up an assist and finished Saturday's game with a plus-2 rating. The former Flame sees a lot of similarities between current partner Rielly and former running mate Mark Giordano​.
"They're both great defensively and look to jump offensively," the 30-year-old observed. "They're the type of guys who know how to get open and be available for you to get that outlet pass and, at the same time, they make great, quick passes out of the zone so it's been a pretty easy transition."
—
Hyman is playing through some discomfort right now after blocking a couple of shots off his foot.
"You can battle through a little bit of pain," he said. "I feel like I am able to skate and do all the things that I can do otherwise. It's more painful not playing, to be honest, when you're out and you're watching games."
Hyman, who missed a couple games with the injury, blocked another shot on Saturday.
"It's part of the game," he said. "You don't have enough time to think, 'Oh, I should get out of the way on this one.' When you're out there playing, you're not hurt or injured or anything, you're just playing the game so you don't think about it. For me, just go out there and do my job and if there'​s an opportunity to block a shot then get in the lane."
Hyman wears plastic coverings on his skates, but the initial shot that hurt him hit him in a vulnerable spot.
"The second time I was lucky I was wearing shot blockers so that definitely helped," he said.
—
Jason Spezza snapped a 10-game goal drought in style on Saturday. The 37-year-old completely fooled veteran Oilers goalie Mike Smith.
"That was a sweet move," said linemate Travis Boyd. "We were joking a little bit about how that's his trusty, old go-to move from back in the day. He really got Smith to bite on that fake and that was a sweet move."
"Wow! What a treat it was to watch that," Campbell gushed after the game. "He does it in practice so it was nice to see it on our end."
It was career goal No. 346 for Spezza. How is he able to keep goalies guessing on his go-to move?
"He sells the shot really well," Boyd said. "A lot of people fake a shot, but it's kind of quick and it doesn't actually fake anyone out. You can kind of read that it's a fake. He sold the fake on the slap really hard and then just pushing it that few feet before he shot it gave him that whole side and really locked up Smith."
𝓥𝓲𝓷𝓽𝓪𝓰𝓮 top shelf strike 🔥#LeafsForever pic.twitter.com/EQO3QhXkm0

— Toronto Maple Leafs (@MapleLeafs) February 28, 2021
—
Leafs projected lines for Monday's game:

Thornton – Tavares – Marner
Barabanov – Kerfoot – Nylander
Mikheyev – Engvall – Hyman
Vesey – Boyd – Spezza

Rielly – Brodie
Muzzin – Holl
Dermott – Bogosian

Hutchinson
Woll
Watt to sign with Cardinals on reported 2-year, $31M deal – theScore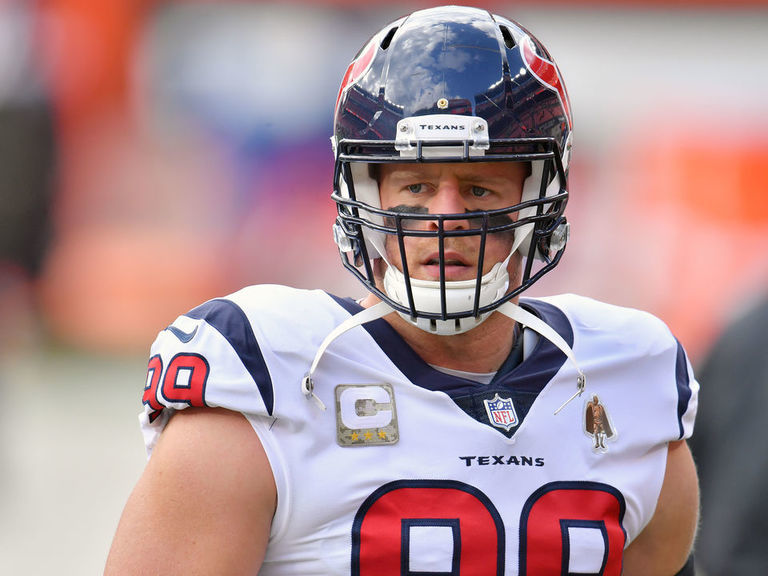 J.J. Watt is signing with the Arizona Cardinals, he announced Monday.
The three-time Defensive Player of the Year and former Houston Texans defensive lineman will ink a two-year pact worth $31 million, $23 million of which is guaranteed, a source told Ian Rapoport of NFL Network.
Watt hit free agency early because the Texans released him from his contract. The 31-year-old asked out of Houston after growing disgruntled with the organization's culture.
In the desert, Watt will join a squad that features former Texans co-star DeAndre Hopkins, who began recruiting him following his release. Arizona missed the playoffs for a fifth straight season in 2020 and is entering a pivotal third year under head coach Kliff Kingsbury.
The Cardinals now have a pair of high-profile pass-rushers in Watt and Chandler Jones, though the latter could become a casualty of the declining salary cap. General manager Steve Keim said recently that he won't cut Jones, but that was before he landed Watt.
Watt had only five sacks in 16 games last year, but he was still proficient in generating pressure. His 101 career sacks rank 31st in NFL history. Watt's greatest concern is the injury bug, which has limited him to eight games or fewer in three of the past five seasons.
The Cardinals were seldom mentioned as a possible landing spot for Watt, who reportedly drew offers from numerous teams. The Cleveland Browns, Green Bay Packers, Buffalo Bills, and Pittsburgh Steelers were speculated to be his top suitors.