OnePlus explains OnePlus Nord design in interview – Android Authority
OnePlus co-founder Carl Pei has officially revealed the Nord's design in an interview with Marques Brownlee.
The design was changed late — OnePlus originally had a more experimental phone in mind.
Pei also described the true costs of features like NFC and IP-rated water resistance.
---
The OnePlus Nord's design is a poorly kept secret at this stage, but that didn't stop company co-founder and director Carl Pei from revealing a few more tidbits about the more affordable phone ahead of its July 21 debut.
In an interview with YouTube creator Marques Brownlee, Pei (who was conspicuously wearing true wireless OnePlus Buds) officially revealed the Nord's design, which unsurprisingly matches earlier teases. However, he added that the final look was introduced relatively late into the design process — before then, it had an unusual back with three square camera lenses in an L-shaped layout.
OnePlus switched to the more conservative styling out of practicality. The earlier approach worked if OnePlus wanted to be "daring" and treat the Nord as an "experiment," according to Pei, but the company felt that a familiar design language from other models would help sell more phones. The switch delayed development by about a month, but Pei believed it was worthwhile.
The executive also discussed one of the more elusive aspects of phone design: the true manufacturing costs. He stressed that the bill of materials (that is, the raw component cost) was only one part of the price and didn't include various operational expenses, but was willing to share key figures.
The interview doesn't leave many surprises for the Nord's formal introduction.
NFC, for instance, costs OnePlus about $4 to add. An IP resistance rating costs roughly $15, mostly for the testing equipment and staff. The Nord won't be IP-rated despite dust- and water-resistant elements, but that's partly because it's not designed for "extreme use cases," Pei said.
An AMOLED screen is approximately twice as expensive as a comparable LCD, the director added, although the expenses for a 90Hz display have come down thanks to sheer volume. And while headphone jacks don't cost that much by themselves, there is a "mechanical" cost in terms of the space they occupy.
The interview doesn't leave many surprises for the Nord's formal introduction. The exact pricing (besides the sub-$500 target) is still unknown, though, and it's unclear just how that "highly limited" North American beta program will work. Nonetheless, the chat makes clear that a lot is riding on the Nord's success. This is OnePlus' chance to get back to its low-cost roots and expand its audience.
Next: Everything you need to know about OnePlus Nord pre-orders
Sony Provides PlayStation 5 Restock Update for the Holidays – iPhone in Canada
In a tweet sent out earlier today, Sony has reassured its fans that more PlayStation 5 inventory will be coming to retailers before the end of the year. At the moment, both the regular and digital editions of PS5 are completely sold out worldwide.
From Amazon to Walmart, no retailer can keep enough in stock to satisfy demand. As a result, the console is selling at nearly double its retail price in the resell market.
Calling the PlayStation 5 its "biggest console launch ever," Sony said that the demand for PS5 is unprecedented and that "more PS5 inventory will be coming to retailers before the end of the year."
We want to thank gamers everywhere for making the PS5 launch our biggest console launch ever. Demand for PS5 is unprecedented, so we wanted to confirm that more PS5 inventory will be coming to retailers before the end of the year – please stay in touch with your local retailers.

— PlayStation (@PlayStation)
Sony has not yet revealed how many PlayStation 5 consoles it has sold so far. You can bookmark this Amazon.ca listing for the PS5 to see when it will pop back in stock.
Apple Black Friday 2020: Best Apple Watch Deals Including Series 3 From $119 – MacRumors
Black Friday sales have begun on a variety of products, including the Apple Watch. There are quite a few deals across the Apple Watch lineup this year, including one of the lowest price we've ever seen the Apple Watch Series 3.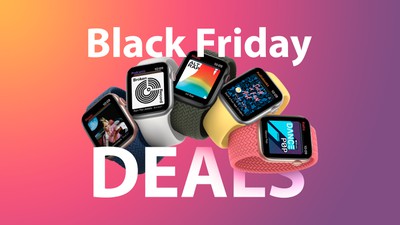 Note: MacRumors is an affiliate partner with some of these vendors. When you click a link and make a purchase, we may receive a small payment, which helps us keep the site running.
Amazon and Walmart are offering the 38mm GPS Apple Watch Series 3 for just $119.00, down from $179.00. You can also get the 42mm GPS model from Amazon and Walmart for $149.00, down from $209.00. Both of these sales represent the lowest prices we've ever seen for the Apple Watch Series 3, and the 2017 model of the Apple Watch makes a solid holiday gift for someone looking to get into Apple's wearable family.
As a note, stock is very limited for these models and retailers appear to be running out fast. Make your purchases soon if you're interested.
Apple Watch SE
For a step up, Apple also offers the Apple Watch SE, which offers many of the latest features but at a value price. Sport band GPS models are discounted by $20 at Amazon, priced at $259.00 for 40mm and $289.00 for 44mm.
Cellular models of the Apple Watch SE are also on sale, with most models similarly discounted by $20 to $309.00 for 40mm and $339.00 for 44mm. There is, however, one 44mm model in silver with a Deep Navy Sport Loop available for $309.99, a $49 savings.
Apple Watch Series 6
If you're looking for the most advanced Apple Watch, Amazon also has a few notable deals on those. The 40mm GPS Apple Watch Series 6 (PRODUCT)RED is $329.98 this week, a $69 discount from the regular price $399.00. Other 40mm models are priced at $379.
For the 44mm GPS models, Amazon is currently showing all of them at $379.99 after a coupon is automatically applied at checkout, down from $429.00. Across the board, these are the best prices available online so far this week.
You can save even more (up to $120) if you're interested in a cellular model, with 40mm stainless steel Milanese Loop models priced at $699.00, stainless steel sport band models priced at $579.00, and a (PRODUCT)RED aluminum model discounted by $109 to $389.98. Discounts and availability on 44mm cellular models are more limited, with with a few models available for $479.99 after a $29.01 checkout discount.
Most of these sales are the best deals we've tracked to date on the Apple Watch Series 6, which sports ways to measure your heart rhythm and blood oxygen levels. In terms of deep discounts, the Apple Watch Series 6 and Series 3 are the only notable models getting marked down at the major retailers this Black Friday.
Be sure to visit our full Black Friday Roundup to shop for even more Apple-related products and accessories on sale this week.
Black Friday tablet deals: iPad Pro, Galaxy Tab S7, and more – ZDNet
Black Friday 2020 is here, and with it, you can expect a range of tablet deals to appear.
From Samsung Galaxy tablets to Apple iPads, over the course of the shopping event — no longer just a one-day shopping spree, and now closer to a week-long promotion — US retailers will be competing for business by offering decent discounts on these mobile devices.
Tablets can be suitable for a variety of purposes; from checking your email on the road to saving and sharing presentations, reading, accessing mobile apps, streaming content, and more. Whether or not you want a tablet as a gift, for entertainment, work, or as a slimline device for accessing the Internet, it is worth keeping an eye on tablet sales over Black Friday this year.
Below, ZDNet has compiled a list of the best tablet deals on offer. As some deals finish and other, time-sensitive deals expire, we will continue to update — so make sure to come back and check.
Over at Best Buy, you can pick up an 11-inch Samsung Galaxy Tab S7 tablet with a $100 discount. This tablet comes with 126GB storage, 6GB RAM, an 8MP front-facing camera, a 13MP rear camera, and an accompanying S-Pen stylus.
Microsoft is also involved in this year's shopping season, and an offering of note is the Microsoft Surface Pro 7 and Pro Type cover bundle. The company is offering $200 off basic bundles including a Surface Pro 7 tablet ( Intel Core i3 processor, 4GB RAM, 128GB storage), as well as discounts off premium models.
If you're looking for a reasonably-priced Samsung tablet in the Black Friday sales, Best Buy is offering a Samsung Galaxy Tab S6 Lite with a $100 discount. This Android tablet comes with a 10.4-inch display, 64GB storage, 4GB RAM, and both a 5MP front and 8MP rear camera.
On eBay's marketplace, you can pick up an Apple iPad Pro for a substantial discount. While this deal may not be around long, for now, these 2018 devices are on offer with 11-inch screens, 256GB storage, and 4GB RAM.
More Black Friday 2020 deals
Here are some other noteworthy deals worth checking out: