Oppo to launch Reno 7 with 'cat-eye lens' camera this week – Android Authority
TL;DR
Oppo will debut new camera technology when it launches the Reno 7 series later this week.
The "cat-eye lens" tech is co-developed by Sony, and uses an RGBW sensor.
The Reno 7 will debut on November 25.
Oppo is gearing up for the Reno 7 series launch later this week, with the new line introducing several design changes over its predecessor. However, the most significant addition might be lurking beneath the camera lenses.
The company will introduce the "world's first super-sensitive cat-eye lens" with the Reno 7 series. Per a series of Weibo posts, Oppo co-developed the technology with Sony over three years. The camera also utilizes the Sony IMX709 sensor with an RGBW array. Oppo believes this combo improves light sensitivity and noise reduction.
If you are wondering where the "cat-eye" fits into the equation, Oppo's marketing suggests the phone will be pretty adept at shooting night-time and low-light shots. There's no indication that the lens itself will utilize a slit-shaped design akin to an actual cat's pupil.
Additionally, some teaser shots hint at the camera's use as a selfie shooter, but the company hasn't confirmed its placement just yet. According to a leak from tipster Evan Blass, however, it seems likely that both the Reno 7 and Reno 7 Pro will use this camera up front.
Oppo's also teasing an intelligent use of the rear camera hump, which features an illuminated accent ring. Presumably, this doubles as a notification light, something we've not seen on pricier smartphones in quite a while.
What about the rest of the Oppo Reno 7 series? Well, the Pro model could pack the Dimensity 1200 Max SoC, a 4,500mAh battery, and a 6.5-inch AMOLED with a 90Hz refresh rate, per the latest rumors. We may find four lenses at the rear, too, headlined by a 50MP primary shooter.
There's not too long to wait for a confirmation of these specs or pricing details. The Reno 7 series will debut in China on November 25.
Ludwig, the streamer who broke the all-time Twitch subs record this year, is moving to YouTube Gaming – The Verge
Ludwig Ahgren, a streamer perhaps best known for his month-long subathon that took place earlier this year, is moving from Twitch to stream exclusively on YouTube Gaming. Ahgren's first stream on YouTube will take place tomorrow, November 30th.
Ludwig leaves behind a significant presence on Twitch. He has 3.1 million followers, and TwitchTracker's metrics indicate he has more than 27,000 subscribers as of this writing. And by the end of his subathon, he had broken the all-time Twitch subs record — TwitchTracker says he peaked at 283,066 subscribers. But he won't be starting from nothing on YouTube, where he already has 2.08 million subscribers.
Ahgren is the latest streamer to move from Twitch to YouTube as of late, following Ben "DrLupo" Lupo and Tim "TimTheTatMan" Betar's jumps in August and September, respectively. YouTube also brought over Jack "CouRage" Dunlop in 2019 (who announced on November 23rd that he would remain on the platform), and Rachell "Valkyrae" Hofstetter in 2020.
Best Cyber Monday Apple Accessory Deals Available Today – MacRumors
We started sharing deals on Apple products for Cyber Monday 2021 earlier today, and now we're tracking deals and bargains available from all of the best Apple accessory companies. Similar to Black Friday, you can expect Cyber Monday savings from Twelve South, Nomad, Belkin, Casetify, and many more.
Note: MacRumors is an affiliate partner with some of these vendors. When you click a link and make a purchase, we may receive a small payment, which helps us keep the site running.
Nomad
Nomad is offering 30 percent off sitewide today, allowing shoppers to save on iPhone cases, charging accessories, Apple Watch bands, MagSafe-compatible accessories, and more.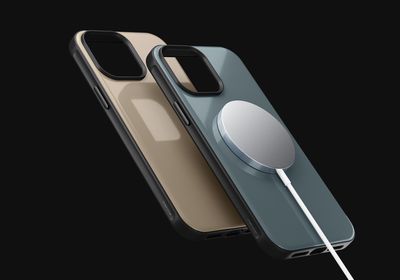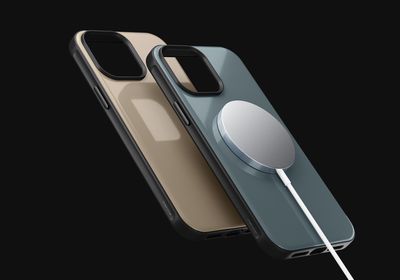 Twelve South
Twelve South's massive Black Friday sale has extended into Cyber Monday this year, and you'll find steep discounts on nearly every products on Twelve South's website. We've highlighted a few devices below, and be sure to shop the sale before it ends tonight at midnight.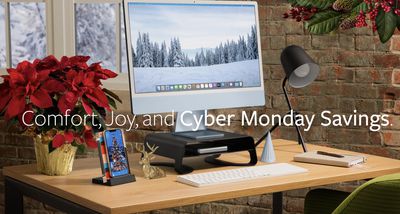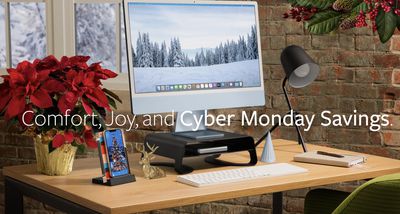 Anker
Anker is offering up to 40 percent off select products this Cyber Monday. This includes chargers, power banks, docks, cables, and more. We've listed a few highlights below, but be sure to browse the full sale before it ends on December 5.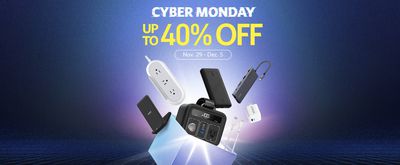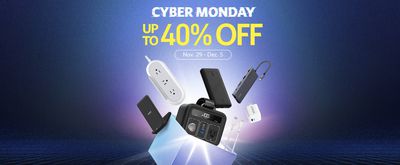 Belkin
There is a large collection of Belkin accessories on sale this Cyber Monday, ranging from wireless chargers to USB-C portable chargers, wireless earbuds, and smart plugs. Check out all the deals below, available from Amazon, Target, and Best Buy.



At Belkin's own website, you'll find 30 percent off sitewide.
Audio
Nanoleaf
Nanoleaf is offering up to 25 percent off its lighting kits this Cyber Monday, and you can get a $25 gift card when you spend $350 or more on the Nanoleaf storefront.
Additionally, six customers who make a purchase today on Nanoleaf's website will get their entire order for free. There are also special Nanoleaf lighting bundles sold at Amazon and Best Buy.
Satechi
Satechi's Black Friday sale has carried over into Cyber Monday, allowing shoppers to get up to 30 percent off their orders on the Satechi website. Just use the codes listed below corresponding to the amount of money you spend.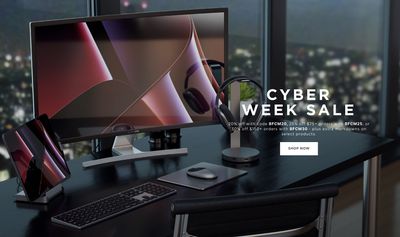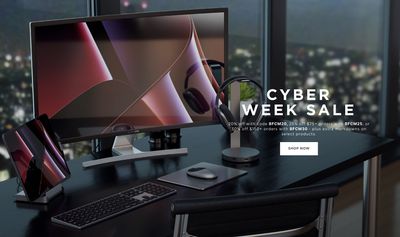 20% off orders up to $75 with code: BFCM20
25% off orders $75 – $150 with code: BFCM25
30% off orders over $150 with code: BFCM30
1Password
You can get 50 percent off of your first year of 1Password Families today. This makes the password management app cost $2.50 per month, down from $4.99 per month (billed annually). Following your first year, you'll be charged the regular price until canceled.
ZAGG
ZAGG began offering 40 percent off sitewide last week, and this sale will last through December 6.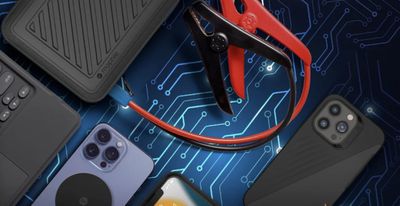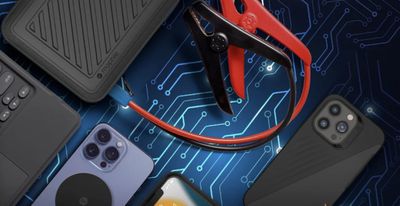 This sale allows you to get 40 percent off up to ten products on ZAGG's website, and it excludes already-discounted items. This offer also can't be combined with any other coupon code or discount.
ZAGG's website includes Mophie and its full lineup of charging accessories. With the new sale, you can get 40 percent off the new MagSafe-compatible Snap+ system of products, like the Snap+ Wireless Stand or the Snap+ Juice Pack Mini.
Casetify
Casetify has up to 25 percent off this Cyber Monday, and its sale will last through tomorrow, November 30. You can find the specific sales below, and no coupon code is required.
Buy 1, Get 10% off
Buy 2, Get 20% off
Buy 3, Get 25% off
Brydge
Brydge is taking 20 percent off all tablet keyboards and MacBook vertical docks today, and offering free shipping at the same time to residents in the United States. There are numerous iPad keyboards on sale, but we've listed a few below to kick off your shopping.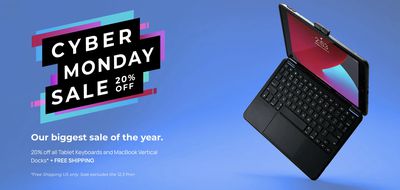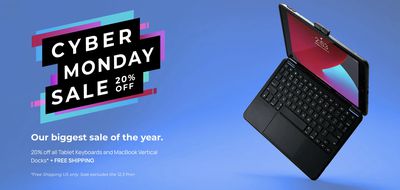 Hyper
Hyper has 30 percent off sitewide today, offering solid deals on its collection of USB-C hubs, power banks, chargers, cables, hubs, and much more.
JBL
JBL has up to 65 percent off wireless headphones, home speakers, and other audio accessories for today only.


Other Sales
Head to our full Deals Roundup to get caught up with all of the latest deals and discounts that we've been tracking over the past week.
Cheaters are already ruining Halo Infinite multiplayer games – The Verge
Halo Infinite is currently suffering from an influx of hackers and cheaters. Halo Infinite players have been reporting multiple instances of cheaters over the Thanksgiving weekend, with recordings showing people clearly using aimbots and wallhacks to cheat. It's the latest game to be hit by an increase in cheating across the world's biggest PC games.
Reddit and Twitter users have been posting clips of cheaters, where you can clearly see them snapping to players and getting killing sprees, or tracing rival players through walls. Most of these cheaters are clearly using third-party software on PC, and it has led many players to call for an option to disable crossplay.
Halo Infinite currently mixes players across PC and Xbox in quick-play modes and even most ranked modes unless PC players are playing solo or in a pair. While disabling crossplay could fix most cheaters for console players, cheats also exist on the console side through third-party controllers like Cronus. These modified controllers allow players to reduce recoil, increase the effects of aim assist, and generally outplay opponents.
Unlike many other PC games, Halo Infinite doesn't use an anti-cheat solution like Easy Anti-Cheat, BattlEye, or even a custom client-side detection system. Instead, 343 Industries has opted for a server-side behavior-based system that's supposed to detect cheaters and boot them out of the game.
This behavior-based system clearly isn't working well yet, and cheat providers are advertising tools that include aimbots, wallhacks, infinite ammo, infinite abilities, infinite grenades, rapid fire mods, speed hacks, and even the ability to jump up to five times higher.
Halo Infinite players are understandably frustrated. As Halo Infinite is free to play, it's likely easy for cheaters to create another Microsoft Account and keep evading bans. A lack of client-side anti-cheat could be a big problem unless 343 Industries gets on top of these hacks and can detect them properly.
Halo Infinite has had a popular debut on PC, with an all-time peak of more than 250,000 players on its first day of release earlier this month. The game has been averaging around 150,000 daily peaks since its release, too.
Cheaters have also been targeting games like CS:GO, Apex Legends, Call of Duty: Warzone, Destiny 2, PUBG, and many other popular multiplayer titles. While the cheating problems have certainly improved in games like Call of Duty: Warzone and Destiny 2, thanks to new anti-cheat systems, Halo Infinite seems to be the latest target for cheaters who just want to ruin the fun for everyone else.