PlayStation reveals updated mobile app with overhauled UI, voice chat and more – MobileSyrup
Sony has revealed a major update to its free PlayStation app on Android and iOS that brings with it a suite of changes and new features for use with both PS4 and the upcoming PS5.
[embedded content]
Most notably, the update introduces a complete overhaul of the app's UI, with a new home screen that displays what your friends are playing and easy access to your recently played games and Trophy List.
Further, a new 'Explore' tab is being added to let you see official news from game developers and PS Blog content. On top of that, the PlayStation Store has been integrated into the app for smooth browsing and shopping. From here, you can also remotely download games and add-ons directly to your PS4 and PS5.
Elsewhere in the app is newly added support for voice chat and party groups. This means that you can create party groups from within the PS app and begin voice chatting with up to 15 friends through your mobile devices.
As part of these new social features, you'll also be able to send PSN messages through the app. With this new functionality, however, Sony says it will be retiring its existing standalone PS Messages mobile app. While a date for this wasn't provided, Sony noted that all existing PSN messages will carry over to the new version of the PS app.
Sony says the PS app update is rolling out globally later today on iOS (12.2 or later) and Android (6.0 or later) devices.
The PlayStation 5 will launch in Canada on November 12th for $629 CAD. We'll have more on the console in the coming days.
Source: PlayStation
M1 MacBook and Apple Watch with new design reportedly coming in 2021 – MobileSyrup
Despite releasing three new Mac devices with its own proprietary ARM-based M1 chip — the MacBook Air, 13-inch MacBook Pro and Mac mini — the computers look identical to their Intel counterparts.
According to Ming-Chi Kuo, an often reliable KGI Securities analyst, Apple is preparing to redesign its MacBook lineup and the Apple Watch in the second half of 2021. It's unclear if the M1-powered Mac mini will also get a redesign.
Beyond stating that a new design is coming, Kuo doesn't go into further detail regarding Apple's forthcoming M1 Mac and the Apple Watch aesthetic change. It makes sense for Apple to finally shift the look of the Apple Watch given that apart from reducing its bezels with the release of the Apple Watch Series 5, it's featured nearly the same design since its launch in 2015.
Kuo also states that Apple is experiencing better than expected demand for the iPhone 12 Pro and iPhone 12 Pro Max, and weaker sales of the iPhone 12 and the iPhone 12 mini. On the iPad side of things, Kuo says that the new iPad Air is selling well, and that 5G and mini-LED displays are coming to Apple's tablet line in 2021.
On a less positive note for Apple, Kuo says that AirPod shipments are lower than initially estimated, amounting to a five to 10 percent decrease year-over-year. Finally, Kuo says that Apple's often-rumoured AirPods 3 have been delayed from an early 2021 release to an April to June release window.
Source: MacRumors
Reliable Leaker Suggests Redesigned MacBooks in 2021 Will Include Both Apple Silicon and Intel Models – MacRumors
Reliable leaker known as "L0vetodream" has today suggested on Twitter that redesigned MacBooks coming in the second half of 2021 will include models with both Apple Silicon chips and Intel processors.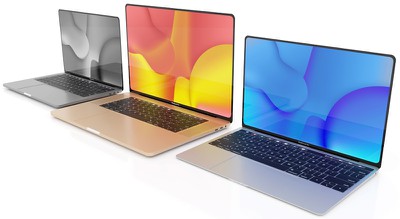 The brief Tweet came in response to a MacRumors article from earlier today, which outlined a report from Ming-Chi Kuo claiming that Apple plans to release redesigned MacBook models with ‌Apple Silicon‌ in the second half of 2021.
L0vetodream simply says that the MacBook redesigns expected in the second half of 2021 will not be only for ‌Apple Silicon‌ models, implying that the redesigns will also come to new Intel-based MacBooks.
Apple just released its first ‌Apple Silicon‌ Macs, which include the MacBook Air and lower-end configurations of the 13-inch ‌MacBook Air‌ and Mac mini. While the new MacBook Pro and ‌Mac mini‌ still have a few shortcomings relative to their more expensive Intel counterparts, they are demonstrating better performance in a number of core benchmarks, even matching or outperforming higher-end machines like the 16-inch MacBook Pro in some tasks.
As a result, L0vetodream's claim is a bit curious given that these rumored redesigned MacBooks are still more than six months away, which gives Apple time to improve the performance of ‌Apple Silicon‌ even further.
In announcing the transition to ‌Apple Silicon‌ chips for the Mac at WWDC in June, Apple said that the transition to ‌Apple Silicon‌ would take about two years and that new Macs with Intel processors were still in the pipeline.
We've already seen a few of those with updated 27-inch iMac models in August, and so many have assumed based on the competitive performance of Apple's M1 chip that most of Apple's Macs will be quickly moving solely to ‌Apple Silicon‌, with only specialized models like the Mac Pro and iMac Pro perhaps taking the full two years to make the transition.
PlayStation Canada promises more PS5 stock by the end of the year – MobileSyrup
Sony has confirmed that it will have more PlayStation 5 units for sale before the end of the year.
In tweets on its main PlayStation account and PlayStation Canada account, Sony noted that demand for the PS5 has been "unprecedented," making it the company's "biggest console launch ever."
We want to thank gamers everywhere for making the PS5 launch our biggest console launch ever. Demand for PS5 is unprecedented, so we wanted to confirm that more PS5 inventory will be coming to retailers before the end of the year – please stay in touch with your local retailers.

— PlayStation Canada (@PlayStationCA) November 25, 2020
For now, Sony is advising interested buyers to "stay in touch with your local retailers."
We'll cover Canadian PS5 stock resupplies as that information becomes available, so stay tuned to MobileSyrup in the days ahead.