Redmi's latest phone can be fully charged in nine minutes
Over the years, we've seen smartphone charging speeds going from the already-impressive 30 minutes down to 15 minutes, but apparently, that's still too slow for Xiaomi. In the new Redmi Note 12 lineup unveiled earlier today, one model dubbed "Redmi Note 12 Discovery Edition" stood out with a whopping 210W HyperCharge capability. This feature is controlled by three 100W fast charging chips, which fully charge the phone's 4,300mAh battery in just 9 minutes. To put things into perspective, both Xiaomi's earlier 120W HyperCharge and Oppo's 150W SuperVOOC need 15 minutes to juice up a 4,500mAh battery.
The Redmi Note 12 Discovery Edition also sees the debut of MediaTek's mid-range Dimensity 1080 processor, and it's completed with a 6.67-inch OLED screen (2,400 x 1,080, 120Hz), a 200MP main camera (Samsung's brand new HPX sensor; with OIS), an 8MP ultra-wide camera, a 2MP macro camera and a 16MP selfie camera. You'll also find dual-SIM slots, dual speakers, a 3.5mm headphone jack, a side fingerprint sensor, NFC, and an infrared blaster on this Android 12 device.
As for RAM and storage, this model only comes with one combo: 8GB LPDDR4x RAM and 256GB UFS 2.2 storage. Unlike last year's Redmi Note 11 Pro+, microSD expansion is missing here, which may be a deterrent for those who are considering an upgrade. Still, not bad for 2,399 yuan or $330.
Despite the name, the Redmi Note 12 Discovery Edition is actually based on the Redmi Note 12 Pro+, with the main difference being the lesser charging power (120W) but bigger battery (5,000mAh) for the latter. This model starts from 2,199 yuan or about $304, which comes with 8GB of RAM and 256GB of storage; or you can pay 2,399 yuan or around $331 to bump the RAM up to 12GB.
Then there's also the lesser but similar-looking Redmi Note 12 Pro, which swaps the 200MP main camera for a 50MP one (using Sony's IMX766 sensor), and it only uses 67W charging for the same 5,000mAh battery. This starts from 1,699 yuan or about $235, which gets you 6GB of RAM with 128GB of storage; and you can max out at 12GB of RAM with 256GB of storage for the price of 2,199 yuan or around $304 — the same as the Pro+'s starting price, interestingly.
Last but not least, the Redmi Note 12 is positioned as an affordable smartphone, starting at 1,199 yuan or about $166. It packs a Qualcomm Snapdragon 4 Gen 1 chipset, a slightly lesser-grade OLED display of the same size (mainly lower brightness and contrast, as well as the lack of HDR support), less powerful cameras (48MP main, 2MP depth sensor and 8MP front), weaker charging power (33W) and just a mono speaker. In terms of variants, it starts from 4GB of RAM with 128GB of storage, going all the way up to 8GB with 256GB, respectively (1,699 yuan or around $235; same as the Note 12 Pro's base price).
As with recent Redmi phones, there's a good chance that these new models will make their way to international markets later, so we'll be keeping an eye out for further updates.
All products recommended by Engadget are selected by our editorial team, independent of our parent company. Some of our stories include affiliate links. If you buy something through one of these links, we may earn an affiliate commission. All prices are correct at the time of publishing.
Makeover: How to achieve that perfect flick, no matter your eye shape
Nadia Albano offers up her tips on how to achieve a classic look
A winged eyeliner is a classic look loved by many, and surprisingly easy to do.
Here are a few easy steps, and tips, to help you get that perfect flick no matter your eye shape.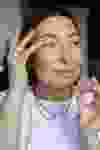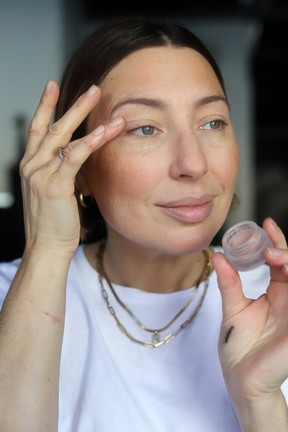 Step 1: Primer
The first and most important step is to prep the eyelid with a smudge proof base. I'm using Charlotte Tilbury's Matte — Eyes to Mesmerize in Nude Cashmere because it goes on smoothly, is long wearing and lasts up to 12 hours.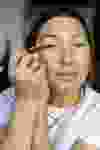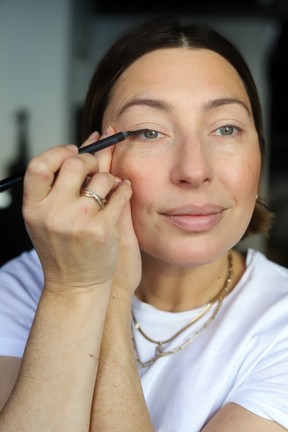 Step 2: Liner
I used Smashbox — Always On Waterproof Gel Eyeliner in Fishnet to draw on my liner. tarting at the middle of my eyelid, I traced a thin line along my lash, which progressively grew thicker toward the outer corner of my eye. I then connected the line from the inner corner to the middle of the eye. The key to a perfect liner is to use short and clean strokes, a sharp eyeliner and a fine angled liner brush to extend the outer wing.
Tip: For hooded eyes try creating the outer wing where the hood starts first and work your way inward. For round eyes start from the outer corner of the eye and create a sharper angle toward the middle of the lid. For small eyes try keeping your liner and wing thin and short. Use a skin toned eyeliner to draw a line just below the wing and to tight line, making the eyes appear larger and brighter.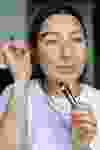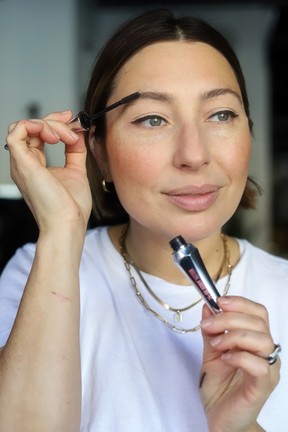 Step 3: Mascara and brows
Curling the lashes and coating them with black mascara will enhance the look, as will filling in your eyebrows. I'm using Benefit Cosmetics — Roller Lash Curling Mascara in black and on my brows, I used Benefit — 24-Hour Brow Setter Clean Brow Gel with Benefit — Precisely My Brow Pencil in #4.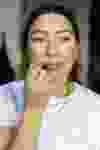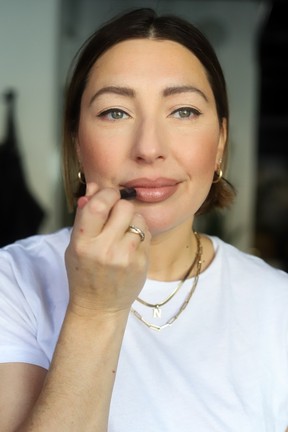 Step 4:
I lightly contoured my face with Tarte Amazonion Clay Waterproof Bronzing Powder, then swept a hint of Benefit Cosmetics — Dandelion blush on my cheeks. To pull the look together, I lined my lips with NYX — Suede Matte Lip Liner in Sandstorm then layered it with Glo Skin Beauty — Cream Glaze Crayon in Chiffon.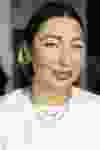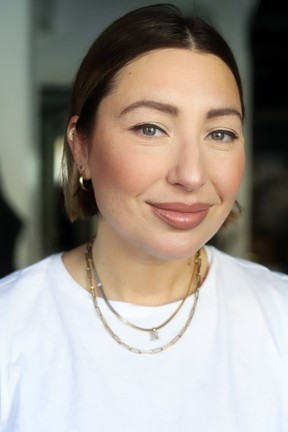 Fortnite Chapter 4 starts today: See what happened at game's Fracture event finale
The next generation of Fortnite heralds the coming of famous and exciting new characters like Geralt of Rivia from The Witcher, the fabled Doomslayer, and The Hulk, among others. Other than that, new gameplay mechanics like the addition of motorcycles add a lot more to the latest Chapter of Epic Game's most popular battle royale.
Fortnite's last map was quickly devoured by the invading Chrome in a small cutscene last night. The Herald led the Chrome, and despite the Fortnite, heroes making their last stand against him and shooting him down, which only led him to return supersized, the Chrome devoured the island along with The Herald making the island unstable and then finally disintegrating.
This was followed by a 30-minute event mode where the players were tasked to rebuild the island anew with a mix of known and fresh new locations that are set to appear in the New Chapter. At the end of the event, another cutscene appeared where Paradigm succeeds in her mission of fusing the island back as the game's Zero Point puts together the chunks of the landscape together. The second half of the trailer features cameos from characters thought to appear in Chapter 4, such as Geralt from The Witcher, Hulk, YouTuber Mr. Beast, The Doomslayer and another Pickaxe item themed around All Might from My Hero Academia.
'The Callisto Protocol' Receiving First Post-game Content This February – Bloody Disgusting
After revealing a whack of character posters earlier this week for their upcoming adaptation of The Last of Us, HBO has unleashed the big one with the official trailer. Set to a-ha's "Take On Me" (seriously), the new trailer sports almost entirely new footage, as well as recreating some iconic scenes from the first game.
Co-written and executive produced by Chernobyl creator Craig Mazin and Naughty Dog vice president Neil Druckmann, the series will cover the events of the first game, twenty years after modern civilization has been destroyed due to the Cordyceps infection. Joel, a hardened survivor, is hired to smuggle Ellie, a 14-year-old girl who holds the cure for the infection, out of an oppressive quarantine zone. What starts as a small job soon becomes a brutal, heartbreaking journey, as they both must traverse across the US and depend on each other for survival.
HBO's "The Last of Us" will premiere on January 15, 2023 on HBO Max, and stars Pedro Pascal ("The Mandalorian") as Joel, and Bella Ramsey ("Game of Thrones") as Ellie. Gabriel Luna (Terminator: Dark Fate) is playing Tommy, the brother of Pascal's Joel. Storm Reid, Anna Torv, Jeffrey Pierce, Nick Offerman, Merle Dandridge, Nico Parker, Murray Bartlett and Con O'Neil will also star in the series.
Kantemir Balagov (Beanpole) directed the pilot episode of the series, with Jasmila Žbanić (Quo vadis, Aida) and Ali Abbasi (Border) also directing episodes.