Social media a downer? – St. Albert Today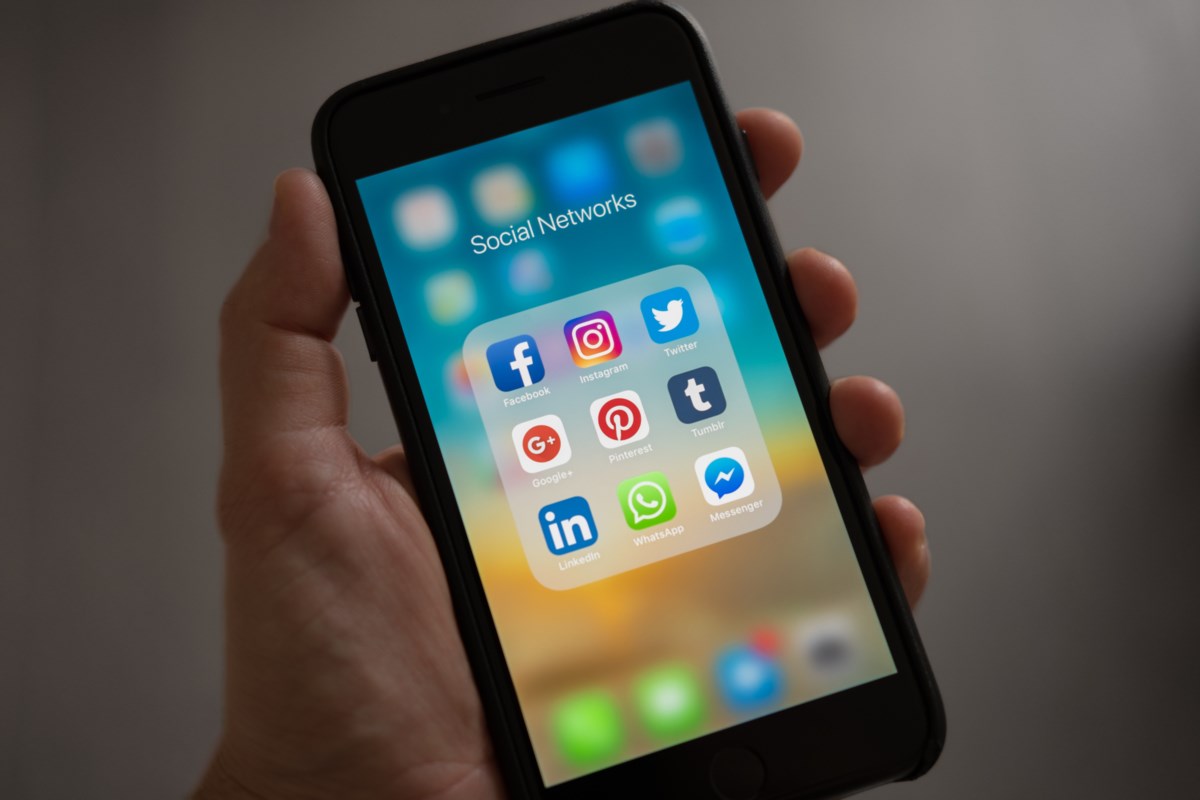 A new study from UBC Okanagan finds that it's not social media itself, but how we use it, that could impact our overall happiness.
Associate professor Derrick Wirtz studied how people use three major social media platforms — Facebook, Twitter and Instagram — and how that use can impact a person's overall well-being.

"Social network sites are an integral part of everyday life for many people around the world," says Wirtz. "Every day, billions of people interact with social media. Yet the widespread use of social network sites stands in sharp contrast to a comparatively small body of research on how this use impacts a person's happiness."
COVID-19 has changed the way we interact, but according to Wirtz, social media has transformed how we interact with others. Face-to-Face, in-person contact is now matched or exceeded by online social interactions as the primary way people connect.
While the majority of people gain happiness from interacting with others face-to-face, Wirtz notes that some come away from using social media with a feeling of negativity—for a variety of different reasons.
The study indicated that one of the main reasons for this negative feeling is linked to social comparison. Participants in Wirtz's study said the more they compared themselves to others while using social media, the less happy they felt.
"Viewing images and updates that selectively portray others positively may lead social media users to underestimate how much others actually experience negative emotions and lead people to conclude that their own life—with its mix of positive and negative feelings—is, by comparison, not as good," he says.
Wirtz notes that viewing other people's posts and images while not interacting with them lends itself to comparison without the mood-boosting benefits that ordinarily follow social contact, undermining well-being and reducing self-esteem. "Passive use, scrolling through others' posts and updates, involves little person-to-person reciprocal interaction while providing ample opportunity for upward comparison."
The research studied the way participants used social media and specifically four functions of Facebook—checking a news feed, messaging, catching up on world news and posting status or picture updates. The most frequently used function was passively checking one's news feed without directly connecting with other users.
During COVID-19, Wirtz notes that people used social media more when they were lonely, and time spent on social media only increased feelings of loneliness for participants in the study. "Today, the necessity of seeing and hearing friends and family only through social media due to COVID-19 might serve as a reminder of missed opportunities to spend time together."
The study also indicated that the more people used any of these three social media sites, the more negative they reported feeling afterwards.
"The three social network sites examined—Facebook, Twitter and Instagram—yielded remarkably convergent findings," he says. "The more respondents had recently used these sites, either in aggregate or individually, the more negative effect they reported when they responded to our randomly-timed surveys over a 10-day period."
This study also included offline interactions with others, either face-to-face or a phone call. Comparing both offline communication with online, he was able to demonstrate that offline social interaction had precisely the opposite effect of using social media, strongly enhancing emotional well-being.
The study also indicated that it is possible to use social media positively. Wirtz suggests people avoid passively scrolling and resist comparing themselves to other social media users. He also says people should use social media sites to enable direct interactions and social connectedness—for example, talking online synchronously or arranging time spent with others in-person, when possible and with proper precautions.
"If we all remember to do that, the negative impact of social media use could be reduced—and social networks sites could even have the potential to improve our well-being and happiness," he adds. "In other words, we need to remember how we use social media has the potential to shape the effects on our day-to-day happiness."
Rob Gibson / Castanet
Read more from Castanet
Some Sino-U.S. relations damage 'beyond repair', China state media warn – The Guardian
By Brenda Goh and Se Young Lee
(Reuters) – Some damage to Sino-U.S. ties is "beyond repair" amid a new wave of Trump administration measures to counter China, Chinese state media warned, amid growing rancour underlined by an ugly Twitter spat between a U.S. senator and Chinese journalists.
Relations between the world's two largest economies have sunk to their lowest point in decades over issues such as trade, technology, security, human rights and COVID-19.
In an editorial, the government-backed China Daily said it viewed as "worrisome signs" Washington's decision to limit visitor visas for members of the Chinese Communist Party and their families and a ban on Xinjiang cotton imports.
"Even if the incoming administration has any intention of easing the tensions that have been sown, and continue being sown, some damage is simply beyond repair, as the sitting U.S. president intends," the paper added.
Relations between the two countries are being shifted to "a dangerous path", the editorial said.
The U.S. government also added Chinese chipmaker SMIC and oil giant CNOOC to a blacklist of alleged military companies, prohibiting U.S. investors from buying securities issued by the firms starting late next year.
China's ambassador to the United States became the latest of the Asian nation's senior officials to signal a desire to reset the increasingly confrontational relationship as President-elect Joe Biden prepares to take office in January.
"There are always differences between the two countries. None of them justifies confrontation and war, cold or hot," Cui Tiankai said on Twitter.
"With sufficient mutual respect and mutual understanding, we are capable of managing these differences so that they would not derail the entire relationship," he said on Thursday.
A person familiar with the matter also told Reuters U.S. prosecutors are discussing a deal with lawyers for Huawei chief financial officer Meng Wanzhou to resolve criminal charges against her and end her detention in Canada, which would bring an end to a major source of tension.
It is unclear whether a Biden administration would bring a dramatic shift, however.
The Democrat told the New York Times this week that he would not remove existing tariffs set by the Trump administration against China for now.
Legislation targeting China or Chinese officials over charges of human rights abuses in the western region of Xinjiang and crackdown against pro-democracy activists in Hong Kong have won broad bipartisan support in Congress, as well, further suggesting current policies towards China will stay.
An exchange of insults on Thursday between U.S. Senator Marsha Blackburn and China Daily journalist Chen Weihua underscored persistent animosity.
Blackburn, a Republican and one of the more outspoken China critics, claimed without evidence on Twitter that China "has a 5,000 year history of cheating and stealing."
In response, Chen accused Blackburn of being the most "racist and ignorant" U.S. senator he has seen and calling her a "lifetime bitch."
Blackburn responded by calling Chen a "puppet" in Chinese President Xi Jinping's "dream for global domination" and vowed that the U.S. would not bow to "sexist communist thugs."
Hu Xijin, the editor-in-chief of China's Global Times newspaper, also criticised Blackburn on Twitter on Friday, saying it was a pity her "cognitive level is still as low as a monkey's."
(Reporting by Brenda Goh and Se Young Lee; Editing by Jane Wardell and Gerry Doyle)
Judge refuses to dismiss media charges in Pell trial – CTV News
MELBOURNE, AUSTRALIA —
A Supreme Court judge in Australia's Victoria state on Friday dismissed submissions from news media organizations and journalists that there is no case to answer on charges they breached a gag order on reporting about Cardinal George Pell's sex abuse convictions in 2018.
More charges were tossed out in the case against Australian media outlets prosecuted over reporting of Pell's abuse convictions. But the judge refused to throw out the bulk of the 87 charges of contempt of court for stories published after the cardinal's guilty verdict.
His child sexual abuse convictions were overturned by Australia's High Court earlier this year and the cardinal is back in Rome.
More than two dozen media organizations, reporters and editors were charged with breaching of suppression orders and other reporting rules in the days following the guilty verdicts.
In a mid-trial ruling on Friday, Justice John Dixon dismissed eight contempt charges against Nationwide News, Sydney radio station 2GB, Queensland Newspapers and the Nine Entertainment-owned Fairfax Media.
But he rejected arguments by 27 media outlets, journalists and editors that they had no case to answer for the remaining 79 charges.
Prosecutors last month dropped 13 charges against News Corp. staff and publications. The trial is scheduled to resume on Jan. 28.
Such suppression orders are common in the Australian and British judicial systems. But the enormous international interest in an Australian criminal trial with global ramifications highlighted the difficulty in enforcing such orders in the digital age.
Pell was convicted on Dec. 11, 2018 of sexually abusing two choirboys in a Melbourne cathedral when he was the city's archbishop in the late 1990s.
The trial of Pope Francis' former finance minister and the most senior Catholic to be charged with child sex abuse was not reported in the news media because of the suppression order that forbade publication of details in any format that could be accessed from Australia.
Details were suppressed to prevent prejudicing jurors in a second child abuse trial that Pell was to face three months later.
That second trial was cancelled due to a lack of evidence, and Australia's High Court in April overturned all convictions after Pell had spent 13 months in prison.
No foreign news organization has been charged with breaching the suppression order. The U.S. Constitution's First Amendment would prevent such censorship in the United States, so attempting to extradite an American for breaching an Australian suppression order would be futile.
Japanese PM Suga to hold news conference amid third coronavirus wave: media – TheChronicleHerald.ca
TOKYO (Reuters) – Japan's prime minister, Yoshihide Suga, is set to hold a news conference to provide an update on the country's pandemic response on Friday, his first since coronavirus case numbers surged in November.
Suga is expected to explain his backing of a widely criticised travel subsidy campaign meant to help revive the economy amid infection controls.
In recent weeks, a third wave of the coronavirus has arrived in parts of the country, and some medical groups and experts blame it on a government campaign to encourage domestic tourism.
His news conference will take place at 6 p.m. local time (0900 GMT), according to the Prime Minister's Office.
Suga's approval ratings have dipped, with many unhappy with his handling of the pandemic, polls showed. That could deal a blow to his plan to prop up local economies and may threaten the chances of his premiership beyond next autumn.
The government has paused its "Go To Travel" campaign in two cities, but Suga said on Thursday the travel subsidy programme would be extended beyond the original end date of January 2021.
"We need to support the tourism industry, which is indispensable for the local economy," Suga told a tourism strategy meeting.
The world's third-largest economy rebounded in the third quarter from a pandemic-induced slump, thanks to surging consumption and exports, but some analysts worry about slowing growth ahead because of the resurgence in infections.
Suga also faces a political controversy involving his predecessor, Shinzo Abe, who resigned in September.
He was widely seen as Abe's right-hand man during his tenure and has defended him in parliament.
Tokyo prosecutors are considering a summary indictment of two officials in Abe's office over alleged violations of a funding law, the daily Asahi reported on Friday.
(Reporting by Ju-min Park; Editing by Gerry Doyle)