Social Media Reacts to Nikole Hannah-Jones Declining UNC Position – Chapelboro.com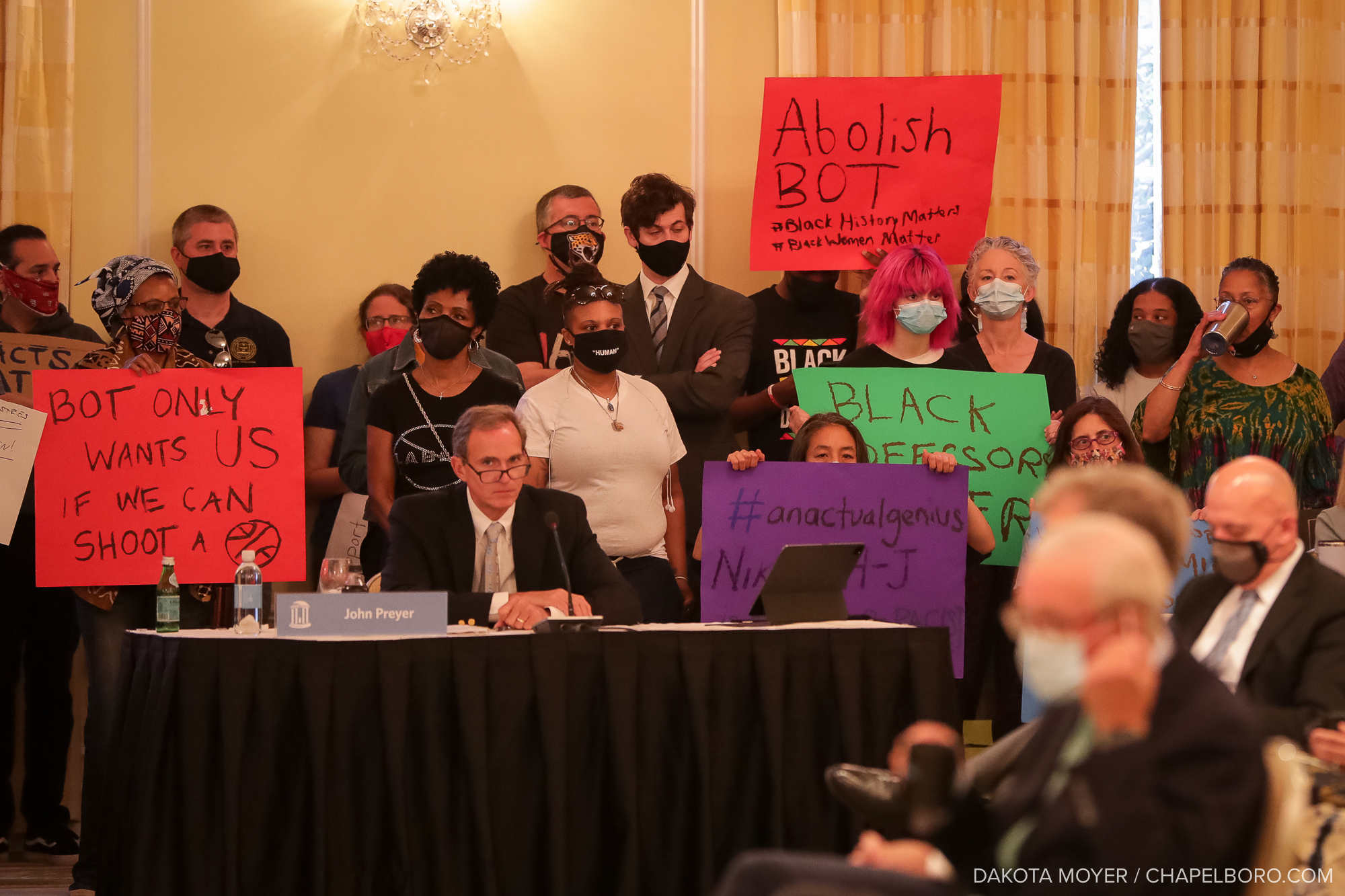 Less than a week after UNC granted Nikole Hannah-Jones tenure, the acclaimed journalist declined the position and cited her alma mater's atypical delay in her consideration. The news, announced on "CBS This Morning," set social media both locally and nationally abuzz.
Since reports emerged in May about the university's Board of Trustees delaying Hannah-Jones' tenure application for "political" reasons, several UNC leaders voiced their support for Hannah-Jones and grating her tenure through the normal processes. That included Dean of the Hussman School of Journalism and Media Susan King, who invited Hannah-Jones to join the faculty. UNC Student Body President Lamar Richards and Chair of the Faculty Governance Committee Mimi Chapman also regularly shared their support for the acclaimed journalist.
All three shared their emotions around Hannah-Jones' decision on Tuesday.
❝Of course, I'm disappointed that @nhannahjones will not be joining the school this summer. But I'm also aware it's been a long six months for her and for our #UNC students.❞ —@DeanSusanKing Full statement: https://t.co/ZRkGqCWTVu pic.twitter.com/XOfX2wdPNJ

— UNC Hussman School of Journalism and Media (@UNCHussman) July 6, 2021
The fight was never for her to come to UNC, it was always bigger than that. History will remember this as the beginning of a revolution. Congratulations, @nhannahjones ❤️

— Lamar Richards (@lamarrichards_) July 6, 2021
My Apple watch is reminding me to breathe. Good advice today, I think. Congratulations to @nhannahjones and @HowardUniv. Great things will grow there. We will miss you here @UNC.

— Mimi Chapman (@MimiVChapman) July 6, 2021
A large part of the campus community's response to the controversy came from Black UNC faculty. From organizing demonstrations to sharing department-wide statements, faculty members criticized the university's history of mistreating its BIPOC communities. Several faculty and university staff took positions at other schools in the wake of the delay for Hannah-Jones' tenure.
On Tuesday, members of the Carolina Black Caucus, an organization of Black UNC educators, shared their thoughts to Hannah-Jones declining UNC's offer. Faculty of the Hussman School of Journalism and Media also shared a statement and additional thoughts on Twitter.
"The Carolina Black Caucus fully supports the decision of Nikole Hannah-Jones not to bring her time and talents to UNC-Chapel Hill…we completely understand the choice not to come to work at an institution that willfully disrespects you at every turn." pic.twitter.com/hr14FeBBhn

— UNC Black Caucus (@UNCBlackCaucus) July 6, 2021
I support @nhannahjones decision to take her gifts and talents to Howard U instead of beginning with the UNC Hussman School of Journalism. Until @UNC officials (at all levels) do right by our faculty, staff, and students, this will continue to be the outcome. @UNCBlackCaucus pic.twitter.com/9gaOEm4pvm

— Khalilah R. Johnson, PhD, OTR/L (@OccScienceBae) July 6, 2021
Fellow Tar Heel and freedom fighter, I applaud you for standing in your power. I am proud of you. I am excited about this new chapter of change. Thank you to you and @JoekillianPW for putting words into action. @KevinGuskiewicz, now it's our turn to action and create real change

— Jaci Field (@jacifield) July 6, 2021
We offer @nhannahjones our profound apology for all she endured. It will not be in vain. We are reestablishing our autonomy, clarifying our values & will demonstrate a model of faculty governance guided by diversity, equity, inclusion & belonging. https://t.co/5alMHv39Lg

— Shannon McGregor, PhD (@shannimcg) July 6, 2021
What's happening at UNC isn't an isolated incident. The broader forces that led to the NHJ debacle are still hard at work. This won't be the last time, or the last place, we see something like this.

— Deen Freelon (@dfreelon) July 6, 2021
"It's not my job to heal the university of North Carolina." – @nhannahjones. Indeed. The fact that @nhannahjones NEVER HEARD from @unc chancellor @KevinGuskiewicz or Provost Blouin during this is SHAMEFUL and DISGRACEFUL. https://t.co/F3rZfq2EBl

— Daniel Kreiss (@kreissdaniel) July 6, 2021
Now UNC can focus on becoming better – starting with the @unc_bsm list of demands. Don't tell us how sad you're feeling, @UNC leaders: do the work.

— Allison Schlobohm (@A_Schlobohm) July 6, 2021
4 quick takeaways from @nhannahjones interview:
*The chancellor never contacted her???!!!
*She told students about her decision & it didn't leak!
*UNC loses her investigative teaching
*I'm going to apply to Howard U.

— John Robinson (@johnrobinson) July 6, 2021
In addition to Hannah-Jones' announcement of declining UNC's position, she announced she will instead join Howard University's faculty as a Knight Chair and will establish the Center for Journalism and Democracy at the school.
Howard University is proud to announce Nikole Hannah-Jones & Ta-Nehisi Coates will join the HU faculty to help educate the next generation of black journalists. The appointments are supported by nearly $20 million donated by four donors.

Read more here: https://t.co/7JILEjOlNd pic.twitter.com/7i8oNTU15C

— Howard University (@HowardU) July 6, 2021
Several Black journalists and academics across the country shared their thoughts on this news, highlighting how the role aims to train aspiring Black students for decades to come.
Wow. @nhannahjones declines offer from @unc and heads to @HowardU, where her close friend #TanehisiCoates was educated.

What an amazing addition to Howard University. HBCUs continue to be critically important. And these voices are necessary to the field of bearing witness. https://t.co/z7xiWCd4cx

— @tiffanydcross (@TiffanyDCross) July 6, 2021
I can't say enough about how much I admire @nhannahjones for rejecting UNC, AFTER getting tenure, and then choosing Howard. She wins.

— Marc Lamont Hill (@marclamonthill) July 6, 2021
Always go where you are celebrated, not just tolerated.

— Karen Attiah (@KarenAttiah) July 6, 2021
Win-Win@HowardU pic.twitter.com/OqzmLPAcIf

— jelani cobb (@jelani9) July 6, 2021
that legacy being one of creating spaces for black folks to say whatever they want just like everyone else.

— clean tone (@clintonyates) July 6, 2021
Bwahahahahahahahahhaha. @nhannahjones did THAT y'all. 💯💯💯💯💯

— Melissa Harris-Perry (@MHarrisPerry) July 6, 2021
"It's not my job to heal the University of North Carolina. That's the job of the people in power who created this situation in the first place." —@nhannahjones

THIS.

And it would be good if people, particularly those in power in other places that need fixing, remember this.

— Rabbi Danya Ruttenberg (@TheRaDR) July 6, 2021
Hannah-Jones' full statement on her decision to decline a position at UNC can be read on the NAACP's Legal Defense Fund's website.
---
Chapelboro.com does not charge subscription fees. You can support local journalism and our mission to serve the community. Contribute today – every single dollar matters.
Kirby Dach crashes Colton's first media session – FortSaskOnline.com
Watch Live: Oliver Ekman-Larsson addresses media after trade to Canucks – Sportsnet.ca
* public_profileBlurb *
* public_name *
* public_gender *
* public_birthdate *
* public_emailAddress *
* public_address *
* public_phoneNumber *
Social Media Buzz: Jill Biden at Olympics, Sydney Covid Protest – Bloomberg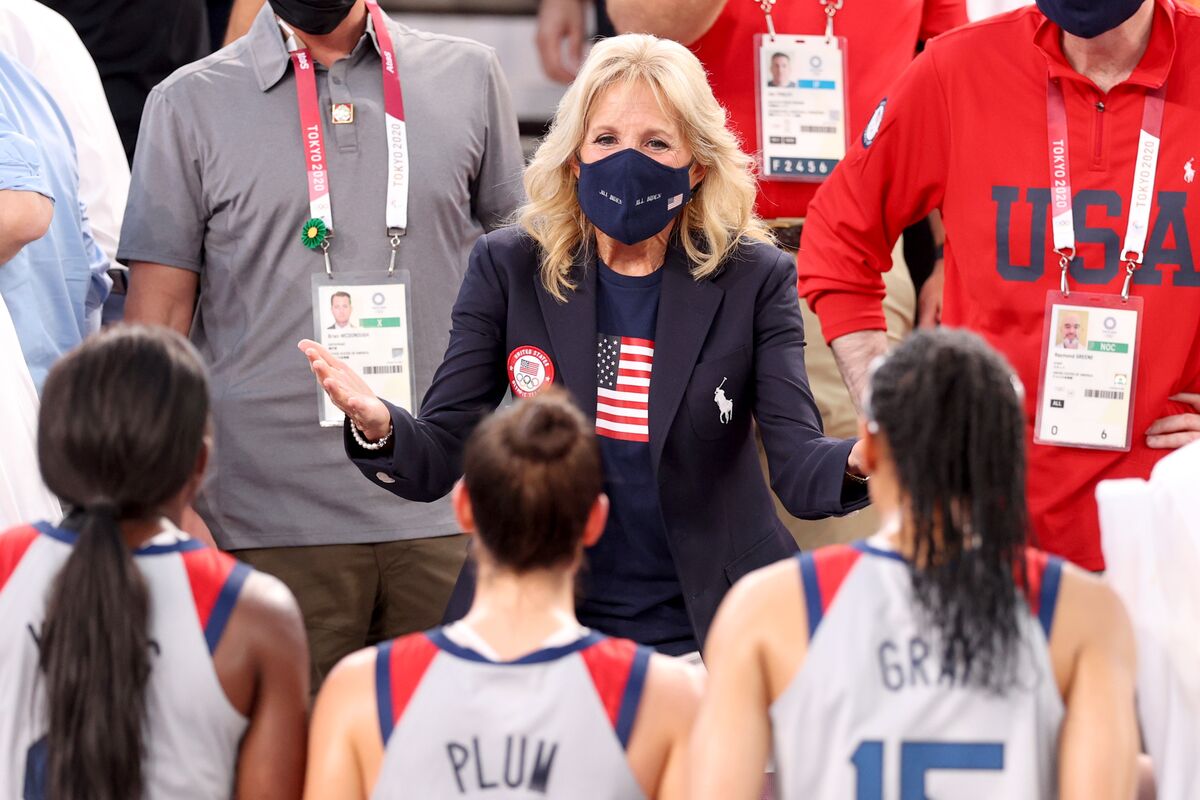 What's trending on social media this morning:
U.S. government health officials increasingly expect vulnerable people will need to be given Covid-19 vaccine booster shots, the New York Times reported, without saying where it got the information.