Tech Tent: Did social media inspire Congress riot? – BBC News


.css-94m6rd-HeadingWrapperborder-bottom:solid 1px #BABABA;padding-bottom:1.5rem;.css-94m6rd-HeadingWrapper > *:not([hidden]):not(style) ~ *:not([hidden]):not(style)margin-top:1rem;.css-vk3nhx-ComponentWrappermargin:1.5rem 0;
.css-2y05cd-StyledFigurefont-family:ReithSans,Helvetica,Arial,freesans,sans-serif;font-weight:400;font-size:0.875rem;line-height:1.125rem;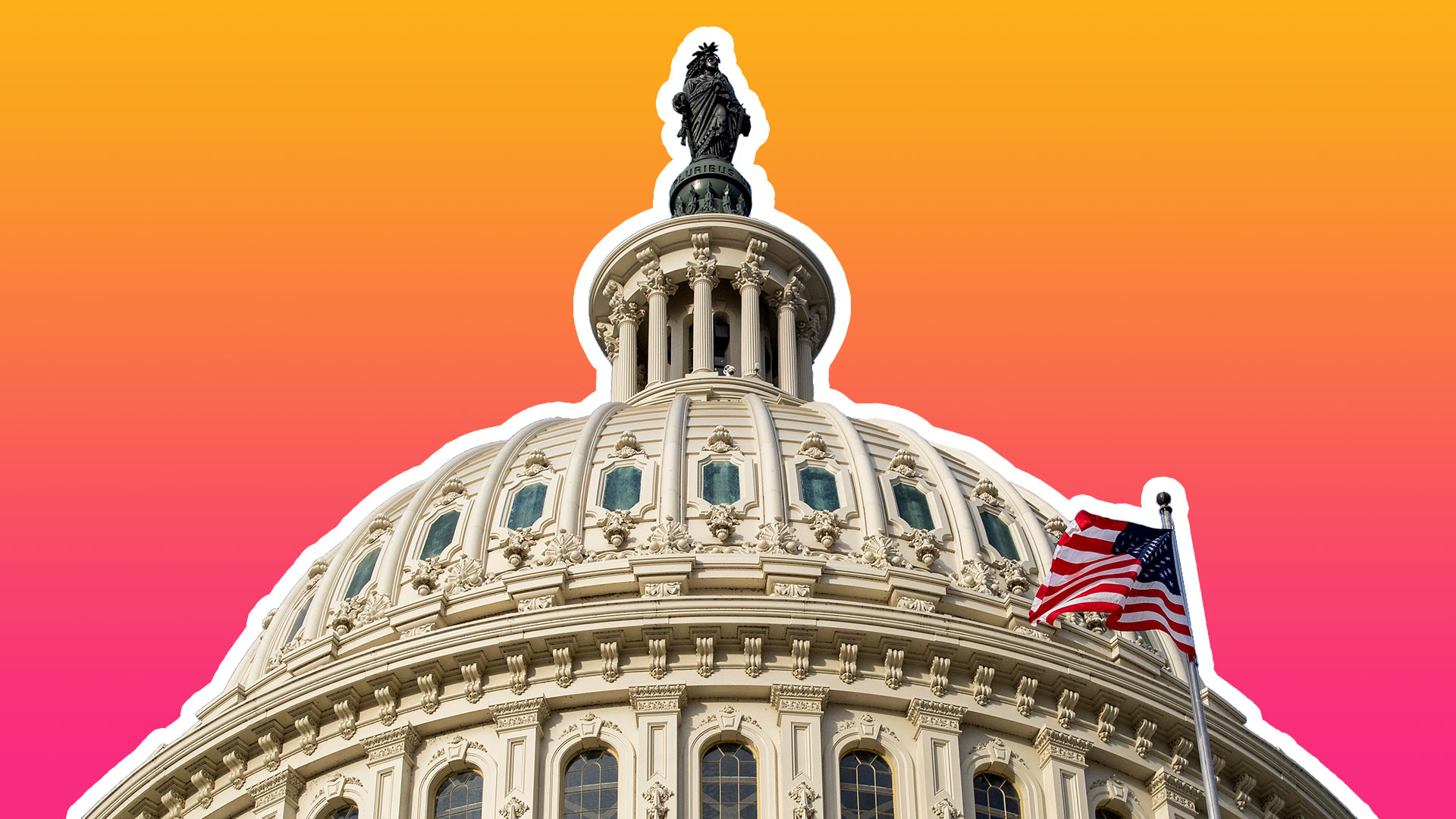 .css-uf6wea-RichTextComponentWrappermargin:1rem 0;max-width:36.25rem;
.css-83cqas-RichTextContainercolor:#3F3F42;.css-83cqas-RichTextContainer > *:not([hidden]):not(style) ~ *:not([hidden]):not(style)margin-top:1rem;
.css-14iz86j-BoldTextfont-weight:bold;It was the most violent assault on the US Capitol since the British Army set it ablaze in the war of 1814.
This week's Tech Tent asks what role social media played in preparing the ground for the riots which saw Donald Trump's supporters storm Congress.
.css-18mjolk-ComponentWrappermargin:1.5rem 0;max-width:50rem;

.css-1pzprxn-BulletListContainermargin-left:1.5rem;.css-1pzprxn-BulletListContainer *:not([hidden]):not(style) ~ *:not([hidden]):not(style)margin-top:1rem;.css-1pzprxn-BulletListContainer ullist-style-type:disc;.css-1pzprxn-BulletListContainer ollist-style-type:decimal;
.css-yidnqd-InlineLink:linkcolor:#3F3F42;.css-yidnqd-InlineLink:visitedcolor:#696969;.css-yidnqd-InlineLink:link,.css-yidnqd-InlineLink:visitedfont-weight:bolder;border-bottom:1px solid #BABABA;-webkit-text-decoration:none;text-decoration:none;.css-yidnqd-InlineLink:link:hover,.css-yidnqd-InlineLink:visited:hover,.css-yidnqd-InlineLink:link:focus,.css-yidnqd-InlineLink:visited:focusborder-bottom-color:currentcolor;border-bottom-width:2px;color:#B80000;@supports (text-underline-offset:0.25em).css-yidnqd-InlineLink:link,.css-yidnqd-InlineLink:visitedborder-bottom:none;-webkit-text-decoration:underline #BABABA;text-decoration:underline #BABABA;-webkit-text-decoration-thickness:1px;text-decoration-thickness:1px;-webkit-text-decoration-skip-ink:none;text-decoration-skip-ink:none;text-underline-offset:0.25em;.css-yidnqd-InlineLink:link:hover,.css-yidnqd-InlineLink:visited:hover,.css-yidnqd-InlineLink:link:focus,.css-yidnqd-InlineLink:visited:focus-webkit-text-decoration-color:currentcolor;text-decoration-color:currentcolor;-webkit-text-decoration-thickness:2px;text-decoration-thickness:2px;color:#B80000;Listen to the latest Tech Tent podcast on BBC Sounds
Listen live every Friday at 15.00 GMT on the BBC World Service

The BBC's disinformation specialist, Marianna Spring, told the programme that the roots of the anger on display amongst Trump supporters can be traced back to before the presidential election.
"President Trump, on his own Twitter feed, amplified and suggested that this election was going to be rigged, that there was going to be fraudulent voting," she said.
Then, after the election, she saw lots of Facebook groups spring up using the term "stop the steal", echoing Trump's own language.
.css-mysbf6-ComponentWrapper-CrossheadComponentWrappermargin:1.5rem 0;max-width:50rem;padding-top:1rem;max-width:36.25rem;
.css-qozapo-StyledHeadingfont-family:ReithSerif,Helvetica,Arial,freesans,sans-serif;font-weight:500;font-size:1.5rem;line-height:1.75rem;color:#3F3F42;@media (min-width:37.5rem).css-qozapo-StyledHeadingfont-size:2rem;line-height:2.25rem;.css-qozapo-StyledHeading:focusoutline-style:none;.css-qozapo-StyledHeading:focus-visibleoutline-style:auto;
Group think
Facebook removed many of the groups, but by then the damage was done – just as it was with the social media giant's belated move to remove content about the QAnon conspiracy theory.
"When the roots of these conspiracies are so deep, it comes as little surprise that the threats continued, the disinformation continued," Spring said.
"A lot of people who attended Capitol Hill felt so passionate about this – and really genuinely believed these false claims spreading online about voter fraud."
Disinformation researcher Dr Alexi Drew, of King's College London, said this "is something that a lot of us have been saying has been a real risk for quite some time".
She added: "It's just tragic that it's taken the realisation of that risk for others to listen, and actually realise that we weren't exaggerating what we've been trying to say for the past four years or more."
Many of the conspiracy theorists have moved on to far-right platforms such as Parler, when they have been banned from Facebook or Twitter.
But Dr Drew says the social media giants have no excuse for not moving more rapidly against groups which are spreading dangerous lies.
And she reserves her strongest criticism for Facebook, which has encouraged people to join such groups through its algorithm.
"They've had the controls and the ability to stamp down on group recommendations and these closed groups – and the content in these groups – since they were created.
"They've just not done it until now."
TV still has power
The question is what happens next. You might think that with both Democrats and Republicans extremely critical of social media, tighter regulation is a surefire bet under the Biden administration.
But what that will look like remains to be seen.
Will it, for instance, involve the repeal of section 230, which protects online platforms from legal action over user comments?
The danger is that tighter rules will be more expensive for tech companies – which could just reinforce the dominance of the existing wealthy players, shutting out newcomers.
And is it even clear that social media bears most of the responsibility for spreading the lies and hatred that led to the assault on the Capitol?
Remember, Fox News, talk radio stations and more recently TV channels such as OANN and NewsMax have fed their audiences a Trump-shaped view of the world for a long time.
Last year, Harvard University's Berkman Klein Center published a study of how misinformation spread about the amount of fraud in postal voting.
The researchers found that social media activity around the subject surged when mainstream news reports carried speeches about it by President Trump, peaking last April when Fox News ran numerous segments about its dangers.
Ever since the Reagan administration abolished the Fairness Doctrine in the 1980s, television news channels have been free to offer a partisan view. The result today is that viewers of Fox News and MSNBC might as well occupy two very different countries.
It is hard to see how tighter regulation of social media will change that.
.css-144ki52-SectionWrappermargin:1.5rem 0;padding-top:1.5rem;
InvestorChannel's Media Watchlist Update for Friday, January, 22, 2021, 18:04 EST – InvestorIntel
InvestorChannel's Media Stocks Watchlist Update video includes the Top 5 Performers of the Day, and a performance review of the companies InvestorChannel is following in the sector.
Sources Include: Yahoo Finance, AlphaVantage FinnHub & CSE.
For more information, visit us at InvestorIntel.com or email us at info@investorintel.com
Watchlist Companies:
– Media Central Corp Inc (FLYY.CN) 0.02 (33.33%)n- QYOU Media Inc (QYOU.V) CAD 0.21 (24.24%)n- Moovly Media Inc (MVY.V) CAD 0.14 (16.67%)n- WOW! Unlimited Media Inc (WOW.V) CAD 0.51 (2.00%)n- HubSpot Inc (HUBS) USD 393.48 (1.21%)n- MediaValet Inc (MVP.V) CAD 2.82 (1.08%)n- Stingray Group Inc (RAY-A.TO) CAD 7.66 (0.92%)n- Corus Entertainment Inc. (CJR-B.TO) CAD 4.95 (0.61%)n- Slack Technologies Inc (WORK) USD 42.65 (0.54%)n- Wix.com Ltd (WIX) USD 249.49 (0.23%)n- Zoom Video Communications Inc (ZM) USD 383.40 (0.15%)n- Adobe Inc. (ADBE) USD 472.44 (0.09%)n- Postmedia Network Canada Corp (PNC-A.TO) CAD 1.55 (0.00%)n- Quizam Media Corp (QQ.CN) 0.37 (0.00%)n- Lingo Media Corp (LM.V) CAD 0.08 (0.00%)n- Glacier Media Inc. (GVC.TO) CAD 0.35 (0.00%)n- ZoomerMedia Limited (ZUM.V) CAD 0.11 (0.00%)n- Thunderbird Entertainment Group Inc (TBRD.V) CAD 2.95 (-1.01%)n- Network Media Group Inc (NTE.V) CAD 0.17 (-2.94%)n- GVIC Communications Corp. (GCT.TO) CAD 0.29 (-17.14%)n
Montreal boy on autism spectrum becomes, briefly, a social media star – CTV News Montreal
MONTREAL —
For most autistic kids, it hasn't been an easy year. But for one boy at a Montreal special-needs school, it's at least been a great week, after he took the Internet by storm.
If you were to ask his mother, seven-year-old Billy Katsabanis likes to be on camera.
"He feels famous from like a long time ago," his mother, Stella Tzintzis, told CTV News while laughing. Katsabanis is on the autism spectrum, and is a student at Giant Steps, an elementary school for children who have autism.
Recently Katsabanis got his wish, becoming a social media sensation.
"It all started when he won the crew neck (sweatshirt) from the No Better You Foundation," Tzintzis said. The charity was founded by Montreal special needs teacher and former contestant on 'The Bachelor,' Vanessa Grimaldi, who mentioned Katsabanis on her social platforms. She has 710,000 Instagram followers, so that got Katsabanis mots of attention.
"And then the love came pouring in — for over 100,000, close to 200,000 views," Tzintzis said. One of the well-wishers who reached out to Katsabanis was comedian Howie Mandel.
"We know Vanessa," said the school's director general, Thomas Henderson, pointing out that Grimaldi has done a lot of work raising funds for special needs children over the years. "But for Howie Mandel to get involved is pretty special."
It also thrust the school into the spotlight at a time when — like seemingly every institution — it has to adjust to life with the pandemic. For instance, the school had to repurpose its sensory room to another classroom because of distancing rules. A sensory room is a quiet and interactive space often used to stimulate children on the autism spectrum
"It's definitely a hole in our school the children really miss it," said Belinda Solomon, a teacher at Giant Steps. She said she hopes the school can reopen the sensory room next year.
For the time being, Katsabanis is basking in his fame as a social media influencer.
"Everybody is just feeling what our family was going through and encouraging and saying bravo," Tzintzis said.
Candace Cameron Bure defends social media habits after 'disappointed' fans criticize her following – Yahoo Movies Canada
GlobeNewswire
BEYOND / HELLO™ Bloomington to Begin Serving Adult-Use Cannabis Consumers on Jan. 26, 2021BOCA RATON, Fla., Jan. 22, 2021 (GLOBE NEWSWIRE) — Jushi Holdings Inc. ("Jushi" or the "Company") (CSE: JUSH) (OTCMKTS: JUSHF), a vertically integrated, multi-state cannabis operator, announced it will open its 16th dispensary nationally and fourth retail location in Illinois: BEYOND / HELLO™ Bloomington. The new store location will begin serving adult-use cannabis customers on Tuesday, January 26, 2021. "A year after Illinois' adult-use program launched, legal cannabis sales surpassed more than $1 billion," said Jim Cacioppo, Chief Executive Officer, Chairman and Founder of Jushi. "Located in one of the fastest growing metropolitan areas in Illinois that's home to two universities, our second retail location in Bloomington-Normal and fourth in the state will help us meet the unprecedented consumer demand for cannabis products in the Prairie State. As we move into the New Year, we will also continue to broaden access to high-quality cannabis products as well as explore new growth opportunities in Illinois that deliver value to our patients, customers and shareholders." BEYOND / HELLO™ Bloomington, conveniently located near two universities, will begin serving customers on Tuesday, January 26, 2021 from 9:00 a.m. to 10:00 p.m. Customers can shop for adult-use cannabis products in-store and through its online shopping experience at www.beyond-hello.com, which enables consumers to view real-time pricing and product availability, and then reserve products for convenient in-store pickup. BEYOND / HELLO™ Bloomington carries high-quality, adult-use cannabis brands and products, including flower, extracts, edibles, vapes, topicals, tinctures, sublinguals and merchandise. Its expertly trained staff is also available during normal store hours to help adult-use customers identify and select the best cannabis products to meet their various needs and desires. The licensed storefront is ADA accessible, LGBTQ+ friendly and offers a standing 10% discount to seniors and veterans and active military service people with identification. In addition, Illinois medical marijuana patients can continue to shop at BEYOND / HELLO™ Normal during normal store hours. The City of Bloomington is located in the heart of Central Illinois and is the County Seat of McLean County, the largest county in Illinois. Bloomington (pop. 76,610) is a twin city with the Town of Normal (pop. 52,497), located near Interstates 39, 55 and 74 as well as US Route 51 and State Route 9. The twin cities are also serviced by two major railroad lines and Amtrak, as well as air transportation at the Central Illinois Regional Airport, one of the fastest growing airports in the country, which services commuter, corporate and private aircrafts. For more information, visit https://www.jushico.com/ or BEYOND / HELLO™ on Instagram and Facebook. About Jushi Holdings Inc.We are a vertically integrated cannabis company led by an industry leading management team. In the United States, Jushi is focused on building a multi-state portfolio of branded cannabis-derived assets through opportunistic acquisitions, distressed workouts, and competitive applications. Jushi strives to maximize shareholder value while delivering high quality products across all levels of the cannabis ecosystem. For more information, please visit https://www.jushico.com/, https://twitter.com/wearejushi and https://linkedin.com/company/jushi-inc. Forward-Looking Information and Statements This press release contains certain "forward-looking information" within the meaning of applicable Canadian securities legislation and may also contain statements that may constitute "forward-looking statements" within the meaning of the safe harbor provisions of the United States Private Securities Litigation Reform Act of 1995. Such forward-looking information and forward-looking statements are not representative of historical facts or information or current conditions but instead represent only the Company's beliefs regarding future events, plans or objectives, many of which, by their nature, involve estimates, projections, plans, goals, forecasts and assumptions that may prove to be inaccurate. As a result, actual results could differ materially from those expressed by such forward-looking statements and such statements should not be relied upon. Generally, such forward-looking information or forward-looking statements can be identified by the use of forward-looking terminology such as "plans," "expects" or "does not expect," "is expected," "budget," "scheduled," "estimates," "forecasts," "intends," "anticipates" or "does not anticipate," or "believes," or variations of such words and phrases or may contain statements that certain actions, events or results "may," "could," "would," "might" or "will be taken," "will continue," "will occur" or "will be achieved". By identifying such information and statements in this manner, the Company is alerting the reader that such information and statements are subject to known and unknown risks, uncertainties and other factors that may cause the actual results, level of activity, performance or achievements of the Company to be materially different from those expressed or implied by such information and statements. In addition, in connection with the forward-looking information and forward-looking statements contained in this press release, the Company has certain expectations and has made certain assumptions. Among the key factors that could cause actual results to differ materially from those projected in the forward-looking information and statements are the following: the ability of Jushi to successfully achieve business objectives, including with regulatory bodies, employees, suppliers, customers and competitors; changes in general economic, business and political conditions, including changes in the financial markets; changes in applicable laws; and compliance with extensive government regulation, as well as other risks and uncertainties which are more fully described in the Company's Management, Discussion and Analysis for the nine months ended September 30, 2020, and other filings with securities and regulatory authorities which are available at www.sedar.com. Should one or more of these risks, uncertainties or other factors materialize, or should assumptions underlying the forward-looking information or statements prove incorrect, actual results may vary materially from those described herein as intended, planned, anticipated, believed, estimated or expected. The forward-looking information and forward-looking statements contained in this press release are made as of the date of this press release, and the Company does not undertake to update any forward-looking information and/or forward-looking statements that are contained or referenced herein, except in accordance with applicable securities laws. All subsequent written and oral forward-looking information and statements attributable to the Company or persons acting on its behalf is expressly qualified in its entirety by this notice. For further information, please contact: Investor Relations Contact:Michael PerlmanExecutive Vice President of Investor Relations and Treasury561-281-0247Investors@jushico.com Media Contact:Ellen MellodyMATTIO Communications570-209-2947Ellen@Mattio.com