The Best Prime Day Headphone Deals: Apple AirPods Pro, Bose, Beats, Sennheiser, Sony & More – Forbes
Amazon Prime Day 2020 is here, falling on Tuesday, October 13 and Wednesday, October 14. If it's the best Prime Day headphones deals you're after, we have got a great selection for you.
Your first task is to decide what kind of headphones you want, and how much you want to pay – though how much you can save may also influence you. Whether you want over-ear or in-ear, affordable or premium, there are plenty of choices at great prices. Noise-canceling is a particularly popular headphones group and one of the very best brands for this feature, Bose, is here.
There are plenty of other classic brands to choose from, like JVC and the mighty Sony. Or maybe you think Sennheiser headphones are hard to beat – and you'd be right, by the way – well, Sennheiser's in the Prime Day Headphone Deals, too, alongside Skullcandy and JBL Oh, and look no further for one of the coolest names on the planet: Beats By Dre, with its unmissable, sporty Powerbeats Pro in-ears heavily reduced.
Note that Prime Day headphone deals are always popular, so when you know what you want, it's worth moving quickly to snag the exact brand, model and color you want. And remember, to take part in most deals, you'll need to be a Prime subscriber.
---
The Best Prime Day Headphones Deals
Apple AirPods Pro
AirPods Pro are sublime: the tiny true-wireless buds fit in your ears snugly to ensure the audio stays in and the world's cacophony out. Then there's sensational active noise-canceling to improve the sound even more. Not to mention a Transparency Mode that lowers the volume of the music playback and uses the microphones to enable you to hear someone talking to you without removing your earbuds. And Amazon has just reduced the price from $249 to $199 – a 20% reduction that'll save you $50.
---
Apple AirPods With Charging Case (Wired)
Or maybe you'd be happy with the regular AirPods. Normally, you'd pay $159, but right now, if you're quick, you can snag them for $124.99, that's a 21% reduction that takes $34.01 off the regular sticker price. These are elegant, efficient earbuds with a look that's become – to coin an over-used word – iconic. They are instantly recognizable as Apple's earbuds and they look great. The sound quality is extremely good, whether you're listening to music or on a phone call. And AirPods were the first with a super-cool feature: take one earbud out and the music pauses automatically until you put it back.
---
Apple AirPods With Wireless Charging Case
There's also an offer for the model with the wireless charging case – that's the one that lets you plonk the case down on a charging pad instead of plugging it in. For Prime Day, these are reduced from $199 by $39.01 to $159.99, which is the normal price of the model without the wireless charging capability. There's no noise-canceling here, but these are great-sounding earbuds. If you have an iPhone, there's no product that's as simple to connect.
---
Bose QuietComfort 35 II
Some of the best noise-canceling headphones ever made, Bose's QuietComfort 35 II over-ears are sublimely comfortable and tremendously easy to use. Three different color options are available and all have a big savings attached: $100 or $150. That's because the original prices of $299-$349 are discounted to just $199. Pick from silver, black and the limited-edition Triple Midnight, which looks as cool as it sounds. You can read more about this pair of headphones in my full review of the Prime Day Bose headphone deal.
---
Powerbeats Pro Wireless Earphones
Beats by Dre makes a lot of different headphones and Powerbeats Pro wireless in-ears are some of the brand's most successful cans. They're sweat-resistant so your motivational playlist is always available and no matter how active you are, they won't fall out, thanks to an elegant earhook that holds them in place. Add in Apple's advanced H1 chip to add extra features and an all-round excellent audio quality and these are hard to resist. Choose from ivory and black color finishes.
---
Sennheiser Momentum 3 Wireless Noise Cancelling Headphones
Sennheiser's Momentum series have one of the most distinctive-looking designs around. Momentum 3 has the latest features and Sennheiser's excellent noise-canceling. All in a pair of headphones that sit comfortably on your head and sound as good as they look. There's a smart app, compatibility with Amazon's Alexa and even a Transparent Hearing mode to let the outside world in. All for a great price: a 20% reduction means the normal price of $399.95 is cut by $81.95 to $318.
This deal goes live at 10/13/2020 09:00:00 PST
---
Sony Noise Cancelling Headphones
Pay just $88 instead of the regular $198 price for these solidly built, wireless noise-cancelers from Sony. These are headphones which go on and on, for up to 35 hours, and fit snugly over the ears to keep the music in and the world out. The multiple microphones automatically sense the level of noise around you and adjust accordingly. The $110 savings here is great. Choose from black and blue finishes.
---
Sony Noise-Canceling Headphones for Half Price
Normally $248 but for Prime Day just $123, a savings of $125. These great-looking headphones sound fantastic thanks to powerful bass, tremendous noise-cancelation and even a mode which lets in the noise of the world without you having to remove the headphones. They're compatible with Alexa or Google Assistant. Just touching the earcup lets you skip tracks, change volume or even answer a phone call. Black and blue colorways available.
---
Sony WH-CH510 Wireless Headphones
Pay $39.99 instead of the regular $59.83 for these cool headphones from audio masters Sony. They are superbly lightweight and have 35 hours' battery life. The cups swivel so they're easier to carry and they charge quickly, too. A built-in microphone means you can use them for phone calls. The white finish is eye-catching and attractive.
---
Skullcandy Indy XT True Wireless In-Ear Earbud
Save $45 on the regular $84.99 price on these cool little earbuds, available for Prime Day for just $39.99. Lovers of detail will appreciate the subtle skull logo, while everyone will enjoy the great fit, thanks to ear gels. Battery life is up to 16 hours, with 4 hours in the earbuds themselves and another 8 hours in the charging case.
---
More Amazon Prime Day 2020 Coverage
iPhone 12 Lineup Enables Personal Hotspot Over Faster 5GHz Wi-Fi – MacRumors
As noted by MacRumors contributor Steve Moser, and confirmed by Aaron Zollo, the iPhone 12 lineup introduces support for Personal Hotspot tethering over faster 5GHz Wi-Fi, compared to 2.4GHz Wi-Fi on previous iPhones.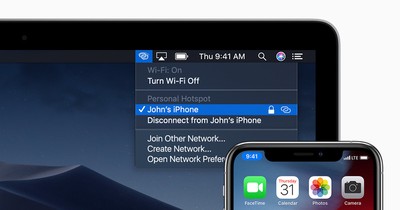 Personal Hotspot over 5GHz Wi-Fi is enabled by default on all iPhone 12 models. In the Settings > Personal Hotspot menu on these devices, there is a new "Maximize Compatibility" toggle that reverts Personal Hotspot to 2.4GHz Wi-Fi when enabled, with Apple noting that this may reduce internet performance on devices that are connected to the hotspot.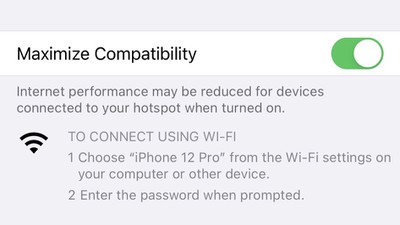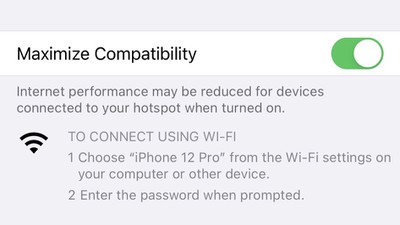 The combination of iPhone 12 models supporting higher-speed 5G networks and 5GHz Wi-Fi's higher maximum throughput paves the way for faster Personal Hotspot, but testing will have to be done to confirm the exact speed improvements. Keep in mind that while 5GHz Wi-Fi is faster than 2.4GHz Wi-Fi, it has shorter range, so Personal Hotspot speeds will vary based on the distance of a tethered device to the iPhone.
MagSafe 15W fast charging restricted to Apple 20W adapter – AppleInsider
New testing shows Apple's MagSafe charging puck does peak at 15W with iPhone 12, but only when paired with the company's 20W adapter.
The apparent restriction was discovered by Aaron Zollo of YouTube channel Zollotech. In a comprehensive evaluation of Apple's MagSafe device posted on Monday, Zollo found two Apple adapters — a new standalone 20W USB-C device and the 18W unit that came with iPhone 11 Pro handsets — achieved high rates of charge.
Measuring energy throughput with an inline digital meter revealed MagSafe hits the advertised 15W peak charging rate (up to 16W in the video) when paired with Apple's branded 20W adapter. Speeds drop to about 13W with the 18W adapter, and Zollo notes the system takes some time to ramp up to that level.
Older adapters and third-party models with high output ratings do not fare well in the test. Apple's own 96W MacBook Pro USB-C adapter eked out 10W with MagSafe, matching a high seen by Anker's PowerPort Atom PD1. Likewise, charging rates hovered between 6W and 9W when attached to Aukey's 65W adapter, Google's Pixel adapter and Samsung's Note 20 Ultra adapter.
It appears third-party devices will need to adopt a MagSafe-compatible power delivery (PD) profile to ensure fast, stable energy delivery when connected to iPhone 12 series devices.
As can be expected with any charging solution, temperature plays a significant role in potential throughput. Zollo found MagSafe significantly throttles speeds as temperatures rise, meaning actual rates are not a constant 15W even when using the 20W adapter. When heat rises, energy output decreases to protect sensitive hardware components and the battery itself. In some cases, this could prompt users to remove their iPhone from its case — including Apple-branded MagSafe models — to achieve maximum thermal efficiency.
Zollo also confirms older Qi-compatible iPhone models, like iPhone 8 Plus and iPhone 11 Pro Max, charge at about 5W with MagSafe. Apple previously said Qi devices would charge at 7.5W.
Hollywood North: B.C. film production recovers to top pre-pandemic levels – Vancouver Sun
Article content continued
Visual effects and animation divisions also moved to remote work setups early on and were able to continue working through the shutdown, keeping the lights on B.C.'s film sector.
While B.C.'s film industry was never subject to an official order to close by health officials, studio heads, local health authorities and unions were in communication throughout the shutdown to ensure a return to filming could be done safely.
"As a collaborative, agile and adaptable business sector, we are in the fortunate position to help restore the productivity and optimism that characterizes our region, as we navigate recovery from an extraordinary global crisis together," said Peter Leitch, chairperson of the Motion Picture Production Industry Association of B.C. and president of North Shore Studios.
Prior to 2020's unpredictable storyline, research conducted by the Vancouver Economic Commission also notes that B.C.'s film industry had set a new record last year, with more than $4.1 billion spent in the province (all figures in Canadian dollars).
Of that total, $3.1 billion was on physical production alone, with the remaining $1 billion on post-production and animation, much of which also takes place in Vancouver.
The $4.1 billion figure nearly triples 2012's $1.6 billion. In the period between 2012 and 2019, film activity has translated into $22.7 billion for the provincial economy in the areas of hospitality, tourism, material suppliers, transportation and construction, including $12.5 billion alone in wages for British Columbians. It's estimated that the film industry supports more than 70,000 jobs across B.C.