The global recovery is gaining speed. There are still huge risks – CNN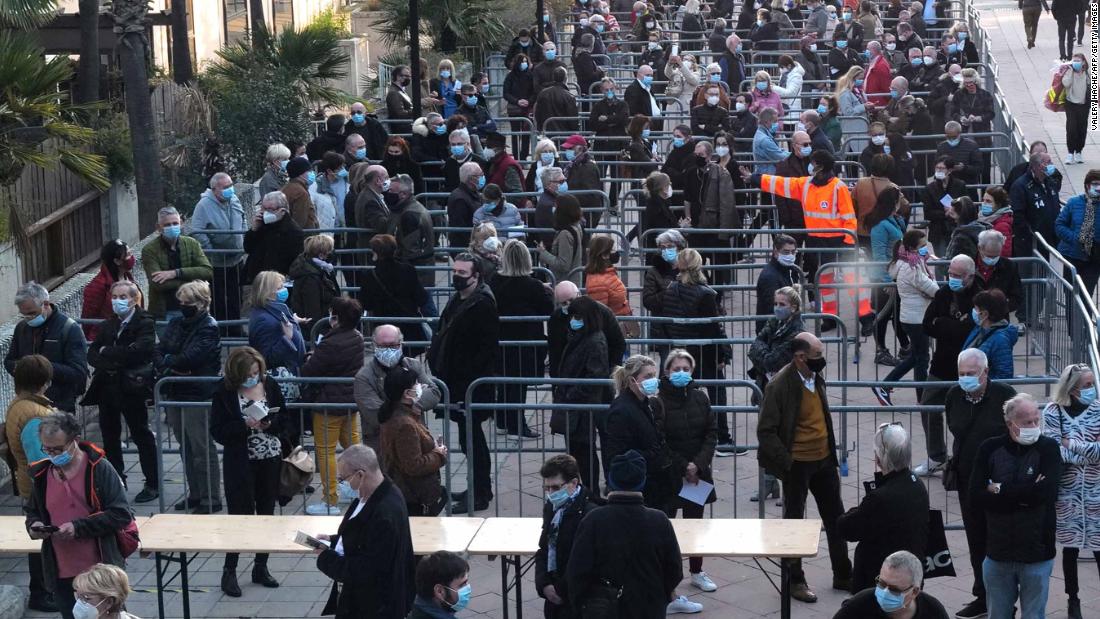 A version of this story first appeared in CNN Business' Before the Bell newsletter. Not a subscriber? You can sign up
right here
.
What's happening: The Organization for Economic Cooperation and Development
unveiled major upgrades
to its global forecast on Tuesday. It said that "economic prospects have improved markedly in recent months," pointing to the deployment of coronavirus vaccines and additional stimulus announcements.
The Paris-based agency now expects the world economy to grow by 5.6% in 2021, an improvement of more than one percentage point from its estimate in December.
The US economy is predicted to expand by 6.5% this year, over three percentage points better than the December forecast. The agency pointed to the effects of "strong fiscal support" from President Joe Biden's $1.9 trillion stimulus package.
But the OECD also emphasized that extreme uncertainty remains, and that plenty of factors could jeopardize the recovery.
One example: Investors have become increasingly concerned that a rush of activity could trigger a spike in prices later this year, forcing central banks to raise interest rates or taper bond purchases sooner than expected.
According to the OECD, a rebound in demand, especially from China, is pushing up food and metals prices, while oil prices have staged a strong comeback. But the group said it will be essential for policymakers to keep the stimulus coming, even if inflation overshoots some targets.
The possibility of a sharp rise in prices is far from the only fear.
The agency noted that vaccine campaigns are moving at different speeds around the world, and coronavirus variants that resist vaccines could still emerge.
"Slow progress in vaccine rollout and the emergence of new virus mutations resistant to existing vaccines would result in a weaker recovery, larger job losses and more business failures," it said in its report.
The OECD also said that it's essential that governments maintain their support for the economy even as the situation starts to brighten. European Central Bank President Christine Lagarde
has issued a similar warning
, cautioning that countries should not "brutally" pull stimulus.
"A premature tightening of fiscal policy must be avoided," the group said.
Another worry is high levels of debt. The OECD focused on corporate debt loads, in particular, with debt servicing burdens at or above their level during the 2008 financial crisis even though interest rates are at historic lows.
"Although some firms have used borrowing to build up sizable cash buffers since the onset of the pandemic, high leverage could moderate new investment," it said. If the recovery is slower than expected, or government support programs end too soon, this could "trigger additional debt delinquencies or defaults."
Right now, these are just hypotheticals. But so are expectations of booming growth, which are due to play out in the coming months. The OECD report is a reminder that while the outlook is brightening, it's also tentative.
These stocks are thriving while Big Tech gets hammered
Tech companies are clearly the big losers in markets right now. Apple is nearing bear market territory, while the tech-heavy Nasdaq Composite entered a correction on Monday, having dropped 10.5% below the record it notched in mid-February.
But plenty of firms are benefiting from the stock market rotation, as investors give companies they'd dumped earlier in the pandemic a second look.
See here:
Disney
(DIS)
shares jumped more than 6% Monday, while
Visa
(V)
and
American Express
(AXP)
both rose 2%.
These firms all stand to benefit if a strong economic rebound materializes later this year, sparking a surge in travel and consumer spending. They're getting more attention as Biden's $1.9 trillion stimulus bill heads back to the House of Representatives, where it's on track for a final vote Wednesday.
Other winners: Shares of
Southwest Airlines
(LUV)
gained 6.4% on Monday, while
Gap
(GPS)
rose 5.8%. JPMorgan Chase's stock rose more than 1%.
This divide — fueled by Wall Street's growing interest in shares that may be undervalued — helps explain why the major US stock indexes have diverged in recent days. While the Nasdaq Composite plunged 2.4% on Monday, the Dow rose almost 1%.
Analysts think the trend could continue if government bond yields keep pushing higher, making high-growth tech companies
less attractive
.
"The imminent passage of another huge fiscal support package in the US adds to our conviction that the reflation and rotation trends currently underway in bond and equity markets both have further to run," Oliver Jones, senior markets economist at Capital Economics, said in a note to clients.
ViacomCBS shares are riding high
There's no escaping Prince Harry and Meghan Markle's blockbuster interview with Oprah this week. That's good news for
ViacomCBS
(VIACA)
, which aired the interview in the United States.
Shares of the media giant soared nearly 13% on Monday, reaching an all-time high. The interview
drew 17 million viewers
when it aired Sunday, according to Nielsen's TV ratings scale.
Some context: CBS averaged 6.5 million viewers in prime time the previous Sunday night, my CNN Business colleague Brian Stelter reports. The two-hour special was also higher-rated than the most recent Emmys and Golden Globes award telecasts.
Watch this space: ViacomCBS shares were
already riding high
thanks to the launch of its Paramount+ streaming service, which debuted earlier this month. Whether the run-up can continue may depend on how many subscribers the company can nab in an increasingly crowded space.
The Children's Place
(PLCE)
and
Dick's Sporting Goods
(DKS)
report results before US markets open.
H&R Block
(HRB)
follows after the close.
Coming tomorrow: A key measure of inflation for February will provide fresh insight for investors nervous about higher prices.
Enterprise charges customer more than $3,300 for damage incurred after truck returned – CBC.ca
Samuel Wardlaw expected to pay $200 for his truck rental. Instead, Enterprise Rent-A-Car added more than $3,300 to his bill — for damage that occurred after he dropped it off.
He'd only used the truck for five hours, to move some belongings to his new apartment.
But a week later, an unexpected email from the rental giant said he was responsible for damage that occurred on the Enterprise lot after hours.
Have a question or something to say? CBC News is live in the comments now.
The email didn't explain what had happened or why he was responsible — but it struck fear in Wardlaw, 29, a delivery driver for a lumber company.
"I was anxious about what the price was going to be," he said. "So to see over $3,300 in damage? I was totally shocked."
Enterprise said later that, after Wardlaw parked the truck and put the keys in a secure drop box, as instructed by an employee, someone stole its catalytic converter, a part of the exhaust system that contains valuable metals.
Enterprise pointed to a clause on page 7 of its rental contract that says drivers who drop off a vehicle after hours are responsible for any damage or theft until it's checked in by an employee.
"It's their truck, their lot, their catalytic converter. Everything about it is within Enterprise's control," said Wardlaw. "For them to say it's my liability is pretty ridiculous."
After Go Public got involved, Enterprise said in an email it had "decided not to pursue the claim."
The company did not explain why and said no one was available for an interview.
Go Public has checked the terms and conditions for the three major companies that account for an estimated 95 per cent of all car rentals in Canada: Enterprise (which owns National and Alamo), Avis (which owns Budget) and Hertz (which owns Dollar and Thrifty).
All the contracts contain similar clauses, claiming drivers are responsible for any damage or theft from the time they drop off a vehicle until it is checked back in.
A consumer advocate and lawyer says Enterprise and other car rental giants give the impression there's no downside to dropping off a vehicle after hours.
"We've all been there — the car company says, 'No problem, stick the keys through the slot in the door,'" said Jennifer Marston, who works with the free legal clinic Pro Bono Ontario.
"But how many times do they say to you, 'If anything happens when the car is parked on the lot, you're responsible'? That's never happened to me."
'Just put the keys through the drop off slot'
Wardlaw says when he arrived to pick up the truck, there was little discussion about the terms and conditions in the 30-page (English and French) contract.
"They told me that since they were going to be closed at 12 o'clock that day and I would be returning at around 1 p.m., to just put the keys through the drop off slot when I returned the vehicle," he said.
Marston says big car rental outfits can't hide behind lengthy contracts they know most people won't read and may not understand when they contain ambiguous or unusual terms.
"They wrote it. They had the opportunity to put more effort into making it clear and they didn't," she said.
She says legal precedent exists due to an Ontario case which found Tilden Rent-A-Car was required to bring unexpected terms to the attention of the consumer if it wants them to be enforceable.
"When there's an onerous term in the contract, a heavy term that puts a big burden on someone, if it's buried in the fine print, then the company in a consumer transaction like this has the responsibility to bring that to the consumer's attention," said Marston.
The companies also have to meet a standard of proof when holding customers responsible for damage, said Marston.
When Enterprise told Wardlaw a thief had stolen that catalytic converter, it sent photographs of the damage, but they weren't time-stamped.
"We don't know when those photos were taken," said Marston.
"Maybe they were taken a week later. The burden is on the company to prove that."
She says people caught in a dispute need to know one thing — the rental company isn't the judge.
"They will send you a letter saying you've caused this damage, you owe this amount of money. But they're actually not the ones who get to decide that," said Marston.
"That's just their position as one of the parties to a legal claim. And you have the opportunity to respond," she said, with the understanding that the matter might end with a collection agency or small claims court.
Go Public has learned that the same Enterprise location in north Toronto had half a dozen catalytic converters worth $24,000 stolen from its trucks shortly after Wardlaw's incident.
Read stats about the growing problem of catalytic converter thefts
The company declined to say what it is doing to prevent further thefts and damage.
Marston says the companies should ensure their vehicles are being stored under safe conditions.
"The rental company could secure the perimeter. They could install security cameras. They can install anti-theft devices on vehicles," she said.
"These options aren't available to the consumers, so why should the consumer bear the loss?"
'This is absolute BS'
Stuti Narula of Toronto says an Enterprise employee also told her to drop off the keys when she returned a car after hours, to a location in the city's north end last December.
The next day, an Enterprise employee called to say she was responsible for a scratch on its passenger door — and owed $1,000.
Narula says the car was in perfect condition when she returned it, but — as with Wardlaw — an employee said she was liable for any damages incurred before it was checked back in and that the matter would be sent to a collection agency if she didn't pay up.
"This is absolute BS," said Narula. "If I have to be held liable for any damages to the car, I might as well keep it in my careful custody until the office opens the next day."
She says the drop-off location had closed-circuit cameras, but she was told she couldn't see footage.
WATCH | Enterprise charges customer more than $3K for damages incurred after truck returned:
A Toronto man was charged over $3,300 by Enterprise when a rental truck he returned after hours had its catalytic converter stolen. CBC's Go Public investigated the clause in most rental contracts that makes the renter responsible when a vehicle is returned after hours. 2:10
Narula also says she was told the damage was discovered after an employee drove the car to a car wash — and she questioned whether that's when the damage occurred.
"I'm entitled to know what investigation Enterprise carried out at its end before slamming the damage cost on me," Narula wrote in an email to the car rental giant.
After fighting Enterprise for several months, Narula reluctantly asked her car insurance company to submit a payment, but she's sworn off ever renting from Enterprise again.
Enterprise wrote in an email to Go Public that allowing customers to return vehicles after hours is a "convenience" and that "it is important to understand that the rental transaction is not complete until the vehicle has been inspected."
Wardlaw says he's relieved he's no longer expected to pay his damage bill, but says Enterprise has lost him as a customer, too.
"Basically, from the moment I called them, they were arguing with me. I didn't feel that there was any interest in resolution — other than to have me pay the full amount."
---
Protect yourself 'after hours'
Ideally, return your vehicle during operating hours and have an agent check it over and sign off on rental.
If you must drop off the vehicle after hours, note whether there are security cameras on the lot and try to park within view.
Set your smartphone to add a date and time stamp to photos and take pictures of the sides, front, back and roof of vehicle and — if possible — the underside, wheel wells, interior and trunk.
Take a photo of the mileage on the odometer.
Hold onto photos for at least six months.
---
Submit your story ideas
Go Public is an investigative news segment on CBC-TV, radio and the web.
We tell your stories, shed light on wrongdoing and hold the powers that be accountable.
If you have a story in the public interest, or if you're an insider with information, contact GoPublic@cbc.ca with your name, contact information and a brief summary. All emails are confidential until you decide to Go Public.
Follow @CBCGoPublic on Twitter.
Read more stories by Go Public.
Canada boosts U.S. natgas exports, drills more as global prices surge
Demand has jumped for relatively cheap Canadian natural gas, driving exports to the United States to three-year highs and prompting producers in Canada to boost capital spending and drilling activity.
Global natural gas prices have hit multi-year highs as world economies recover from last year's slowdown during the pandemic. Now, natural gas stockpiles in Europe are dangerously low and demand in Asia has been insatiable, so utilities around the world are competing for liquefied natural gas (LNG) exports.
Canada's gas is remote, and prices at the AECO hub in Alberta are among the cheapest in North America, with production far from major U.S. demand centers and LNG export terminals in the U.S. Gulf Coast, some 2,500 miles (4,023 km) away. Canada has no LNG export terminals.
Still, at around C$5 ($4.12) per million British thermal units (mmBtu), AECO prices are well above their 2021 year-to-date average of C$3.38 ($2.73), and some of Canada's largest gas producers including Tourmaline Oil Corp are seeking to capitalize.
"A number of producers are accelerating capital into Q4 (fourth quarter) to add production volumes into the higher-priced winter market," said Matt Murphy, an analyst at Tudor, Pickering, Holt & Co (TPH) in Calgary.
Gas receipts into TC Energy's NGTL pipeline system hit an all-time high of 12.75 billion cubic feet per day (bcfd) in mid-October, according to TPH records dating from 2013. The NGTL system is the main artery shipping western Canadian gas to market, and can be used as a proxy for output from the region.
TPH is forecasting further gas receipt growth to 12.9 bcfd in December, with new highs in 2022.
Data provider Refinitiv said Canadian exports to the United States averaged 8.3 bcfd year-to-date, the highest over that time period since 2018. In 2020, Canadian exports hit their lowest level since 1993 because of the pandemic, according to U.S. Energy Information Administration data.
The increase in drilling activity in Canada contrasts with a more cautious approach among U.S. gas producers, who are still being careful with their capital after the pandemic decimated demand in 2020 and left the industry on its knees.
The Canadian gas rig count is currently 70, up 75% from this time last year, while U.S. gas rigs are up about 32% to 98 over the same period, according to energy services firm Baker Hughes Co.
Tourmaline, Canada's largest gas producer, is accelerating drilling in the second half and bringing capital spending originally earmarked for 2022 into this year, according to a company presentation in September.
"The company will monitor natural gas supply/demand balances and schedule new production startups appropriately through the course of winter and the balance of 2022," Tourmaline said.
The company expects to produce on average 500,000-510,000 barrels of oil equivalent next year, up from 440,000-445,000 in 2021.
Other major Canadian gas producers increasing activity include Canadian Natural Resources Ltd and ARC Resources, industry analysts said. ARC declined to comment and CNRL did not respond to a request for comment.
However, a shortage of skilled crews to operate drilling rigs in Canada could limit how much gas output climbs, and some producers remain cautious that increased supply may rein in prices.
"How do we do more even if we wanted to do more? We're at a limit on the people that we have," said Darren Gee, Chief Executive of Peyto Exploration and Development Corp.
($1 = 1.2363 Canadian dollars)
(Additional reporting by Rod Nickel in Winnipeg; Editing by David Gregorio)
Edward Rogers to take battle for Rogers Communications Inc. to B.C. Supreme Court – CTV News
TORONTO –
The ousted chairman of Rogers Communication Inc. says he'll go to the British Columbia Supreme Court in a bid to wrest back control of the company.
Edward Rogers made the assertion after holding a meeting that included five hand-picked directors, meant to replace members of the board that on Thursday removed him as its chair.
A statement from his camp says Edward Rogers was elected chair of the board at Sunday's meeting.
An earlier statement from Rogers' siblings and the board they endorse pre-emptively rejected any outcome of Sunday night's meeting, saying that only the board as it existed Thursday has any authority.
The statement says it comes from a group representing the majority of the board.
But Edward Rogers remains chair of the Rogers Control Trust, the controlling shareholder, which, along with Rogers family members, owns 97 per cent of Class A voting shares.
This report by The Canadian Press was first published Oct. 24, 2021.