The great conjunction (or close to it) captured on camera – SooToday
Three celestial bodies made a pretty close appearance in the twilight skies after sunset over the past two nights (Dec 16 and 17). Being an avid night photographer there was no question, I was going get out and witness this conjunction with my own eyes and try to capture the moment.
While loading my gear I noticed some clouds rolling in from the south just before sunset but decided to test my luck and head out anyway.
With our usual cloud-filled skies this time of year here in the Algoma region close to Lake Superior, I knew the chance was slim.
As the drive north progressed the skies kept clearing leaving only a thin haze of wispy clouds between myself and the beautiful glowing orbs. The thin crescent Moon was by far the brightest of the three and lit up the hazy clouds as the light passed through. Jupiter and Saturn the two largest planets in our solar system are days away from their closest conjunction in almost 800 years (as observed from Earth) and can be seen here only a few degrees apart.
On Dec. 21 the winter solstice they will come together as a single point of light to the unaided eye and will look like a double planet through binoculars and telescopes.
Look southwest in the evening sky about 45 minutes after sunset low on the horizon for a chance to see the beautiful and rare view of the two planets. To view more of my night photographs from around the Algoma region visit @jeffvisualart on Instagram or Jeff Dixon Visual Artist on Facebook.
Good luck to everyone trying to view the conjunction and here's hoping for clear skies!
Coronavirus outbreak declared over at northern BC Coastal GasLink sites – PrinceGeorgeMatters.com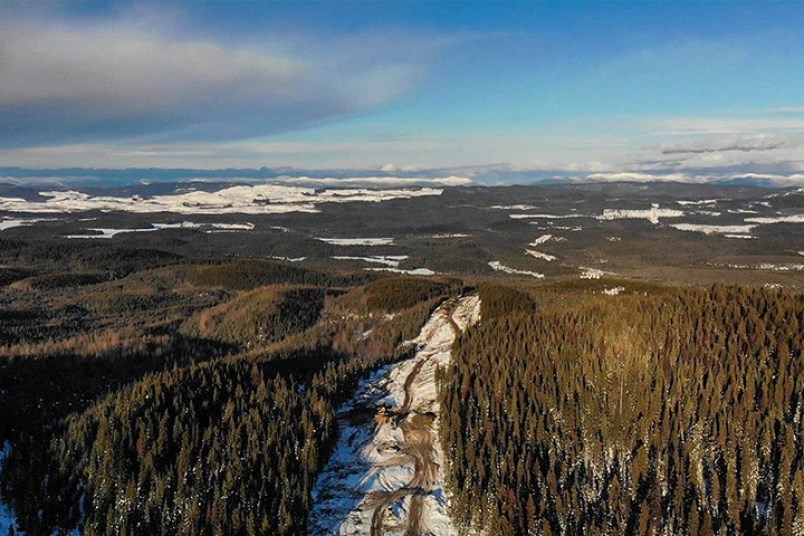 Northern Health now has one less outbreak in the region.
The authority announced this morning (Jan. 22) the COVID-19 outbreak at a pair of Coastal GasLink work sites is now over.
The two sites involved, 7 Mile Lodge and Little Rock Lake Lodge, saw a recorded total of 56 cases after the outbreak was declared on Dec. 19, 2020.
"Northern Health is pleased to announce that Medical Health Officers have declared an end to the COVID-19 outbreak at two workforce accommodation sites on the Coastal Gas Link (CGL) project," a statement reads.
The previous update on Jan. 8 said there had been an increase of three cases involving the outbreak after its Dec. 31, 2020 outbreak, but none were active.
Northern Health is pleased to announce that Medical Health Officers have declared an end to the COVID-19 outbreak at two workforce accommodation sites on the Coastal Gas Link (CGL) project. https://t.co/tqD87uugJv pic.twitter.com/gkBsB5qY7F

— Northern Health (@Northern_Health) January 22, 2021
As of publication, there has been a recorded total of 3,054 COVID-19 cases in northern B.C. with 508 currently active.
There are 45 people hospitalized with 18 of those currently in critical care, along with 2,472 recoveries since the first infection was detected in March last year.
The region also has seen 54 deaths since the virus hit the area in March.
Only 31 Magnetars Have Ever Been Discovered. This one is Extra Strange. It's Also a Pulsar – Universe Today
Some of the most stunningly powerful objects in the sky aren't necessarily the prettiest to look at. But their secrets can allow humanity to glimpse some of the more intricate details of the universe that are exposed in their extreme environs. Any time we find one of these unique objects it's a cause for celebration, and recently astronomers have found an extremely unique object that is both a magnetar and a pulsar, making it one of only 5 ever found.
The object, called J1818.0-1607, was first detected in March by NASA's Neil Gehreis Swift Telescope. It was first classified simply as a magnetar – one of only 31 ever found. Magnetars are a type of neutron star that has the strongest magnetic field ever detected – millions of billions of times stronger than that of Earth. But J1818.0-1607 wasn't the same as other magnetars found so far.
It appeared to be the youngest, with an estimated age of 500 years. Correspondingly, it also spins faster than any other observed magnetar. Younger magnetars will spin more quickly than older ones, which have had a chance to slow down some. J1818.0-1607 takes the cake with a blistering rotational speed of 1.4 seconds.
Finding a unique magnetar such as this will always attract other astronomers, and some brought other kinds of telescopes to bear. One of those telescopes was the Chandra X-ray Observatory, which a team led by researchers from the University of West Virginia and the University of Manitoba commanded to look at the newly found magnetar less than a month after its original discovery.
Chandra is able to see in the X-ray spectrum, so it was able to calculate the efficiency with which the object was translating its decreasing spin energy into X-rays. That efficiency was in line with another type of object, known as a rotation-powered pulsar.
Pulsars are a type of neutron star that repeatedly pulses out radiation as it spins. Observations from other telescopes, including the Very Large Array, provided supporting data for the magnetar to also be a pulsar. That puts it on a very short list of only 5 objects ever discovered that combined the characteristics of both types of object.
All of the mysteries of the newly discovered object are not yet solved, however. One is where all the debris has gone. All neutron stars are formed as a result of a supernova, and J1818.0-1607 is no exception. However, at such a young age, astronomers would expect to see the debris field from the explosion. There was some that Chandra picked up, however, it is much farther away than expected, implying that J1818.0-1607 is either much older than previously thought, or that it exploded with such force that it blew the debris field out much faster than other known neutron stars.
Either hypothesis is viable, and of course more data will need to be collected in order to truly solve that mystery. But the discovery of J1818.0-1607 and its subsequent observation are an excellent example of the kind of science that is possible when multiple instruments operating in multiple spectra are brought to bear on a single object of interest. With luck that coordination will lead to more discoveries of these ultra rare combinations of magnetically powerful lighthouses.
Learn More:
NASA: Chandra Studies Extraordinary Magnetar
NASA: A Cosmic Baby is Discovered and Its Brilliant
Sci-News: Astronomers Discover Youngest Magnetar Ever
UT: A brand new magnetar found, it's only 240 years old
Lead Image: Composite image of J1818.0-1607 in Xray and infrared.
Credit: NASA / CXC / U West Virginia / H. Blumer / JPL-CalTech / Spitzer
Giant worms terrorized the ancient seafloor from hidden death traps – Livescience.com
Gigantic predatory marine worms that lived about 20 million years ago ambushed their prey by leaping at them from underground tunnels in the sea bottom, new fossils from Taiwan reveal.
These monster worms may have been ancestors of trap-jawed modern Bobbit worms (Eunice aphroditois), which also hide in burrows under the ocean floor and can grow to be 10 feet (3 meters) long. Based on fossil evidence from Taiwan, the ancient worms' burrows were L-shaped and measured about 7 feet (2 m) long and 0.8 to 1.2 inches (2 to 3 centimeters) in diameter, researchers recently reported in a new study.
The soft bodies of such ancient worms are rarely preserved in the fossil record. But scientists found fossilized imprints, also known as trace fossils, left behind by the worms; some of these marks were likely made as they dragged prey to their doom. The researchers collected hundreds of these impressions to reconstruct the worm's tunnel, the earliest known trace fossil of an ambush predator, according to the study.
Related: These bizarre sea monsters once ruled the ocean
Bobbit worms are polychaetes, or bristle worms, which have been around since the early Cambrian period (about 543 million to 490 million years ago), and their hunting habits were swift and "spectacular," the scientists wrote. Modern Bobbit worms build long tunnels to accommodate their bodies; they hide inside and then lunge out to snap prey between their jaws, hauling the struggling creature into the subterranean lair for eating. This "terror from below" grasps and pierces its prey with sharp pincers — sometimes slicing them in half — then injects toxins to make prey easier to digest, according to Smithsonian Ocean.
Researchers examined 319 fossilized tunnel traces in northeastern Taiwan; from these traces, they reconstructed long, narrow burrows that resembled those made by long-bodied modern Bobbit worms. And preserved details in the rock further hinted at how ancient predatory worms might have used these lairs, according to the study.
"We hypothesize that about 20 million years ago, at the southeastern border of the Eurasian continent, ancient Bobbit worms colonized the seafloor waiting in ambush for a passing meal," the study authors reported. Worms "exploded" from their burrows when prey came close, "grabbing and dragging the prey down into the sediment. Beneath the seafloor, the desperate prey floundered to escape, leading to further disturbance of the sediment around the burrow opening," the scientists wrote.
As the ancient worms retreated deeper into their tunnel with the thrashing prey, the struggle agitated the sediment, forming "distinct feather-like collapse structures" that were preserved in the trace fossils. The researchers also detected iron-rich pockets in disturbed areas near the tops of the tunnels; these likely appeared after worms reinforced the damaged walls with layers of sticky mucus.
Though no fossilized remains of the worms were found, the scientists identified a new genus and species, Pennichnus formosae, to describe the ancient animals, based on their burrows' distinctive forms.
The likely behavior that created the tunnels "records a life and death struggle between predator and prey, and indirectly preserves evidence of [a] more diverse and robust paleo-ecosystem than can be interpreted from the fossil and trace fossil record alone," the study authors reported.
The findings were published online Jan. 21 in the journal Scientific Reports.
Originally published on Live Science.